Looking for a few good classical music dog names for your new pup?
How about 100 of them!
Check out 50 ideas each for boys and girls.
You may also love these dog names inspired by country music.
Classical Music Dog Names
With different genres of music speaking to the inner virtuoso in all of us, our next topic is on classical music dog names.
We have a few interesting ones that are a play on the names of legendary composers.
We also have some inspired by songs and different types of classical music.
You might even learn a thing or two about musical terms after reading through.
Take a peek!
Male Classical Music Dog Names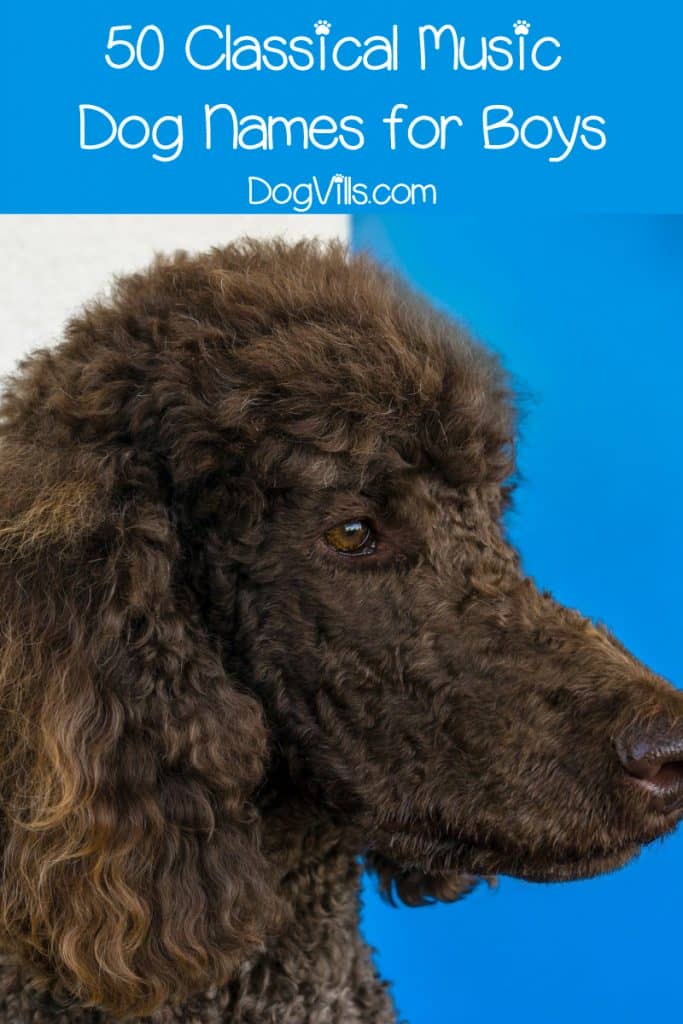 Amadeus – After Wolfgang Amadeus Mozart
Mozart- Same as above, just a different part of his name.
Bach – Pronounced Bock.
Beethoven – Coincidentally, there is also a famous St. Bernard with the same name!
Bocelli – Andrea Bocelli, a man with impressive vocal cords.
Caruso – A famous Italian tenor opera singer.
Cello – A larger stringed instrument we often see in an orchestra.
Chopin – A Polish composer and pianist.
Claudio – Claudio Monteverdi. We aren't going to name every single opera composer, but we will name the first one!
Don – For Don Giovanni, an opera composed by Mozart.
Giovanni
Engelbert – For Engelbert Humperdinck, a German composer whose name precedes him.
Figaro – After another opera composed by Mozart.
Gershwin – For George Gershwin, an American composer.
Handel – Another famous composer.
Hadyn – Joseph Hadyn, an Austrian composer.
Hugo -Another Austrian Composer
Wolf – For the above Hugo Wolf.
Igor – Igor Stravinsky a Russian composer, pianist, and conductor. What a triple threat!
Ludwig – Ludwig von Beethoven.
Maestro – One that isn't a composer, instead, it's a term used to refer to a master musician.
Oboe – A woodwind instrument that resembles the clarinet.
Piccolo – Another woodwind instrument that resembles the flute.
Strauss – For Johann Strauss and Austrian composer with a talent for waltzes.
Pyotr or Tchaikovsky – You might not know his name but you will by his words The Nutcracker and Swan Lake.
Vivaldi – A famous Italian composer responsible for The Four Seasons.
Yo-Yo – A unisex name for the famed Chinese cellist.
Johann Sebastian Bark – Here we go for the funny ones. See if you can identify the real names.
Andrea Poocelli
Beetwoofen
Woofgang
Giacomo Poochini
Clawed Debussy
Hans – For Hollywood composer Hanz Zimmer (or Zimmer).
Bruno – For Bruno Moretti  a ballet composer.
Adagio – A musical term for when the music needs to be slow.
Baroque – A type of music from the 1600-1750s.
Capriccio – A lively piece of music.
Clef- A musical symbol.
Crescendo – Music that is meant to get louder.
Forte – Meaning strong.
Glissando – A slide between a group of notes.
Legato – A sequence of notes to be joined.
Libretto – A printed opera.
Mezzo – Meaning "half", great for smaller pups.
Minuet – A French dance.
Obbligato – A part of the music that is the most important.
Presto – Meaning quick.
Soprano – The highest pitch of voice.
Tempo – The speed at which music is played.
There might be a bit more boys names out there than girls' names so get ready for a lot of unisex names for the next half of our list.
Female Classical Music Dog Names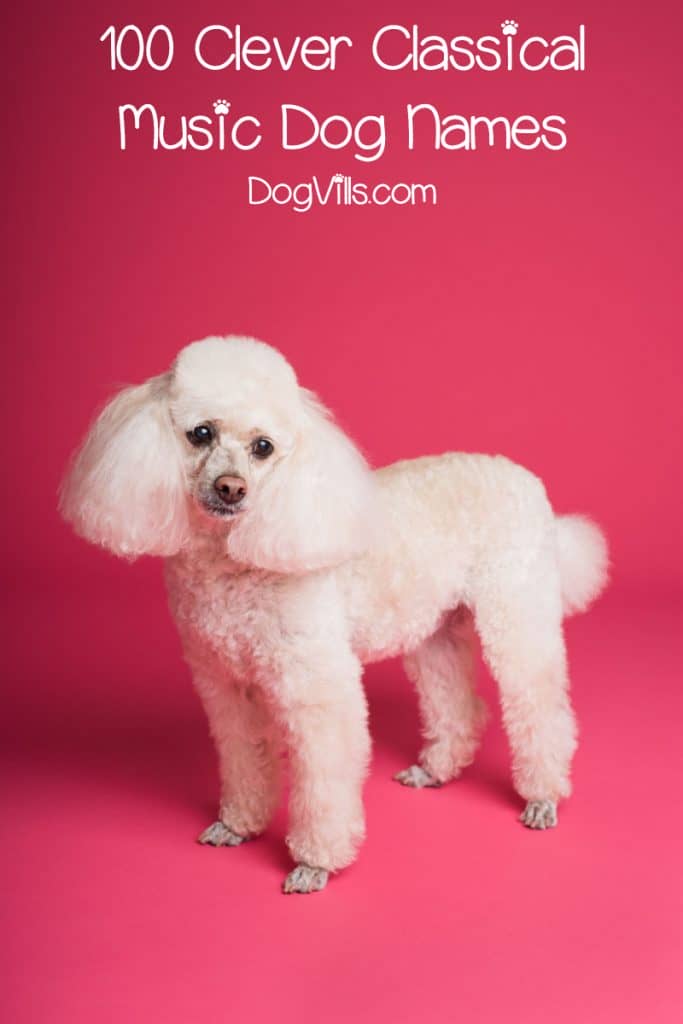 Arabella – An opera composed by Strauss.
Ani
Antígona
Apponyi- By Joseph Haydn
Astra – For the British opera singer, Astra Desmond.
Arietta
Adante – Musical term that means a moderate speed in music.
Butterfly – Part of the title of an opera composed by Puccini.
Cadenza – Musical term for an extended solo in a concerto.
Cecilia- From St Cecilia by George Frideric Hande
Dolce – A musical term for sweet and delicate.
Diva – A talented and coveted female opera singer.
Elektra – Another opera by Strauss.
Elvira – No, not who you are thinking. It's for Elvira de Hidalgo a Spanish soprano singer.
Fermata – A longer held note.
Gina – For Gina Cigna, a French soprano.
Lotte – For Lotte Lehmann.
Luca – Giuseppe de Luca, a famous Italian baritone.
Mae – A famous Singaporean violinist Vanessa-Mae.
Mily – Minus the 'e', for Mily Balakirev, a Russian pianist.
Viola – A stringed instrument that is larger than a violin but smaller than a cello.
Harmony – All the music, pitches and notes together.
Melody – Musical sounds.
Sempre – Always
Sonatina
Allegra – Female form of Allegro, which means lively and cheerful.
Aria – Song.
Opera
Chorale – Similar to a hymn; a type of music Bach was famous f.
Coda – The last part of a piece of music.
Serenade
Sonata – A solo performance with piano accompaniment.
Toccata – A type of instrumental written to showcase the skill of the performer.
Blue – For Blue Danube, composed by Strauss.
Moonlight – For the famous Moonlight Sonata.
Cadence
Sugar-Plum – For the sugar plum fairies in The Nutcracker.
Clara – For the main character in The Nutcracker.
Sinfonia
Odette – For Princess Odette in Swan Lake.
Lullaby
Jena
Bohème- from La bohème by Puccini
Marcia- From Alla Marcia by Boris Tishchenko,
Orchestra
Zarathustra- From a musical work by Strauss
Roxelane – From La Roxelane by Joseph Haydn
Jubilee
Ipsa
Enigma
With lot of Italian words on this list, it sounds so elegant!  
We like a lot of the little girl names that just sound so beautiful like Aria, Arietta, Sontana, Sonatina and Cadence.
Do you see any that you like? Tell us your favorite classical music dog names below!