Looking for some of the cutest Christmas advent calendars and holiday treats for dogs?
You're in luck because I've been scouring Chewy and Amazon for the best goodies for my own dog's stocking!
Read on to see what I found so far!
Plus, bookmark this page, because I'll add on to it as new holiday dog treats & goodies come out.
Related: Adorable Christmas gift ideas for DOGS
My Top Pick
FYI, this post contains affiliate links. If you make a purchase through these links, we earn a small commission at no extra charge to you.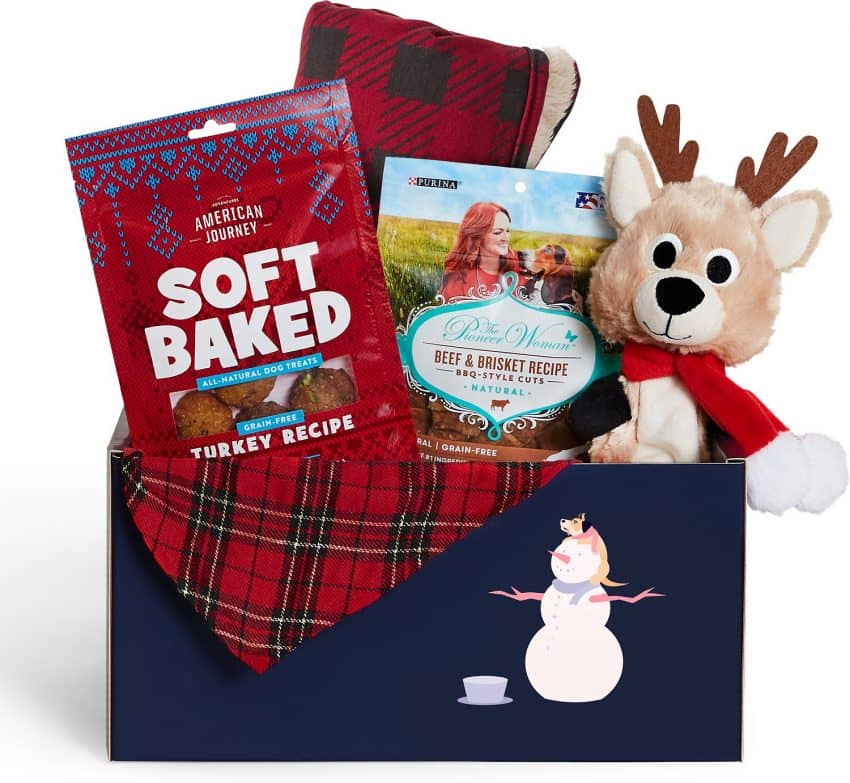 If you're just looking for one quick and easy gift for your pup, go with the Goody Box from Chewy.
It has a little of everything in one cute package!
By the way, Chewy's Holiday Gift Guide for Dogs is up, so if you still need more ideas after this list, check that out!

Christmas Advent Calendars & Limited-Edition Holiday Treats For Dogs
Boy, let me tell you, my dog has it so much better than my cats when it comes to holiday goodies.
I just finished up this very same guide, except for kitties, over on our sister site- CatVills.
The selections aren't even half as robust for my felines as for puppers.
I actually struggled to stop myself from going overboard with this list!
I narrowed it down to just my top 15 favorites (although I'll add dog advent calendars as they become available, since those were harder to find).
I'm sharing my top 6 picks that are also available on Amazon for you on the table below.
Why 6? Well, that's how many fit on the table! 😀 Check them out, then read on for the full list.
Preview
Top Pick
Name
Zuke's Mini Naturals Trees Dog Training Treats Turkey and Cranberry Recipe, Soft Dog Treats - 5 oz. Bag
GREENIES Gingerbread Flavor Large Dental Dog Treats, 6 oz. Pack (4 Count), Great Holiday Dog Stocking Stuffers
Crafted by Humans Loved by Dogs Portland Pet Food Company Grain-Free & Gluten-Free Biscuit Dog Treats (1-Pack 5 oz) — Gingerbread Flavor — All Natural, Human-Grade, Made in The USA
Best Friend's Advent Calendar | 24 Unique Treats for All Dogs | 24 Days of Treats from Washington State
Blue Buffalo Santa Snacks Natural Crunchy Dog Treat Biscuits, Oatmeal & Cinnamon Treats 11-oz
What I love
Filled with wholesome treats!
1. Zuke's Mini Naturals Holiday Trees Turkey & Cranberry Recipe Dog Treats
Freya LOVES Zuke's training treats, so she'll definitely find their holiday recipe in her stocking from Santa!
They are just the right size to put in her favorite puzzle game that we play together every night.
I love that they're made in the USA with high-quality ingredients.
Sale
Zuke's Mini Naturals Trees Dog Training Treats Turkey and Cranberry Recipe, Soft Dog Treats - 5 oz. Bag
One (1) 5 oz Bag - Zuke's Mini Naturals Trees Dog Training Treats Turkey and Cranberry Recipe, Soft Dog Treats
Wholesome, tender natural dog treats in a festive tree shape for all your adventures in training this holiday season
At less than 3 calories per dog training treat, Zuke's Mini Naturals soft dog treats are perfect guilt free rewards for your dog
Real turkey is the first ingredient in these soft and chewy dog treats for small dogs, medium dogs and large dogs
Healthy dog treats made with natural ingredients like real turkey and cranberries that come in a resealable pouch

2.Blue Buffalo Holiday Santa Snacks Oatmeal & Cinnamon Crunchy Dog Treats
I've been buying Blue's Santa Snacks for my dogs for years!
Freya doesn't really love crunchy snacks as much as my other dogs did, but she enjoys them as a seasonal treat.
While they're obviously not grain-free, they don't have any by-product meats in them.
No corn, wheat, or other junk fillers, either!

3.Goody Box Holiday Toys, Treats & Apparel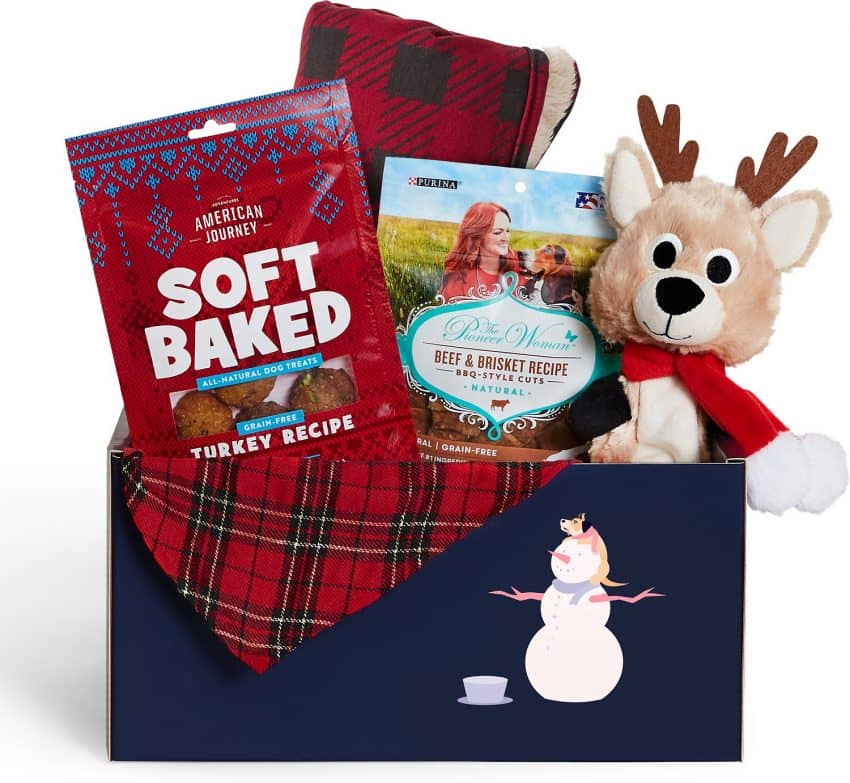 How cute is this Goody Box for dogs?
It's a Chewy exclusive, and the one pictured is for small & medium breeds.
However, they also have one for bigger pups.
In it, you get 5 curated products, including treats, toys, and apparel.
I am kind of sad that the cat version gives you more (6 products), and I wish they offered different versions.
My dog hates clothing with a fiery passion, so I'd really only get 4 good items out of it.
If your pup doesn't mind apparel, though, the price is fair.
It's on sale for 10% off throughout October, too.

4. Greenies Seasonal Gingerbread Flavor Dental Dog Treats
When it comes to dental chews, Greenies is always a favorite among dogs and dog parents alike.
Their holiday-edition is gingerbread-flavored, and you'll get four to a bag for large dogs, but 22 to a bag for small breeds.
They're kind of pricey for Freya's size, but absolutely fair for those with teeny pups.
GREENIES Gingerbread Flavor Large Dental Dog Treats, 6 oz. Pack (4 Count), Great Holiday Dog Stocking Stuffers
Contains one (1) 6 oz. 4-count pack of GREENIES Gingerbread Flavor Large Dog Dental Chews
The unique texture of GREENIES Dog Chews helps clean down to the gumline to fight plaque and tartar and freshen breath, making these Christmas dog treats a great addition to their dog stocking
GREENIES Treats for Dogs are veterinarian recommended for dental care and accepted by the Veterinary Oral Health Council (VOHC) for helping control tartar and plaque
Treat your dog fantastically with these dog Christmas treats that are easy to digest
GREENIES are made with natural ingredients plus added vitamins, minerals, and other nutrients, making them the perfect Christmas treats for dogs

5. Good 'n' Fun Holiday 12 Days of Dogmas Holiday Calendar Dog Treats
Freya had an awesome Christmas advent calendar that I got from Sam's Club last year.
When it was gone, she cried to play "calendar" every night, so I scoured the planet for another one.
Unfortunately, it was too late in the season and they were all sold out everywhere.
So this year, I'm stocking up on every decent one I can find.
The Good N' Fun calendar, unfortunately, has too much beef in it for my Freya (she's sensitive to beef).
However, if your dog doesn't have food allergies, it's an adorable option!
Good'n'Fun 12 Days of Dogmas Calendar, 3.8 Oz, Holiday Calendar with Chews and Treats for Dogs| 12-Count (P-94480H)
FESTIVE HOLIDAY PACKAGE: Set to the tune of the classic holiday song, the Good 'n' Fun 12 Days of Dogmas Calendar will get your pup in the holiday spirit
VARIETY OF CHEWS: Contains eight Triple Flavor Twist Sticks and four Triple Flavor Kabobs.
GREAT SOURCE OF PROTEIN: Good 'n' Fun Triple Flavor Twist Sticks are made with real beef hide, pork hide and chicken. Good 'n' Fun Triple Flavor Kabobs are made with beef hide, chicken, pork hide, wholesome duck and hearty chicken liver.
LONG-LASTING ENTERTAINMENT: Fun and delicious way to satisfy your dog's natural urge to chew.
QUANTITY: 12 chews per pack.
Age range description: All Life Stages

6. WHIMZEES Holiday Tree & Snowman Variety Pack Dental Dog Treats
WHIMZEES practically has its own cult following in the dog world, that's how awesome they are.
Along with delivering high-quality dental treats, they do it in the cutest shapes ever!
Their special holiday-edition treats aren't just absolutely darling, they actually help fight plaque and bacteria, thanks to the unique shapess
These are definitely going into miss P. Hound's stocking!

7. Companion Gear Advent Calendar Dog Treats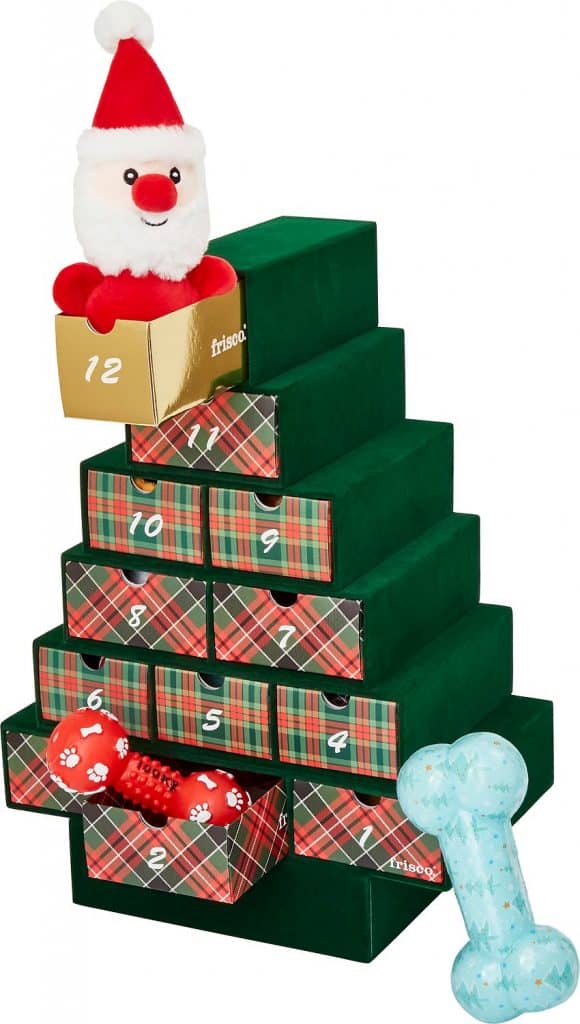 The Frisco Holiday 12 Days of Christmas Advent Calendar with Toys for Dogs is exactly what the name says.
Rather than treats, your dog gets a cute new toy every day of the season!
The only drawback- it's made for small breeds only. SUPER SAD about that!
Again, though, if you have a teeny pupper, then this is really a fantastic deal!
It's basically just over $2 per toy!
The tree is beautiful, too, and you can reuse it next year to fill with your own goodies.

8. DreamBone Holiday Variety Vegetables & Chicken Dog Treats
DreamBone is one of the most popular rawhide alternatives, and their holiday edition treats are just darling.
I love that they're made with chicken and veggies!
However, they're made in Vietnam, so be aware of that if you only buy US-made treats.
They do have great overall reviews, though!

9.Portland Pet Food Company All-Natural Dog Treat Biscuits
I saw these on Amazon and just loved what I read about them.
The small US-based company uses only the most wholesome ingredients possible.
They're totally free of gluten, wheat, and grain, as well as a whole list of other not-so-stellar ingredients.
Plus, Portland Pet Food Company donates 5% of their net profits to local non-profit animal programs.
So, they really are a holiday dog gift that gives back!
Crafted by Humans Loved by Dogs Portland Pet Food Company Grain-Free & Gluten-Free Biscuit Dog Treats (1-Pack 5 oz) — Gingerbread Flavor — All Natural, Human-Grade, Made in The USA
SIMPLE AND PURE: Baked exclusively with wholesome, natural ingredients and never anything artificial. Each recipe offers locally sourced ingredients and a delicious mix of flavors that lets you give even the pickiest dog an easily digestible snack or treat. Our breakable biscuits are light, crunchy, and satisfying for all dogs — from small breed dogs to large breed dogs, and puppies to seniors.
HUMAN-GRADE: Made with 100% natural ingredients, like ginger, cloves and Bob's Red Mill Garbanzo Bean Flour, these biscuits are human grade for a product you can feel great about giving your best friend.
FREE FROM: These tasty dog treats contain no gluten, wheat, dairy, or grain. Made with no GMOs, BHA, BHT, preservatives, artificial colorings, or artificial anything.
LIMITED INGREDIENTS: All flavors have no more than 7 ingredients and are great for sensitive dogs. Choose from a variety of flavors, offering vegan dog treats, holiday treats, and multipacks. Great for senior, puppies, or sensitive dogs.
THOUGHTFULLY MADE: Sourced and baked in the USA from quality ingredients. Portland Pet Food Company donates 5% of their net profits to local non-profit animal shelters and programs.
10. Claudia's Canine Cuisine – Santa Paws Classic Gourmet Dog Cookies
How stinking cute are these Christmas cookies for dogs?
Besides being absolutely darling, they're made in the USA with human-grade ingredients.
Plus, every package includes at least 50 cookies!
That's pretty amazing, considering my local pet store sells homemade dog cookies for $2-3 EACH.
Sale
Miles Kimball Claudia's Canine Cuisine - Santa Paws Classic Gourmet Dog Cookies, Assorted, one Size fits All
CANINE STOCKING STUFFER: Santa Paws treats from Claudia's Canine Bakery are wonderful Christmas dog treats that will make any pup happy.
MADE IN THE USA: All of the treats from Claudia's Canine Bakery are made with love in Maumelle, Arkansas in the heart of America.
HUMAN GRADE INGREDIENTS: Treat your dog to high quality cookies that are made with human grade ingredients. They're so good you might be tempted to try one yourself.
TONS OF TREATS: Every package of Santa Paws Christmas dog treats includes approximately 50 cookies in various shapes and colors.
100% SATISFACTION GUARANTEED: If you have any issues with your order, contact us and we will make it right.
11. Blue Dog Bakery Jingle Bites Gingerbread Flavor Dog Treats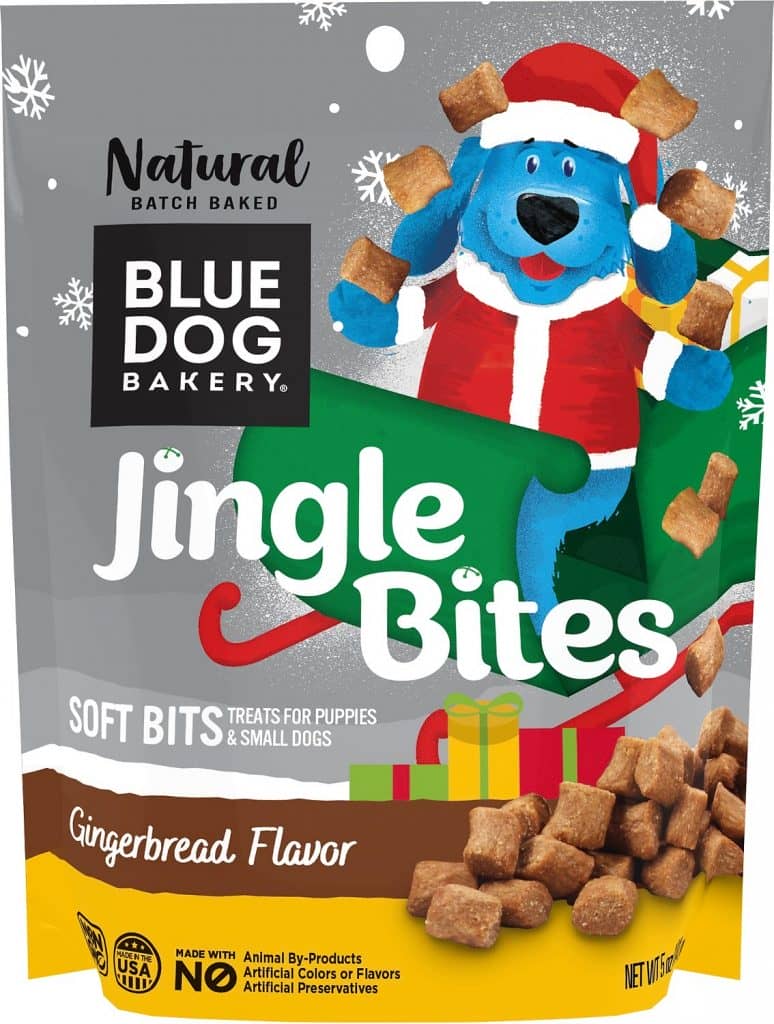 These tasty gingerbread treats are always a hit in our home.
They're made with real gingerbread, which naturally fights bad breath.
In other words, they make those slobbery dog kisses a lot more pleasant.
Each treat is just 3 kcals, and they're 100% free of GMOs, animal by-products, and fake ingredients like artificial colors & what not.
Freya loves Blue Dog Bakery's soft cookies, so these are going into her stocking, too.

12.The Lazy Dog Cookie Co. Soft Baked Mutt Mallows Gingerbread Cuties
I'm loving the name of these Christmas-themed dog treats- Mutt Mallows! So cute!
The brand actually makes a huge variety of soft dog cookies, but these are just right for the holidays.
All of their cookies are made in the USA and are free of corn, wheat, and soy.

13.Cloud Star Wag More Bark Less Holiday Treats
We've looked at a few soft gingerbread-flavored dog treats, but what about something for dogs that prefer crunchy cookies?
That's where these little gingerbread people from Cloud Star come in!
I've tried quite a few of Cloud Star's treats with Freya, and she's absolutely loved all of them.
She does prefer soft treats, though.
While they don't have a special holiday packaging for their soft line, they do have a Turkey & Cranberry recipe that's still pretty perfect!
Cloud Star Wag More Bark Less, Grain Free Holiday Dog Lover Gifts Treats, Gingerbread, 7oz
Dog lover gift - Gift your dog walkers, trainers, groomers, owners, parent, Mom, dad, and any other dog lover with these limited edition holiday treats!
Crunchy Dog Treats – treat your pup with a holiday Flavor so they know it's the season to wag more and bark less.
Baked in the USA - these mini biscuit dog treats are proudly made in the United States.
Stocking stuffer - include these holiday treats in your dog's stocking as a STUFFER or in a gift bag. This season, give the gift of joy.
Grain free Mini Biscuits - great for both small and large dogs with fun cloud and Star shapes. No grains, corn, wheat, soy, artificial colors or flavors!

14. Wüfers Dog Cookie Advent Calendar
I'll be honest, this dog advent calendar is a bit pricey compared to others.
However, it's filled with handmade and hand-decorated cookies, so every box is unique.
The cookies are made in North America with locally sourced ingredients, according to the company.
The box is beautiful, too, and if you're careful opening the doors, you could totally use it again with your own treats.
Wüfers Dog Advent Calendar 2022 | Hand-Designed Dog Cookies | Advent Calendar for Dogs Made with Locally Sourced Ingredients
TASTY TREATS YOUR DOG WILL LOVE: Our most-barked-about product of the year is back and better than ever. A boutique illustrated box, 24 delicious cookies, and the sweetest way to include your dog in holiday traditions.
MADE IN NORTH AMERICA FROM LOCALLY SOURCED HUMAN GRADE INGREDIENTS: Each one of our dog treats is freshly baked, hand-decorated and made with wholesome and locally sourced human grade ingredients. Your box comes with a variety of cookies that are big and small and are either frosting drizzled, enrobed, contain plain yogurt cups, etc. to satisfy all doggie sizes and taste buds!
COMPLETELY SAFE FOR YOUR PUP: Our pets are our family. This means we extend our healthy lifestyle and beliefs to include them. Wüfers believes that treating your dog doesn't have to include a long list of unmentionable and unrecognizable ingredients - if we can't eat it, why should they?
ARRIVES FRESH AND READY TO EAT: We pack our cookie boxes with care, to ensure the treats arrive in perfect condition and ready to eat. Each cookie is individually wrapped in recyclable plastic bags to preserve their freshness. So, whether you are celebrating for a day or a month, your cookies will stay as fresh as the day they were made.
EACH COOKIE BOX IS UNIQUELY HAND-DECORATED BY A TALENTED TEAM OF DOG LOVERS: Since Wüfers dog treats cookies are handmade and hand-decorated, individual cookies may differ slightly from the pictures, but they'll fit the theme, taste the same and probably look even cuter!
15. Himalayan Pet Supply Best Friend's Advent Calendar Dog Treats
Now this is one advent calendar I'm definitely grabbing for Freya!
It's priced affordably and stuffed full of tasty goodies from the Himalayan Pet Supply company.
We're talking everything from soft cookies to yak cheese goodies!
Plus, all are made in the USA.
The ONLY drawback is that it takes a while to ship from Amazon and it's temporarily out of stock on Chewy.
I believe that will change once the holiday season really kicks off, though.
Best Friend's Advent Calendar | 24 Unique Treats for All Dogs | 24 Days of Treats from Washington State
CHRISTMAS TREATS for your pups in this classic Advent Calendar format - Peek inside each window to find a tasty treat for your best friend
24 DAYS of TREATS from Washington State
EVERY COOKIE, TREAT OR CHEW is made from all natural ingredients
Happy Teeth - Cheese - Peanut Butter - Bacon | YakyPuff - Cheese Peanut Butter - Bacon - Chicken | Popping Yaky Charms
Cookies - Banana Nut - Cinnabears - Chicken Pot Pie - Carrot Cake - Christmas Cookies

I know one dog who is going to be positively thrilled on Christmas morning!
Well, as long as she doesn't find her stocking before the holiday like she did two years ago, that is.
I thought I hid it well, but she watches my every move.
When I wasn't looking, she raided my bedroom closet and came running downstairs with her stolen booty!
I'm getting better at hiding it, though! 😀
Do you have any other favorite Christmas advent calendars and holiday treats for dogs? Share below!
Last update on 2023-02-07 / Affiliate links / Images from Amazon Product Advertising API