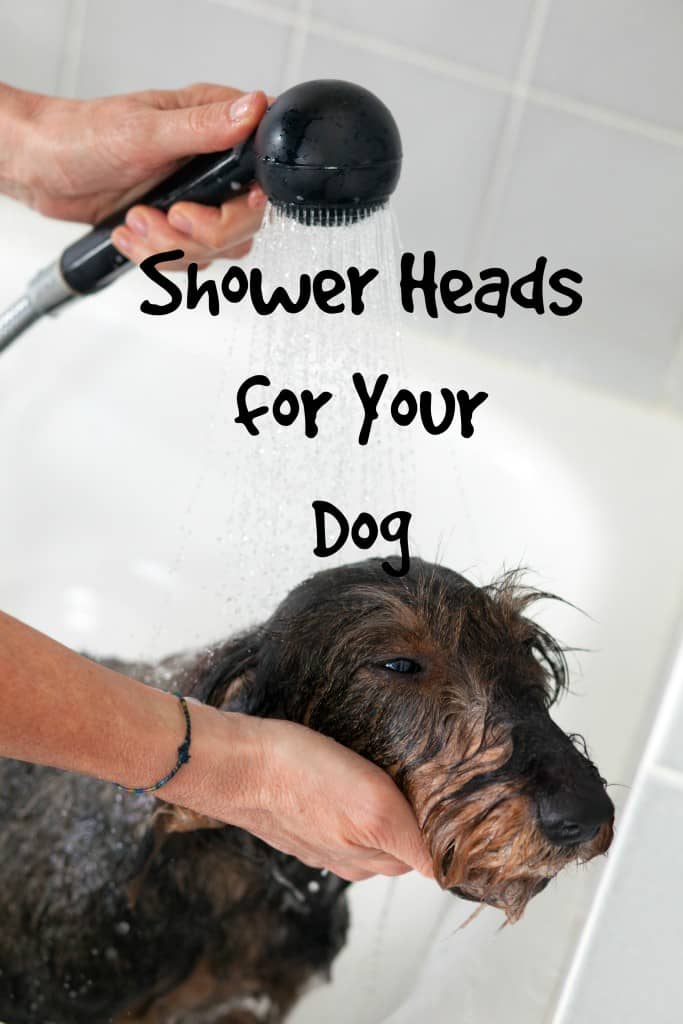 Giving your dog a bath can be, well, a chore.  Unless you have a long shower head that you can use in the tub!  Those do exist and you do not have to replace your existing shower head in order to enjoy the benefits and ease of bathing your dog (and not yourself in the process).  Here are a few removable shower heads for your dog on the market and where you can them.  Read on til the end, the last one is my fave!
Choosing the Best Shower Heads For Your Dog

Affiliate links included below.
Rinse Ace:  They make  Deluxe Pet Shower heads for your dog that attaches right to the head of your own shower with an 8 foot hose.  There is a pause feature so you don't have to turn the water off, losing the perfect temp for your dog.  The review of this product on Amazon got 4.3 out of 5 stars.  I would say that's pretty good!  It retails for $29.99 but if you purchase from Amazon you save $4.19 (plus the cost of shipping).  Petco also sells this shower head, so you can check them out as well.

Versa Spray Handheld Shower: Sold at Bed Bath & Beyond for $9.99 and on Amazon for 10 cents less, this one attaches to your tub spout rather than your shower head.  Some reviewers have said they used a clamp on it just to make sure it stayed attached with the amount of water pressure coming out of the tub faucet.  Others have said it does not fit with their tub faucet, but return was easy.  Most however are pleased with how it works, and that it goes on and off easily.  I would think for the money, it is a good deal!

Top Paw 3-Way Shower Sprayer: Petsmart carries this sprayer for $29.99.  It is an 8 foot hose with 3 spray settings and an on/off switch on the head.  This is another one that attaches to the head of your own showerhead.  One reviewer stated that it does get the job done, but just to be careful when installing because it is made with flimsy plastic.  This might not be worth the money if it is not made with quality materials.

JW Pet Shower Massager: This might be the coolest one I found!  It truly is for pets and you can't beat the price at $14.99. If you hurry, you can get it even cheaper on Amazon!  You can connect this one to your shower head, or you can bathe him outside and attach it to a hose or spigot.  The best feature of these shower heads for your dog is the fact that it has those rubber teeth for massaging (not to mention the cute paw shape on the underside!)  They also work for scrubbing the dirt from your dogs coat.  The on/off switch on the handle as well as water pressure control.

If I were to purchase a shower head specifically for my pet, I would definitely choose the JW Pet Shower Massager, strictly based on what it is for the price.  It seems to be the best one I came across, all the others are just over-priced regular shower heads that they advertise to use for your pet (of course this is just my opinion).  An added benefit to purchasing one of these?  You can use it as well!
Have you bought any shower heads for your dog before?  What was your experience, good and bad?  Share your stories below with us!