If you're looking for cheap dog food recipes that use simple ingredients, we've got you covered.
Below, you'll find 12 ideas for homemade dog food that won't break your budget.
While most do require meat, we've included a couple that use ingredients that aren't flying off the shelves during a food shortage.
Take a look at the considerations below, then read on for the recipes.
What to consider before trying cheap dog food recipes
In normal times, the words "cheap dog food recipes" would never even come out of our mouths.
After all, "cheap" isn't something you want from something that provides fundamental nutrition to your dog.
Not to mention that making your own dog food requires a major balancing act.
When food is scarce and your budget is stretched to the breaking point, though, we need to make exceptions.
However, that doesn't mean you should completely disregard your dog's health needs! So, here are a few considerations to keep in mind:
Talk to your vet first
Before you start whipping up cheap dog food recipes, call your vet.
If you're currently under orders to stay home, you may not need to make a trip into his office.
Just ask him to look over your dog's records and let you know if there are any special nutritional needs to keep in mind.
Consider your dog's allergies
It sounds obvious, but remember to factor in your dog's allergies, even if they're mild?
With meat shortages in grocery stores, it's tempting to think, "What's the worst that can happen if he eats a little beef?"
My dog is allergic to beef, and I can tell you- the best case scenario is that she throws up her entire meal- totally undigested.
Exhaust your other options first
If you already have your dog on a homemade food diet, you can skip this.
You've already decided it's what's best for your dog and done your homework.
For the rest of us, though, homemade food should be our last resort.
Like I said, it's not as easy as it sounds to make a great dog food on our own.
So, check out this list of places to buy dog food during a shortage first.
Use it to see if you can find something comparable to your dog's normal diet at a price you can currently afford.
If you simply cannot find an alternative, then it's time to try these cheap dog food recipes.
Cheap Dog Food Recipes to Try During Food & Money Shortages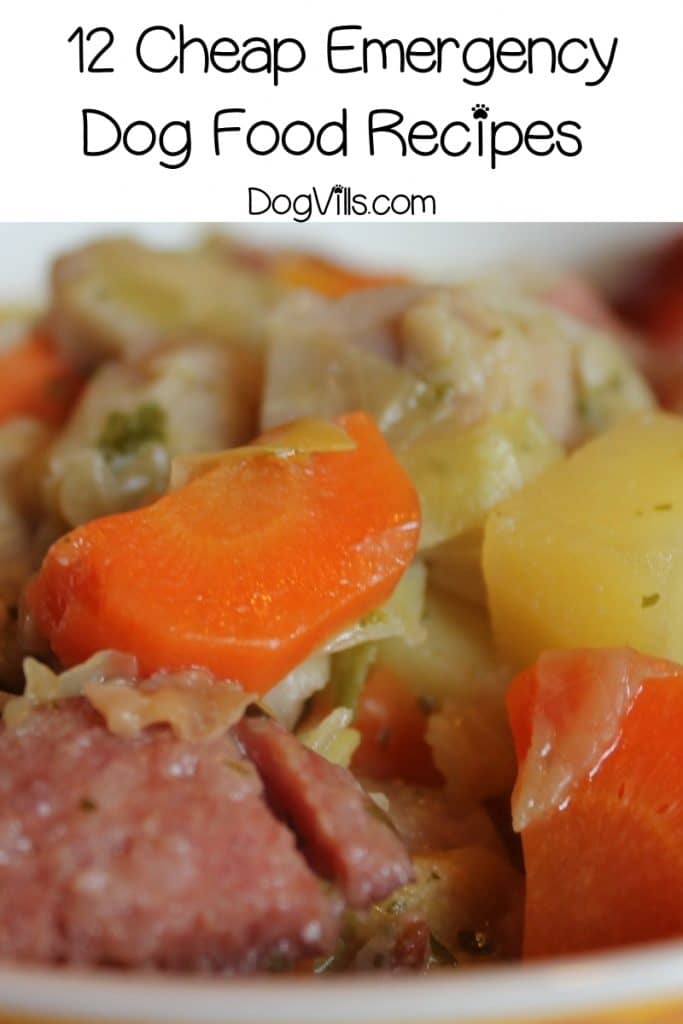 Below are 12 cheap dog food recipes that help you get nutrition into your pup's belly without breaking your budget.
Remember what I said above, though. This is a "desperate times/desperate measures" thing, not an "everyday" thing.
The first one is my top choice and a great place to start. I've given you some tips to make it work during a food shortage.
If that doesn't work for you, though, then check out the list of 24 more to try.
Click on the links for the full recipes.
Top pick: Crockpot Chicken Homemade Dog Food
Our Easy Crockpot Chicken Homemade Dog Food Recipe uses wholesome ingredients like chicken and brown rice.
I promise, this isn't just my top pick because it's our recipe.
We did a ton of research before coming up with it, so it's one that I feel super confident about recommending.
You can swap out the chicken for another protein if necessary, like beef, lamb, or turkey.
Heck, you can even use venison if you're a hunter.
If you want to use chicken and can't find boneless chicken breasts (it's completely gone from our stores), use whatever chicken you can find.
We've used chicken thighs, drumsticks, and leg quarters in a pinch. We boil the meat first and pick the bones clean.
Just make sure you safely discard the bones. We actually put them in the garage garbage can because Freya will pick our kitchen garbage!
2. Dog breakfast recipe
This Homemade breakfast dog food recipe uses lentils, leftover (or canned chicken) and frozen veggies.
3. Ground Turkey & Lentils
No chicken? Try this ground turkey and lentils recipe. You'll just need one of most of the fruits and veggies.
4. Doggy Chili
If you have beans, carrots, tomato paste, broth and chicken, you have what you need for this doggy chili recipe. Sub out the chicken if necessary.
5. Turkey-based hypoallergenic dog food
This turkey-based recipe is made for a pup with allergies. Again, you'll just need one of most of the veggies listed.
6. Beef Crock Pot Dog Food Recipe
Most of the ingredients in this crock pot recipe are super cheap and easy to find. The beef is the biggest challenge, but you can sub it with turkey.
7. Peanut Butter Breakfast Scramble for Dogs
Canine Journal's peanut butter breakfast scramble (about halfway down the page) is the epitome of cheap dog food recipes for desperate times.
Use any bread and veggies you have on hand. For the PB, just check the label to make sure it's free of xylitol.
8. Make-Ahead Doggy Stew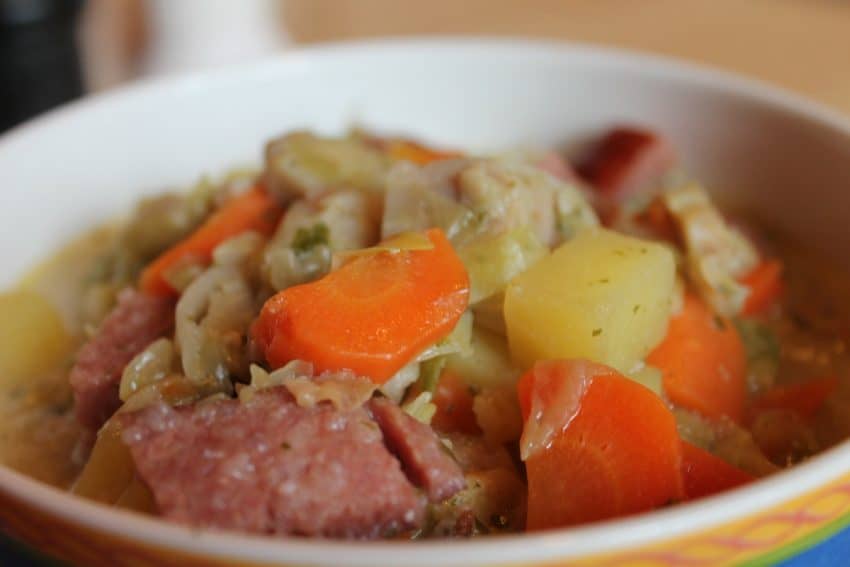 This doggy stew uses chicken thighs & livers and frozen veggies for the bulk of it.
9. Chili Cheese Bake for Your Dog AND You
The best cheap dog food recipes are ones that you can eat, too, like this chili cheese bake recipe.
10. Meatloaf Dog Food Recipe
This easy 5-ingredient meatloaf recipe for dogs uses ground beef, but you can swap it to turkey.
Use whatever veggies/fruits you have on hand for the "grated mixed vegetables" portion.
11. Cheap Raw Dog Food Recipe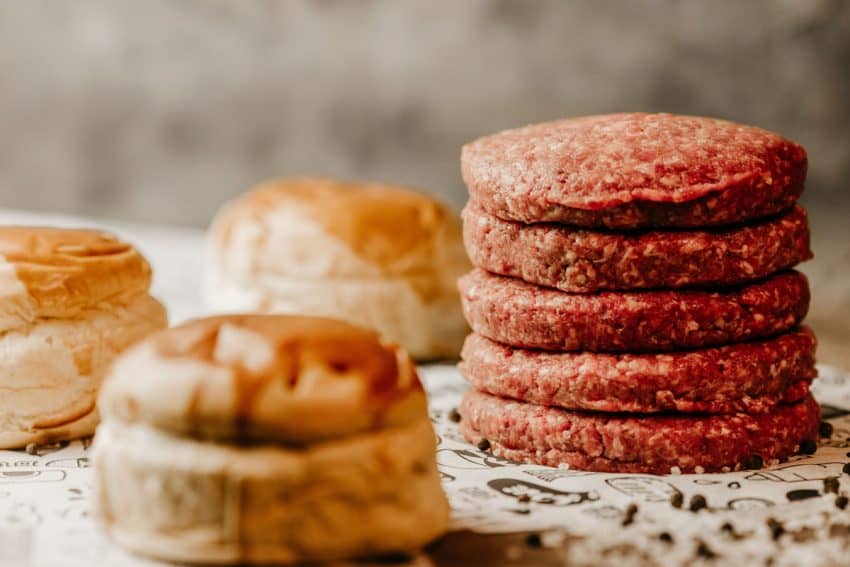 If you prefer to feed a raw diet, this cheap meat patties recipe may be just what you need. Use whatever dog-safe ground meat you can find.
Please read: Pros and Cons of a Raw Diet first!
12. Survival Food for Dogs
This survival food recipe is exactly what it sounds like- life-sustaining emergency rations for super desperate times. In other words, a last resort.
Check out their video for tips on putting together an emergency survival kit for pets.
Final Recommendations
With most of these recipes, you can swap out certain ingredients for what you have on hand or can easily find.
For example, all of the meats are interchangeable. If your dog can't tolerate chicken or turkey, use beef.
Likewise, if it calls for beef and your dog is allergic, use ground turkey.
Most of the veggies are swappable, too, but try to find something with comparable nutrition.
Last, I just want to reiterate that making your own dog food isn't something you should do everyday unless you've done your research.
Dogs need a well-balanced diet that differs from our own, and high-quality kibble takes their needs into account.
However, like I said, desperate times call for desperate measures.
Given the choice between no food and less-than-perfect food, something is definitely better than nothing!
Do you have any other favorite cheap dog food recipes to add? Share below!