Ladies & gents, start your engines and get ready for some clever car-inspired dog names!
We went on a high-speed chase to hunt down some of the cooles ideas for both male and female pups!
So, put on those seat belts and…well, we've run out of car puns, but you get the idea.
Let's get started!
Car Inspired Dog Names
Certain breeds of dogs have such high energy levels they race around in circles so fast they appear to be a blur.
Known as the "zoomies" huskies, and a lot of spitz dogs have this tendency.
Not only horses are known for speed, a greyhound can reach speeds of up to 72 km/h! That's as fast as some cars!
If you think your dog can rival The Flash for the rights to the nickname "Scarlet Speedster", then we have a bunch of car-inspired dog names that will match your dog's need for speed and love to go for car rides.
Male Car Inspired Dog Names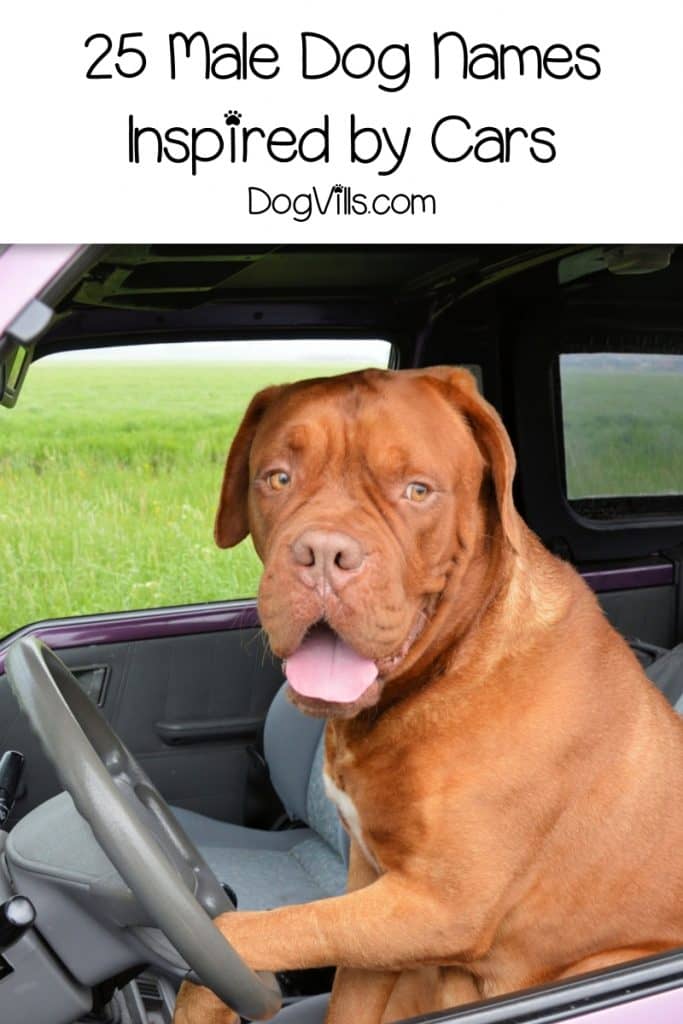 From diesel truck related dog names to luxury cars to things found in your engine, we've picked out some great ideas for you for boy dogs!
Axle (Axel) – Have you hard of an axle rod? It's the rod that passes through the wheels of a car and keeps them in place.
Alfa (Alpha) – For Alfa Romeo, the Italian car manufacturer.
Aston – For Aston Martin, one of the premier manufacturers of luxury sports cars. They are sleek and fast, much like your dog!
Bentley – Bentleys are largely handmade cars, which also explains the high price point. Although we're sure no matter how much a Bentley is, it won't match the pricelessness of your dog.
Boot – The boot is actually the trunk of a car.
Bumper – If your dog is a klutz and constantly bumping into things, this name is quite the fitting one.
Byton– According to Car Models List, they make exciting electric cars.
Cadillac – A maker of heavy-duty cars, it also reminds us of the word "lilac" which could make this a graceful name.
Camaro – Get a yellow one with black stripes and what do you get? Bonus points for the answer.
Charger – The Dodge Charger is one of the most amazing muscle cars, and is used by police forces in North America!
Chevy – Or you can go with the long-form Chevrolet, we think this name actually sounds very elegant.
Diesel – For Diesel trucks, and the fuel that powers diesel engines.
Ford – A long-standing and reliable brand. Just like you hope your dog will live long and be just as reliable.
Gauge – If you have been to a car garage, you know these exist on most cars.
Jack – It seems quite like a normal name, but it's also the machinery required to access the bottom of a car you see in garages.
Jaguar – Also a large cat, the jaguar is quite a sleek animal and a fast runner as well.
Maserati – Also an Italian manufacturer of luxury cars. Seems like Italy is well-known for these expensive vehicles.
Mclaren – From Britain, they are a luxury sports car manufacturer.
Mustang – Muscle cars are a favorite of ours, so we couldn't leave this out.
Phantom – This is a cool name but it's widely agreed to be the signature Rolls-Royce.
Pontiac – A dropped car brand that still makes a great dog name.
Romeo – If your dog is more of a lover than a runner, Romeo makes up the second half of the luxury car brand, Alfa Romeo.
Rover -Can't forget this one! Think Land Rover.
Ryder– As in Knight Ryder, of course!
Torque – One of our favorite garage themed dog names! Torque is
With names related to garages, muscle cars and diesel truck-related names, what else do we have in store for you for the little canine girls?
Female Car Inspired Dog Names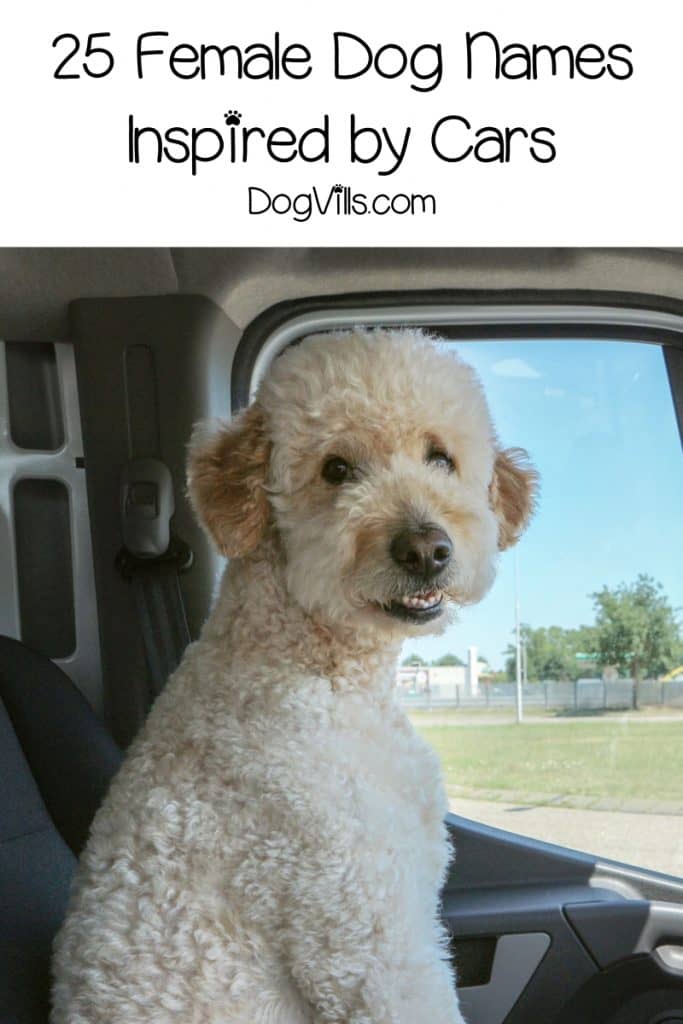 For girls, we turned to some of the most popular luxury cars.
Interestingly, if you're looking for muscle car dog names, you'll find more below than above.
Maybe it's because muscle car fans tend to name their rides after women? Hmmm. Whatever the reason, check out our top picks!
Acura – Said to be Japan's first luxury car brand.
Audi – Luxury in style, the Audi is sleek and is the car equivalent of your beautiful girl puppy.
Bavaria – It can be a unisex name, and we're pretty sure not many people know where it's from. It's the "B" in BMW!
Cabriolet – It sounds so elegant! It's the term used to refer to convertibles with windows.
Cayenne – Not the pepper, but the first SUV by luxury brand Porsche.
Cherokee– Jeep's iconic automobile.
Chevelle – An old-school Chevrolet muscle car that sounds quite nice for a little fur baby girl.
Christine– As in Stephen King's super scary fictional car!
Citroen – It rolls off the tongue quite nicely, it's also an elegant and fancy name for your fur baby.
Cobra – A legendary American muscle car. Your little girl will sound so tough with this name!
DeLorean – Have you seen "Back to the Future"?
Drift – Have you seen your dogs drift around the corner because she's going so fast?
Ferrari – They are so reputable no introduction is needed. For the fast runners, the Ferrari will more than match your dog.
Honda – A Japanese car brand, it's an affordable car line known to be reliable and functional.
Infiniti – You love your dog to infinity and beyond, so why not name her after this powerful car?
Kia – A South Korean brand.
Lexus – A higher-end division of Toyota.
Mazda – A brand often seen in Japanese racing movies.
Mini – For the small little dogs that bring us great joy.
Pagani – They are responsible for creating some of the world's supercars.
Porsche – We cannot forget this brand that makes luxury vehicles in all models.
Riviera – It sounds exotic, but it's also a classic old school muscle car.
Tesla – The leading expert in EVs.
Toyota – When you're looking for an affordable car that is reliable and stands the test of time, a Toyota would be everyone's top suggestion.
Wildcat – A classic Buick muscle car. It sounds very sexy if you ask us!
Who knew car names could be so fitting for dogs too!
We were surprised by the number of eloquent names we came across. Did you get the answer for our bonus question?
Tell us below along with your favorite car inspired dog names on the list!