Looking for great camping dog names that let you show off your love of the great outdoors?
Get ready for an insane amount of options to choose from!
We've compiled of list of more than 180 fantastic ideas for male and female puppers!
Let's check them out!
Related: Top 20 Saltwater Dog Names
Content & Quick Navigation
Why Choose a Camping Dog Name?
The quote below from John Lubbock (who was an archaeologist, naturalist, and scientist) perfectly describes the meaning of camping.
"Earth and sky, woods and fields, lakes and rivers, the mountain and the sea, are excellent schoolmasters, and teach of us more than we can ever learn from books."

John Lubbock
According to the 2019 North American Camping Report, in 2018, there were 78.8 million households that went camping at least once.
The report was released by Kampgrounds of America (KOA), the world's largest system of open-to-the-public campgrounds, with 500+ locations throughout the U.S. and Canada.
So, why camping dog names? Why not?
Seriously, if the great outdoors beckons you, why not choose a name that reflects your active lifestyle?
Keep reading to find the best name for your dog!
➔➔Related: dog names inspired by travel
Ultimate List of Camping Dog Names
From camping names to mountain-inspired ideas and beyond, if you love the great outdoors, your new puppy's perfect name is below!
Camping-Related Names
Is pitching a tent in the wilderness and getting away from civilization is your idea of a fun vacation? Then these names are for you!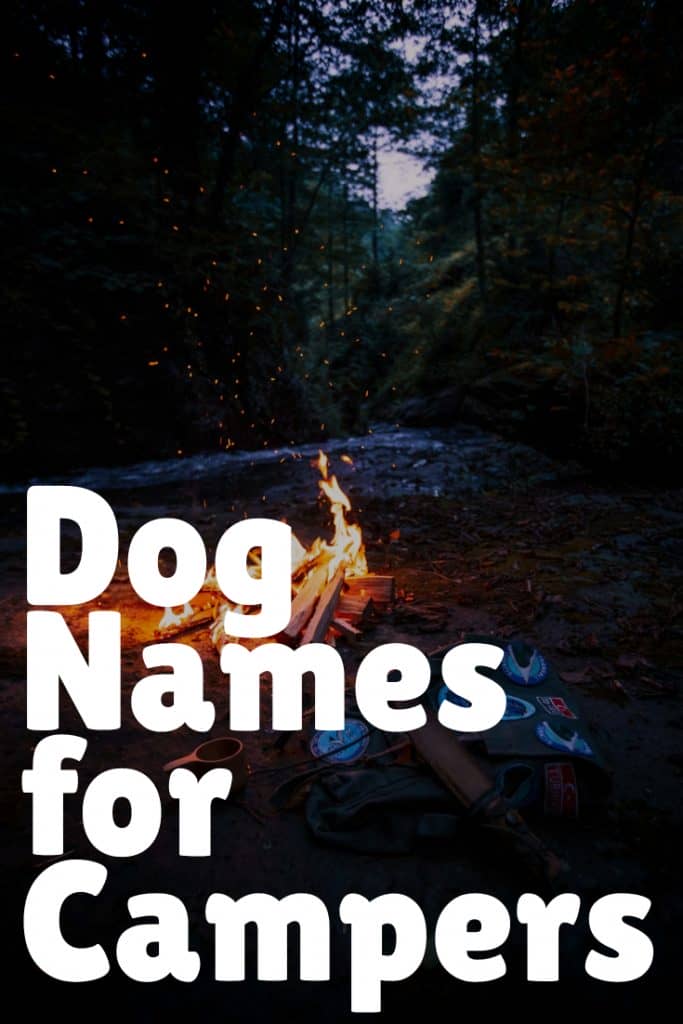 Ash
Bandana
Bear
Billy
Blanket
Bluff
Bonfire
Boots
Boulder
Breeze
Cabin
Cache
Camper
Canoe
Canopy
Canteen
Charcoal
Cocoa
Coleman
Columbia
Compass
Compost
Cooler
Corduroy
Cot
Coyote
Cypress
Dew
Dinghy
Duffle
Ember
Fleece
Forest
Frisbee
Frog
Gypsy
Hammock
Hummingbird
Igloo
Kayak
Kindling
Lantern
Meadow
Misty
Moon
Moose
Mosquito
Muddy
Nalgene
Paddle
Patagonia
Pebble
Pinecone
Propane
Pullover
Quill
Raccoon
Rain
River
S'more
Scout
Snake
Spork
Star
Storm
Stream
Sunshine
Tarp
Tick
Windbreaker
Yeti
Zippo
➔➔ 200 Geography Dog Names
Mountain-Related Dog Names
If strapping on climbing gear and scaling the face of a cliff gets your adrenaline flowing, try one of these mountain-related dog names!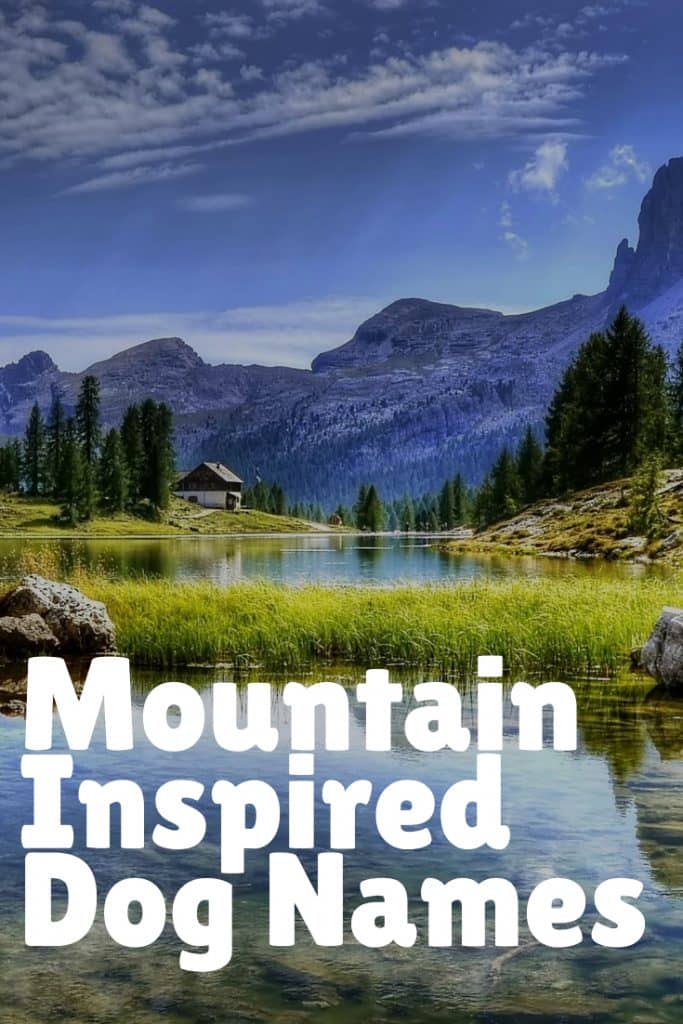 Ailama
Alborz
Alcazaba
Alps
Andes
Anzer
Aoraki
Askja
Aspen
Baxter
Benna
Bernina
Blackburn
Cadillac
Cameroon
Canali
Cascade
Castor
Caucasus
Chimborazo
Denali
Devi
Echo
Elbert
Elbrus
Erebus
Everest
Fairweather
Fuji
Gasherbrum
Gongga
Himalaya
Hope
Humphreys
Ipala
Irazu
Jazzi
Kamet
Karakoram
Kenya
Kidd
Kilimanjaro
Kinabalu
Lhotse
Logan
Major
Makalu
Matterhorn
Mountain
Namcha
Nona
Olympus
Orizaba
Pamir
Peak
Rainier
Ridge
Rocky
Rupee
Shasta
Sierra
Smoky
Summit
Teton
Toubkal
Weston
Wila
➔➔ 100 Tropical Dog Names (Male & Female)
Trail Dog Names
Does "take a hike!" sound like a great suggestion rather than an insult to you? Try one of these trail dog names for your new pup!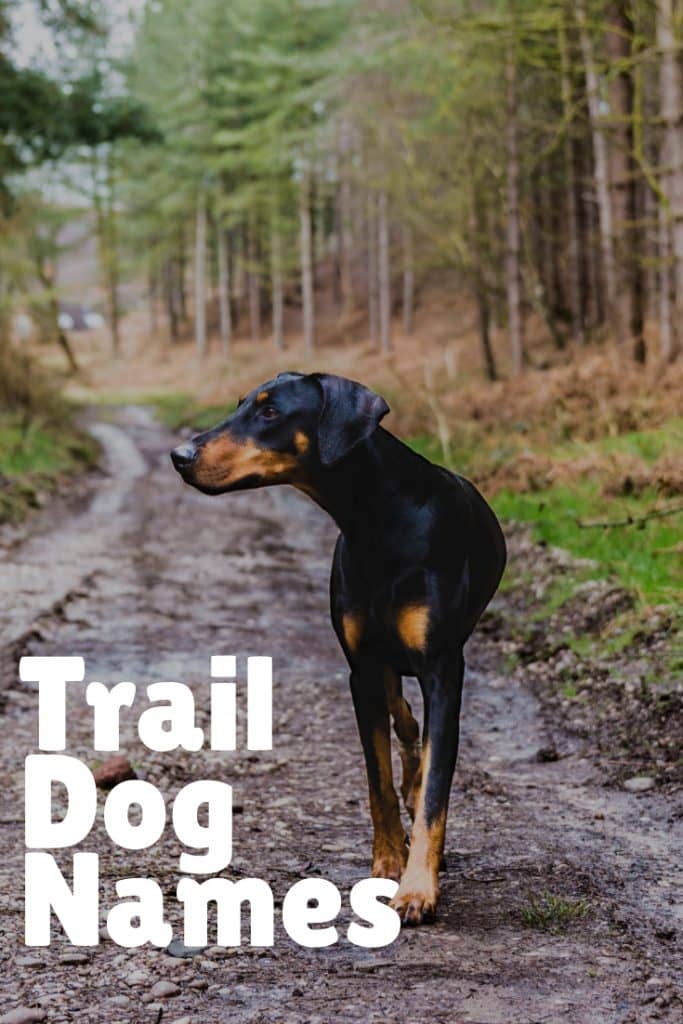 Adventure
Allegheny
Appalachian
Backbone
Bartram
Batona
Benton
Bigfoot
Buckeye
Camino
Caprock
Catamount
Chilkoot
Coastal
Cohos
Colorado
Conestoga
Continental
Corvallis
Cotswold
Cumberland
Discovery
El Camino
Footpath
Greenbrier
Greenway
Hayduke
Hennepin
Iditarod
Inca
Kalalau
Knobstone
Kungsleden
Natchez Trace
Ouachita
Ozark
Palmetto
Paumanok
Pinhoti
Potomac
Routeburn
Sheltowee
Tecumseh
Timberline
Tuscarora
Yosemite
Zion
With over 180 different camping dog names to choose from, you shouldn't have any trouble finding just the right one for your new pup!
What are some of your favorite camping dog names? Share below!