If you're trying to choose a great orthopedic bed for a large breed dog, this Bully Beds vs. Big Barker dog bed comparison will help!
Both are excellent beds with fairly stellar reviews, but which one is really worth your hard-earned money?
We'll look at the major features of each one.
Then, we'll go over the similarities and differences to help narrow down our number one pick!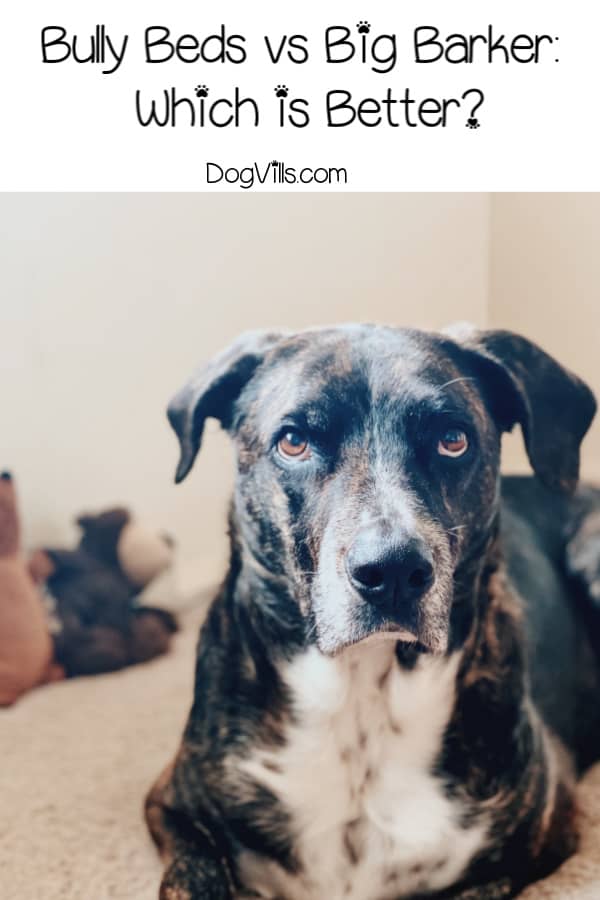 You may also want to check out our Big Barker Orthopedic Dog Bed Review
Bully Beds VS. Big Barker Dog Beds
Before we get started, I thought it would be a good idea to give you a reference table so you can follow along as we go over the beds.
FYI, this post contains affiliate links. If you make a purchase through these links, we earn a small commission at no extra charge to you.
Preview
Name
Bully Beds 7" Orthopedic Foam Dog Bed
Bully Beds 4" Orthopedic Foam Dog Bed
Big Barker 7" Orthopedic Bed with Headrest
Big Barker 7" Orthopedic Bed without Headrest
Colors
Burgundy, Gray, Chocolate, Khaki
Burgundy, Gray, Chocolate, Khaki
Preview
Name
Bully Beds 7" Orthopedic Foam Dog Bed
Preview
Name
Bully Beds 4" Orthopedic Foam Dog Bed
Preview
Name
Big Barker 7" Orthopedic Bed with Headrest
Colors
Burgundy, Gray, Chocolate, Khaki
Preview
Name
Big Barker 7" Orthopedic Bed without Headrest
Colors
Burgundy, Gray, Chocolate, Khaki
You'll notice that the Big Barker comes with and without a headrest, while Bully Beds does not.
For the sake of comparison consistency throughout this post, we'll be talking about the Big Barker bed WITH the headrest.
➨ Don't forget to check our detailed guide: best dog beds review & how to pick one for your pooch
Bully Beds Basics
Bully Bed dog beds come in four different sizes, all designed for larger breeds. Features include:
A 7"-thick medical-grade orthopedic foam mattress designed to soothe your aging dog's joints.
5" of that is 4.5-lb foam and 4.5" is a 2 lb support base foam. Confusing, right? Basically, the base is thicker than the topper, but the topper is heavier memory foam than the base.
Great support for your active dog's hips.
A soft and durable washable outer cover that's easy to clean.
A 100% waterproof inner cover.
20-year guarantee that the bed won't go flat. If it does, they'll replace it for free.
Now, let's head over to Big Barker for their basic features.
Big Barker Basics
All of their beds aren't just made for big dogs, the foam is actually calibrated for heavier breeds.
Made with 7″ of American Made therapeutic foam
Unique 3-stage foam construction eliminates pressure points.
Engineered to support and cushion your dog's joints.
Machine-washable microfiber cover.
10-year "won't flatten" warranty (it'll retain 90% of its shape or your money back)
Made in the USA
They sound kind of similar, right? Let's dig deeper and find out just HOW similar they really are.
Sale
Big Barker Orthopedic Dog Bed w/Headrest - 7" Dog Bed for Large Dogs w/Washable & Chew-Resistant Microsuede Cover - Elevated Dog Bed Made in The USA w/ 10-Year Warranty (Headrest, Giant, Khaki)
Dog Beds for Large Dogs: Finally, your big furry friend can stretch, curl up, and rest comfortably all on one bed; Thick, quality-assured foam and soft microsuede make Big Barker beds the only orthopedic dog beds for large dogs
Clinically Shown to Reduce Joint Pain: Study data has shown that our raised dog beds help ease joint pain and improve mobility; The headrest supports your pet's head while they sprawl across the rest of the giant dog sofa bed
Washable Microsuede Cover: Big Barker's covers are machine washable & smell-resistant; The fabric is designed to withstand rubbing, digging & nesting; Easily remove the zippered cover for shrink-free washing, stain cleaning, or even quick replacement
Intuitive Zippered Design: We've designed our beds with the zipper tucked in & seams sleekly incorporated to keep your pup comfortable; Not only is the microfiber material durably woven, it's designed to look great in your home
Elevated Foam Dog Bed: Our foam dog furniture is made in the USA, sustainably sourced & quality-assured to not flatten or pancake over time; Let your best friend rest easy in a soft & durable raised bed backed by a 10-Year Warranty by Big Barker
Bully Bed VS BIG BARKER DOG BEDS: SIMILARITIES & Differences
Both beds have some very important features in common. They also differ pretty significantly in some areas.
Use the table below for a quick peek at a few basic similarities and differences, then read on for in-depth details.
Preview
Orthopedic Foam
7" (except medium), 2 layers
Waterproof right out of the box?
Warranty
20-year "no flatten" guarantee
10-year "no flatten" guarantee, 365-day trial period
Replacement covers cost
$60-75, depending on size
$99-159, depending on size
How much for waterproof liners
1st one is included with bed, $50-75 for extras
Preview
Orthopedic Foam
7" (except medium), 2 layers
Waterproof right out of the box?
Warranty
20-year "no flatten" guarantee
Replacement covers cost
$60-75, depending on size
How much for waterproof liners
1st one is included with bed, $50-75 for extras
Preview
Waterproof right out of the box?
Warranty
10-year "no flatten" guarantee, 365-day trial period
Replacement covers cost
$99-159, depending on size
How much for waterproof liners
Since we're trying to decide between Bully Beds vs Big Barker, I'll give you my opinion on who "wins" each round.
Last, I'm embedding some photos from each brand's Instagram so you can see them in use. Bully Beds gets the odd numbers, Big Barker the even. 😀
1. ORTHOPEDIC DOG BEDS
Both beds are orthopedic, meaning they're designed to soothe your dog's aching joints and take pressure off his hips, spine, and other sensitive areas.
Each bed also offers a full 7"-thick mattress (except for the medium Bully Bed). These aren't piddly little 3-inchers with no support, my friends!
Bully Beds mattresses use two layers of foam- a thick supportive base and a strong top layer.
Big Barker actually invented a proprietary 3-stage method of construction, with a cloud-like top layer, an extra-supportive middle, and a base layer.
Also, both beds use CertiPUR-US foam, meaning that it's safe and non-toxic.
Winner:
Big Barker, but only by a small margin.
Honestly, they both excel at crafting a super supportive orthopedic mattress.
In other words, if you're looking for a bed for your aging dog, either option would be a good pick.
2.SIZES
While many bed manufacturers totally ignore the existence of giant breeds, both Bully Beds and Big Barker made it their mission to include them in their lineup.
In fact, Big Barker built their entire brand (sorry for all the alliteration) around large and giant breeds. Because of that, they don't offer a model for medium or smaller dogs.
On the other hand, Bully Breeds does offer a medium-sized bed. HOWEVER (and it's a ginormous however), that model is only 4" thick, at least according to their extended description.
There is a bit of discrepancy, as they start by saying it's 7" thick, but the dimensions indicate otherwise.
Winner
If you're shopping for a large to giant breed, again it's pretty much a draw. If you're looking for a medium bed, well, technically Bully Beds win.
However, at just 4" thickness, I feel like there are bed options outside our Bully Beds vs. Big Barker comparison.
3. EASY TO CLEAN
Here we start to notice some more important differences.
Both options boast that they're easy to clean. Both offer removable and washable outer covers to prove it.
However, Bully Beds adds in a second cover, and a fully waterproof one to boot.
If you want a waterproof cover for Big Barker, you'll have to buy it separately.
Winner
Bully Beds, no contest. Their beds come with a waterproof layer right out of the box.
4. MADE IN THE USA
If you prefer to only purchase dog products made in the USA, go with Big Barker.
While Bully Beds is a US-based company, we recently learned that their beds are actually made in China.
Big Barker beds are made in Pennsylvania, which is where I'm from.
Winner
Big Barker
5. GUARANTEES AND WARRANTIES
We touched on these in the features, but here they are in more detail.
Big Barker Warranty
First, Big Barker has a basic 10 YEAR WARRANTY that foam will retain 90% of its shape.
That means if it flattens or gets all lumpy, they'll replace it for free.
They also have a 365-day "trial" period. If, at any time and for any reason, you decide it's not the bed for your dog, you can return it for a full refund, no matter what condition it's in.
HOWEVER, that warranty ONLY applies to beds bought directly from Big Barker's website.
They do mention the warranty in their Amazon listing, though. So if you buy it through their shop and NOT a 3rd party seller, you should be okay.
Check their return policy for more details.
Bully Beds Warranty
Bully Beds, on the other hand, offers a 20 YEAR WARRANTY that guarantees the bed will retain its shape.
If your bed flattens by more than 2 inches within that 20-year period, they'll replace it one time for free.
The warranty is not transferable, though. Sadly, very few dogs live for 20 years. If your pup passes on and you give the bed to a friend, the warranty no longer applies.
Also, this warranty does not cover normal wear and tear to any part of the bed, chew damage to the foam, or any damage that occurs from outdoor use.
There is a Bully Bed chew resistant model as well, but it's only available on their website and it's not nearly as thick or comfy as their standard bed.
Check their warranty policy page for more details.
Winner
If you just go by number of years, Bully Beds wins because, obviously, 20 is more than 10!
However, Big Barker offers that nice 365-day "no caveats" trial period.
Plus, their bed is guaranteed to retain 90% of its shape, so if it flattens by more than 0.7″, you can get a replacement.
So, Big Barker is the winner here.
6. BACK STORY
To me, a brand's back story has just as much to do with the quality of their beds as any other factor.
I'd rather buy from a brand that started their company out of love and to fill a need that hasn't been met than one who just says, "Hey, I can make money selling dog beds!"
Bully Beds Story
Bully Beds is named after the founders' beloved Cane Corso, Bull. Their story literally made me cry.
See, like most giant breeds, Bull- an outgoing & loving therapy dog- developed hip problems, so his people went in search of a great supportive bed.
Instead, they found that most options were way too expensive and/or not nearly supportive enough. So, they made their own (after significant research of course).
Heartbreakingly, Bull died suddenly and unexpectedly in 2016. So they named their company after him.
Check out the full and touching Bully Beds story here, but be prepared for tears.
Big Barker Story
Big Barker's story begins back in 2005 with a 92 lb mix named Hank.
At just 9 months old, the vet delivered the heart-wrenching news to Eric, Hank's owner- poor Hank had early onset hip dysplasia.
The vet gave Eric two options- a grueling surgery OR go above and beyond to " keep stress off his hips."
Eric started a company dedicated to selling really great products for really big dogs. However, he found one area that was totally lacking- orthopedic beds for large breeds.
I bet you can guess what comes next, right? After significant research and with the help of an expert engineer, he made his own!
Take a look at the entire wonderful Big Barker story here.
Winner
It's a tie, because both are noble and wonderful stories. I'm not about to judge one brand's heartbreak over another.
Both are winners compared to fly-by-night, "we're just in it for the money" brands in my eyes!
7. Base Price Comparison
We kind of already covered this up in the title, but it bears a longer discussion.
If you look at each size for both beds and compare prices, you'll see that Big Barker ranges from $80-100 MORE than Bully Beds.
Use the list below to see what I mean. We'll alternate them by sizes, Bully Bed first.
Keep in mind that while Bully Beds' XXL is the same as Big Barker's Giant.
Winner
Bully Beds, hands down.
8. Add-ons, Replacements & Accessories
Last, but definitely not least, we need to look at the "add-ons" for each brand to get an idea of our long-term or extra costs.
I know we mentioned a few of these earlier, but it helps for me to have them all in one place. So I thought maybe it would be easier for you as well.
Prices are rounded up to the nearest dollar
| Add-on | Big Barker Cost | Bully Beds Cost |
| --- | --- | --- |
| Waterproof Liner | $80-100 | $50-75 |
| Standard covers | $100-160 | $60-75 |
| Heavy-Duty Covers | N/A | $90-135 |
| Crate Pads* | $100-160 | $104-149 |
*Okay, so crate pads aren't really an add-on to the standard bed, but I added them anyway. No rhyme or reason, just because it seemed like a good idea!
Bully Beds Vs Big Barker: Who's the Winner
Ack! Tough choice!! I want to say both. I mean, if you look at Big Barker vs. Bully Bed reviews on Amazon, both are beloved choices.
If you said to me, Nicole, you MUST choose one or the entire universe would implode, I think I'd have to go with Bully Beds.
Don't get me wrong, I love love love love love times a million everything about Big Barker. However, Bully Beds isn't quite as tough on my budget.
Plus, I like that they give you a waterproof liner right from the get go.
So, there you go! I hope this helped you decide between two incredibly stellar orthopedic dog beds!
DO YOU HAVE EITHER OF THESE BEDS? WHAT WOULD YOU ADD TO OUR BULLY Beds VS. BIG BARKER DOG BED COMPARISON? SHARE BELOW!
Last update on 2023-09-22 / Affiliate links / Images from Amazon Product Advertising API