If you're looking for the bravest dog breeds, I have some news for you: every dog is capable of great bravery!
From the tiniest chihuahua to the greatest of the Danes, they'll all go above and beyond to protect their families when necessary.
However, there are a few breeds that have a solid reputation for being particularly courageous.
Let's take a look at ten that come to mind, shall we?
What are the Bravest Dog Breeds?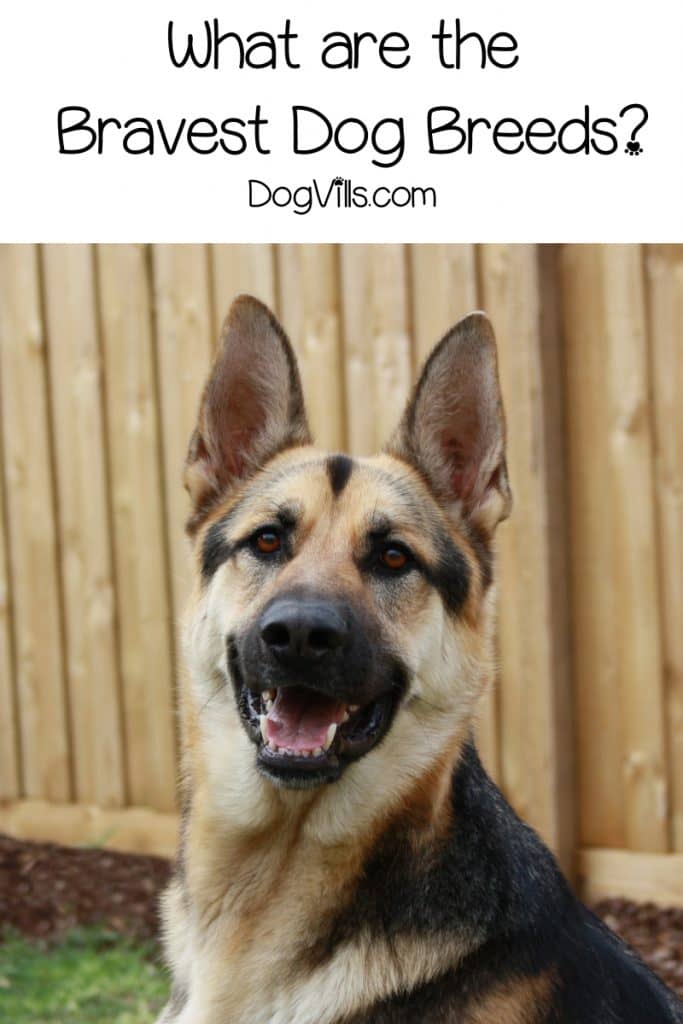 Before we talk about the bravest dog breeds, I feel like I need to remind you that every dog is unique.
It's possible to find dogs off this list that are equally as brave, or dogs on this list who are scared of their own shadow.
Also, size doesn't necessarily matter when it comes to bravery.
I've read about a chihuahua going up against a bigger dog to rescue kittens, and I've also known great big breeds who were total scaredy cats!
With that in mind, the following is a "loose" list of the bravest dog breeds. In other words, don't go carving it into stone!
1. German Shepherd
We can't talk about the bravest dog breeds without mentioning the German Shepherd.
After all, it's the first breed that comes to mind when we think about police dogs!
What's great about them:
Loyal to the nth degree
Confident
Easy to train and eager to please
Great family dog
What's not so great:
Easily bored, which can lead to destructive behavior
Shedding (you could make a whole new dog out of their hair!)
Prone to hip dysplasia, degenerative myelopathy & bloat
They're happiest when they're working, so give them a job that lets them show off their bravery (in a safe way, of course, unless you're training a police dog).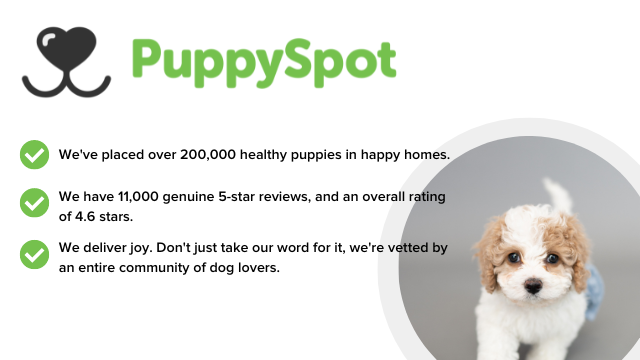 If you need more convincing about their courage, check out this sweet video of a GSD named Finn receiving an award for bravery:
2. Belgian Malinois
Did you know that many of the military dogs we think are German Shepherds are actually Belgian Malinois?
What's great about them:
Highly intelligent and trainable
Very people-oriented breed (so not a good breed to leave alone all day)
Forms very strong bonds with his family
What's not so great:
Super high prey drive, so you need to watch them around small animals
Tendency to chase cars and kids (thanks to that prey drive)
Prone to hip and elbow dysplasia as well as certain eye problems
Early socialization and training will help you deal with that tendency to chase cars, cats & kids.
They are quick to learn and eager to please, so as long as you're diligent early on, it shouldn't be a lifelong issue.
While heartbreaking, this video below about Kuga shows just how brave these dogs really are:
3. Cane Corso
The Cane Corso is a strong and powerful dog with a lineage dating back to ancient times where they were used as guard dogs by aristocrats.
My dear friend had a Corso that passed away recently. She was a very sweet dog…but also a formidable presence around strangers.
What's great about them:
Very loyal to their people (this is also a con, as we'll see in a moment)
Eager to please, making them easy to train
Super smart and independent
What's not so great:
Loyalty to their people makes them a bit overprotective at times
Susceptible to bloat as well as bone & joint problems common in large dogs
They droll like crazy! My friend followed hers around with a towel!
Early socialization is super important with a Cane Corso. You want to get them used to as many people as possible so they learn that not everyone is out to get their family.
Check out the video below to learn more about the Cane Corso:
4. Collie
I feel like we can't talk about the bravest dog breeds without mentioning the Collie! I mean, how many times did Lassie save Timmy from that well?
Okay, so that was a fictional dog, but news stories are filled with real-life courageous collies, like this one about Bobbie the Wonder Dog, who trekked 2,800 miles to find his family.
What's great about them:
Incredibly good with children
Super smart, eager to please and quick to learn
They excel in agility games, making them a joy to train
What's not so great:
Some are sensitive to certain drugs so you have to be very careful with prescription medications.
Prone to eye problems
Fur tends to get matted so you need to really stay on top of grooming
As far as the eye problems go, highly reputable breeders do a lot of genetic screening to greatly reduce this risk.
If you're curious about the story of the world's most courageous fictional collie, check out this video:
5. Pit Bull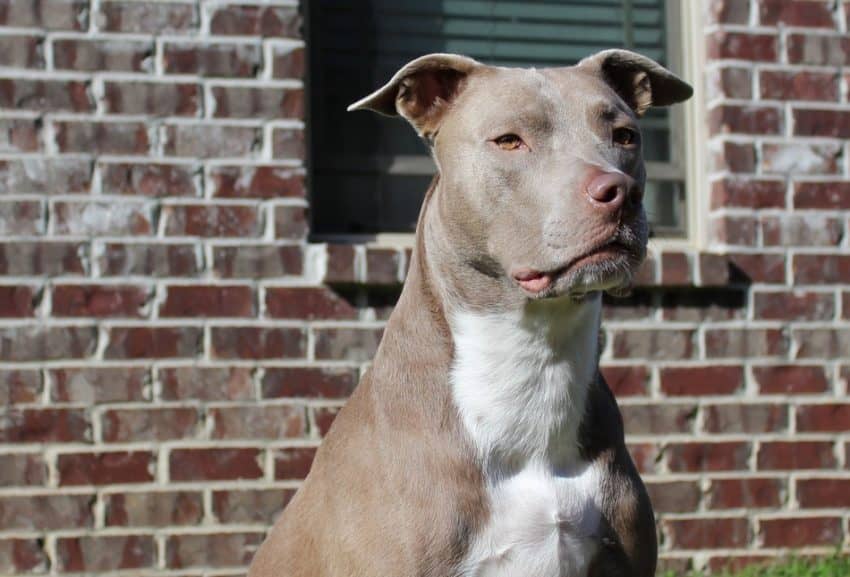 Okay, so "pit bull" isn't technically the name of a specific breed, but rather a catch-all for bull terriers, American Staffordshire terriers and other similar dogs.
Pit bull dogs have an unearned reputation for being violent killers. This simply isn't true. In fact, they're quite brave, loyal and loving!
What's great about them:
Very loyal to their families
Extremely eager to please
They absolutely love people
What's not so great:
Through no fault of their own, they have a reputation for being vicious. They're not, but people still believe they are.
Tenacity: they're very stubborn at times!
Prone to skin issues and allergies
You'll have to train people in your life to let go of the notion that pits are bad dogs, but it's totally worth it.
Watch this brave pit rescue his boy from a snake!
6. Doberman Pinscher
Another breed that has a rep for being dangerous and menacing, the Dobie is actually a lot friendlier than he looks!
The AKC calls him one of "dogkind's nobleman," and it's easy to see why. From his powerful stance to his bright, intelligent eyes, he's definitely a king of kings!
What's great about them:
A loyal guard dog
Learn quickly and easily
Thin coat makes grooming a cinch. They're called a "wash and wear" breed!
What's not so great:
As a deep-chested dog, he's prone to bloat
Can be "pushy," so early training is a must
Need a lot of exercise and activity to prevent destructive behaviors, so not a dog for couch potatoes.
Because humor is the spice of life, here's a hilarious video of a Doberman defending his family against an army of gnomes!
7. Giant Schnauzer
The largest of the Schnauzers (in case the name didn't give that away!), this beautiful hypoallergenic breed is both bold and valiant.
The mighty breed can stand up to 27″ tall and weight up to 95 lbs, so while he's smaller than actual "giant" breeds, he's still bigger than, say, your average lab or GSD.
What's great about them:
They're hypoallergenic dogs, making them good for people with allergies.
Extremely intelligent and eager to please their owners
Very loyal to their families
What's not so great:
They are territorial dogs, so early socialization is a must
They don't tolerate being alone, making them a bad choice for single working people.
Need a lot of exercise, as they are high-energy dogs
I've never actually seen a giant schnauzer, but my aunt had two miniature Schnauzers and I can attest to the breed's intelligence!
Check out the video below to learn more about the Giant Schnauzer!
8. Rottweiler
Rottweilers, or "Rotties" as their fans affectionately call them, are another of those "totally misunderstood" breeds.
They look fierce and imposing…right up until they smile! Then, it's easy to see their inner goofball come out.
What's great about them:
Loving and loyal to his people (including children)
Very eager to please and easy to train
Love outdoor activities, making him great for active families
What's not so great:
They don't do well alone, which is kind of ironic since they have a reputation for being an aloof dog breed!
Tendency for stubbornness
At a higher risk for certain cancers (although good genetic screening should help reduce this risk)
Want to see their bravery in action (along with a hefty dose of "awww")? Check out this sweet compilation of Rotties protecting babies & kids:
9. Labrador Retriever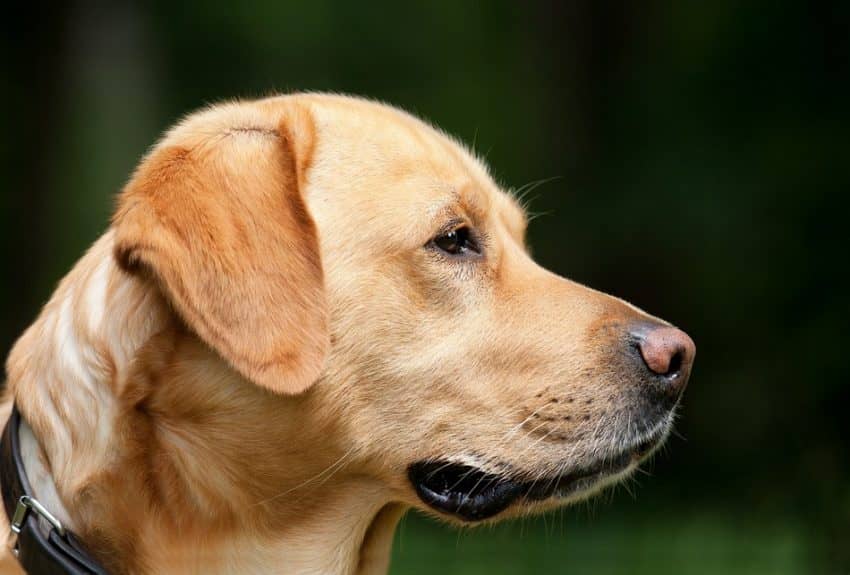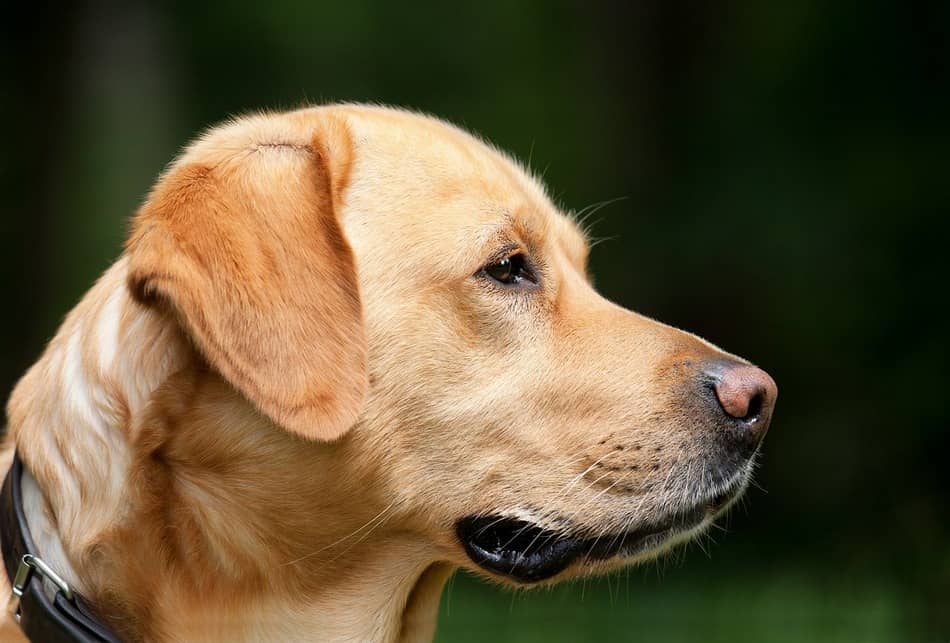 You don't have to look far to find stories about brave labs protecting their families!
From fiction to fact, labs have a long reputation for being loyal beyond measure to their families! There's a reason they're the #1 most popular dog in America!
What's great about them:
Incredibly loyal to everyone in the family, including small children
Super eager to please, making them a breeze to train
Smart, funny, and all-around great family dogs
What's not so great:
Prone to bloat (I am traumatized for life by the ending of Marley & Me, so bloat is always on my mind).
They need a lot of exercise, otherwise they can be a bit destructive!
Prone to weight gain, so it's very important to feed them good kibble & keep the treats to a minimum.
Most of the "labs saving their humans" videos were just too heartbreaking to watch (like this one, and don't say I didn't warn you).
I'm not here to make you cry, so here is a funnier one that shows off their bravery!
10. Dachshund
Don't let the petite size of the dachshund fool you! They may be small in stature but they're ginormous in bravery!
After all, they are originally bred to hunt badgers, one of the world's most fearless creatures!
What's great about them:
They are very vigilant and intelligent, making them great little watch dogs!
As far as dogs go, they're among the least smelly
They have long life-spans, up to 16 years
What's not so great:
Prone to weight gain, which is very dangerous for them!
Independent & stubborn, making them a challenge to train.
As the AKC says, they can be "brave to the point of rashness," so you have to watch closely to make sure they don't try to take on something they can't beat.
While being overweight is bad for any dog, it's especially dangerous to the dachshund because of his body shape.
Once again, the majority of the "brave dachshund" videos are just too heartbreaking to watch (like this guy who gave up his life to save his family from a snake).
So, to avoid making you bawl your eyes out like I just did, check out this one with a tiny little dachshund pup "saving" his girl from a bully:
Like I said earlier, any dog is capable of great acts of courage, so if your pup didn't make the list of the bravest dog breeds, don't take offense!
Your turn! Tell us your picks for the bravest dog breeds! I'd also love to hear about acts of courage from your own pooch! Share below!