Let's talk about some of the biggest mistakes new puppy owners make!
If you have never owned a puppy before, you will soon find out that the first few weeks are very exhausting and very trying.
If this is your first dog, you're bound to make a few mistakes here and there.
It's not the end of the world, and it's never too late to fix improper training.
That said, if you're just embarking on your new journey, hopefully we can help keep you from making these biggest mistakes!
You may also like: What You Need For Your Puppy Socialization Party
Biggest Mistakes New Puppy Owners Make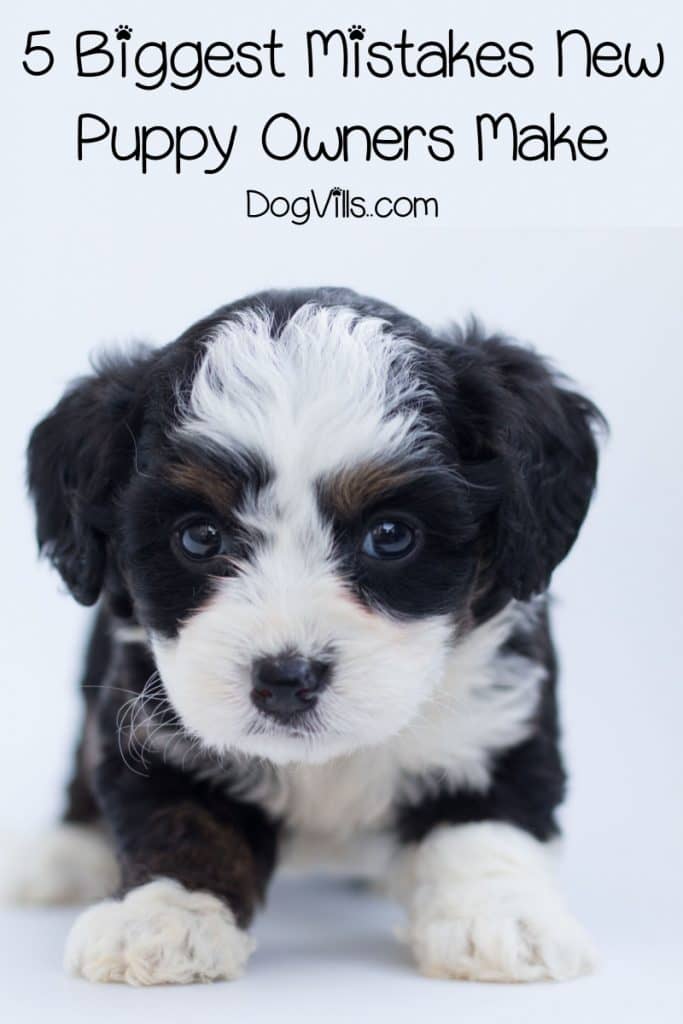 Remember, if you've already made these new puppy owner mistakes, it's not too late to fix them! Check out our tips for correcting bad training!
For those who are just bringing home their new furry family member, keep these mistakes in mind as you start your training.
FYI: This post contains affiliate links. We earn a commission if you make a purchase through them.
MISTAKE 1: Feeding human food
Once you start giving your dog people food, it is very hard to break the habit. It's better to avoid giving them table scraps right from the start.
Once your new pup gets a taste of the "good stuff," his own dog food will no longer appeal to him. I mean, why go for dry kibble when you can get cooked steak?
Even if your little puppy is watching you with sad eyes over the spaghetti dinner you and your family are enjoying, you simply cannot give in.
You must persevere with a stone cold heart and build immunity to your new fur baby.
People food is not healthy for dogs since they cause an array of dog ailments. Their digestive system is different from yours, and they may not be able to process certain foods.
Some foods are incredibly dangerous. These include include grapes, onions, chocolate and anything with caffeine.
Another thing to pay extra attention to is chicken bones or (or other small bones) as they can get lodged in your dog's throat.
If you want to spoil your puppy, you can make one of our delicious recipes such as this no-bake treat shown in this video:
MISTAKE 2: Not enough socializing
As a dog owner, you certainly don't want to be walking your dog and having them constantly pulling on the leash. You also don't want them barking at every little thing.
Your dog needs to have the ability to react to people as well as other animals the right way. Socializing is an ideal way for your dog to develop and grow.
Enroll him in dog classes, take him to your local dog park or just take him out for a simple ride in the car.
A pup without socialization can become more territorial and aggressive. They may even have the tendency to believe they are human, rather than a fur baby, and shun interaction with other dogs.
Socializing doesn't just mean to get him out and about but it also includes things like clipping his nails, bathing him and examining his paws.
Even taking a trip to the groomers can expose your new pup to other canines.
You don't have to throw lavish birthdays and puppy sleepovers have your pup make some new friends.
Related ➨ Puppy Socialization: The Key to Overcoming Fears
MISTAKE 3: Exposing to diseases
This is a mistake that many new puppy owners make, and it is a huge one. A new puppy is like a disease-free clean slate.
If their vaccines are not complete, you don't want your dog anywhere near where another dog has been.
Parvo is one of the many diseases they can pick up. Parvo is transmitted through fecal matter of other dogs and sometimes may result in death.
For some reason, dogs are attracted to strong scents, poop or not, and they may like rolling in feces too. It's hard to curb your pup's natural instincts, so vaccines are important.
Until they have their vaccines complete, you can still take them out and about but with limitations such as you may have to carry him around or just take him for a car ride.
Keep him or her away from bushes and public dog parks where it is more likely for them to contract a disease.
We have seen more than our fair share of new owners making this exact mistake. Without proper vaccination, your puppy is not as tough as you think.
As a responsible pet parent, make sure you sufficiently arm your new puppy with vaccines for outdoor adventures.
The video below does a great job of explaining your puppy's vaccine timeline.
You might want to read: Why Are Vaccines So Important to Your Dog's Health?
MISTAKE 4: Punishment
Dogs cannot connect your yelling and screaming at them with their bad actions.
So, if your dog gets a hold of some food from the kitchen counter and you yell at him, he doesn't connect your shouts with the action.
Of course, you never want to hit your dog physically as they will eventually just end up being afraid of you in the end.
You can firmly tell them NO! But nothing more than that. Check out the video below to learn more about rewards vs. punishment in dog training.
Related: My puppy doesn't like me. Read what to do.
MISTAKE 5: Waiting too long to start training
A lot of new pet parents also believe their puppies might be too young to train.
This is a misconception, and actually training your new pup from the start will make further more advanced training easier.
Did you know that a puppy goes through puberty much like we do? They have hormonal and temperamental changes due to outside influences.
So just because your pup is a certain way now, it doesn't mean you can't train them or teach them otherwise.
The important thing is to do it the RIGHT way.
Preferably with positive reinforcement in the form of encouraging words, loving gestures, and of course, TREATS!
Learning all these facts can be overwhelming for new-timers. Fortunately, avoiding these new puppy owner mistakes are easy!
Just don't do them!
Make regular trips to the vet, be kind and loving to your puppy and start your training early.
As for the table scraps, well, that one is a bit harder, but if you don't start when they're young, they won't expect it when they're older.
Can you think of any other new puppy owner mistakes that we missed? Tell us in the comments!
UPDATED: AUGUST 2019