Get ready to elevate Fido's nap time to whole new levels, because we're checking out the best wood dog beds today!
Below, we'll check out some of my favorite options for dogs of all sizes.
We'll even look at a few options that come with both the frame and the mattress!
Let's get started!
By the way, you may also love these best elevated dog beds, too!
Our top pick:
If you just want to grab my top choice from Amazon right now, check out the Furhaven Wooden Dog Frame (affiliate link).
( FYI, this post contains affiliate links. If you make a purchase through these links, we earn a small commission at no extra charge to you. )
Why Buy a Wood Dog Bed?
Right about now, I'd do an in-depth look at the some reasons why you'd want this type of bed.
Honestly, though, there's really only two reasons (and a 3rd one that's more of a maybe):
They look nicer in your home
They keep your dog's bed off the floor, which is great if you have cold or hard floors (or both)
An elevated design MAY also be more orthopedic for your dog, but only if you also choose a really good mattress to go with it.
Pretty straight-forward, right? All three are totally valid reasons. We all want our homes to look good AND our dogs to have the best of the best!
So, let's not waste any more time. Get ready to check out my top 10 picks!
We'll go over pros and cons in more detail as we talk about different options.
What Are the Best Wood Dog Beds?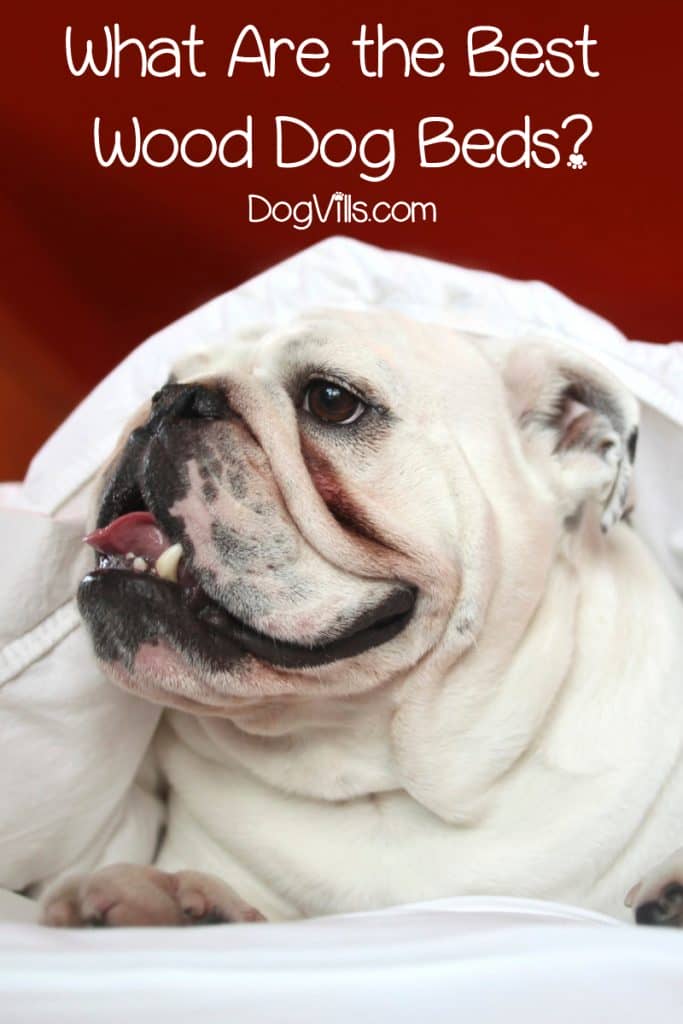 Below you'll find my top picks from Amazon, Etsy, and Wayfair- my favorite places to shop for dog furniture!
Invalid table id.
1. Fhasso Luxury Bamboo Pet Bed
If you're looking for wooden dog bed furniture for toy breeds, you'll love the Fhasso Bamboo Bed.
Features & Pros
Made entirely of luxury eco-friendly bamboo on the outside.
Includes a soft plush cushion.
Just the right size for toy breeds.
The dome style gives your tiny pooch a great sense of security.
Stylish with neutral colors inside and out.
Machine washable cushion cover zips off
Cons
Only large enough for toy and other small breeds.
Pricey for a small bed.
It slides around on hard floors (no antiskid feature)
Recommendation
If you want something eco-friendly for the smallest of breeds (think cat-sized dogs) and you have carpeting, this is a great choice.
For those with hardwood floors, keep in mind that you'll have to put something under it.
2. Furhaven Wooden Dog Bed Frame
The Furhaven Wooden Dog Frame elevates (literally and stylistically speaking) your existing Furhaven mattress to whole new levels.
Features & Pros
Contemporary modern design with clean lines, looks great in your home.
Works with many existing Furhaven dog beds, including the sofa, lounge, and traditional mattress.
Easy to assemble.
Bamboo slats make it stable.
Four metal legs for added stability.
Comes in different wood shades and 4 different sizes.
Cons
Doesn't come with the mattress
Not all beds are compatible
Recommendation
If you're just looking for the frame and already have a compatible bed, this is your best option.
On the other hand, if you want a wooden dog bed with mattress, you'll want to keep reading.
3. HarleyandCho Wooden Dog Bed with Mattress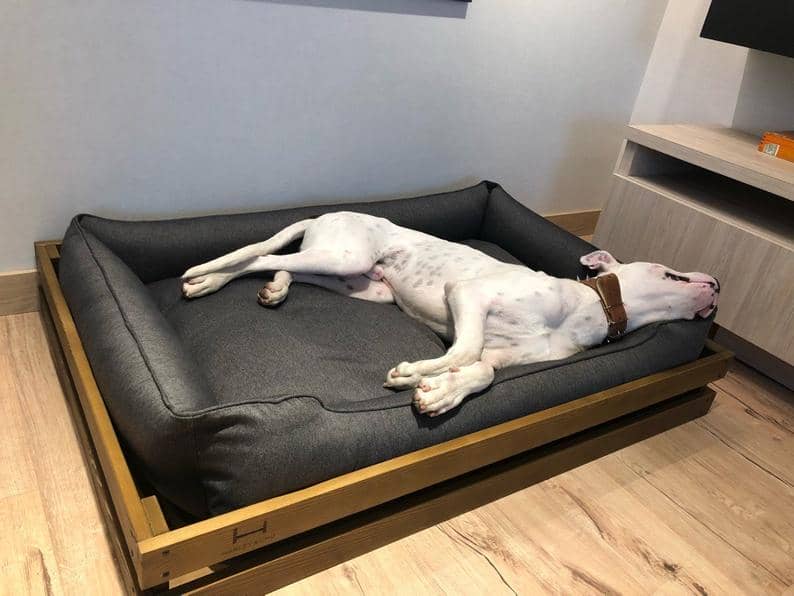 If you were hoping to find a good wooden dog bed that comes with a mattress on Amazon, I'm sorry to say that you're kind of out of luck.
However, if you're willing to expand your search over to Etsy, you'll find this gem of a bed from HarleyandCho.
Features & Pros
Natural wooden frame with eco-friendly color
Mattress has a soft skin-friendly surface
Filled with hypoallergenic and antibacterial filler
Holds it shape, even with large dogs
5 different sizes
Can be personalized
Cons
While customers love the mattress, they feel that the wood is a bit lower quality than they expected.
A little wobbly
Ships from the Ukraine, so it'll take a while to arrive.
Costs $40 to ship, which makes it fairly pricey overall
Recommendation
Overall, I really like this option, especially since it comes with the bed and not just the frame.
Even though a few customers were less than thrilled with the overall quality of the wood, they still rated it at 4 stars.
None of them felt that the wood was bad, per se, just not the quality they expected.

4. Hanke Wooden Dog Sofa with Cushion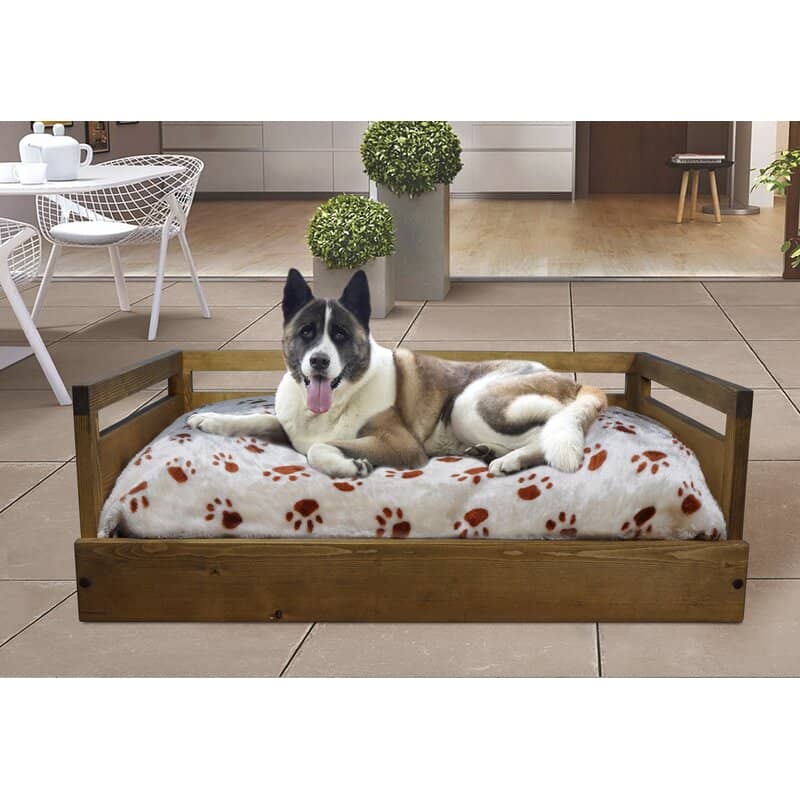 The Hanke Wooden Dog Sofa from Wayfair is an affordable option with a lovely rustic look.
Features & Pros
The cost includes the cushion
Comes in three different wood colors (brown and two shades of gray).
Made with durable pine wood.
Cushion has a removable and machine washable zippered cover.
Cover is made of super soft fleece.
Comes in three sizes to accommodate breeds up to 90lbs
Cons
None of the sizes are big enough for large or giant breeds.
Although the large supports 90 lbs, customers complain that it's a tight fit for their 70-lb dog.
Not chew-resistant.
Cushion is stuffed with cotton and not at all orthopedic.
Recommendation
Given the complaints that the large won't even hold a Golden Retriever, I would recommend this only for small to medium breeds.
That said, if your dog falls into those ranges, it's a beautiful and affordable option. Just go a size larger than you think you need.
However, for older dogs who need more support, I'd consider putting a different mattress on it. The price is fair even if you just use it for the frame.

5. Craig Solid Wood Dog Sofa Bed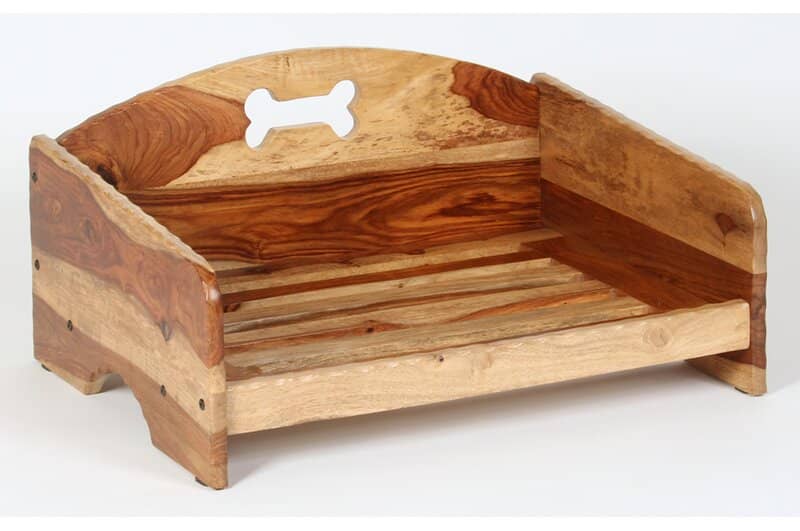 The Craig Solid Wood Dog Sofa Bed is another beautiful option from Wayfair, albeit a bit pricier than the one above.
Features & Pros
Beautiful rustic design
Made of solid wood (doesn't say what type, though)
Use your own dog bed (check the dimensions first, though)
Chew-resistant
Easy to clean, just wipe down
Easy to assemble
Cons
Only comes in small and medium, and the medium is currently out of stock.
Not at all big enough for large dogs!
Only one color.
Doesn't come with a cushion
Recommendation
If you have a small dog and you're willing to supply your own mattress, this is a beautiful and durable choice.
I love the style, right down to the cute little bone cutout! Too bad it's not big enough for my girl, otherwise I'd snatch it up.

6. Petsfit Wooden Pet Bed
This adorable bed from Petsfit is almost enough to make me wish I had a small dog! It is just absolute cuteness!
Features & Pros
Bunk bed style is perfect for families with two toy breed dogs (up to about 15 lbs each).
Made with anti-rot odor-resistant cedar.
Extra-thick panels for added durability.
Left natural, so you can stain it any color you want (or leave it as is)
Easy to assemble with pre-drilled holes.
Cons
No sizes for larger dogs.
Cushion not included.
While the beds are well-made, several customers complained about the quality of the steps.
Recommendation
Like I said, this bed is adorable enough to almost make me wish I had a tiny dog. Almost (I prefer big dogs, sorry).
Just make sure you test it out for stability before you let your dog sleep on it.
7. Iconic Pet Sassy Paws Raised Wooden Pet Bed
The Iconic Pet Sassy bed is a super stylish option for dogs up to 90 lbs.
It's also one of the few wooden beds for bigger dogs on Amazon that actually comes with the mattress.
Features & Pros
Made of sustainable and durable pine wood.
Beautiful contemporary design.
Comes with soft removable cushion.
Cushion has a removable and machine washable zippered cover.
Sizes large enough for pets up to 90lbs.
Comes in three colors- light gray, brown and charcoal
Cons
No sizes for giant breeds
Not all colors and sizes are Prime eligible (although they still ship free)
Very few ratings for the bed (but the brand has great overall ratings)
Recommendation
I know a lot of you are leery of products with very few reviews, but everyone starts somewhere, right?
Iconic Pet does have great overall ratings across their line, and they offer free returns. The bed is gorgeous, so I think it's worth taking a chance on!
8. Pidan Woodencat Beds (for Toy Breeds)
Yes, it's actually a cat bed, but I love it so much I had to include it. If you go with the largest model, it's plenty big enough for toy breeds.
Features & Pros
Simple yet elegant design.
Made with eco-friendly materials.
Wood wax surface treatment is non-toxic and safe.
Super high-quality fabrics and expert tailoring for the cushion.
Pillow is removable and washable.
Comes in two styles- square and helix
Cons
The obvious, it's only big enough for toy breeds.
Has a strong odor at first (either due to the wax or the overall materials)
No replacement cushions
Recommendation
You'll need to have itty bitty dogs that stay small for this one, but it's one of my overall favorites as far as style goes.
9. Indoor Wooden Dog Bed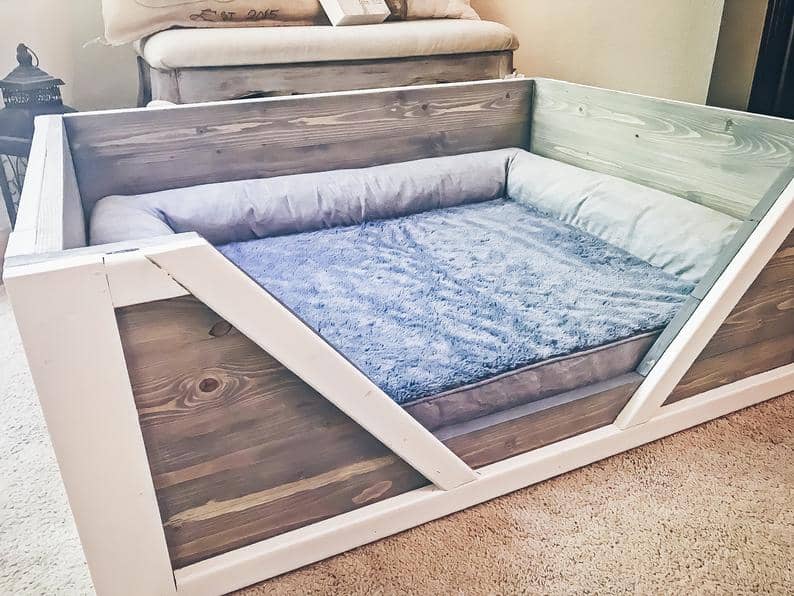 Another favorite of mine solely in terms of style is this beautiful bed from Sweet Crafted Designs.
Features & Pros
Choose from multiple types of wood (this one is pine).
Available in 9 main colors and over a dozen secondary shades.
You can personalize it.
While this one measures 39″ L x 29″ W x 14" H , custom sizes are available.
Cons
Only comes with the frame, cushion isn't included.
Pricey (although not over-priced for what it is)
SUPER expensive to ship, especially if you want it fully assembled
No returns or exchanges
Recommendation
I absolutely adore this bed, especially since you can customize pretty much every aspect of it.
The high shipping price isn't really something the seller can control, and it would be unrealistic to ask them to eat the cost. So, you have to be willing to pay a pretty penny for it.
However, if you have the wiggle room in your budget, it's one of the best options overall for a frame-only wood dog bed.

10. Elevated Personalized Pallet Dog Bed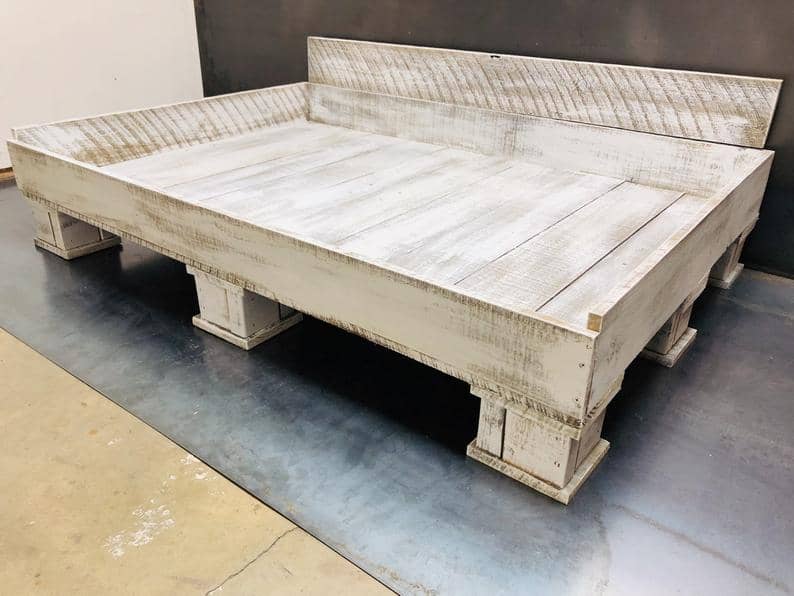 Love the look of pallet beds but don't really want to make one yourself? Check out this simple yet stylish option from Crosswoodworks.
It's one of the few options that offers sizes for every breed from tiny to ginormous with the need for a special order.
Features & Pros
Eco-friendly since it's made with reclaimed wood.
7 different sizes that go all the way up to 55×39″
Most sizes are available both with or without a cushion
Ships free in the US
Super fair price for the work involved (especially since it ships free)
Bedding -if you opt to get it- is durable and machine-washable in most cases (check the description for more details)
Customize the color of the wash or leave it as is
You can personalize it for no extra charge
Cons
It doesn't come already assembled
No photos of the bedding
Recommendation
As you can see, I had a hard time coming up with cons for this beautiful pallet bed. In fact, if I had to choose just one for my dog, this would be it.
Yes, theoretically, you could make it yourself with a good tutorial. However, you'd have to actually find pallets to use.
Despite what Pinterest would have you believe, they aren't just sitting around waiting for you to take them. At least not in my town!

Final Recommendation
I honestly love every one of these wood dog beds, otherwise I wouldn't put them on my list.
However, if I had to pick just one for MY dog, I'd go with the pallet bed from Etsy or the Furhaven.
That said, if you have a toy breed, I love the Fhasso or the Iconic Pet beds.
How about you? What are your picks for the best wood dog beds? Share below!
Last update on 2023-05-26 / Affiliate links / Images from Amazon Product Advertising API