With summer approaching, we thought it would be fun to share a few of our favorite dog movies for kids! There's just something magical about a boy and his dog. I see if every day as I watch my son with his dog, Cooper. There are countless movies about dogs and kids, the two just naturally go together. Check out a few of my favorites for the special little guy in your life and his canine companion!
A word about spoilers: this is a guide for parents to choose great dog movies for kids. If a dog dies in the movie, I mention that, because I want to make sure I'm giving you ideas that your kids can handle. While these are feel-good movies with happy endings, some have a few heartbreaking moments along the way.
Related: Top 5 Funniest Talking Dog Videos
A Boy and His Dog: Our Favorite Dog Movies for Kids
This post contains affiliate links.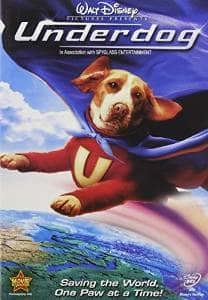 Underdog: My number one favorite dog movie of all time. I know it's not a classic or a literary masterpiece, but when Underdog looks at his boy and says "give the dog your food," my son and I crack up. Why? Because we're pretty sure that's what Cooper is trying to say to us every minute of every day! It's a fun movie that just goes to show that the Underdog can overcome adversity and save the say!
Air Bud: While many sequels came after, the original Air Bud is still one of the best dog movies for kids! The film centers on 12-year-old Josh, a shy boy reeling from the shock of losing his dad in a plane crash. He wants to try out for the basketball team at his new school, but he's just too nervous. He meets Buddy, who escaped from the clutches of an alcoholic clown (because, for crying out loud, clowns are bad!! NOW will you listen to me!). The two form a bond, the dog somehow learns to play basketball, and the evil clown tries to steal him. Okay, that's the short version of the plot. The longer version is far more touching and entertaining!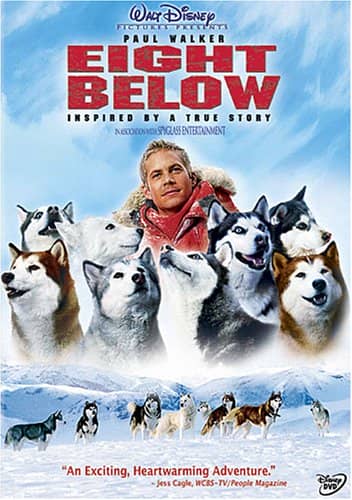 Eight Below: While this is more about a grown boy and his many dogs, it's still a great dog movie for kids to show them the strength of the bond between dogs and their people. I absolutely LOVED this movie. Jerry, a guide in Antartica, is forced to leave his dogs behind after a tragic misstep in the frozen wasteland. He can't function because of the guilt, so he returns to rescue them. While this movie has heartbreaking moments (spoiler alert- all the dogs do not make it), the outcome is one of triumph over adversity.
Far From Home – Adventures of Yellow Dog: Another classic with some tense moments but an overall happy ending, Far From Home tells the tale of a yellow lab named Yellow and his boy, Angus. The two get lost in the wilderness together and survive everything from hypothermia to wolves. Just when you think it's going to have a sad ending, things turn around at the end.
Hotel for Dogs: This one is a girl, a boy and many dogs! It's also a lot more on the funny side than the last couple dog movies, so it may be better for very sensitive kids (like my son). Andrea and her brother Bruce are forced to move in with their animal-allergic aunt, which means saying goodbye to their dog. Soon after, they find a stray and keep her (along with her pups) in an abandoned building. More dogs come. A hotel is born. Maybe someone should have told Andrea's aunt about all the great small hypoallergenic dogs out there!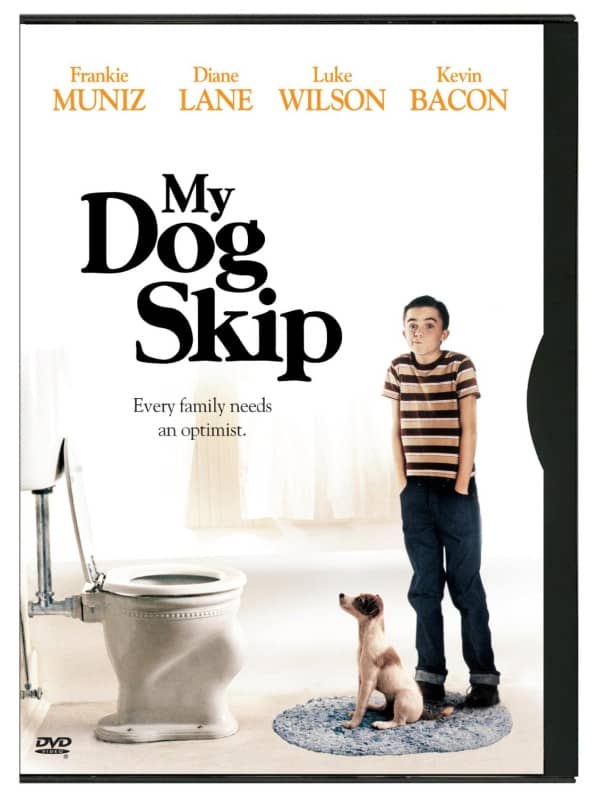 My Dog Skip: One of the best boy and his dog movies of all time, this one does end with the dog dying, but only after he's had a very long life. The story centers around Willie and his life with Skip, from a boy with no friends to a man away at college. It takes place during a time of moon-shining, segregation and war, giving older kids (I'd say it's middle-grade appropriate) a glimpse at life in the south during the 1940s.
You'll notice that I left off two of the classics: Where the Red Fern Grows and Old Yeller. I wanted to go with more of a "feel good" theme. Those two movies broke my heart as a child. Old Yeller traumatized me for life. I lived in fear of my dog getting rabies, even though my mom and grandparents constantly reassured me that he was up to date with his vaccine. My brother still tears up when anyone mentions Where the Red Fern Grows.
For more fun summer entertainment ideas, visit a few of my favorite bloggers:
I hope you enjoyed this list of fun feel good boy and his dog movies! Do you have any favorites to add? Tell us in the comments!