Investing in pet surveillance cameras for monitoring your dog while you're away is an excellent idea. These devices let you see what your pup does in your absence. Plus, they do an excellent job of alerting you to dangerous situations. So I thought it'd be helpful to review the best options and create a detailed buying guide. These resources should make finding a suitable pet camera much easier.
Start with a quick side-by-side glance at my favorites, then read on for all of the details. FYI, this post uses affiliate links. If you buy anything through them, DogVills earns a small commission at no extra cost to you. Thanks!
Table could not be displayed.
5 Best Pet Surveillance Cameras
Pet surveillance cameras are a robust market in the pet product world. Therefore, selecting a perfect option can often feel like finding one needle in a haystack. So I decided to help by researching and reviewing the best options. Hopefully, one of these surveillance cameras will be the right choice for your needs.
1. Furbo 360° Dog Camera (new 2022 version)
The Furbo 360 Dog Camera is one of the top pet surveillance cameras on the market for a good reason! It's equipped with a long list of high-value features ranging from 2-way audio to a built-in barking sensor and so much more. As a result, it won't have any issues letting you monitor the pup's behavior while away from home.
FEATURES & TECH SPECS:
Circular design with white and brown coloring

1080p full HD camera with night vision

and 4X zoom

360-degree view

Remote communication with 2-way audio

Built-in barking sensor

Treat tossing feature
PROS:
Clear and crisp video quality (day or night)

Simple to install with Wi-Fi setup

Easy to use via a well-crafted iOS/android app

Solid treat tossing feature

Promotes safety with its barking alert and push notifications
Check it out in action:
CONS:
Certain features require an additional subscription

(as is usually the case).
A few complaints about reliability on a 5G network
FINAL VERDICT
All in all, this updated dog camera checks off everything that I could want. It offers excellent picture quality with its 1080p HD resolution while being effortless to use/set up. You could even bank on its treat tossing feature being practical, which isn't always the case with other options.
While the camera has stellar ratings overall (77% gave it 5 stars), a very small handful of customers did complain about connectivity issues over a 5G network. However, it's hard to say whether that's a Furbo issue or a phone carrier problem.
I only wish that all of its features were available to everyone. Sadly, Furbo makes features like its doggie diary and smart alerts only for people who purchase a subscription. But even without these aspects, this dog camera gets the job done.
2. AOSU 2K Pet Surveillance Camera (Best Budget Pick)
It's nice to know that high-quality pet cameras don't always have to clear out your savings. The AOSU 2K Camera showcases this reality by offering several advanced features at an affordable price. Honestly, anyone considering themselves a bargain buyer should immediately put it on their list.
FEATURES & TECH SPECS:
4.3 x 2.3 x 2.3 inches

2K QHD picture resolution with a 360-degree view

Motion tracking

Night vision

5GHz/2.4GHz WiFi Connection

Remote 2-way audio and one-touch calls

Compatible with Alexa
PROS:
Affordable price

Produces crystal clear video quality

Easy to control remotely via a smartphone app

Promotes better security with automatic motion tracking

Simple to setup and install
CONS:
Camera is only compatible with smartphones.

Not technically a pet cam, so don't expect all of the cool features found in the others on this list
FINAL VERDICT
Sure, it's lacking all of the bells and whistles of the other pet surveillance cameras on this list, but not everyone needs to be able to toss treats and talk to their dogs while they're away. Sometimes, you just want something simple that lets you check in and see what they're up to. That's where this one excels.
Of course, the standout feature will be its affordable price. But I also adore this product's crystal clear 2k QHD picture resolution and effective automatic motion tracking. Both of these aspects will allow me to monitor my dog at work or on vacation closely.
However, I do wish it was compatible with more devices than only smartphones. Multiple customers referenced wanting to view the footage on tablets or desktops. But I can get over this slight issue, especially at this price.
3. Petcube Bites 2 Pet Camera
Dog owners won't find a more credible option than Petcube's Bites 2 Pet Camera. It's decked out with every single that a pet parent could want in a surveillance camera. I personally was drawn to this option because of its well-developed and versatile automatic treat dispenser.
FEATURES & TECH SPECS:
1080p full HD WiFi camera

160-degree angle view with 4x zoom

Night vision

Built-in compatibility with Alexa

Automatic treat dispenser feature

Equipped with 2-way audio, speaker bar, and 4-microphone array

Real-time notifications for sound and motion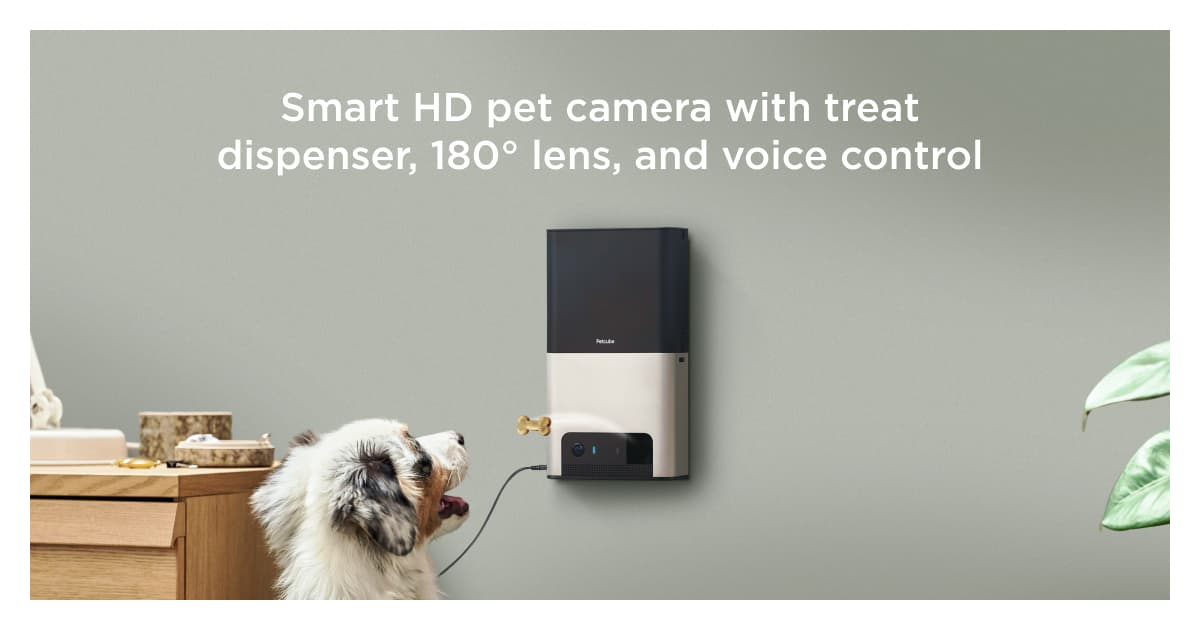 PROS:
Excellent video quality with various control features

Quick, effortless setup

Well-crafted and compelling treat dispenser with multiple modes

Outstanding audio sound quality

Top-tier safety attributes (real-time notifications)

Doubles as an Alexa device
See it in action in the video below:
CONS:
One of the pricier pet surveillance cameras

overall

You'll need a membership for some of the more advanced options
FINAL VERDICT
All in all, the automatic treat dispenser with its multiple settings got my attention. But this model impressed me with outstanding audio and quick, effortless setup. Both these aspects are top-end attributes for what we want in pet surveillance cameras.
One of the things I really love about Petcube is that it doubles as an Alexa device. So, not only can you use it for monitoring your dog, but also as a personal assistant. It'll do all of the things that an Echo device will do, and then some.
But there's a slight problem with this one: the high price. Pet parents must decide whether its various top-end features are worth the extra cash. In my case, I wouldn't hesitate based on what I want in these cameras.
If this one is a bit out of your price range, Petcube sells several other models on their website, including the simple-yet-affordable Petcube Cam for under $50, the Petcube Bites Lite (roughly half the cost of the regular one), and the Petcube Play 2 for just around $200.
4. Eufy Pet Camera for Dogs
Eufy's Pet Camera for Dogs earned a place on this list by being solid in almost every area. It provides excellent videos, allows you to save them, and easily keeps track of pet movement. I didn't even mention its meshable design and top-tier treat dispenser. Pet owners could undoubtedly do much worse than this option.
FEATURES & TECH SPECS:
Circular design

1080p camera lens with 2.5x zoom and night vision

2-way audio

Treat dispenser with three distance settings

Smart motion tracking

Produces barking and activity alerts

16GB local storage
PROS:
Easily adaptable design

Outstanding, versatile treat dispenser feature

Effortlessly keeps track of pet movement

Top-tier video and audio quality

Allows you to save favorite videos with local storage

NO subscription fees! That's almost unheard of for a pet cam!
CONS:
Bark detection can be slightly off.

Some customers had issues with connectivity to their network
FINAL VERDICT
Overall, this pet camera does its job without providing owners with any issues. It produces a simple way of watching your dog and keeping them safe. Meanwhile, it allows you to save all their hilarious moments on a 16GB local storage.
Again, a few customers complained that they couldn't get the camera to connect to their network. Honestly, you'll find this complaint on literally every single thing that requires an internet connection. So, I'm apprehensive about knocking "points" off it for that.
The only real major issue with this model is its bark detection can sometimes be a little iffy. For example, it can send push notifications for a loud noise that doesn't have anything to do with your pup. But this issue only pops up occasionally, so it shouldn't be a deal-breaker.
You can find this one on both Amazon and the eufy website. Right now, there's a coupon on the website for $40 off. I don't know how long that will last, but it's worth checking to see if it's still available before you head over to Amazon.
5. Wyze Cam v3 Pet Camera
Our last option, Wyze's Cam v3 Pet Camera, is a little more barebone than other cameras. But it still manages to provide solid video quality while being very convenient. After all, it's usable both indoors and outdoors while being able to store videos of unlimited length.
FEATURES & TECH SPECS:
Mountable design

720p resolution with night vision

2-way audio communication

Smart AI detection

IP65 weather-resistant construction
PROS:
Design suitable for indoor or outdoor use

Simple to mount on almost any surface

A more affordable option

Quickly detects people, pets, and packages (alerts via phone)

Stores videos of unlimited lengths
Check out the video below for a closer look:
CONS:
More sensitive to movement than other cameras

Some complained that setting it up is a pain because the QR code won't scan
FINAL VERDICT
Aside from its convenience, I was also thrilled with this model's adaptability. Its design allows the camera to be placed almost anywhere without issue. So it shouldn't be difficult to find a place to monitor your dog's behavior while away.
I notice a few customers mentioned the camera's AI detection was a bit too sensitive. It sends unnecessary alerts to their phones when nothing is happening. This flaw isn't the end of the world for me, especially with its other benefits.
Like the AOSU, it's a good low-priced option when you just want to keep an eye on your dog and don't need a ton of bells & whistles.
Factors To Consider When Buying Pet Surveillance Cameras
Pet surveillance cameras are very involved, complicated devices. But it doesn't mean the buying process has to be stressful. Instead, it's just a task of streamlining all these moving parts into the ones that matter.
So I decided to do it for you with this straightforward and thorough guide. It'll walk you through the primary factors to ensure picking a camera becomes easy. So let's dive into the first one and get this process started!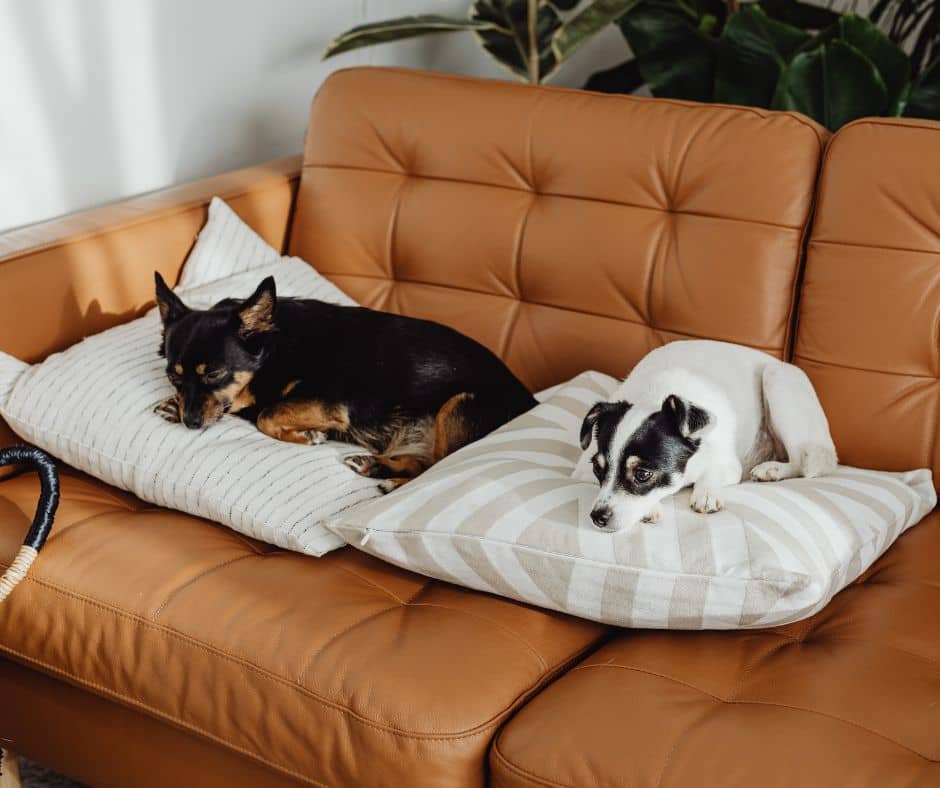 Picture Quality
Surveillance cameras won't do much good if they don't offer solid picture quality. Otherwise, how would you see your dog's mischievous acts? So do research into the video quality to ensure you don't have any issue seeing what your dog's doing when you're not home.
An excellent starting point would be reading through customer reviews. These resources will offer a clear picture of each option's quality. It's a simple way to avoid buying a surveillance camera that isn't high-quality.
I'd also suggest not settling for a camera with a resolution below 1080P HD if possible. This benchmark should help prevent you from choosing a lousy camera. Instead, any option with this resolution will offer a clear and crisp recording.
Does it Dispense Treats?
Some high-end pet surveillance cameras can dispense treats. Therefore, anyone looking to reward their pup during the day should consider options with this capability. It's a rather ingenious way to control your dog's behavior when they're home alone.
I certainly have experienced incredible results using my camera's treat dispensing feature. It's become an easy way to bond and reinforce my dog's good behavior. As a pet owner, I couldn't have asked for a more helpful feature.
Remote Viewing and Control
Any worthwhile pet surveillance camera will allow you to control it remotely. In most cases, it'll let users tilt, zoom, or pan the device using an app on their phone. I find this attribute necessary in any camera that I would consider using.
Meanwhile, you'll have to decide how much control your camera needs. Some options will provide significant control with 360-degree viewing, while others will be pretty static. So think about whether you need complete control over this camera or not.
Location, Location, Location
Never buy any wired or wirelessly connected pet tech without considering where you will put them. Therefore, do a little preparation to see where the camera would provide the best view of your pup.
Think about where your dog likes to roam and intend to place the camera there. For instance, my beagle loves sleeping in the living room. So putting the camera right on my fireplace's mantle makes a lot of sense. It's also low enough that he can interact with the treat dispense feature without issue.
Another consideration is deciding whether you want the camera mounted or placed. I prefer mounted because it offers a bit more stability. In other words, mounted cameras are often much harder to knock over for someone or your pet.
Cost
Pet surveillance cameras aren't an inexpensive purchase. Most high-quality options can put quite a dent into your savings, depending on their features. So you'll need to craft a budget based on what features you deem necessary.
For instance, a surveillance camera with a 1080 HD resolution will cost more than one with a 720P resolution. So anyone who values the heightened picture quality has to factor this price increase into their budget.
You can then use the budget to help minimize the number of available options. As a result, the process becomes less overwhelming and streamlined based on your particular needs.
Final Recommendation
If I could only choose one pet surveillance camera, I'd have to pick Petcube's Bites 2 Pet Camera. It checks off every box a dog owner could want in these products. So paying its higher price certainly feels worth it to me.
Have you tried to use any of these pet surveillance cameras? Share your experiences below!
Last update on 2023-05-25 / Affiliate links / Images from Amazon Product Advertising API