Looking for the best large breed collars for your dog?  Look no further!  We have the collars you have been searching for right here.  From personalized collars to ones that light up using LED lights, you are sure to find one you like best from this list, or maybe you won't be able to choose!  Your dog's collar is his fashion statement, he's got to look good, so check these out and let us know which one is your fave!
Stylish Yet Functional Large Breed Dog Collars
Affiliate links included below. Thanks for your support!
Personalized: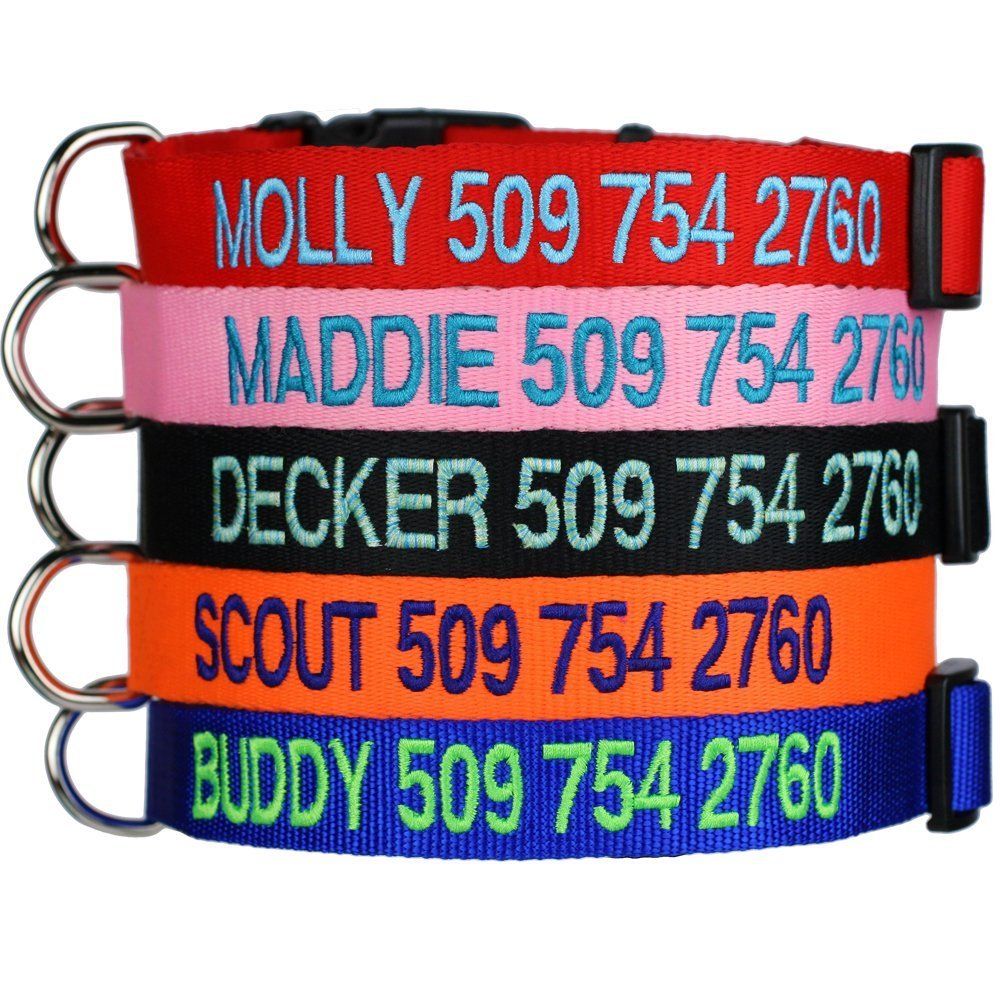 I like these because it is easy to read if your dog should get lost roaming the neighborhood.  Made of tough nylon and available in a variety of colors, it will display your dog's name and your phone number.  The collar is constructed with a plastic closure and adjustable sizes to be sure to fit your dog comfortably.  Check them out here at Amazon. 
Adjustable and thick
 This collar is definitely durable!  I wish I had discovered these when my dog was blowing through collars.  Created by Downtown Pet Supply, they are made with metal buckle and D-ring (which I actually prefer, it looks better to me).  Because they are made with durable polypropylene, they will not absorb water and therefore are mildew resistant (bonus!)  You can also purchase a matching leash once you choose your collar color, because you need to match!  Choose your colors at Amazon here.
Blueberry Pet
 I love love love these collars!  They offer so many fun designs and colors, you are bound to find one you love for your dog, girl or boy.  They have attached a hook at the logo that is designed for your dog's tags (this is not for the leash!)  Blueberry informs you that these collars are not meant for your dog to be tied outside with.  The link below is of my favorite designs, but you can search for others once you get to Amazon.
Luxury and real leather
I love this collar.  It is so distinguished looking.  Very simple and sophisticated (because we all want sophisticated looking dogs).  Made of real leather by Soft Touch Collars, it is black on the outside and cream colored on the inside (or you have a choice of 2 other color combos but this is my fave).  It will fit a neck from 18-21 inches and has a buckle closure, that is lacquered and will not rust!  
LED collar

Everyone needs an LED collar right?  The weather is getting warmer and maybe you like to go camping or do other outside nighttime activities with your pooch.  How cool would it be to be able to see him!  The battery is rechargeable, so no need for batteries.  Amazon offers this super cool LED collar from Petabunga for an affordable price.  Check out all the fun colors you can choose from on Amazon!
Shopping for a collar for my dog is sometimes like shopping for clothes for my kids, I want it to be super cute (she is a girl) yet durable.  I love when you can also purchase a matching leash!  Amazon is great for shopping large breed collars, so much variety.  Plus, how cool is the LED collar?  
Have you shopped Amazon for large breed collars?  What has been your fave collar?  Share with us your favorite in the comment section below!