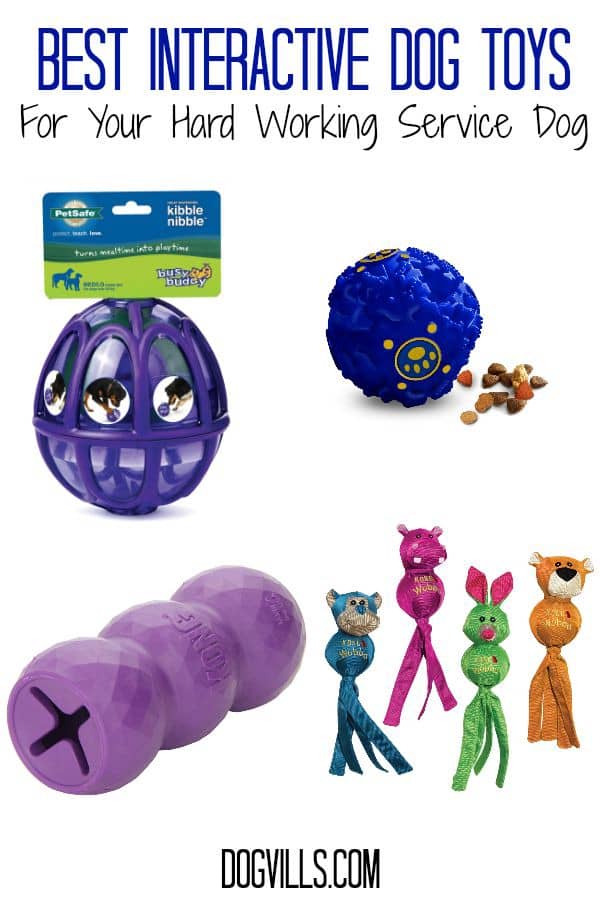 These Best Interactive Dog Toys For Your Hard Working Service Dog are tons of fun for both you and your dog.
Service dogs deserve some fun playtime and treats after a long day of following along and helping you.
These toys are great for teaching your dog to look for treats, or just show them how much you love them and want to play with them.
Best Interactive Dog Toys For Your Hard Working Service Dog
This Post contains affiliate links. We earn a commission if you make a purchase, at no extra cost to you.
This offers your dog the chance to play while being rewarded for their hard work with looking for the hidden treat. It's great for getting all of their senses involved in play time.
This fun ball is perfect for getting your dogs active to roll the ball around to get the treat to come out. A great fun toy for a smaller service dog.
This is a favorite for all dog owners, and it will be durable for use no matter how hard on it your dog is. It is especially great for younger dogs that still want to chew on things a lot.
These are great for playing with your dog! Throw them to fetch, grab on end and play tug of war, or let your service dog carry this toy to their bed to snuggle and chew.
Play tug of war while rewarding your dog with great treat they will love to eat! This is a super fun interactive dog toy for your hard working service dog to play with at the end of the day.
This one is great for your dog to chew on with the knobby sides. They will love the way it feels on their gums, but even more enjoy the treats that come out!
This durable Kong dog toy is a great way to give your dog a treat while giving them a good workout. They will work hard to get the treat out, while working their teeth and gums on durable toy that will last for years to come.
These are the best interactive dog toys for your hard working service dog to play with. Work with them to reward them for their hard work by giving them special treats inside these toys.
Which of these fun interactive dog toys would your hard-working service dog love? Tell us in the comments!