Looking for the best hypoallergenic dog treats for your pup with a sensitive tummy?
We've shared oodles of homemade hypoallergenic treat recipes, but sometimes you just want to buy something ready-to-go.
So below, we'll look at my top 7  picks that I buy for my own sensitive dog.
Let's check them out!
Top Pick
FYI, this post contains affiliate links. If you make a purchase through these links, we earn a small commission at no extra charge to you.
Want to skip ahead and just grab our top pick? Check out the Hare of the Dog Rabbit Treats!
What to Look for in Hypoallergenic Dog Treats
Really quickly, let's just go over what I look for when shopping for hypoallergenic dog treats for my girl.
That way, you know we're on the same page and looking for the same things.
All of her treats must  meet ALL the following criteria:
Made in the USA OR a country with stricter standards
Iceland would be a good example, as they have very strict rules governing all of their animal products. Canada is also a safe choice.
China- no, never. For things like beds and dog houses, maybe, but not for things my dog ingests.
Limited ingredients, no junky fillers
The more ingredients and fillers a treat has, the greater the risk of an allergic reaction.
That's just basic math, which even I can do!
So, I take the "less is more" approach to the ingredients label.
The right ingredients for my dog
For this one, you really need to know your pup's needs and determine the "right" ingredients for them.
My dog doesn't do well with beef (Stella & Chewy's Magical Dinner Dust is an exception), so I skip it in treats.
Your dog may not handle chicken well. Some don't tolerate grains. While rare, some are even allergic to peanut butter!
I suggest keeping a list handy while you browse, especially if it's a long list (my brother's dog is allergic to almost everything!).
A trusted brand
I'm willing to try something new if the ingredients are right and I get a good "vibe" from the brand.
However, for the most part I stick with the known versus unknown.
I have a fairly large list of brands that I trust, so I really don't have a reason to veer off into unknown territory.
Good recent reviews
I base a lot of my buying decisions on the overall impression that I get from the brand's descriptions.
Reviews are tricky, because everyone has a different opinion (I say that as I sit here writing reviews, I know).
I do use them, however, to find out if anything has changed since my last purchase.
For example, if recent reviews are all 1 or 2 stars when they used to be 4-5, it makes me think the recipe changed.
I consider other options until I can investigate farther.
Okay, now that we covered that, let's look at my favorite hypoallergenic dog treats.
 Best Hypoallergenic Dog Treats
All of these options average 4 stars and up on Chewy and/or Amazon.
I tried to include a good variety for dogs with different types of allergies.
I can't guarantee that every single one is right for YOUR dog's needs.
So, PLEASE talk to your vet if you suspect food allergies, and make sure you read the ingredients labels carefully.
Use the table below each section header for a quick peek at my top choices available on Amazon, then read on for more details about each.
1. Hare of the Dog 100% Rabbit Jerky Dog Treats,
Hare of the Dog Rabbit Treats aren't just first up on my list, they're actually my #1 pick overall! Let's find out why.
Ingredients:
100% Rabbit.
Pros:
Cons:
Some complain that it arrives in broken bits.
Complaints that it's "hard to chew"
Recommendation
As far as customers complaining that it's "hard to chew," keep in mind that this IS jerky, so it shouldn't take seconds to chomp down.
It can break apart in shipping, which kind of stinks when you want to give your dog a full chew to occupy him.
Still, the price is fair compared to other jerky products for dogs.
My dog's actual breed name, Kelb Tal-Fenek,  literally translates to "dog of the rabbit" in Maltese (where she's the official breed), so needless to say, she loves them!

2. Tylee's Air-Dried Bites, Single Ingredient Lamb Lung Treats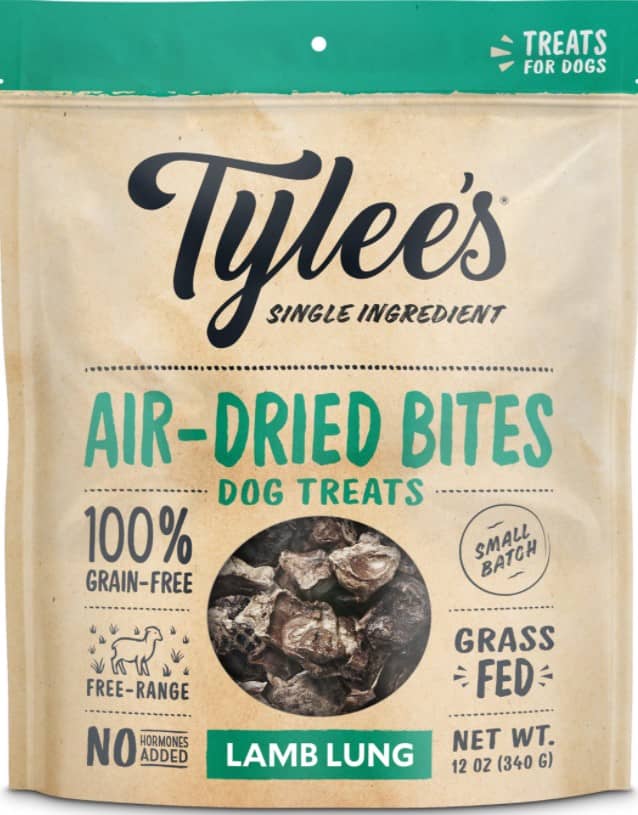 This next one is only available on Chewy, as far as I know. They're definitely not on Amazon.
The name, Tylee's Air-Dried Bites, Single Ingredient Lamb Lung Treats, pretty much says it all, but let's explore the pros and cons anyway.
Ingredients:
Lamb lung. That's it!
 Pros
Single ingredient.
Grass-fed lamb sourced from New Zealand
No grains, added sugar, added fat, artificial flavors or preservatives.
Air-dried to lock in flavor.
Cons
Only available on Chewy
Expensive
Recommendation
New Zealand has fairly strict safety standards when it comes to their meat industry, so they're on my list of acceptable US alternatives.
We've used quite a few Tylee's products in the past, and my dog always devours them.
They are pricey, though, at $26+ per bag, so if you're on a tight budget, maybe just give them for special occasions.

3. 
Full Moon All Natural Human Grade Dog Treats
Full Moon Human-Grade treats  are, as the name implies, made with human-grade ingredients.
Ingredients:
Chicken, Organic Cane Sugar, Vinegar, Rosemary Extract.
 Pros
Just 4 human-grade ingredients
Made without fillers like glycerin
Grain-free treats, no corn, wheat or soy for dogs with sensitivities.
Made in the USA.
Affordable
Cons
Recommendation
Full Moon makes a wide variety of human-grade treats, many of which are perfect for dogs with allergies.
I like these (or rather, Freya does) because they have a great jerky texture that really satisfies her urge to chew.
They're fairly affordable for a limited ingredient jerky, too!
I'd definitely recommend giving them a try if your dog isn't allergic to chicken.
If she (or he) is, perhaps try their Pork recipe.

4. PureBites Chicken Breast Freeze-Dried Raw Dog Treats
Pure Bites are always a huge hit with both my cats and my dogs.
Since both contain the exact same ingredients, I can buy one bag for them to share, which is fantastic budget-wise.
Let's check them out!
Ingredients:
100% Pure USA Sourced & Made Human Grade Chicken Breast
Pros 
Single ingredient – human-grade chicken
Freeze drying preserves nutrition
Just 3 calories per treat
Made in the USA with no added preservatives.
Cons
Recommendation
I used to buy these for my cat until I found out just how much Freya loves them, too.
The brand has been around for quite a while. I remember buying them for my diabetic cat over a decade ago.
I love that each treat only has 3 calories.
That makes them perfect for Freya's nightly puzzle training game, since I need 6 pieces total for it.
While they're pricey, if you use them in moderation, a bag does go a long way.
So, it's still a good overall value for the price.

5.  Nature's Gnaws Bully Sticks*
I am really apprehensive about including bully sticks, as they are technically a beef product.
However, not all dogs are allergic to beef, and they are single-ingredient treats, so I'm including them, but with caveats (see recommendations).
I chose this brand because their most recent reviews surpass Best Bully Sticks (who used to be #1).
Ingredients:
100% Beef Pizzle (aka bull penis).
Pros
Single ingredient.
Good rawhide alternative.
Made in the USA
Contains no added hormones, preservatives or chemicals.
Digestible
Cons
Made from beef.
Expensive (all bully sticks are, as bulls only have so many winky-dinks to go around, after all)
May be too thin for large dogs
Recommendation
Let's talk caveats, shall we?
First, if your dog is sensitive to beef, this is obviously not a good choice.
Second, even if your dog isn't sensitive to beef, bully sticks can be rough on super dainty tummies.
Last, but so very far from least, you MUST supervise your dog with any hard chew like this.
When it gets too small, take it away. Otherwise, it becomes a choking hazard.
So, if you're looking for a treat that you can leave in a crate when you go to work, this may not be the best option.
However, if your dog isn't allergic to beef AND you can watch him eat it, then bully sticks can be a fantastic hypoallergenic dog treat.

6.
Jiminy's Cricket Protein Peanut Butter & Blueberry Cricket Cookie Treats 
I haven't actually  Jiminy's Cricket treats yet, but I'm super intrigued by them!
They come highly recommend by friends as well as other reviewers.
Ingredients:
Peanut Butter, Crickets, Flax Seed, Lentils, Blueberries, Molasses, Coconut Oil, Sea Salt, Citric Acid, Buffered Distilled White Vinegar, Mixed Tocopherols (a source of Vitamin E), Rosemary Extract.
Pros
Super novel ingredient (crickets), so dogs are highly unlikely to be allergic.
Crickets are used by vets in an elimination diet.
High in protein.
Grain-free, gluten-free, corn-free, glycerin-free, no antibiotics, or artificial colors, flavors or preservatives.
Cricket protein is very eco-friendly and more humane than other protein sources overall.
Made in the USA.
Cons
Not all dogs like them.
You have to get past the "ick" factor of feeding your dog bugs.
Recommendation
The biggest issue is your own (or my own, maybe you're not as squeamish as me).
You really have to get past the whole "I'm feeding my dog bugs" thing!
The only other problem is that some dogs just don't like them, but that can happen with any treat.
Overall, these are pretty neat!
Most allergies come from over-feeding our dogs the same thing over and over, and not many of us are giving them crickets, so it's highly unlikely that you'll run into allergy problems.

7.  American Journey Lamb Biscuits
These American Journey treats are Chewy exclusives, so you can only get these through them.
I love them, though, because they're super affordable and they often have great sales to boot.
Ingredients:
Lamb, Peas, Sweet Potatoes, Chickpeas, Cane Molasses, Chicken Fat (Preserved with Mixed Tocopherols), Carrots, Pumpkins, Apples, Blueberries, Rosemary Extract.
Pros
Protein-rich with real meat as the first ingredient.
Great oven-baked crunchy treat.
Grain-free, no fillers like corn, wheat and soy.
Made without any poultry by-product meal, artificial colors, flavors or preservatives.
Includes veggies and fruits to round it out instead of cruddy fillers.
Very affordable
Made in the USA
Cons
Most contain chicken somewhere on the ingredient list.
Recommendation
My biggest issue is the fact that even the lamb recipe contains chicken fat.
It's very hard to find totally poultry-free hypoallergenic dog treats, which is super frustrating for those who have dogs that are allergic to it.
If your pup isn't one of them, though, American Journey treats are a good option for those on a tight budget.
Let's get real, not everyone has $25 to spend on hypoallergenic dog treats treats,  especially when we're already spending $50+ for a good hypoallergenic dog food.

Final Recommendation
First, I originally planned on a top ten hypoallergenic dog treats list but I was struggling to find options that I felt truly comfortable recommending as hypoallergenic dog treats.
Too many that call themselves "limited ingredient diet" treats have an ingredient list long than my arm!
So, I really honed in on those I would feed (or do feed, in all but one case) my own girl.
My favorite is still my first pick, the rabbit jerky, but any of the top 4 are fantastic.
The bottom three are great, too, but I'd start at the top, personally.
Again, please talk to your vet if you have any doubt about ingredients, though!
What about you? What are your favorite hypoallergenic dog treats? Share below!
Last update on 2021-08-19 / Affiliate links / Images from Amazon Product Advertising API