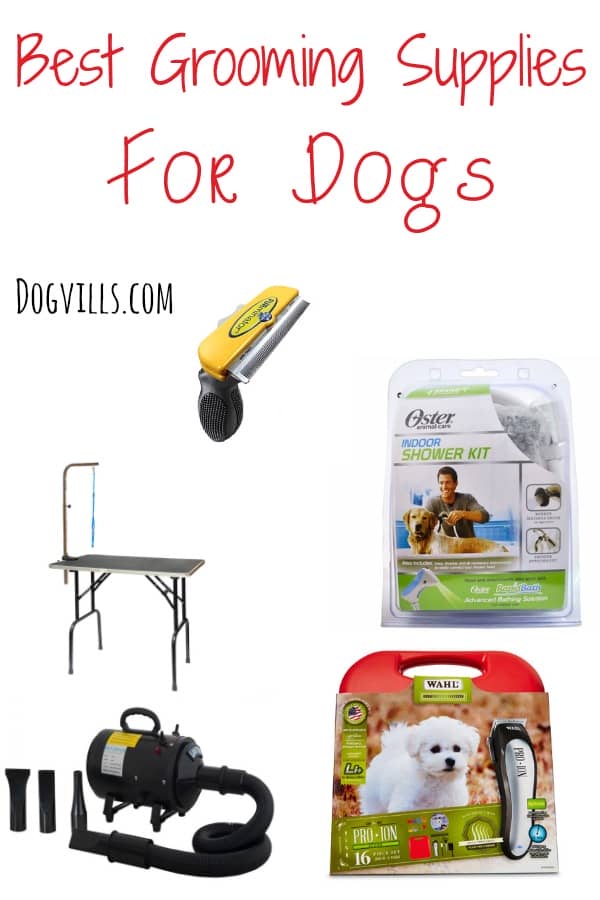 If you have more than one dog, you know it can be quite costly to take them to be groomed regularly, and these Best Grooming Supplies For Dogs help you with that!
Not only can you save a little money in the long run by grooming them yourself, you won't have your pets disrupted from their regular routine by a scary ride to the groomer.
You know exactly what is happening and can witness their behavior the whole time.
This gives you, and them peace of mind during the grooming process.  All of these products are highly recommended and great for home use.
BEST GROOMING SUPPLIES FOR DOGS
This post contains affiliate links. We earn a commission if you make a purchase.
If you are planning to groom your pet at home, you really need one of these grooming tables.
Not only does it bring your dog high enough to make grooming easy, it helps you keep pet hair off your kitchen table, coffee table or even out of your bathroom.  This is a must have for successful easy grooming.
Read our detailed guide for the Best dog grooming table
Sale
Go Pet Club 30-Inch Dog Grooming Table, Adjustable Arm Foldable Non-Slip Top, Rust-Proof, Waterproof, Warp-Free Trimming Table for Pets, Black
EASY TO CLEAN: Our waterproof, static free surface makes clean up a breeze. The static free surface prevents dust and hair from clinging to your workspace, while the waterproof and rust-proof top allow you to wash your table without worry of damage.
SPACE SAVING: With foldable legs and a detachable grooming arm, this grooming table is convenient for storage and transport. When folded, the table lies flat, making it easy to store when not in use and gives you more space in your home.
NON-SLIP AND STURDY: Designed with goal-post style legs, our grooming tables offer stability and durability. All our grooming tables are equipped with rubber capped feet to prevent slipping on any surface, giving you peace of mind that your pets will be safe.
CUSTOMIZABLE AND ADJUSTABLE: Our grooming tables come in a variety of sizes to best fit your needs. They include an adjustable grooming arm that allows you to find the perfect height for your pet, ensuring they are kept safe during grooming. Additionally, the detachable grooming arm allows for repositioning, giving you more options when grooming your pets.
Variations: Available in 4 sizes and two colors, black or blue table top. This model number GT-101 is 30"L x 18"W x 32"H, maximum weight capacity is 50 lbs, and black tabletop.
Pet Groomer Hair Dryer For Dogs Or Cats:
If you have a long haired breed, this speciality hair dryer for dogs is just what you want.
Quick and easy with minimal noise output, it is a great choice for the pet who doesn't like being wet for long.
Go Pet Club Pet Grooming Hair Dryer for Dogs and Cats
The Go Pet Club Pet Dryer is designed to give your pet professional style grooming at home! Powerful airflow dries quickly and thoroughly, saving you time.
This dryer features 2 adjustable speeds, 2 adjustable temperature controls low volume technology.This unit has a puncture resistant, double reinforced flexible hose for controlled spots of drying on your pet.
Air speed : 25M/S - 50M/S. Temperature : 30-75F. Power : 2400W. Voltage : 110V.
15"L x 6.5"W x 7.5"H
Wahl Pro Ion Rechargeable Pet Clipper:
When trimming your pets hair, you want a quality set of clippers on hand.  These Wahl Clippers are perfect with their compact size and ability to be recharged easily.
Sale
Wahl Lithium Ion Pro Series Cordless Animal Clippers – Rechargeable, Heavy-Duty, Electric Dog & Cat Grooming Kit for Small & Large Breeds with Thick to Heavy Coats – Model 9766
Easy, cost-effective dog grooming at home. The pro-quality clipper handles all fur up to double coats for large breeds and small dogs. Save time and money doing it yourself..Taper Lever : Yes, Height in : 9.84, Depth in : 3.01
Self-Sharpening Precision Blades – Provide snag-free cutting, our high-carbon blades remain sharp for smooth grooming that creates a pleasant experience for your pet; Pro quality at home means less trips to the professional dog groomer
2 Hour Run Time - Allows for multiple grooming sessions with your pet before needing a recharge; wireless operation provides exceptional power & doesn't sacrifice on power. Color-coded guide comb attachments make it easy to find your desired coat length
Quick Charging – Equipped with 15 minute quick charge for instant power, 3-5-hours for a full charge; lithium-ion battery holds charge for up to a year without any memory issues.
Made in the USA - Our clippers are made from domestic & imported parts; Wahl pet Grooming kits are the brand of choice for those who seek high-quality, long-lasting pet grooming electric clipping & trimming machines
Furminator deShedding Tool For Dogs: 
With long haired pets shedding can be a real problem.
Before you want to touch them with those clippers, you really should make sure you use the Furminator to rid them of extra fur that could get tangled up in the clippers easily.
FURminator Dog DeShedding Tool, Grooming Tool For Dogs, Large, Long Hair
Stainless steel deShedding edge reaches through topcoat to safely and easily remove loose hair and undercoat
FURejector button releases hair with ease
Ergonomic handle for comfort and easy use
Remove loose hair without damaging the coat or cutting the skin when used as directed
Deshedding tool for large (51-90 lbs) dogs with long hair
HydroSurge RapidBath Bathing System:
This all in one unit makes bathing your pet ten times easier.  With everything in the hand held unit, it takes under 3 minutes to give your dog a safe and mess free bath leaving them fresh and clean.
RapidBath Indoor Shower Kit, 1-Pack
Makes home pet bathing faster and easier
Includes shower head diverter so shower can still be used even after installing kit
Easy installation
If you have decided that grooming your pet at home is the best option for you, then these are definitely the best grooming supplies for dogs.  Not only have we compiled a list of quality products, these are going to be long lasting for you as well.  These dog grooming supplies are a great investment for your pet and yourself.
Last update on 2023-09-22 / Affiliate links / Images from Amazon Product Advertising API