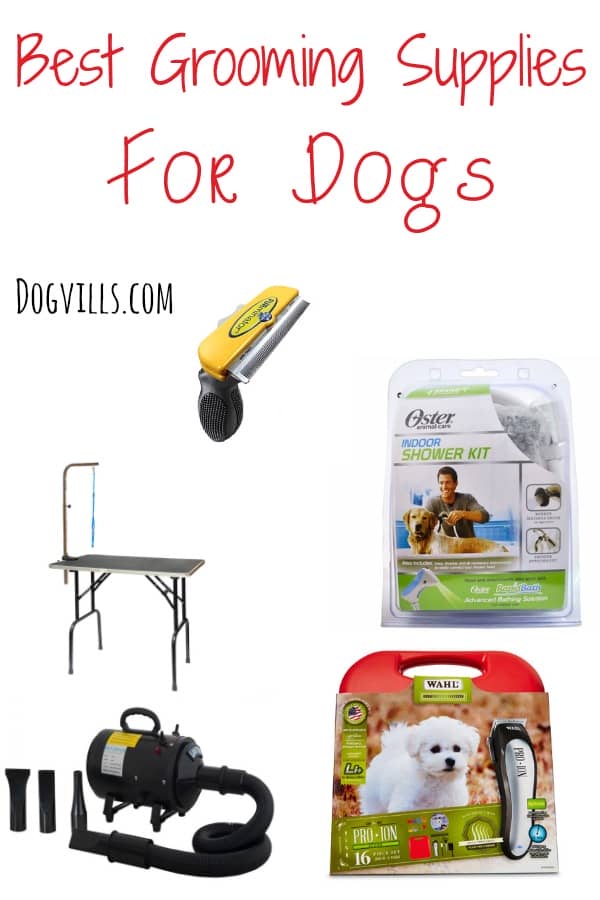 If you have more than one dog, you know it can be quite costly to take them to be groomed regularly, and these Best Grooming Supplies For Dogs help you with that!
Not only can you save a little money in the long run by grooming them yourself, you won't have your pets disrupted from their regular routine by a scary ride to the groomer.
You know exactly what is happening and can witness their behavior the whole time.
This gives you, and them peace of mind during the grooming process.  All of these products are highly recommended and great for home use.
BEST GROOMING SUPPLIES FOR DOGS
This post contains affiliate links. We earn a commission if you make a purchase.
If you are planning to groom your pet at home, you really need one of these grooming tables.
Not only does it bring your dog high enough to make grooming easy, it helps you keep pet hair off your kitchen table, coffee table or even out of your bathroom.  This is a must have for successful easy grooming.
Read our detailed guide for the Best dog grooming table
Go Pet Club Pet Dog Grooming Table with Arm, 30-Inch
Size: 30"L x 18" W x 32" H Color : Black
Table features strong goal post style legs with rubber capped feet, Includes adjustable grooming arm, adjusts to 40" high
Goal post style legs allow for easy fold up during transport and for added stability, Static Free surface
Rust-proof materials
Pet Groomer Hair Dryer For Dogs Or Cats:
If you have a long haired breed, this speciality hair dryer for dogs is just what you want.
Quick and easy with minimal noise output, it is a great choice for the pet who doesn't like being wet for long.
Sale
Wahl Pro Ion Rechargeable Pet Clipper:
When trimming your pets hair, you want a quality set of clippers on hand.  These Wahl Clippers are perfect with their compact size and ability to be recharged easily.
Sale
Wahl Lithium Ion Pro Series Cordless Animal Clippers – Rechargeable, Quiet, Low Noise, Heavy-Duty, Electric Dog & Cat Grooming Kit for Small & Large Breeds with Thick to Heavy Coats – Model 9766,Black and Silver
Wahl Clipper is the #1 brand of hair clippers and beard trimmers*. Made in the U.S.A
Great for small-large dog breeds. Best used for Trimming & Touch-ups between professional groomer visits and Fine hair clipping. Does a great job on medium coat and double coated clipping. Can be used for Poodles. Collies, and Shepards. Aslo dogs with long coats and silky coats.
Quiet clipper for home grooming. Easy to use,
Durable, long lasting rechargeable clipper with 2 hour run time and a quick charge for grooming anywhere.who are animal lovers on holidays - Christmas, Birthdays, Valentines and Easter.
Made for use in the USA electrical outlets only. Not for international use.
Durable, long lasting rechargeable clipper with 2 hour run time and a quick charge for grooming anywhere
Easy to use, quiet clipper for home grooming.
Made in the USA from domestic and imported parts
Precision, self-sharpening, snag free, blades
5 year limited warranty
Furminator deShedding Tool For Dogs: 
With long haired pets shedding can be a real problem.
Before you want to touch them with those clippers, you really should make sure you use the Furminator to rid them of extra fur that could get tangled up in the clippers easily.
Sale
FURminator deShedding Tool for Dogs, Large, Long Hair - 101008
Stainless steel deShedding edge reaches through topcoat to safely and easily remove loose hair and undercoat
FURejector button releases hair with ease
Ergonomic handle for comfort and easy use
Remove loose hair without damaging the coat or cutting the skin when used as directed
deShedding tool for large (51-90 lbs) dogs with long hair
HydroSurge RapidBath Bathing System:
This all in one unit makes bathing your pet ten times easier.  With everything in the hand held unit, it takes under 3 minutes to give your dog a safe and mess free bath leaving them fresh and clean.
RapidBath Indoor Shower Kit, 1-Pack
Makes home pet bathing faster and easier
Includes shower head diverter so shower can still be used even after installing kit
Easy installation
If you have decided that grooming your pet at home is the best option for you, then these are definitely the best grooming supplies for dogs.  Not only have we compiled a list of quality products, these are going to be long lasting for you as well.  These dog grooming supplies are a great investment for your pet and yourself.
Last update on 2021-06-12 / Affiliate links / Images from Amazon Product Advertising API