Having the best eco-friendly products for your dog is going to be perfect for both of you and the environment.
Of course, it's hard to know which are actually worth buying, especially with so many brands out there.
Don't worry, though, we've got you covered!
Let's take a look and see what are the best eco-friendly products you can get for your dog!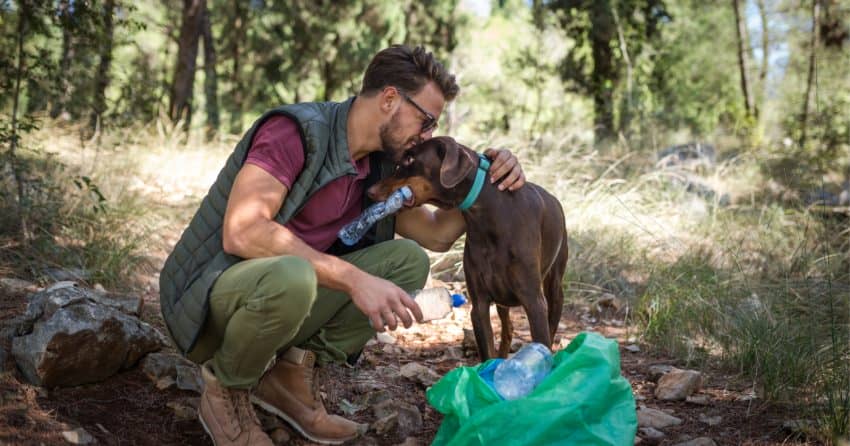 Top Pick
FYI, this post contains affiliate links. If you make a purchase through these links, we earn a small commission at no extra charge to you.
Want to skip ahead and just grab our top pick? Check out the Earth-Rated Eco-Friendly Pet Waste Pick-up Bags!
Best Eco-Friendly Products for Your Dog
Since most of these products are available on both Amazon and Chewy, we've provided links to both. Use the table below for a quick peek, then read on for more details.
1. Earth-Rated Eco-Friendly Pet Waste Pick-up Bags
How great would it be to clean up after your dog and also protect the environment at the same time? Well, absolutely amazing! And this is why these Earth-Rated Eco-Friendly Pet Waste Pick-up Bags were made.
Features
These eco-friendly pet waste bags are going to become your new dog walking accessory.
They are made out of compostable materials and can fit in any dispenser you may already have.
Pros & Cons
Pros–  eco-friendly, 100 percent leak-proof guarantee, unscented
Cons– some say they're on t
These bags are perfect to carry with you at any time, but you shouldn't wait more than 6 months to use them, as they will start the decomposition process.
Recommendation
This is a great overall product and any dog owner should have it on hand. Make sure your kids don't have access to it, as they can suffocate.
2. 
Fur-Zoff Pet Hair Remover
As the Fur-Zoff motto goes, "it ain't pretty, but it works!"
This super simple and inexpensive tool helps remove dog hair from your clothes, furniture and more.
Features
Made from 90% foamed recycled glass materials, this super simple product does one thing, but it does it well.
It's hypoallergenic, odor-free, and small enough to tuck into your purse or backpack.
Pros & Cons
Pros – Recycled materials, hypoallergenic, made in the USA
Cons -A few customers say it "doesn't roll nice."
Recommendation
These eco-friendly dog hair removers make easy work of banishing fuzz from your favorite shirt, your couch, your car and all over your home.
Basically, if you have a dog that sheds a lot, you need this!
3. Petique Eco-Friendly Bamboo Dog & Cat Toothbrush
Specialists say that you should brush your dog's teeth at least once a day, and what better way to do it than by using an eco-friendly, bamboo toothbrush like the  Petique?
Features
Being made out of ecological materials, it's a great alternative to the classic synthetic ones. Its got very soft bristles and will make cleaning your dog's teeth a complete pleasure.
Pros & Cons
Pros – soft bristles, non-toxic, biodegradable
Cons – can be too big for small dogs.
This is a great dog toothbrush and it has very soft bristles, but it can be too big for a Chihuahua or Yorkshire Terrier.
Recommendation
Whenever you wash your dog's teeth, make sure to use a dog-friendly toothbrush. This way you will avoid any possible allergy and your dog will be very happy to have his teeth washed.
4. Burt's Bees Puppy 2-in-1 Shampoo
It can be very hard to wash puppies in general. They are small, playful and it can be hard to keep the shampoo out of their eyes.
Thankfully, Burt's Bees Puppy 2-in-1 Shampoo comes to the rescue.
Features
Being a tearless, 2in1 dog shampoo, it will leave your dog's coat looking and smelling absolutely incredible. It's made out of natural ingredients and it's got a balanced pH so it will maintain your dog's skin healthy.
Pros & Cons
Pros – tearless, has conditioner, made out of natural ingredients.
Cons – some dogs can be allergic to it, even though it's made from natural ingredients.
This is a great puppy shampoo and it will make bath time much easier. You only need to make sure your pup is not allergic to it.
Recommendation
It would be amazing to start training your dog from a very young age in order for him to actually enjoy bath time. Make sure you don't wash him more than it's necessary.
5. TropiClean Oxy Med Allergy Relief Wipes for Dogs & Cats
Did you know that dog allergies (as in, humans allergic to dogs) are caused by dander? While nothing can completely eliminate that problem, these wipes can help!
With just a swipe, they can remove much of the allergy-causing dander from your dog's coat!
Features
The special formula was created to remove any dandruff, or seborrhea and help your dog deal with itching and hot spots.
So, in that sense, they not only help remove allergens that bother you, but your dog as well.
They contain oatmeal to help rehydrate the skin and will leave your dog smelling very nice.
Pros & Cons
Pros – natural ingredients, beautiful scent, anti-allergenic.
Cons – some dogs or owners can be allergic to the substances in them.
These wet napkins are completely natural and will leave your dog smelling very nice, but you should test them first to see if any of you is allergic to them.
Recommendation
These napkins are only made to be used on your dog's skin, so keep them away from their eyes or mouths.
6. Veterinary Formula Clinical Care Hot Spot & Itch Relief Spray
It's not uncommon for a dog to deal with hot spots or itchiness caused by injuries or allergens, and it's important to have a good product on hand to deal with that.
Features
This spray will help relieve any itch caused by allergens, injuries or parasites in your dog. It has lidocaine and hydrocortisone, meaning that it will treat the cause of the inflammation and temporarily relieve itching and pain.
Pros & Cons
Pros – relieves itches, and stimulates healing of wounds.
Cons – usable for dogs over 12 weeks.
This is a great product and it will help your dog if he is dealing with itchiness or hot spots, but you should only use it on dogs older than 12 weeks.
Recommendation
Being a great product for both cats and dogs, it will improve their skin condition. Make sure you keep it away from their eyes, mouths and ears, as lidocaine is a  strong substance.
Final Recommendation
While all of the eco-friendly dog products above are so diverse that it's hard to pick a favorite. Along with our top pick above, we really do love the hot spot spray.
It's a fantastic buy for dogs with itchy skin.
What are your favorite eco-friendly dog products? Share below!
Last update on 2023-09-25 / Affiliate links / Images from Amazon Product Advertising API