Are you having an issue selecting dog water toys for your water-loving puppy? I feel your pain as I've had similar struggles when trying to find reliable ones. But I've discovered several high-quality options that will be perfect for any dog's water adventures. So let's dive right into them to make this buying process as effortless as possible!
Check out the quick comparison table below for an overview, then read on for the full reviews. FYI, this post includes affiliate links. If you buy anything through them, DogVills earns a small commission at no extra cost to you.
Image
Our Favorite
Product Name
2-in-1 Floating Fetch Toy & Bite Tug - Tough, Strong, Interactive Dog Throw Toys for Medium to Large Dogs - Perfect for Dock Diving, Training & Fetching - Fire Hose Ballistic Water Pool Dog Fetch Toy
Ruff Dawg Flying Fish Dog Toy
ZippyPaws - Floaterz, Outdoor Floating Squeaker Dog Toy - Shark, Blue
WEST PAW Zogoflex Hurley Dog Bone Chew Toy – Floatable Pet Toys for Aggressive Chewers, Catch, Fetch – Bright-Colored Bones for Dogs – Recyclable, Dishwasher-Safe, Non-Toxic, Small, Aqua
Starmark Swing 'n Fling DuraFoam Ball Dog Toy Large
Top Feature
Made from upcycled firehose material
Easy to spot in the water
Content & Quick Navigation
5 Best Dog Water Toys
Any search on Amazon for dog water toys will show many results. It can be pretty overwhelming, especially for someone unfamiliar with these products. So I decided to share and review my five favorite options to show what makes up high-quality options.
With scorching temperatures hitting all across the US this week, now is definitely the best time to buy them! Grab your favorite, then head to a lake, river, or even a little budget-friendly dog swimming pool in your backyard to cool down!
1. Bully Fit Floating Fetch Toy & Bite Tug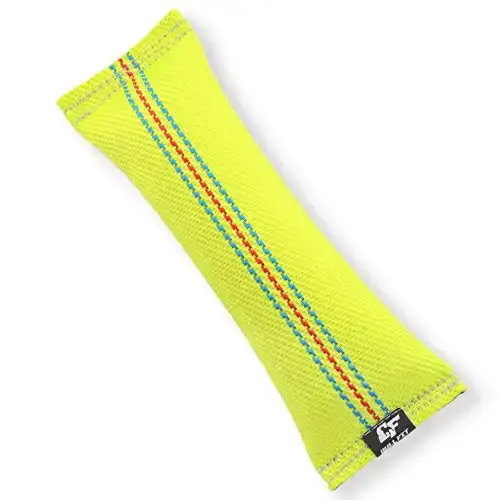 Bully Fit's Floating Fetch Toy & Bite Tug is one of the more versatile water toys for dogs. Users will have no problem using it on land or water with its multi-purpose design. Your dog will find many ways to entertain themselves with it, from fetching to tug of war.
Features:
Handmade design 

Two buying options: 2-pack or 1-pack

Measures 9.8″ x 2.4″

Loud yellow color with blue/red lines

Constructed from firehose material
Pros:
Multi-purpose use (fetching, land/water use, tug of war, etc.)

Tough, rugged construction

Soft outer material

Effortlessly floats with lightweight design

Suitable for all dogs and ages
Cons:
The drying process is longer than expected
Final Verdict
It's hard to see how a dog owner wouldn't love this product from Bully fit. Its versatility alone would be enough to get their attention, but it also has various other excellent benefits. In fact, it's one of the most durable choices available while offering a soft, gentle outer material.
The toy's only notable one was that a few customers noted its drying process took longer than expected. But honestly, I can't see anyone viewing this issue as a massive deal-breaker.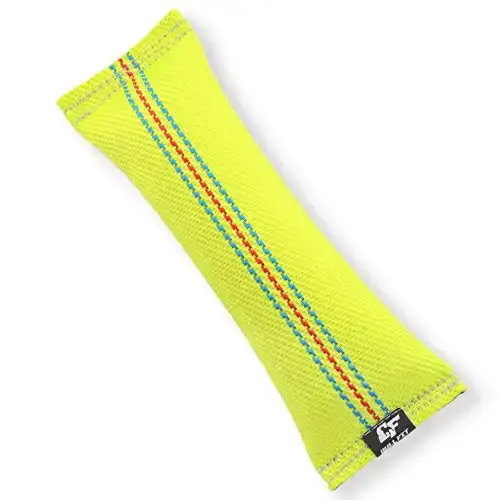 2-in-1 Floating Fetch Toy & Bite Tug - Tough, Strong, Interactive Dog Throw Toys for Medium to Large Dogs - Perfect for Dock Diving, Training & Fetching - Fire Hose Ballistic Water Pool Dog Fe...
WILL LAST OR YOUR MONEY BACK! - If you're tired of spending money on those cheaply made jute tugs, foam dummies, bumpers & air fetch sticks that get destroyed within a few hours, this ballistic dog...
THE MOST DURABLE FETCH & TUG TOY ON AMAZON! - Some other tugs and fetch toys for dogs are cheap and look nice, but they're not sturdy & safe for your canine friend. Unlike others, this 9.8x2.4" tug...
IT'S NOT A CHEW TOY! - This tug that floats is built safe and tough but no toy is indestructible. It's perfect dog bite tug & water fetch toy for medium to large breeds and big puppies, but NOT a...
MULTIPURPOSE, DOGS LOVE IT! - We believe that interactive play will help strengthen bond between you and your furry buddy, keep him happy and healthy. Bull Fit fetch toy is great floating dog toy for...
"GREAT WATER TOY! - I bought this because my pooch swallows water when fetching a tennis ball. With this toy, he is able to breath without inhaling water. Great toy, highly reccomend!" - Brett,...
Buy on Amazon
We earn a commission if you make a purchase, at no additional cost to you.
09/22/2023 02:48 pm GMT
2. Ruff Dawg Flying Fish Dog Toy
Pet owners seem to adore Ruff Dawg's Flying Fish Dog Toy for its vibrant and flashy design. It makes the toy much easier to see in the water than most other options. As a result, I can't imagine many dogs will have trouble finding them during a game of fetch. 
Features:
Floating flying fish design

Measures 9″ x 4″ x 1 ½ "

Vibrant orange color

High-quality, natural rubber

Rope hole included

Made in the USA
Pros:
Long-lasting, tear-resistant construction

Fun toy for all dogs

Effortless to throw

Gentle outer material promotes better teeth/gum health

Easy to see from a distance
Cons:
Final Verdict
Aside from its vivid coloring, I was intrigued by its lightweight design. Multiple customers mentioned it being effortless to throw when conducting a game of fetch. My dog loves going deep into the waves, so this toy would be a perfect match.
But anyone who considers this product will need to spend a little extra. It's easily the most expensive option on our entire list. 
Sale
Ruff Dawg Flying Fish Dog Toy
Keeping your dog active is important for his health, and fun to do with the Rufff Dawg Flying Fish!.
Provide summer fun for your dog at the lake or back yard pool with this floating flying fish.
This chew toy is 100% made in the USA of superior quality rubber.
Don't let this one get away! Fetching and retrieving fun for dogs of all sizes.
Fish comes in assorted colors and measures 9" x 4" and is 1 1/2" wide.
3. ZippyPaws Floating Shark Dog Toy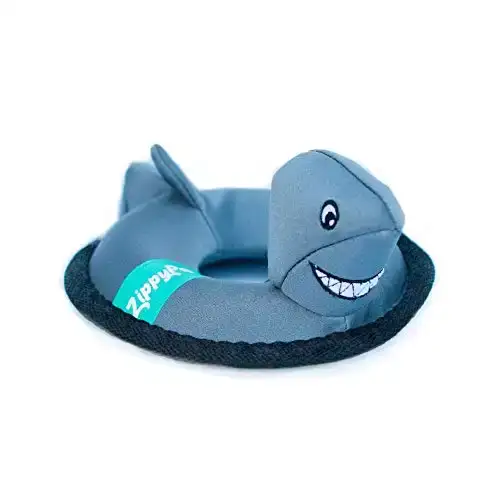 ZippyPaws's Floating Shark Dog Toy has my favorite design of these five products. This floating shark tube is adorable and perfect for various photo opportunities with my dog. It'd be an ideal fit for my dog's fun-loving personality. 
Features:
Floating shark design

Measures 7″ x 7″ x 4″

Two built-in noisemakers

Blue color scheme

High-quality fabric and stitching
Pros:
Adorable toy

Usable for hours of play

Produces an engaging squeaking noise

Lightweight and floatable

Ideal size for small and medium dogs
Cons:
Not ideal for heavy chewers
Final Verdict
The adorable design would be more than enough to sell me on it. However, it's not the only attractive feature this toy offers, as it has two built-in squeakers. I can already see my dog going crazy in the pool when these squeakers start producing sounds.
But I'd have to keep it away from my other dog for long periods. She's a heavy chewer who's often tough on toys like this one. So if you have an aggressive or heavy chewer, this adorable toy might not be the best option.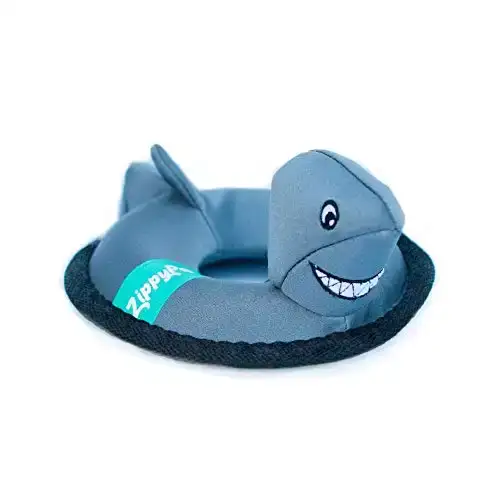 ZippyPaws - Floaterz, Outdoor Floating Squeaker Dog Toy - Shark, Blue
FUN CHARACTERS - Dogs will have hours of fun fetching and swimming after 4 adorable sea creatures such as the duck, shark, turtle, and walrus.
OUTDOOR PLAY - Light enough to float on water yet durable for long fetch sessions, these are the perfect toys for playing outside with your pup.
EXCLUSIVE NOISEMAKERS - All Floaterz toys include 2 exclusive crescent squeakers to keep your best friend entertained.
JUST THE RIGHT SIZE - These fun critters measure 7x7x 4 inches, the perfect size for medium and small dogs of all life stages.
ZIPPYPAWS QUALITY - ZippyPaws means design and quality. At our core, we stand for only giving your dogs the best. Count on ZippyPaws for all of your dog toy needs!
Buy on Amazon
We earn a commission if you make a purchase, at no additional cost to you.
09/22/2023 02:48 pm GMT
4. West Paw Zogoflex Dog Bone Chew Toy 
Buying toys for aggressive chewers is a tricky business. But West Paw's Zogoflex Dog Bone Chew Toy ensures even the roughest chewers won't make a dent in it. Its rugged construction made from high-quality Zogoflex material can withstand almost anything. 
Features:
Bone-shaped chew toy

Three sizes: X-Small, Small, and Large

Three colors: Aqua, Granny Smith, and Tangerine

Dishwasher safe

Made from non-toxic, floatable Zogoflex material
Pros:
Extremely durable construction ideal for tough chewers

Outstanding chew toy and fetch toy

Suitable for land or water

Multiple, convenient buying options

Easy to clean
Cons:
Final Verdict
Overall, this product's durability is its main attraction. But I found myself loving this product's versatility almost as much as its rugged construction. It has no issues working on land and water while being an excellent chew or fetch toy.
However, it might be a little difficult for smaller dogs to carry. It has a heavier design that some customers found a little burdensome to throw. So it's easy to see how a smaller dog could struggle to enjoy this excellent toy. 
WEST PAW Zogoflex Hurley Dog Bone Chew Toy – Floatable Pet Toys for Aggressive Chewers, Catch, Fetch – Bright-Colored Bones for Dogs – Recyclable, Dishwasher-Safe, Non-Toxic, Small, Aqua
DURABLE DOG BONES FOR AGGRESSIVE CHEWERS: If your pampered pooch is an aggressive chewer, then you'll love the durable shapeand bouncy, floatable material of the West Paw Zogoflex Hurley Dog Bone Chew Toy.
DOG BONE FOR WATER OR LAND: This durable dog bone chew toy is floatable and perfect for playing catch or fetch while in the water or on land.
SAFE ALTERNATIVE TO WOOD STICKS: It's natural for dogs to want to carry wood sticks around the yard, but this dog bone chew toy is a safer alternative for pups and senior dogs who love to gnaw.
RECYCLABLE PET TOYS: Not only do these dog bones feature bright colors to easily spot inside or out, each dog chew toy is non-toxic, recyclable and Made in USA.
DISHWASHER SAFE DOG TOYS: Easily clean this dog bone chew toy for chase and fetch games by adding it to the top rack of your dishwasher. This floatable dog bone comes with a manufacturer 100% guarantee against damage.
5. Starmark Swing' n Fling Ball Dog Toy
Playing fetch on the beach will never be more fun than with Starmark's Swing 'n Fling Ball Dog Toy. I can easily imagine throwing it far into the lake and seeing my dog dive right after it. He also wouldn't lose it like other options due to its brightly colored design. 
Features:
Ball and rope design

Two available sizes: medium and large

Made from a patented foam material

Bright yellow and blue color scheme

30-day return, replacement, or refund policy
Pros:
Suitable for all dogs and breeds

It offers excellent bounce and floatability

Durable, well-crafted construction

Outstanding visibility

Usable on land and in water
Cons:
Play requires supervision
Final Verdict
This toy's brightly colored design and excellent fetch capabilities make it a dog owner's dream. I didn't even mention its durable construction or usability on land and in the water. It's easily one of the best toys for pups that love the water.
However, it would be best if you didn't let your dog use this toy without supervision. This product is durable when used correctly but won't withstand constant chewing. So it's best to use it on beach trips or as a reward for good behavior.  
Sale
Why Do You Need Dog Water Toys?
Dog water toys represent a way to help your pup enjoy their time in the water. After all, these products will encourage and provide an outlet for their time spent in the pool. They could even help an anxious dog get more comfortable with spending time in the water.
For instance, my dog used to be terrified of water. He would even flinch when I turned on the kitchen sink. But I've managed to make him more comfortable with baths and swimming in pools by providing him with a set of toys.
I should also mention that dog water toys offer various health benefits. For example, you can use them to help your dog burn off calories or offer them extensive mental stimulation. So these water toys became valuable items to any dog owner'.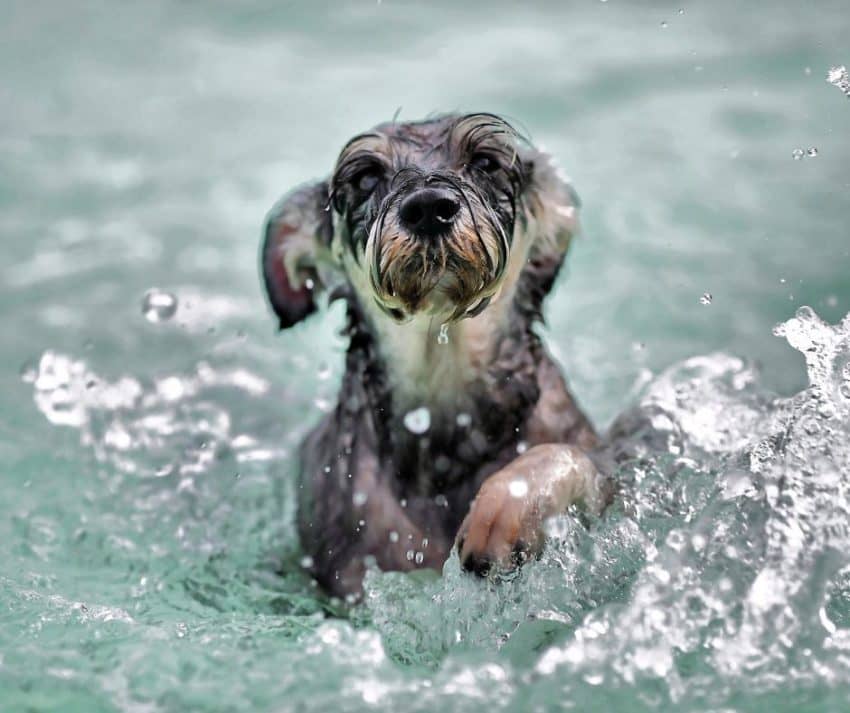 What to Look for in Dog Water Toys?
Buying dog water toys won't be much different than purchasing other pet toys. However, it's still crucial to understand what high-quality will look like and provide. Here's a quick checklist of factors to consider before making a final decision.
Durability
Your dog's water toys will need to withstand regular use with ease. You'll replace them much sooner than expected if they don't. So I'd recommend researching the materials used in making each option.
This information should offer a detailed picture of the toy's durability. Look for toys that are made to be tear-restraint or chew-proof. Of course, nothing will stop a dog like my Pitbull from breaking it apart, but these qualities make it more difficult. 
One of the best resources to use would be other customers' reviews. Nothing will get a pet owner angrier than toys that break or rip apart, so it's wise to use their negative experiences to your benefit.
Floatability
One of the more obvious factors would be a toy's floatability. Any worthwhile dog water toy will float without any trouble to encourage safe, reliable playing sessions. However, if they don't float, your dog could be in problematic situations when retrieving the toy.
As a result, it's a much safer route to ensure a toy's floatability. It's essential not to assume a toy floats because its product's description states it. Please test it before allowing your dog to play with it near water.
Grip
Some dog water toys tend to get a little slippery after getting wet. These products are an issue because they become slippery and difficult to grip. I can't tell you how many toys my dog has lost interest in due to their grip.
So I'd suggest preparing for this issue by investing in toys with a gripping mechanism. It'll save everyone involved a lot of trouble and money.
Design
Practical designs are a crucial aspect of any high-quality dog water toy. For instance, a brightly colored toy will be much easier to find when thrown into a pool or lake. It'll ensure your dog doesn't have trouble spotting it, even in a crowded area.
So it's a wise move to invest in brightly colored toys. If you don't, it becomes much more likely that you'll be replacing it much sooner than anticipated. According to the American Kennel Club, the best toys for your dog will be those "blue and yellow hues."
Multi-Purpose
The best available dog water toys will offer versatility. In other words, these products won't have issues being used on land and in water. It's a valuable aspect that lets owners and dogs get the most out of their newly purchased toys.
Cost
As you can imagine, the prices for dog water toys will vary significantly. So it's essential to prepare a budget based on your high-valued features. For instance, a person who wants an option that's usable on land and in water will need to spend more money.
You'll need to reflect this increased price into your budget. Otherwise, it won't be a reliable and valuable resource during your buying experience.
Final Recommendation
If I had to choose one, I'd have to select  West Paw's Zogoflex Dog Bone Chew Toy. It checks off everything a pet owner could want in a water dog toy with its exceptional features. 
Don't forget to let us know if any of these dog water toys caught your eye. We'd love to hear about your experiences using them in our comment section. Thanks for reading!
Last update on 2023-09-23 / Affiliate links / Images from Amazon Product Advertising API