Even if your dogs are welcome inside, there are times when you will need one of these Best Dog Gates For Large Dogs.  Not only do they help keep your dogs out of rooms are areas of your home, they are also decorative or easy to match to you decor.  Dog gates don't have to be an ugly intrusion in your home.  With dozens of options available, you are sure to find just what you need.
Related Posts:
BEST DOG GATES FOR LARGE DOGS
This post contains affiliate links. Thanks for the support.
Carlson Extra Wide Walk Thru Gate With Pet Door:  This dog gate is perfect for the house that has both large and small pets.  Not only does it have an easy to open gate you can simply walk through, it has a pet door for smaller pets like small dogs and cats.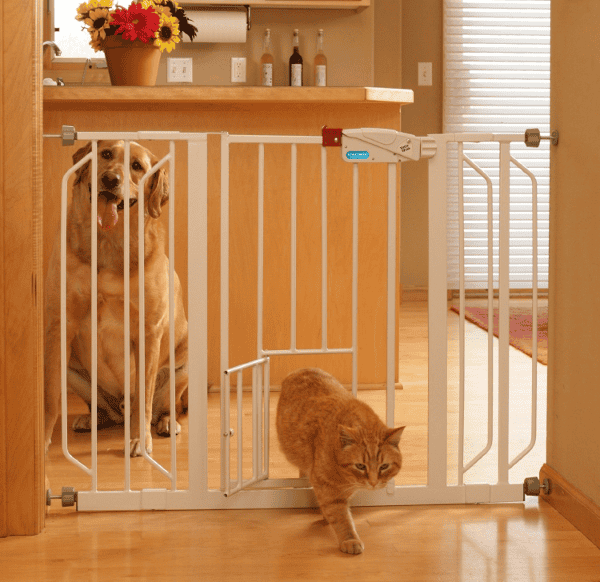 Freestanding Wooden Pet Gate:  This gate is great for blocking pets in against walls instead of just closing off doorways or stairways.  Combine a few of these to create your own dog pin.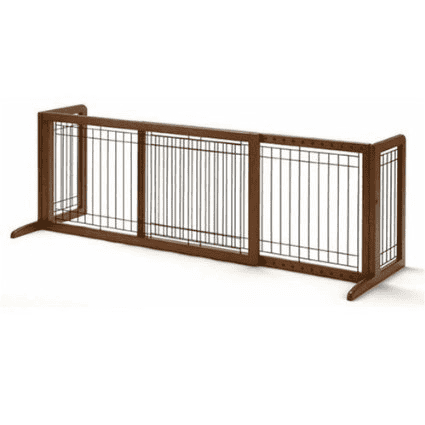 Petz 360 Degree Foldable Gate:  This gate is great for creating a smaller corner to hold your pet.  Also great for going around corners and in oddly shaped rooms. Grab 2-3 of these and create a unique indoor kennel area with ease.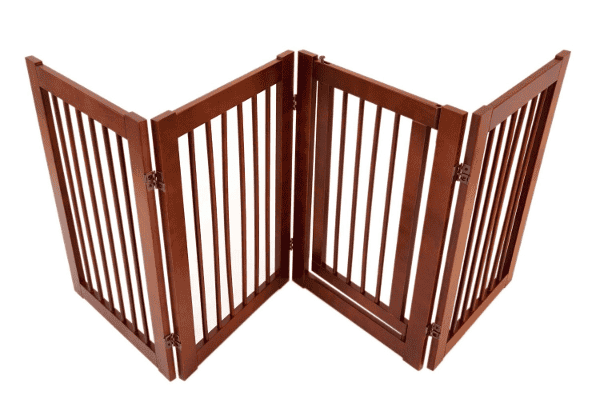 Richell Pet Sitter Gate:  This gate is made to go in doors or entry ways.  Durable and sturdy it is great for medium to large dogs and easy to put into small places. This is a great sturdy gate that your pet will respect and you will love.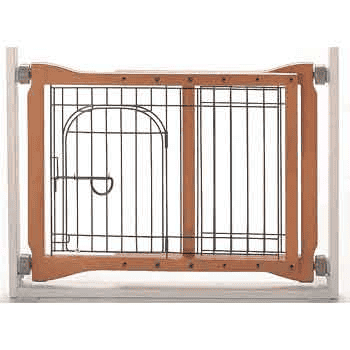 Cardinal Extra Tall Free Standing Gate:  This is perfect for those taller breeds of dogs.  You can easily use this in any room of your house to create a great corner area your dog can be held temporarily.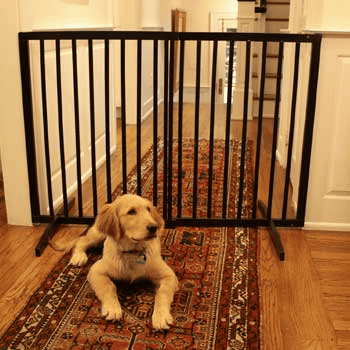 Four Paws Metal Safety Gate:  This classic gate is sturdy and durable.  Perfect for stairways, doorways and last minute gating when you have company coming. This one is best for smaller larger dogs, or used only for temporary holds.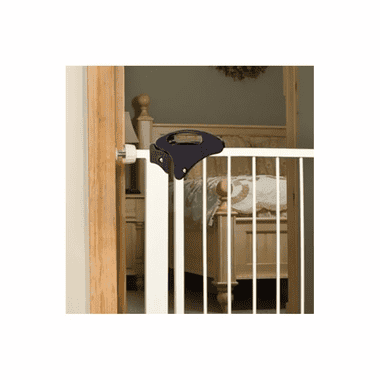 These best dog gates for large dogs are sure to give you just what you need to keep your favorite pets contained when needed. Whether it is during the day when you are at work, during a dinner party to keep the pets away from guests, or simply a way to keep them out of the kitchen while you cook these gates are a great choice for your home.