Need help choosing dog diapers for your senior pup? It's a difficult situation that many owners find themselves in as their dog ages. But I intend to simplify it by showing you several top options. I'm confident one of these diapers will be perfectly suited to help your senior dog through this difficult time.
Use the table below for a quick side-by-side comparison, then keep reading for the full reviews. FYI, this post includes affiliate links. If you buy anything through them, DogVills will earn a small commission at no extra cost to you.
Table could not be displayed.
5 Best Dog Diapers for Senior Pups
Searching for dog diapers on Amazon is an absolute nightmare for pet owners. After all, the number of options can be overwhelming, even for experienced dog parents. So I narrowed my list to five choices that'll offer your dog comfort and support. Let's see what makes these diapers such fantastic products.
1. Out! Pet Care Disposable Male Dog Diapers
Disposable belly band diapers don't get better than Out! 's Pet Care Disposable Male Dog Diapers. These offer a channeled core design to ensure a comfortable fit. Plus, they provide excellent leak protection and odor control to maintain your senior dog's nastiest messes.
FEATURES:
Two sizes and three buying quantities

Belly wrap built for male dogs

Disposable

Channeled core fit design

Embedded with odor-controlling baking soda

Sure Seal Technology for leak protection

Moisture-wicking system featuring absorbent edges
PROS:
Comfortable, adjustable fit

Easy to put onto dogs

Maintains messes with leak protection 

Excellent odor control

Fur doesn't get stuck with fur-friendly fasteners 
CONS
Some customers reported packaging issues
FINAL VERDICT
It's easy to get lost in this option's top-tier fit, odor control, and leak protection. But these areas aren't the only ones where it excels. It's also easy to use with its fur-friendly fasteners while offering various buying quantities that can meet almost every dog owner's needs.
My one concern was a few customers mentioned packaging issues. But none were overly egregious to where I'd let them affect my final decision.
2. Paw Inspired Disposable Female Dog Diapers
Anyone with a senior female pup should consider Paw Inspired's Disposable Female Dog Diapers. These full-coverage diapers are convenient, leak-proof godsends for dog owners. Your dogs won't hate their breathable design as much as other diapers, either.  
FEATURES:
Six buying options

Full coverage design for female dogs

Disposable

Advanced DrySpeed Technology

Leak-proof edges

Fur-resistant, adjustable fasteners
PROS:
Secure fit with top-tier breathability 

Dries messes instantly 

Suitable for female dogs of all ages and sizes

Effortlessly prevents leaks

Convenient to use and dispose 
CONS:
Isn't effective at maintaining poop with some dogs (tail hole)
FINAL VERDICT
Overall, Paw Inspired did a great job creating a diaper to help deal with urinary incontinence. Its breathable and super absorbent design gets the job done. It even manages to keep the messes from seeping out with its leak-proof edges.
But some senior pups with poop-related issues could bypass these diapers easily. A tail hole within its design allows certain breeds to go number two unrestricted.
3. Wegreeco Washable Belly Band Diapers
The Wegreeco Washable Belly Band Diapers are great options for senior male dogs. You can rely on them to be highly absorbent and easy to clean. This combo isn't one dog owners should overlook, especially at this price tag. 
FEATURES:
Six sizes and seven color options

3-pack

Belly band design for male dogs

Washable

Soft inner jersey material

Leak-proof outer layer

Sewn-in absorbent pad
PROS:
Easy to clean (hand wash only)

Super absorbent 

Comfortable, crinkly-free texture

Reusable, Eco-friendly design

Suitable for other animals (cats, farm animals, etc.)

Affordable
CONS:
Not machine washable (velcro weakens over time)
FINAL VERDICT
There's a lot to love about these convenient diapers from Wegreeco. Anyone with a senior male dog suffering from urine incontinence would value this 3-pack greatly. Their dogs will also love them because they offer a soft, crinkly-free texture.
But it's worth noting that these diapers aren't machine washable. Some customers noted machine washing them caused the velcro to weaken with repeated cycles.
4. Hartz Disposable Full Coverage Diapers
Hartz's Disposable Full Coverage Diapers have the unique distinction of being usable for senior female and male dogs. Their full coverage design adapts seamlessly for both genders without sacrificing performance. So what else could a dog owner want? 
FEATURES:
Five sizes

32-pack

Full coverage design

Disposable

Absorbent core uses FlashDry technology

Velcro tabs

Adjustable tail hole
PROS:
Usable for males and females

Outstanding 6-hour leak protection

Easy to find a perfect fit with velcro tabs

Breathable design with no slippage or fur sticking

Tail hole fits any tail shape or size
CONS:
A higher-priced option for disposable diapers
FINAL VERDICT
The versatility to work for both male and female dogs is quite impressive. However, I found the 6-hour leak protection and breathable design even more appealing. Hartz did an outstanding job crafting diapers that every senior dog owner would find helpful.
Sadly, these disposable diapers are a little more expensive than I expected. So potential customers will have to evaluate where its performance is worth the extra cash.
5. Pet Soft Washable Female Diapers
Our final option, Pet Soft Washable Female Diapers, will be hard for senior female dog owners to pass up. These reusable diapers are practical, Eco-friendly godsends that'll keep your dog comfortable by not restricting their movement. 
FEATURES:
Two patterns and four sizes

3-Pack

Reusable diapers for females

Made with high-quality fabric

Absorbent inner pads

Waterproof pocketed waistband

Elastic tail hole

Washable
PROS:
Effortlessly adjusts to fit 

Durable, long-lasting fabric design

Easy to clean (hand wash)

Provides unrestricted movement

Solid prevention against leaks

Adorable pattern options
CONS:
Sizing is a little tricky (be careful)
FINAL VERDICT
Aside from their practicality, it's hard not to love the easy adjustment and leak prevention. These qualities further showcase this option as a top choice for senior female dogs. Finding a customer with a bad thing to say about these diapers was challenging.
My only gripe would be the sizing is a little hard to follow. So please pay close attention to the size chart. If you don't, you may make a mistake like some other buyers.
Reasons Why A Senior Pup Needs Diapers
Several scenarios exist where a senior pup may need to wear diapers. I think it's essential for you to understand them before looking at the crucial buying factors. After all, these discussions provide insight into why diapers are or aren't a suitable option for your senior pup.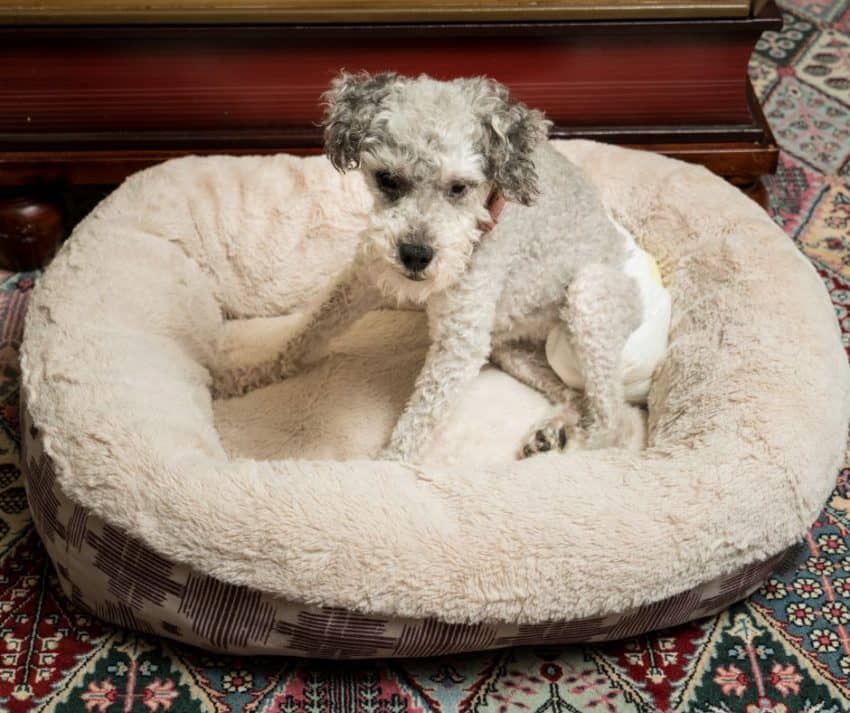 Urinary Incontinence
Urinary incontinence is the most common medical condition that may require diapers. It refers to a pet who can't control its bladder anymore. Many dogs develop these issues as they get deep into their teen years.
The condition is usually caused by physical issues like a UTI or bladder problems. Owners who suspect their dog's suffering from incontinence should schedule a vet visit immediately.
If a physical problem causes incontinence, diapers will be the next step. Your senior pup will then have to wear them every day of their life.
Anxiety
Anxiety is a somewhat overlooked reason why a senior dog may need diapers. Dogs who suffer from anxiety can often struggle with controlling their bladders. As a result, it's not uncommon to return home to a nasty puddle on your living room floor. 
Some anxious issues even take it a step further by causing stress poops. Thankfully, these situations are rare and only occur when an anxious dog gets extremely upset.
Dog owners tend to overlook signs of anxiety, especially separation anxiety. So it's essential to discuss with a vet if your dog exhibits any anxious signs. Some common examples include excessive panting, tail between the legs, and howling.  
Other Notable Medical Conditions
It's inconvenient to list all the conditions that use diapers for treatment. But the headliners are infections, cancer, and various traumatic injuries. All of these situations will require using diapers for an extended or permanent period.
What to Consider When Buying Dog Diapers For Senior Pups
Sadly, buying dog diapers for senior pups isn't an effortless task. Choosing a suitable option requires a review of several crucial factors. But there's no need to worry as I break down each in great detail within these following sections.
Size
Diaper size should be the first concern in a dog owner's mind. After all, choosing diapers that offer your senior pup comfort and security is essential. But there must be a balance between these two components. In other words, you don't want a diaper to be too tight or loose.
Instead, you want a diaper that remains attached while being comfortable. An easy way to find these elusive diapers is by knowing our dog's weight and waist size. You can then match these measurements to the ones provided in each option's size chart.
Diaper Type
Dog diapers are available in a variety of types. But most of them fall into two main categories: belly bands and full coverage diapers. I'm not covering disposal vs. washable diapers; I'll cover this topic in the next section.
In any case, choosing between belly bands and full-coverage diapers isn't too tricky. So let's start with belly bands to see whether they're a good fit for a senior dog. 
Dog Belly Bands
Dog belly bands are known for having lightweight designs. It allows them to offer higher comfort and security around a dog's waist. But female dogs can't use belly bands as their design only works for male pups.
So, belly bands are a perfect fit if you have a male dog with bladder issues. These choices will provide an ideal amount of comfort while offering excellent security.
Full Coverage Dog Diapers
Full coverage dog diapers are known for their resemblance to human diapers. In other words, these options are probably what you first pictured when hearing "dog diapers." These options will provide full coverage, hence the name, and come with a tail-hole.
Given this info, anyone with a female dog will need full coverage diapers. These options are also a solution for a male dog with fecal incontinence. So full coverage options are a bit more versatile than belly bands. 
Material (Washable or Disposable)
As I mentioned, buyers will have to pick between washable and disposable diapers. Many dog owners prefer washable options because you can reuse them. It creates a much more timely approach to helping your senior dog relieve themselves.
I also have to mention that washable diapers are more eco-friendly and cost-effective. These qualities make them better suited for long-term use. Meanwhile, disposable diapers are ideal for short-term needs and provide a less high initial price.
Your Dog's Activity Level
Considering your senior dog's activity level might seem a little weird. However, some older pups still motor pretty quickly around the house. So it becomes essential to choose a diaper that doesn't hinder their daily movements too much.
Many people with highly active senior pups decide to use suspenders for their diapers. Doing so allows the diaper to attach to a harness without being too tight. It is another way to help improve your dog's comfort level.
Final Recommendation
If I were making a decision right now, I'd have to suggest buying Hartz's Disposable Full Coverage Diapers. Truthfully, you can't argue against their results and versatility. I only wish they were a little less costly.  
Have you tried any of these dog diapers for your senior pup? Share your thoughts & experiences below!
Last update on 2023-05-28 / Affiliate links / Images from Amazon Product Advertising API