Leaving your dog alone at home can be stressful, but certain products exist to help ease these concerns.
One of them is called a dog camera treat dispenser.
These let you watch and feed your dogs during extended absences, like if you have to work full time outside the home.
Let's look at a few examples and discuss their benefits to grasp better what these cameras offer.
Related: Best tech products for dogs
Our Top Pick
FYI, this post contains affiliate links. If you make a purchase through these links, we earn a small commission at no extra charge to you.
If you're too busy to read our whole article, I'd suggest buying Owlet Home's Dog Camera with Treat Dispenser.
It's an affordable dog camera treat dispenser with every feature a dog owner could want.
What Are the Benefits of Dog Camera Treat Dispensers?
Several benefits come from owning a treat-dispensing dog camera.
Here's a short list of advantages that these products will bring into your life.
1. Entertainment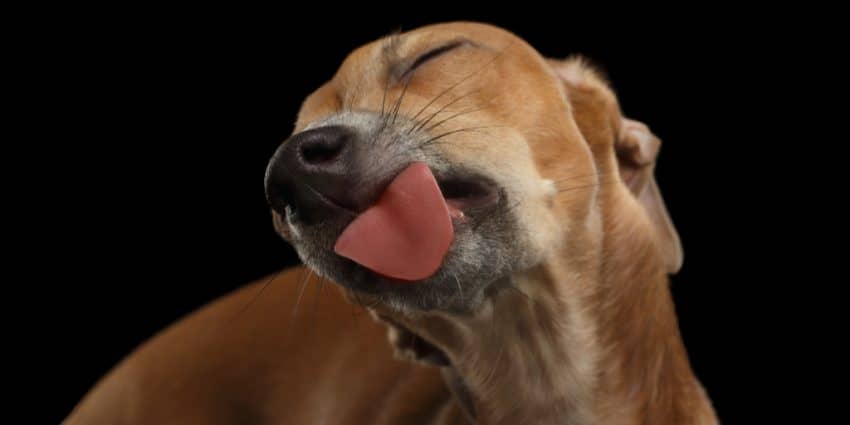 One of its many attractions has to be how entertaining it's for dogs and owners alike.
After all, an owner gets to see their dog enjoy the treat being dispensed on camera.
You get to see the happiness on their face even when away from home.
I don't know about you, but that sounds more enjoyable than doing my work.
2. Reduces Owner and Pet Anxiety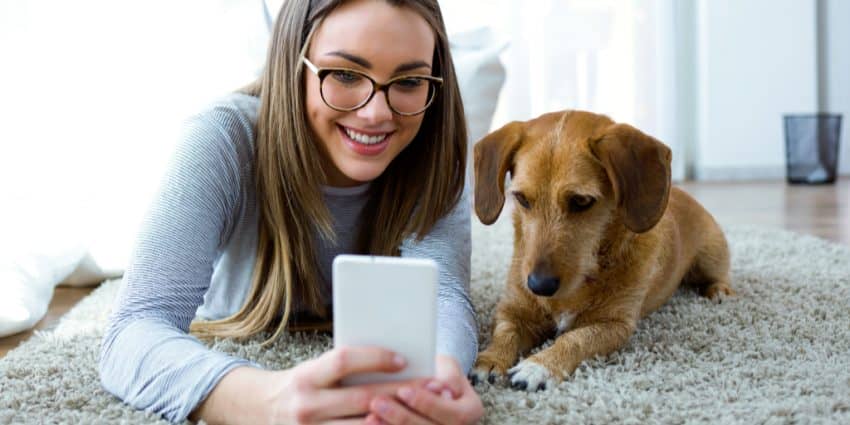 As I stated earlier, the primary purpose of these devices is reducing your anxiety.
Dog owners often become riddled with worry about leaving their pups home alone.
These cameras will mitigate those feelings by showing you what they're doing.
Plus, the device will even dispense food to calm any concerns about them going hungry.
But what you might not realize is some dogs get extremely anxious when their owners leave.
Dogs tend to bark, worry, or even search the house when left by themselves.
The speakers inside these cameras allow an owner to communicate with their dogs.
Your voice will soothe them and bring a sense of calm to the situation.
3. Automatic Feeding
Every camera on our list provides the feature of automatically dispensing food or treats.
It's a nice feature because owners won't have to open the app every time a treat needs dispensing.
You'll understand how crucial this aspect is when a work project needs your full attention.
It ends up being an absolute godsend.
4. Recording and Sharing Videos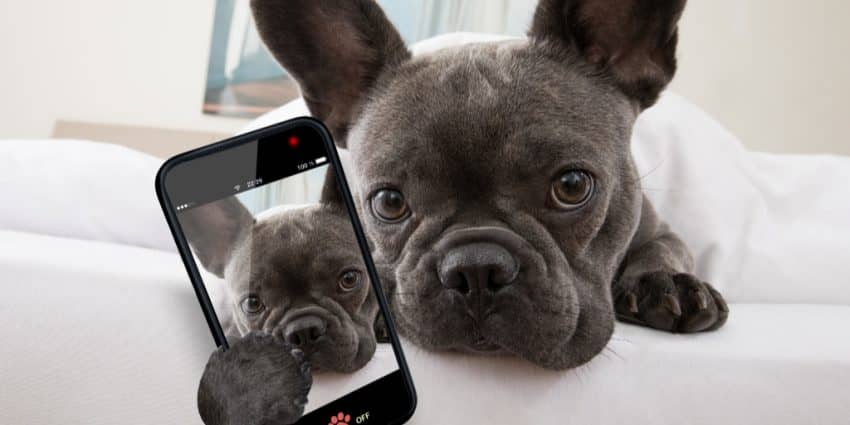 Dog owners can record their dog's wild, wacky or just plain funny behavior and share it with their friends.
It's a great conversation starter and answers the question of "what exactly do our pups do when left alone?"
Trust me, the answer will likely shock you.
5. Helpful in Dog Training
You might be surprised to learn that these cameras are very helpful with dog training.
While face-to-face training is a must, the 2-way mics help reinforce commands even when you're not there.
For instance, some of these cameras will have a bark detection feature.
This aspect allows an owner to quiet down their dog whenever the barking starts through a voice recording.
At first, your dog could be a bit confused because they're hearing without seeing you.
But your dog will eventually accept the instruction and quiet down.
You can then reward the behavior with a dispensed treat.
It ends up being an effective way to keep your dog quiet during your days at work.
The 3 Best Dog Camera Treat Dispensers
Check out the table below for a quick look at our favorite dog camera treat dispensers, then read on for complete reviews.
We've included videos as well, as these are definitely something you need to see in action!
Invalid table id.
1. Furbo Dog Camera Treat Dispenser
Furbo's Dog Camera Treat Dispenser provides one of the clearest and most detailed pictures among these devices.
The 1080p camera with night vision capabilities has received nothing but rave reviews.
I would have no issues interacting with my Pitbull and soothing her until I came back home.
Features:
1080p full camera with night vision
Built-in microphone and speaker
Treat tossing abilities
Equipped with a barking sensor
Compatible with iOS or Andriod
Pros:
Easy to setup
Clear and detailed picture
Sends notifications to your phone
Excellent 2-way audio
Tosses any type of treat
Cons:
App navigation issues
Among the priciest
Have to pay for many features
Final Verdict:
Aside from its high-quality picture, this camera comes with many top-tier features.
My favorites would have to be its barking sensor, excellent 2-way audio, and ability to dispense almost any treat.
But some users did complain about the app being a little tricky to navigate.
Another important note, many features require a premium monthly fee.
According to the manufacturer, they offer the first 3 months for 99 cents.
After that, it'll run you $6.99 per month or US$69 for a yearly membership.
I'd imagine this a small price to pay, given all these other great features.
Furbo Dog Camera: Treat Tossing, Full HD Wifi Pet Camera and 2-Way Audio, Designed for Dogs, Compatible with Alexa (As Seen On Ellen)
FULL HD CAMERA & NIGHT VISION - The Furbo Dog Camera gives you HD video quality day & night. Stunning 1080p live view lets you easily check on your home, livestream video to monitor your pet, speak to family, and toss treats to pets.
2-WAY AUDIO - Know what's going on at home and talk to calm them down via the app.
FUN TREAT TOSSING - Toss a treat to your dog through your Furbo dog treat dispenser camera via the free Furbo iOS/Android app. Fill your Furbo dog camera with your dogs' favorite treats & play a game of catch or use it to help alleviate separation anxiety.
BARKING SENSOR ALERT - Furbo's unique BARKING SENSOR detects when your dog is barking. It sends push notifications to your smartphone when it detects barking so you can check up on them.
EASY 3-STEP SETUP & SECURITY - 1) Plug the USB cord into a power outlet 2) Download the Furbo app 3) Connect to your home WiFi. Furbo Dog Camera uses bank-level encryption to ensure your data remains private. Enable 2-Step Verification to keep your account secure. A stable internet connection & WiFi signal are recommended for the best performance of your pet camera treat dispenser.
2. WOpet Smart Pet Camera Dog Treat Dispenser
If you're looking for a model with an easy setup, WOpet's Smart Pet Camera Dog Treat Dispenser is worth checking out.
Its straightforward 3-step process makes the process an absolute breeze.
You can then enjoy its unbelievable two-way audio, picture quality, and 24-hour customer support.
Features:
Full HD camera with night vision
Built-in microphone and speaker
Works with Alexa
Requires a 2.4GHz WiFi frequency
Compatible with iOS or Andriod
Pros:
Clear two-way audio
Simple to setup
High-quality picture
Easy to share images and videos
24-hour customer support
Cons:
Night vision quality issues
Some complaints about the app not being user-friendly
Only connects to 2.4GHz, no support for 5GHz
Final Verdict:
This camera's not missing anything when it comes to features.
It has everything a person could want from treat tossing abilities to shareable pictures and videos.
However, a couple of people did report the night vision feature being a little underwhelming.
Dog owners who leave their dog alone at night should look at another model.
Likewise, if you only have a 5GHz router, you'll have to pass on this one.
Sale
WOPET Dog Camera D01 Plus: 5G WiFi Pet Camera with Treat Tossing, 1080P HD with Night Vision for Pet Viewing, Two Way Audio Communication Designed for Dogs and Cats, Monitor Your Pet Remotely
Fun Treat Tossing: Toss your dog's favorite treats with phone app, get their attention with the speaker, and play with them remotely through the treat tossing function. Let your dog experience your virtual presence even when you are not at home. Have them jump and chase treats and tell him he's a good boy!
Smart APP Control: WOPET Smart Pet Camera is compatible with both 5GHz and 2.4GHz WiFi systems, allowing you to program and monitor your pet's meals anywhere and anytime, to see,talk, play, and interact with your pet.Connect with your pet while you are away with the supported audio chat/recording.Sharing your favorite moment on social media directly if preferred.
1080P HD Camera for Remote Monitoring: Through a high-definition video camera with 1080P high resolution and 165°wide viewing angle, WOPET dog treats camera allows you to see and hear how your beloved pets are responding when you are temporarily away. The built-in camera supports night vision, enabling you to clearly see your pets in the dark.
Two Way Audio: Built-in advanced microphone and speaker for clear two-way audio conversations. Let you listen, talk and reward your pet's favorite snack or play & interact with your pet anytime, anywhere, Not only can you see what's happening at home, but also send voice commands, scare off intruders and talk with loved ones, even when you're away.
OPERATING TIPS: Easy 3-Step Setup: 1) plug in to a power outlet using its USB cord; 2)Android user :Search WOPET smart on Google play,IOS user :Search WOPET on APP store to download the App; 3) connect to your home WIFI.We recommended to use treats 0.24-0.6"(6-15mm) that will get your dog excited to play with you and dog camera.
3. Owlet Home Dog Camera with Treat Dispenser
The Owlet Home Dog Camera with Treat Dispenser is a more affordable choice than our prior two.
But its lower cost doesn't stop the camera from competing with them. It matches or outpaces them in almost every category.
It's made possible by features like its 720p camera, inactive treat dispenser, and Android/iOS compatibility.
Features:
720p camera with automatic night vision
Equipped with a microphone and speaker
Compatible with iOS or Andriod
Requires 2.4GHz WiFi signal
Interactive treat dispenser
Pros:
Clear two-way audio
Simple setup process
12-month warranty
Live HD video streaming
Easy-to-use app
Affordable price
Cons:
One user complained that her iPad didn't recognize it.
Final Verdict:
Everything about this product screams high-quality bargain.
It's not lacking a single feature besides having a slightly worse picture quality than our prior options.
I could only find a single design flaw mentioned about this product.
Do yourself a favor and put this camera into your shopping cart right now.
Owlet Home Pet Camera with Treat Dispenser Tossing for Dogs/Cats, Smart Dog/Cat Camera, Free App, 2.4Ghz & 5Ghz WiFi, 1080P Camera, Live Video, Auto Night Vision, 2-Way Audio, Compatible with Alexa
Keep Your Pet Accompanied: The Owlet Home Pet Camera with Treat Dispenser allows you to watch and talk to your pet, or even toss a treat via the free APP or manual toss button or Alexa Voice Control, providing companionship to your pet while you are away from home.
Easy Setup: The Owlet Home Pet Camera with Treat Dispenser is incredibly easy to set up. Simply unpack, plug in to a power outlet, download the APP (available on iOS, Android, and Amazon App Store), add the device, and connect to WiFi.
Fun and Interactive: With the Treat Dispenser & Tossing feature, you can have fun time tossing a treat to your pet via the APP. You can even record your voice via the APP when tossing a treat, letting your pet feel like you are around even when you are away from home. The treat dispenser operates on a single motor rotation, treat quantity may vary by size. Dispenser may release multiple treats at once; unsuitable for dispensing medicated treats.
High-Quality Video and Audio: The Owlet Home Pet Camera with Treat Dispenser offers a 1080P camera and auto night vision, allowing you to see your pet clearly day and night. The built-in high-quality microphone and speaker allow for easy and clear two-way audio, so you can play with or treat your pet with their favorite food or snack.
Advanced Features: The Owlet Home Pet Camera with Treat Dispenser features advanced motion detection and dog bark alert, making it a great surveillance device to see what's happening in your home. The camera is compatible with iOS 7.0 or Android 5.0 and above, supports both 2.4GHz & 5GHz WiFi signal, and comes with a 30-day money-back guarantee, 12-month warranty, and technical support.
Related: 11 Delicious Frozen Dog Treats to Make at Home
Recommendation
Buying Owlet Home's Dog Camera with Treat Dispenser is easily the best choice.
Dog owners won't find another affordable camera capable of offering its quality.
I hope you follow my suggestion and buy one for your dog.
If you need an idea of what to put in the dispenser, I recommend these homemade Mini Training Dog Treats!
If you have any other questions or concerns, let me know in the comment section below.
Do you know of any other great dog camera treat dispensers? Share below!
Last update on 2023-09-28 / Affiliate links / Images from Amazon Product Advertising API