Communication buttons for dogs have become a recent trendy item among dog owners. But this popularity has resulted in talking buttons flooding the pet product market, making it impossible to find practical choices. So I decided to remove this difficulty with reviews of the best available options and details about how to find them. I'm confident our buying guide will make finding the perfect talking buttons for your dog a breeze. 
If you're in a rush, check out the side-by-side comparison table below for a quick peek at my favorites. FYI, this post includes affiliate links. If you buy anything through these links, we earn a small fee at no extra cost to you.
Image Preview
Most versatile
Product Title
RIBOSY Set of 4 Recordable Buttons with 50 Stickers - Record and Playback Any Custom Message to Teach Your Dog Voice What They Want
Learning Resources Recordable Answer Buzzers - Set of 4, Ages 3+ | Pre-K Personalized Sound Buzzers, Recordable Buttons, Game Show Buzzers, Perfect for Family Game and Trivia Nights,Stocking Stuffers
FluentPet Sound Button Tester Kit - Dog Buttons for Communication - Compact Talking Buttons for Dogs and Cats - Dog Talking Button Set with 2 Recordable Buttons and 2 Compact HexTile Soundboard Mats
ANBILILA Recordable Talking Buttons, Dog Communication Buttons, Recordable Sound Buttons, Set of 4 Color buzzers, Pet Training Buzzers,Easy to Use, AAA Batteries Inside. (A1-N)
Top Feature
Easy to record and playback commands
Reliable, sturdy button constructions
Available space for adding on more buttons
Three convenient, straightforward using modes
5 Best Dog Buttons for Communication
Separating high-quality dog buttons for communication from low-quality ones can be daunting on a site like Amazon. But I did the work for you by pulling out what I've found to be the best five available options. So let's see what makes them a step ahead of these other choices.
1. Premvida Dog Training Buttons for Communication
The Premvida Dog Training Buttons for Communication is an excellent starting point for pet owners with its impressive 12-button set. Honestly, I couldn't find many more convenient options than this one, especially with its 30-second customizable recording duration. Anyone looking to provide their dog with top-end button training should seriously consider it. 
FEATURES:
12-button set

Two customizable mats with six pockets each

Multiple sticker labels

High-quality microphones

3 AG13 batteries included for each button

Pet-safe constructions for all components

Lifetime warranty
PROS:
Effortless to hear and understand commands with a crisp, loud noise level 

Durable designs for each piece

Easy to use and setup 

Convenient 30-second customizable commands for each button

Suitable for all pets between 5 and 75 pounds
CONS:
A higher-priced option

Subpar instructions
FINAL VERDICT
It's hard not to get stuck into this option's large 12-button set and high convenience level. But it's also worth noting that every component has a durable design and easy setup. Overall, Premvida did an excellent job crafting a practical talking button kit.
However, it does come with a rather hefty price tag and subpar instructions. But I certainly feel like its benefits are more than worth those two flaws.
2. RIBOSY Talking Pet Soundboard
One of the most accessible choices would be RIBOSY's Talking Pet Soundboard. After all, its 4-button set offers an effortless recording to ensure commands are simple to set up. You can also expect them to come out with a clear, crisp sound from each button's high-quality metal speaker.
FEATURES:
4-button set

Two mats

Built-in metal speakers

25 transparent stickers

2 AAA batteries included for each button
PROS:
Stable, durable mats and buttons

Easy to record and playback commands

Various available commands from stickers

Loud, clear sound quality

Effortless to push for dogs or children
CONS:
The stickers lose their adhesive quickly
FINAL VERDICT
The sound quality and easy setup do separate this option from many choices. However, these attributes aren't the only ones it offers. Buyers will also adore its two durable customizable mats and 25 transparent command stickers.
As for its flaws, the stickers have a reputation for losing their adhesive quickly. But this issue is a small price to pay when considering its other excellent traits.
3. Learning Resources Dog Buttons for Communication
Affordability is an aspect that has always piqued my interest. Who doesn't love to save money every once in a while? But you must balance a low price with a quality set of features, or the product isn't worth it. It's something that Learning Resources' Dog Buttons for Communication manage to do with its 4-piece set.
FEATURES:
4-button set

Built-in microphones for recording

Four colors

Buttons made with lightweight plastic

Activity guide included
PROS:
A more affordable option

Customizable and easy recordings up to 7 seconds 

Stylish color designs

Usable in various other capacities (kids, cats, etc.)

Reliable, sturdy button constructions
CONS:
AAA batteries and mats aren't included
FINAL VERDICT
Affordability and customizable command recordings are this option's main highlights. Yet, I can't get over its stylish color scheme and lightweight plastic constructions. These qualities make this set have a bit of convenience and style than similar options.
I do have to warn people about this model not coming with AAA batteries or mats. These issues are a slight annoyance that is unavoidable when buying a bargain like this set.
Sale
Learning Resources Recordable Answer Buzzers - Set of 4, Ages 3+ | Pre-K Personalized Sound Buzzers, Recordable Buttons, Game Show Buzzers, Perfect for Family Game and Trivia Nights,Stocking Stuffers
MAKE PERSONALIZED SOUNDS ON RECORDABLE BUTTONS: Make your buzzers customizable! These answer buzzers are great for making your buzzers any sound that you want - they record up to 7 seconds! BATTERIES REQUIRED: Answer Buzzers require 2 AAA batteries that are not included
CLASSROOM TOOL OR JEOPARDY BUZZER: A perfect tool for quieter students - buzzers are loud enough to get the attention of the class. Use them as Jeopardy buzzers or buzzers for Family Feud!
SPEECH PATHOLOGIST APPROVED: Use these recordable buttons to customize therapy sessions, and help understand words through tactile and aural learning
GIVE THE GIFT OF LEARNING: Whether you're shopping for holidays, birthdays, or just because, toys from Learning Resources help you discover new learning fun every time you give a gift! Ideal gift for Halloween, Christmas, Stocking Stuffers, Easter Basket Stuffers or even for Homeschool.
Kids' Toys for Stocking Stuffers!: From fidget toys and board games to puzzles and beyond, our education Kids toys make the perfect Christmas gifts for boys and girls!
4. FluentPet Dog Communication Button Tester Kit
Anyone who considers themselves a newbie with these products must take a long look at FluentPet's Dog Communication Button Tester Kit. This option was constructed to make a user's life easier, from easy-to-press buttons to compact mats. It even offers room to expand your button collection with space for five additional ones on each mat. 
FEATURES:
Starter tester Kit

Two recordable buttons

Two non-slip HexTiles

Built-in high-fidelity speakers

67 Ideogram button stickers

Pre-installed batteries
PROS:
Easy to press buttons

Durable, compact mats

Available space for adding on more buttons (each mat holds six buttons)

High-quality sound with a proper noise level

Suitable for both cats and dogs
CONS:
A high-priced option for a 2-button set
FINAL VERDICT
FluentPet did an excellent job crafting a user-friendly option for newbies and experienced dog button users. I didn't even mention the impressive sound quality of its high-fidelity speakers. Your dog will have no issues hearing and understanding this set's command.
However, you will have to pay handsomely for this quality. It's one of the more expensive 2-button kits on this market. So customers will need to decide whether its impressive performance features are worth the increased cost.
Sale
FluentPet Sound Button Tester Kit - Dog Buttons for Communication - Compact Talking Buttons for Dogs and Cats - Dog Talking Button Set with 2 Recordable Buttons and 2 Compact HexTile Soundboard Mats
Talking Buttons Starter Set: Our FluentPet Sound Button Tester Kit is a fun and simple language platform for dogs and cats. This kit helps you find out if pet buttons for talking are right for your learner
Customized Learning: Our cat and dog buttons for communication lets you choose the words you'd like to teach your pets. They insert easily into our durable, non-slip HexTiles for convenient word organization
Easy to Use: Our compact recordable buttons feature high-fidelity speakers. Each of our talking buttons for dogs and cats activates at the slightest touch so smaller learners can use them easily
Keep Buttons From Sliding Around: Each HexTile securely holds up to 6 talking buttons for dogs and cats. They take up minimal space and can be expanded as your pet's vocabulary grows.
Step-by-Step Training: Get access to guided button teaching and a community of devoted trainers to help you realize the potential of your dog or cat with FluentPet
5. ANBULLA Recordable Dog Communication Buttons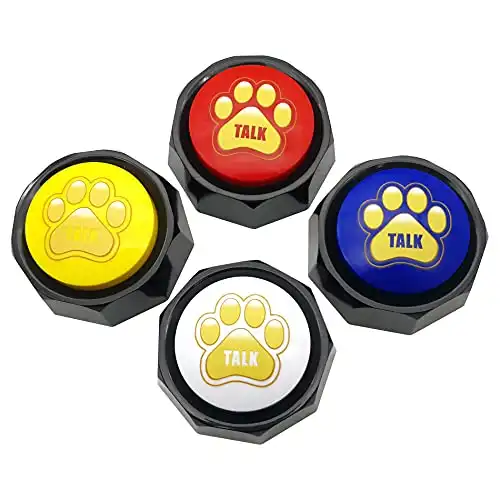 Our final option, ANBILILA's Recordable Dog Communication Buttons, is a well-built set featuring a wide assortment of impressive features. My favorite would have to be its incredible three-mode that offers easy switching between the recording, off, and playing functions. Due to this, I can't imagine even I would have difficulty using this set. 
FEATURES:
4-button set

Special effects speakers

Four colors

Equipped with a three-mode switch (rec, play, and off)

Two AAA batteries are included for each button
PROS:
Stylish, durable designs

Compact, easy-to-carry buttons

Excellent sound quality 

Three convenient, straightforward using modes

Multi-purpose usage for parents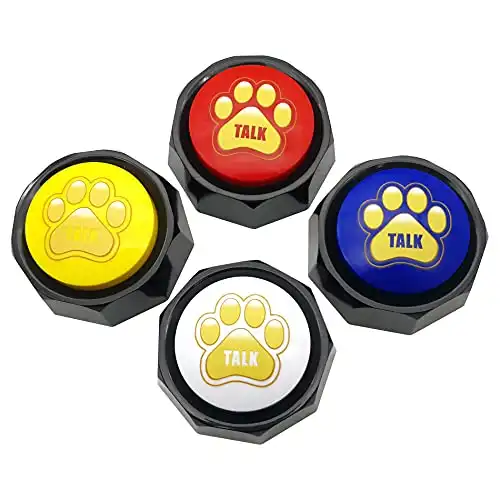 CONS:
FINAL VERDICT
Of course, the three-mode switch isn't the only notable feature within this set. I was also intrigued by its compact, durable design and excellent sound quality. Both these aspects are crucial to ensure a dog owner feels happy with their communication buttons.
The only negative would be it lacks any placement mats for its buttons. So buyers will need to purchase them separately or use ones already in possession. Otherwise, there isn't a single notable flaw about this impressive set from ANBILILA.
How Dog Communication Buttons Work
Dog communication buttons won't be beneficial if you don't understand how they work. So I thought it was necessary to provide some context before looking at the selection process. Otherwise, newbies might be overwhelmed or lost by how these products can help them.
The main gist of these products is they help dogs communicate better with their owners. In other words, these buttons offer a way for dogs to understand human language. They can then use them to report back their needs to an owner.
Of course, using these devices requires extensive training for both owners and dogs. Anyone who feels a little overwhelmed should check out How to Train a Dog to Use Buttons for Communication" It'll walk you through the entire process.
What to Consider When Buying Dog Buttons for Communication
Dog owners make the mistake of picking dog communication buttons without doing any research. It often leads to them choosing options that aren't high-quality or don't fit their needs. These owners become displeased or unhappy with their buying decision.
But this section will help you avoid this outcome with in-depth discussions of all the essential buying considerations. You'll soon have no issues understanding what options best suit your dog's needs.
Durability
Dog talking buttons will pick up significant wear and tear. Due to this, buyers must consider the construction of their chosen options. It's the only way to ensure these products can handle regular usage without needing replacements.
In most cases, these buttons will feature washable plastic and simple electronics. But you'll come across some choices with water-resistant capabilities. This ability can make cleaning them much easier and extends their lifespan significantly.
I'd also advise you to choose buttons with holders, such as cutouts or foam mats. These components provide stability. Otherwise, the controls would slide all over the place while your dog attempts to push them.
Noise Level
Noise level is often overlooked when choosing these buttons. But it's an essential part of them being a functional training or communication tool. For instance, these devices won't do much good if you and your dog can't hear the sound produced by them.
As a result, I recommend using customer reviews to evaluate each option's noise level. Your dog owners will let you know whether it's an acceptable decibel level. Trust me; if there's an issue, these reviews will clarify it.
Simplicity and Style
Dog communication button kits come in various configurations. Manufacturers will simplify some kits to suit people with experience using these devices. Due to this, buyers get more control over how they want to use them.
But if you're a newbie, I'd suggest going with an option with detailed written guides for training and usage. It'll help keep the entire process more streamlined and easy. Otherwise, this experience could soon become quite overwhelming.
Another thing to consider is the design of these buttons. Most buyers will gravitate toward stylish options with flashy color schemes. But it's a mistake because dogs may get confused when using them, especially if you switch their placements. After all, dogs have shown a better ability to remember placement than color. 
Price
Dog communication buttons are available at a large assortment of price tags. So buyers will need to construct budgets based on their specific needs. It's a necessary tool to help deal with the vast amount of cost variation.
For instance, a person looking for a 12-button set will need to spend more than someone who only needs two buttons. Their budget should reflect the price increase to ensure it remains realistic and valuable. It can then help reduce the choices to a manageable number that doesn't make a buyer want to put out all their hair.
Final Recommendation
If you're looking for a more extensive dog communication set, I'd recommend the Premvida Dog Training Buttons for Communication. This 12-button kit has everything to provide your dog with all the commands they could ever need. 
But anyone who's a beginner would be better off with FluentPet Dog Communication Button Tester Kit. It's an excellent training kit to see whether these buttons are the best route for you and your dog. 
Have you tried to use any of these dog buttons for communication? Share your experiences below!
Last update on 2023-09-25 / Affiliate links / Images from Amazon Product Advertising API