If you're looking for the best dog beds for Cavapoos, I've got you covered!
Cavapoos are an adorable mixed-breed dog capable of brightening anyone's day.
Why shouldn't you return the favorite by spoiling them with a brand new dog bed?
I'll help you pick one out by highlighting what makes up the best Cavapoo dog bed, then I'll share my favorites.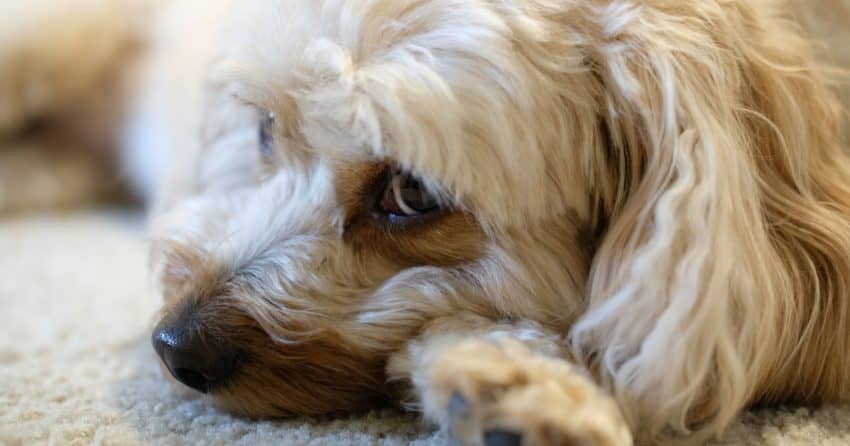 Content & Quick Navigation
Our Pick
FYI, this post contains affiliate links. If you make a purchase through these links, we earn a small commission at no extra charge to you.
If you can't read the whole article, I suggest going with PeekaBooArtPrints' Orthopedic Dog Bed.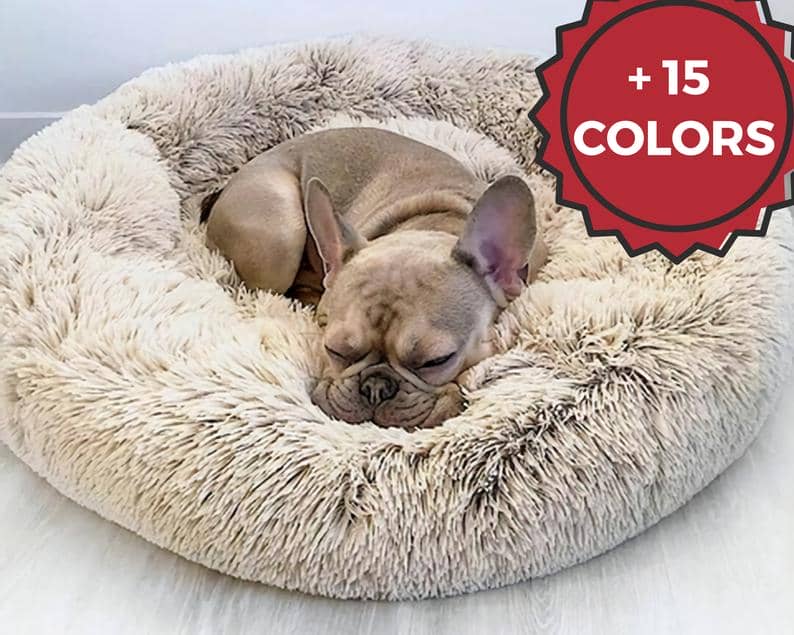 It's equipped with everything needed to make sure your Cavapoo's sleeping sessions are an absolute delight.
Features of the Best Dog Beds For Cavapoos
Every dog needs a comfortable bed, and Cavapoos are no different.
It's a vital aspect any dog owner should look for in their dog's new sleeping area.
Make sure to get a bed made from memory foam or similar material for this reason.
These beds offer peak levels of comfort that other options can't match.
You can also rely on them to provide much-needed support. It'll keep your Cavapoo's body soothed and eased them of any aches or pains.
I'd suggest getting a bed capable of being machine washed, as well. This aspect will make your life much easier by ensuring any accident is easy to clean.
You should consider getting a smaller, lightweight bed. Cavapoos are a smaller breed and don't need a gigantic option to get comfy.
It'd be wise to get something small and affordable instead.
In other words, invest in a dog bed capable of providing great comfort without the costly features.
Let's look at a few options to provide a better handle on what I mean.
It could turn out one of these dog beds ends up being your Cavapoo's favorite sleeping spot!
The 5 Best Beds For Cavapoos
Our favorite dog beds for cavapoos come from both Etsy and Amazon.
Use the table below for a quick peek, then read on for reviews.
Prices are accurate as of today.
| | | | | | |
| --- | --- | --- | --- | --- | --- |
| Preview | | | | | |
| Rating | 5 stars | 5 stars | 4.5 stars | 5 stars | 4.5 stars |
| Top Feature | Orthopedic foam | Cuddler style | Affordable | Fits in Crate | Plush donut style |
| Shipping | FREE | $7.95 | FREE | FREE | FREE |
| Price | $159.96 | $34.95+ | $31.99 | $59.99 | $23.99 |
| Buy Now | BUY | BUY | BUY | BUY | BUY |
1. BeddingExperts Memory Foam Dog Pet Bed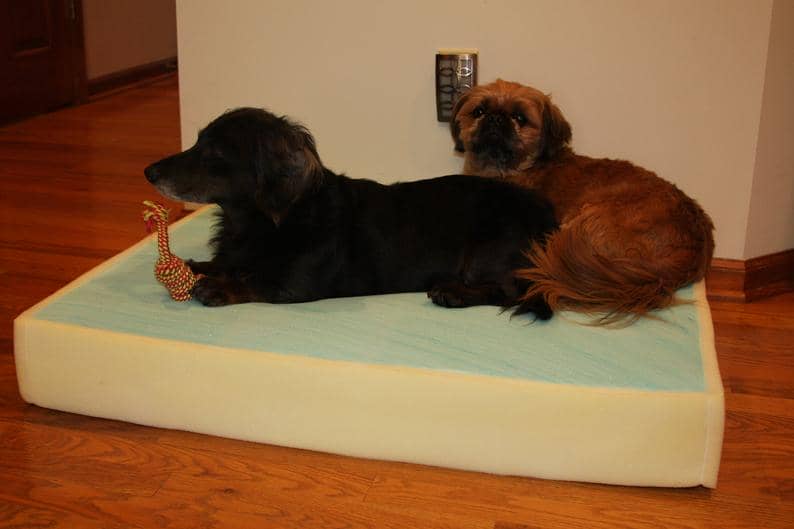 Buyers looking for a simple, comfortable option should consider getting this one from BeddingExperts.
I could easily imagine a Cavapoo laying on top of this bed and drifting off into doggy dream world.
Features:
35 L x 38 W x 6 H size
Handmade
Filled with six inches of memory foam and 1/2 inch of cooling gel foam
Free of harmful chemicals
Made in the USA
Pros:
Offers joint support
Comfortable sleeping spot
Affordable
Lightweight design
Low maintenance
Cons:
Final Verdict:
The product's simplicity isn't its only appealing trait. You'll also find its lightweight design, joint support abilities, and low cost quite intriguing.
However, some customers did complain about the bed arriving with a foam-like smell.
It's not a deal-breaker, but it's still something to be aware of before making a final choice.

2. PeekaBooArtPrints Orthopedic Dog Bed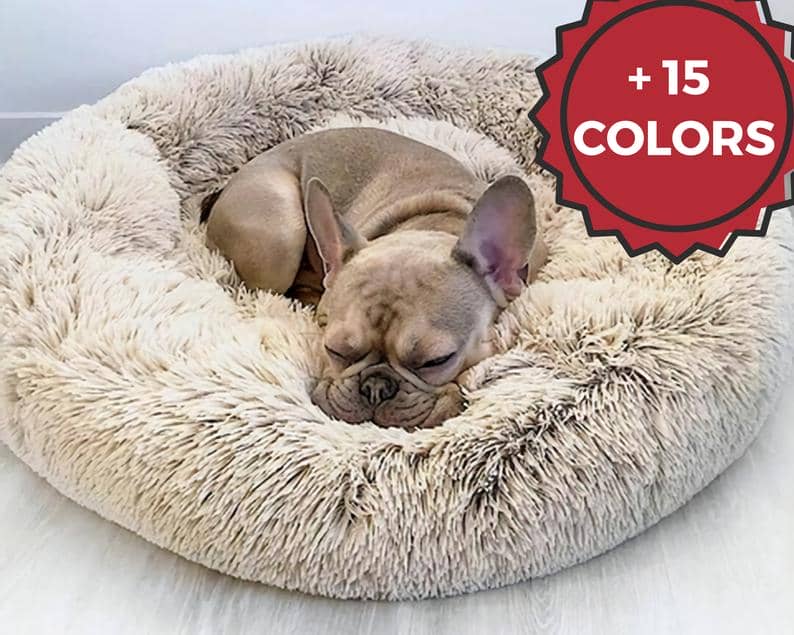 PeekaBooArtPrints' Orthopedic Dog Bed offers unmatched customization, with its five sizes and fifteen color options.
Finding the perfect combo to mesh with your Cavapoo's adorable personality should be a breeze.
Features:
Five size options: X Small, Small, Medium, Large, and X Large
Fifteen color choices: Coffee, Light Grey, Beige, Wine Red, White, Light Pink, Dark Grey, Blue, Pink, Fairy Powder, Taupe, Black, Purple, Mint Green, and Apricot.
Machine washable
Non-slip bottom
Orthopedic donut design
Pros:
Capable of reducing anxiety
Durable
Affordable cost
Great option for senior or recovering dogs
Easy to clean
Cons:
Hollow center may not be ideal for dogs with joint issues.
Final Verdict:
The product's customization and donut design are what sold me.
These features ensure you won't find a more convenient option for smaller dog breeds.
I can just see how my Chihuahua would burrow herself right into it and sleep the day away.
It doesn't hurt that I couldn't find a single flaw in its customer reviews, either.

3. Petmate SnooZZy Zig Zag Shearling Round Bed
People with an anxious pup would enjoy this dog bed.
It features high-lofted walls to provide them with privacy and security.
Your favorite friend will always have somewhere to calm themselves down.
Features:
Five color options: Black, Grey & White, Pink, Brown, and Teal
Machine washable
Non-slip bottom
High-lofted walls
Filled with polyester foam
Pros:
Provides peak levels of comfort and support
Doesn't slide on hardwood or tile floors
Easy to clean
Affordable
Cool zig-zag design
Cons:
Final Verdict:
This product's fresh zig-zag design, peak comfort, and low maintenance levels make it a hard choice to beat.
But this option wouldn't be an ideal fit for owners with heavy chewers. It has gained a rep of having durability issues.
Petmate Cider Mills SNOOZZY Mod Chic,grey / white
COZY DOG BED: This cozy bed for small dogs cats features an overstuffed bolster for additional head, neck back support, especially for senior pets High walls keep your pet feeling secure Ideal for pets who like to burrow
MACHINE WASHABLE: Super soft rich fabric of the small pet keeps puppies kitties comfortable The non-skid bottom keeps the bed in place Machine washable on cold
DOG BEDS: Pets can feel at home both in the house on-the-go with a variety of beds for cats dogs as well as plush kennel crate mats Features self-warming beds, orthopedic beds for senior pets, cooling cots for outdoors, pillow beds more
PRECISION PET: Precision Pet offers a variety of heavy-duty products such as wire crates, chicken coops rabbit hutches that provide pets with a cozy safe place to rest, nest feed Also features litter box accessories more
JUST FOR PETS: Petmate makes a variety of pet products for dogs, cats, chickens other small furry friends Check out our brands such as Aspen Pet, Arm Hammer, Booda, Chuckit, Jackson Galaxy more
4. 828 Pet Supplies Medium Orthopedic Dog Bed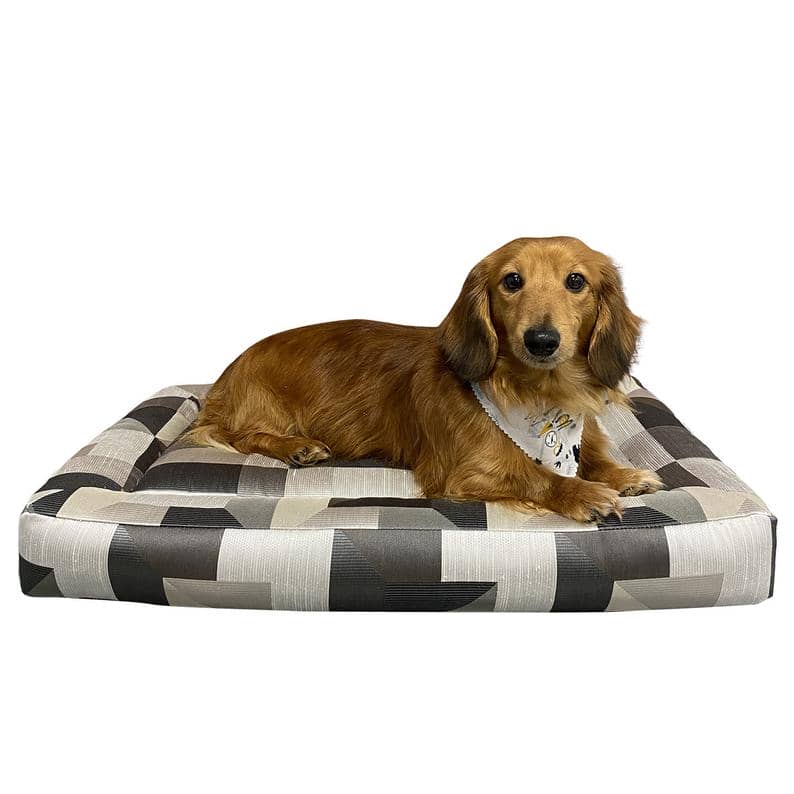 The 828 Pet Supplies Medium Orthopedic Dog Bed ensures your dog gets optimal support and comfort.
Older and recovering Cavapoos would benefit from its orthopedic memory foam without question.
Features:
27 L x 19 W x 3.75 H sizing
Made with pet grade fabric
Filled with orthopedic memory foam
Multi-colored design
Fits with any dog up to 25 pounds
Handmade
Pros:
Durable construction
Offers optimal support and comfort
Ideal size for a Cavapoo
Stylish design
Fights against odors and stains
Cons:
Final Verdict:
This model would be a perfect option with its many beneficial features, but it has one giant flaw. It has a rather high price tag for a Cavapoo's dog bed.
But if money isn't a consideration, I don't see many other models capable of matching this product's quality.
Honestly, it has everything Cavapoo owners could want in a dog bed.

5. MIXJOY Orthopedic Donut Cuddler
This dog bed is another perfect option for Capavoos, who love to burrow. It features a donut design, which will offer security for your dog.
This aspect makes a great place for them to curl up during those cold winter nights.
Features:
Three size options: S (23″x 23″), M (30″ x 30″), and L (36″ x 36″)
Four color choices: Brown, Grey, Grey-Blue, and Pink
Donut design
Machine washable
Raised walls
Made with ultra nylon faux fur
Pros:
Perfect for dog burrowers
Lightweight design
Easy to clean
Orthopedic joint and bone support
Capable of keeping a dog warm
Cons:
Final Verdict:
But even with its many great features, this bed isn't perfect. It's another option featuring a few durability issues.
Any Cavapoo owners who have a chewer would be wise to look elsewhere. Otherwise, this buying process might end with you feeling quite regretful.
Sale
MIXJOY Orthopedic Dog Bed Comfortable Donut Cuddler Round Ultra Soft Washable Cat Cushion Bed (20''/23''/30'') (23'', Brown)
★ Super Comfort & High quality: with faux shag fur, the round bed is ultra soft, warm and comfortable for your lovely friends. Urable nylon and luxurious faux fur come together help your pets restful sleep for improved behavior and better health.
★ Small Pet Bed: The bed is about 23"x 23", perfect for your cat, or small dog up to 25lbs. Raised rim design to make your dog and cat can curl up, have fun, provide head and neck support and promote feelings of security without no worries!
★ Lightweight & Portable: this cozy bed is lightweight and portable for travel. It is very easy for transportation and convenient to carry it in the car; this petfusion dog bed could let your pets to stay comfortable during camping and travelling when outside.
★ Easy Care: washing machine and dryer---Machine wash, gentle cycle. Tumble dry, low heat. Machine washable for the bed makes your pets are easier to keep a comfortable and clean sleeping space.
★ User-friendly Design: available in beautifully natural colors, different colors can easily meet with any room's décor! Animals are our friends, if you have any issue of our products, please contact us directly and we are eager to rectify it!
Final Recommendation
Each of these dog beds would be perfect in the right situations. But the one most suited for a Capavoo's personality best would be PeekaBooArtPrints Orthopedic Dog Bed.
Hopefully, you'll follow my suggestion and get one for your favorite pupper.
Last update on 2023-09-23 / Affiliate links / Images from Amazon Product Advertising API