Finding the best dog beds for a Cane Corso can definitely be a challenge!
While he may not be as big as his Neapolitan Mastiff cousin, he's definitely no chihuahua either.
Below, we'll talk about the right size and type of bed to buy your big buddy.
Then, I'll share my favorite options with you!
Our Top Pick
Want to skip right to our favorite bed? Go with the Bully Beds Orthopedic dog bed.
FYI, this post contains affiliate links. If you make a purchase through these links, we earn a small commission at no extra charge to you.
What size dog bed for a Cane Corso?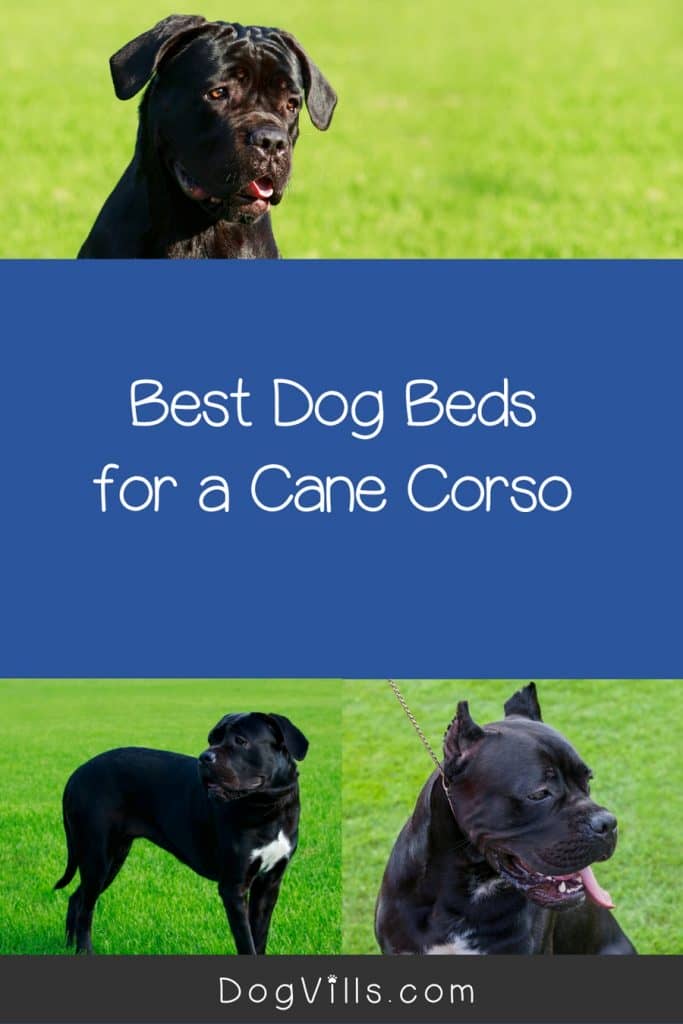 There's really no quick and easy answer regarding the right size dog bed for a Cane Corso.
It really depends on just how big your Corso gets.
According to the AKC, they range from 23-27″ in height (females are smaller), and often weigh over 100 lbs.
If you have a puppy, I'd err on the side of caution and assume that "often" means "definitely."
My friend had a female that weighed WELL over 100 lbs, and not because she was obese or anything. She was just a really big dog!
I suggest watching the video below to learn how to measure your Corso, then use those numbers as your guideline.
For most beds, you'll likely need to go with an XL or even an XXL.
What else to consider when buying your Cane Corso a dog bed
Size matters for sure, but it's not the only factor to consider. Let's take a look at some other important features to look for.
Supportive materials
As with all large breeds, the Cane Corso is prone to joint issues, like hip and elbow dysplasia, arthritis, and so on.
While you don't necessarily have to go all out with an orthopedic bed when they're young, it's not a bad idea to do so if your budget allows.
Think of it this way- you're never too young to appreciate a comfy bed, right?
Waterproof and/or easy to clean
My friend's Corso was a gorgeous dog, but man could she drool! My friend used to walk around behind her with a towel!
Since this is a common Cane Corso trait, you'll either want a bed that can handle a whole lot of slobber or one that's washable.
Better yet, get one that's both waterproof AND easy to clean!
Hypoallergenic materials
While Corsos aren't really prone to skin problems, it's still a good idea to choose materials that are skin-friendly in general.
Kind of like how there's never a bad time to get an orthopedic bed, you can never go wrong with gentle hypoallergenic materials.
Overall durability
Of course, you'll also want something that can hold up to a strong and powerful breed like the Cane Corso!
Avoid cutesy beds that aren't really made to last.
If it comes down to a choice between something that looks nice and something that actually lasts, go with the latter.
Large dog beds aren't cheap, after all!
Now that we have a general idea of what to look for in the best dog bed for a Cane Corso, let's check out my top picks!
Top 10 Best Dog Beds for a Cane Corso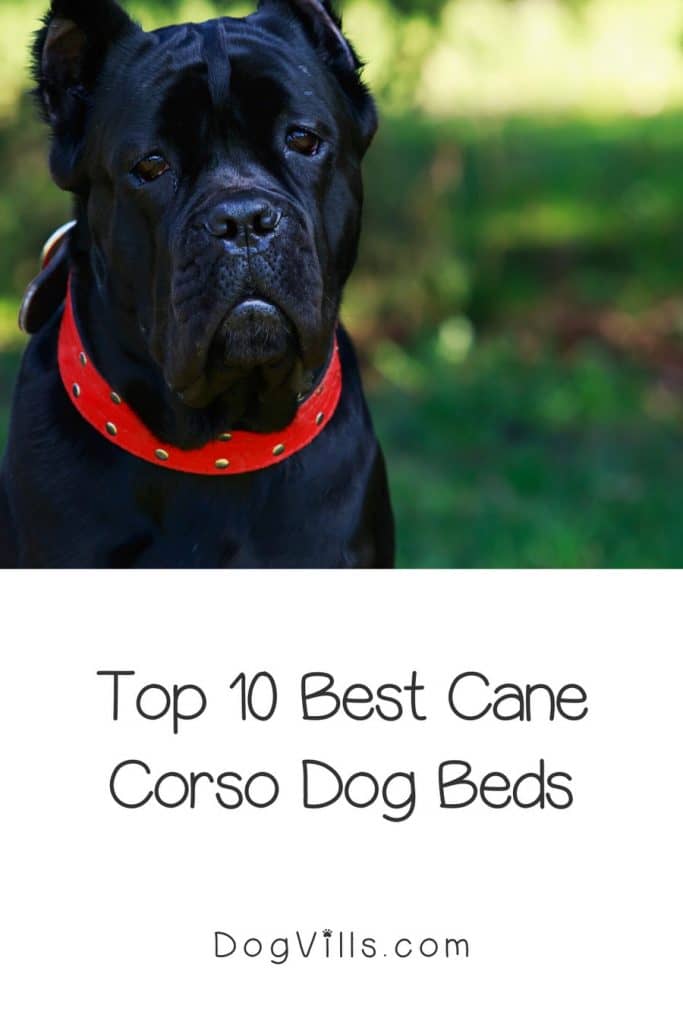 As always, use the table below (the second one is about #6) for a quick peek at the beds, then read on for more details.
1. Big Barker Giant Orthopedic Dog Bed Review
Available on Amazon and Wayfair
Big Barker will always be in the top 5 when we're talking about XL dog beds. I mean, their whole mission is making beds for large dogs!
Pros and Features
Multiple sizes designed just for large breeds.
7″ of "Made in the USA" therapeutic memory foam
100% microfiber cover is gentle on skin.
Cover wipes clean or can be machine-washed.
The whole bed is made in the USA.
10 year "won't flatten like a pancake" warranty
Cons
Pricey
Won't hold up to digging or chewing.
NOT waterproof unless you get the add-on
Recommendation
The Big Barker always exceeds my expectations, offering a stellar and reliable option for owners of large breeds.
Depending on your dog's size, you can probably get away with their Large model, which will save you a good chunk of change.
Remember, though, Big Barker's beds aren't chew-proof.
They also don't come with a waterproof cover right out of the box. You have to buy it separately, and it's definitely not cheap.
I think you'd almost be better off just getting a cheap mattress liner and wrapping it around the bed, then putting their regular cover on top.
2. Kuranda All-Aluminum Dog Bed
If you have a fairly destructive Corso, you'll need a fairly indestructible bed like the Kuranda.
It's one of the strongest beds you can buy!
Features & Pros
Chew-proof frame made with aircraft-grade materials
Supports up to 250 lbs
Cooling elevated design
Orthopedic hammock made from heavy vinyl.
Heavy duty vinyl hammock
Waterproof
Very easy to clean, just wipe down or hose off
Cons
Hard to assemble
Short warranty (1 year)
Recommendation
Whenever someone says, "I need a chew-proof bed that's actually chew-proof," the Kuranda is always my answer.
As far as putting it together goes, yeah, all cot-like beds are a pain, but not as bad as some make it sound.
Totally worth the frustration, if you ask me!
Take a look at our complete Kuranda dog bed review for more details.
3. BULLY BEDS ORTHOPEDIC MEMORY FOAM DOG BED
When it comes to the best dog beds for a Cane Corso, you can't go wrong with one that was actually made for the breed!
Bully Beds' founders wanted something better than what was available for their Corso, Bully (hence the name).
FEATURES & PROS
Made specifically for large dogs, especially the Cane Corso
7″ premium memory foam mattress
Supportive enough for senior Corsos
Soft yet durable cover that's gentle on your dog's skin.
Comes with a waterproof liner.
Outer cover is machine washable.
Includes a 20-year "won't flatten" guarantee.
CONS
Not chew-proof, but you can buy a tougher cover on their site.
Warranty only kicks in after the bed flattens by 2+"
The medium is not as thick (but you'll want the large anyway)
RECOMMENDATION
While it's not chew-proof, they do sell a tougher cover on their website. It's pricey, though. Like $90 for a large.
However, like I said, it was designed specifically for the breed! It's also more affordable than the Big Barker, the next most similar bed on this list.
Check out our Bully Beds vs. Big Barker comparison for a complete review.
4. K9 BALLISTICS CHEW PROOF ELEVATED DOG BED
The K9 Ballistics is close to the Kuranda as far as chew-proof beds go.
FEATURES & PROS
Made with an all aluminum frame.
Strong proprietary RIPSTOP fabric hammock
Waterproof
Easy to clean
Elevated design
Comes in several colors
Arrives assembled
CONS
Very short warranty (180 days, just on the fabric)
Corners are a bit weak
RECOMMENDATION
I don't love the super short and limited warranty, but I do love the fact that it arrives assembled.
Since that was everyone's biggest complaint (how hard these beds are to put together), that slashes one major con right off the list.
Read the full review K9 Ballistics "Cujo Cot" review for more details.
5. THE DOG'S BED ORTHOPEDIC DOG BED
The Dog's Bed is one of Amazon's most beloved options, with 4.5 stars across 1,660+ ratings.
For your Corso, I'd go with either the XL or XXL option.
FEATURES & PROS
XXL model is 6″ thick
Waterproof cover and additional waterproof mattress protector
Designed for dogs with joint problems.
Several colors and sizes
You can buy replacement covers if needed
CONS
Not chew proof
The XL option is sold out on Amazon, so you'll have to go with XXL
Cover isn't durable
RECOMMENDATION
The Dog's Bed by The Dog's Balls is a good choice IF you have a Cane Corso who doesn't chew.
The cover isn't the best, but it looks like they lowered the cost on replacements (the last time I looked, they were way too pricey).
It's not my favorite orthopedic bed for large breeds, but it's definitely up there in the top 5.
6. K9 BALLISTICS TOUGH RECTANGLE
K9 Ballistics makes a "tough" dog bed for those who prefer something a little more traditional and mattress-like.
While it's not quite as strong as their "Cujo Cot" above, it's still one of the strongest of its kind.
PROS AND FEATURES
Made in the USA with CertiPUR-US foam
Chew resistant
Dig resistant
Made with their durable RIPSTOP Ballistic material
Cover is machine-washable
120-DAY CHEW PROOF WARRANTY on the cover
15 colors
CONS
Warranty only on the cover, not the mattress
Expensive compared to thicker models.
Only 5″ thick
RECOMMENDATION
I do feel like the price is a bit high when you look at the overall thickness of Big Barker or Bully Beds.
However, it is more chew-resistant than those models, so that's definitely a factor.
Remember, though, the warranty covers ONLY the cover itself.
If your dog chews through that AND destroys the mattress, you're out of luck (not to mention out $200+!).
7. Dogbed4less Memory Foam Dog Bed
The Dogbed4less Memory Foam Dog Bed is proof positive that you don't have to spend hundreds of dollars to get a decent Cane Corso dog bed.
FEATURES & PROS
Made with gel memory foam that's as cooling as it is comfy
Comes with a soft removable washable MicroSuede external zipper cover
Also includes a Waterproof internal zipper cover
Affordable
CONS
Only 4″ thick
Not chew-proof
Not as durable as some of the other options
RECOMMENDATION
While it's not as thick as other orthopedic dog beds on this list, the price is a bit easier to handle for those on a tight budget.
I'd recommend it for a young Corso who is past chewing but not quite at the achy joint stage.
8. Laifug Orthopedic Memory Foam Bed
The Laifug is another affordable option for Cane Corso dogs that are done with their chewing stage.
Pros
Proprietary double pillow SMART design, one is 4″ and one 2.5″ high.
Made with orthopedic memory foam.
Retains its shape for at least three years.
Waterproof liner.
Water resistant & tear resistant cover
Removable cover is machine washable
Supports up to 200 lbs
Cons
Only one size.
A few complaints about the durability of the zipper
Shorter "pancake" guarantee than other similar beds
Recommendation
For the most part, this is a well-loved bed among large dog owners.
One reviewer even said it's the only bed that can hold her Cane Corso.
At just a smidge over $100, it's a bit easier on the wallet than my favorite models, and you're not giving up too much in exchange.
9. Best Friends by Sheri Calming Shag Vegan Fur Donut Cuddler
Available on Amazon and Wayfair
For this one, you'll definitely want to wait until your Corso is way past the puppy chewing stage!
Once he gets there, though, he'll love the super snuggly donut cuddler.
FEATURES & PROS
Made with vegan nylon and pet-safe faux fur.
Ideal for dogs who curl up to sleep.
Raised rim makes him feel secure
Super soft filling
Machine-washable shell
CONS
No filling in the middle, so not good for older Cane Corso dogs.
Definitely not chew-proof
Not waterproof either.
RECOMMENDATION
I offer this as an option because I wanted to give you something other than just a list of square beds.
The largest size holds dogs up to 150 lbs, so it should be roomy enough for most Corsos (especially smaller females).
It's super duper snuggly! Makes me want to grab one for myself!
10. FRIENDS FOREVER ORTHOPEDIC BOLSTER BED
Last on our list of the best dog beds for a Cane Corso, we have a full bolster bed that's pretty affordable.
FEATURES & PROS
Made with human-grade mattress foam
Water-resistant liner
Fur and hair resistant cover makes it easy to clean.
Cushioned plush bolster on all sides
Cover is machine-washable
Non-skid bottom
CONS
Rubber on bottom isn't durable.
Not chew proof.
Water-resistant, but not waterproof.
Only holds up to 130 lbs
RECOMMENDATION
You'll have to go with the largest size, as it's the only one that's roomy enough for a Corso.
It's affordable, though, and has plenty of great reviews from other users.
Final Recommendation
While the Bully Beds is my favorite (especially since it was made for a Cane Corso), these are all good options, or I wouldn't even mention them at all!
That said, my 2nd favorite is the Kuranda because it's built super tough, just like your Corsi!
What do you think are the best dog beds for a Cane Corso? Share below!
Last update on 2023-09-27 / Affiliate links / Images from Amazon Product Advertising API