What is the best dog bed for a Great Dane?
If you said, "The biggest one I can find!" you're half right.
Obviously, you'll be looking for an XL dog bed, but not all giant beds are created equal.
Great Danes and other giant breeds are prone to certain bone and joint conditions, which means they need all the support they can get.
To answer the question of which beds are best for these gentle giants, we'll have to dig deeper than surface size!
Read on for some tips on choosing the best dog bed for a Great Dane, then check out my top 5 picks!
Related: Complete Guide to Buying the Best Dog Beds! (With Reviews)
How to Choose the Best Dog Bed for a Great Dane
This post contains affiliate links. If you make a purchase through these links, we earn a small commission at no extra charge to you.
Before we can choose the best dog bed for a Great Dane, we need to have a good understanding of their needs.
Here are a few things to keep in mind when picking out your dog's bed. Don't forget to read this article and understand why Great Danes are so big.
1. Size
Size really does matter here!
Male Great Danes can reach up to 32-inches tall and weigh a whopping 175 pounds.
Females are a bit smaller, but can still reach up to 30 inches tall and weigh up to 140 pounds.
Even if you have a female Dane, it's smart to err on the side of caution and choose a bed that can hold up to 180+ lbs. You always have outliers in every breed.
Case in point, my dog is a female, but she stands as tall and weighs almost as much as the typical male in her breed.
Danes love to stretch out when they sleep, so you'll want a bed that's long and wide enough to accommodate their long legs and body.
2. Support
Like most giant breeds, Great Danes are prone to health conditions that affect their bones and joints. These include:
Some of these issues, like HOD and Pano can affect Danes as early as puppyhood. Even hip dyslpasia, a condition typically seen in older large-breed dogs, can strike Danes earlier in life.
That's why it's important to choose a bed that offers superior support right off the bat, rather than waiting until your Dane is older to choose an orthopedic dog bed.
3. Location
As the AKC explains, Danes "need to have human contact, affection, and socialization with other people and animals."
With that in mind, you'll want a bed that you can keep in your main family room so your Dane can be a part of the action.
Don't worry if you don't have ginormous living room.  I'll share one of my favorite space-saving dog beds below.
4. Skin and Coat needs
Here's the thing about Great Danes: they don't really shed much throughout most of the year, but since they're such big dogs, even mild shedding can seem like a lot.
During shedding season, things get a lot more hairy (or furry). What does this mean in terms of choosing the right bed?
Basically, you want something that repels hair and can easily be wiped clean, rather than a material that lets hair settle into the fibers.
Now that we have a general idea of what features to look for in a Great Dane dog bed, let's check out my top 5 picks!
Top 5 Best Dog Beds for Great Danes
Check out the table for the "TL;DR" version, or read on for more details about each bed!
It may go without saying, but just in case it's not obvious: go with the largest size for the beds above!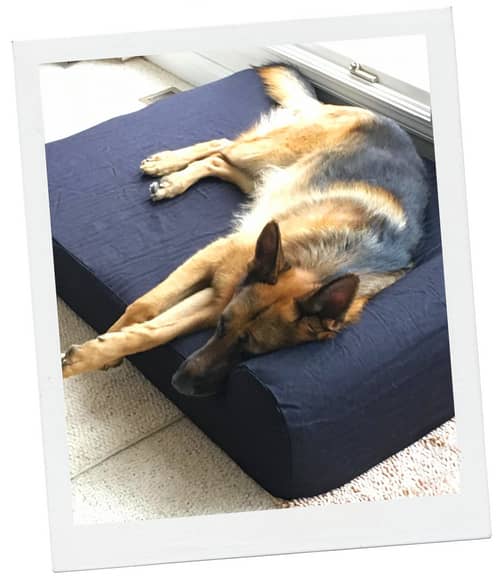 I've said it a dozen times before, but I'll say it again: if you have a decent-sized budget, you can't go wrong with the OMG Dog Bed from DogOnIt, especially for Great Danes.
Top features include:
Weight limit up to 300 lbs, so it can hold even the greatest of the Danes!
Triple memory foam layers to support their bones
A gel layer on the top to keep your Dane cool in the summer
Eco-friendly non-toxic materials
Included machine-washable removable cover and industrial-strength zipper.
Lifetime warranty
Yes, it's definitely the priciest bed on this list, but that lifetime warranty (along with superior comfort & other amazing features) makes it worth the cost.
I know I said buy the biggest bed for each one, but in this case, you can probably get away with an XL vs the XXXL, since the XL is about the size as the giant size for the other beds on this list.
The price difference between the two is $350 (bringing the total up to just under $800), so definitely measure your Dane and see if you can squeeze by with the "smaller" bed!

Another bed that you've seen me talk about quite a bit, the Kuranda all aluminum dog bed is my top choice for a space-saver bed for Great Danes.
The lack of stuffing helps it maintain a lower profile in your home, so it doesn't overpower a room.
Don't let that fool you, though, it's still a comfy bed! Features include:
Virtually chew-proof if you get the heavy-duty vinyl material along with the aluminum frame.
Material is allergy-friendly. Some Danes are prone to skin conditions, making this bed an ideal choice for them.
The elevated design allows air to flow through and keeps your Dane cool.
Easy to clean. Wipe it off daily and hose it down when it gets really grungy.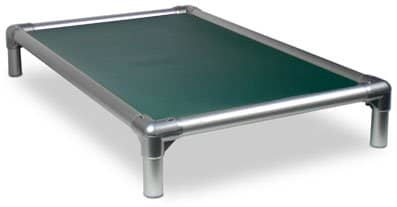 In addition to these great features, Kuranda sells replacement parts for a very reasonable price.
Plus, the entire bed itself costs about half the price of the second least-expensive bed on this list, making it the most budget-friendly high-quality bed for Danes.
One thing to keep in mind: the legs are NOT adjustable. However, you can order different lengths if you call customer service.


Big Barker appears on pretty much every post about large dog beds, and for a good reason! The brand specifically makes beds designed just for big breeds.
Top features:
Memory foam designed just for your large dog! It's even too powerful for the little guys!
Completely machine-washable.
A whopping 10-year warranty that guarantees it won't go flat.
Make in the USA and meets CertiPUR-US standards.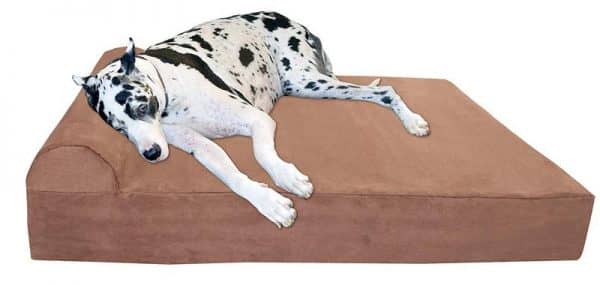 The Big Barker has very few drawbacks, but there is one common complaint: it doesn't come with a waterproof cover. If you need something that resists water, you'll need to buy it separately.
Big Barker gets my vote for another reason that has nothing to do with the bed: they're extremely charitable and passionate about helping animals in need.
They have three programs that donate to service dogs, rescue groups, and more.
Like the OMG Dog Bed, you may be able to get away with the mid-size (XL) versus the Giant if your Dane is on the smaller end of the spectrum. It's a price difference of over $100, so look into it.
If you want something stylish that looks more like a couch than a dog bed, try the PetFusion Ultimate Dog Lounge. It's not only nice looking, but it's also relatively affordable.
You'll definitely need to go with the XXL Jumbo size with this choice. Features include:
6 inches of memory foam (versus 4″ in their smaller sizes)
200+ pound weight limit
Machine-washable removable outer cover
Inner waterproof inner liner
Passes strict European REACH safety standards
24-month warranty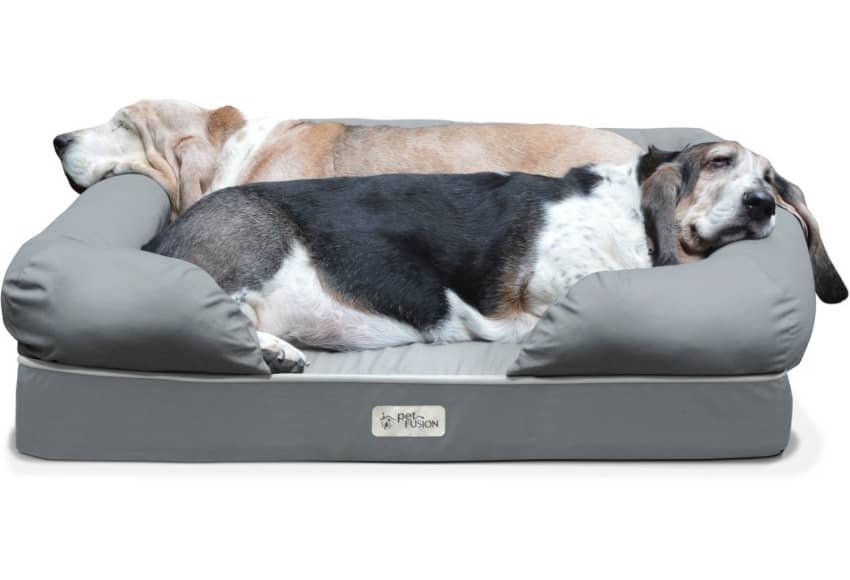 The PetFusion bed is also one of the most budget-friendly options on this list. It's the "cheapest" (price-wise, not quality-wise) memory foam bed here, and the second cheapest-overall.
Read my detailed review of: PetFusion Ultimate Pet Bed
BuddyRest makes several different styles of dog beds, but for Great Danes I'd go with their Juliet bed.
Yes, it's bit pricier than their other styles, but so worth it for these features:
Crypton fabric absorbs odors, resists water, and makes it easy to clean.
The same fabric makes it chew-resistant (not chew-proof, but definitely stronger than some materials).
Has Kevlar stitching along the seam lines to keep it from coming apart.
5 inch gel infused memory foam
Made in the USA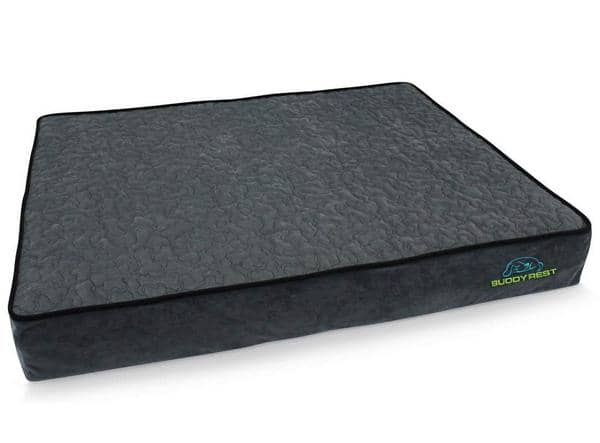 As much as I love this bed, I do have two concerns regarding the warranty and guarantee.
While the BuddyRest comes with a 10-year warranty, that only covers potential defects in manufacturing. It doesn't cover damage caused by your dog.
The 100-day money back guarantee sounds great at first because you have 3 months to decide if you like the bed. However, you have to return it in like-new condition.
Aside from those two issues, I really feel that the BuddyRest Juliet orthopedic dog bed is a great choice if you want something simple.

My top recommendation
Obviously, I think all of these would make the best dog bed for a Great Dane, otherwise I wouldn't have mentioned them!
If money is no object, my first choice is almost always the OMG Dog Bed. It's just an all-around fantastic bed.  That lifetime warranty really helps sway my decision, too!
Alas, money is an object for many of us. In that case, my 2nd choice would have to be the Kuranda bed.
The elevated nature of it helps distribute your dog's weight, making it an affordable orthopedic option.
Do you have another pick for the best dog bed for a Great Dane? Share below so we can check it out!