If you're looking for the best dog agility books, I've got you covered!
I'm planning to build an obstacle course for my dog this summer for agility training, so I've been reading up on it quite a bit.
Below, you'll find the five books I've found most helpful, along with previews when available.
I'll also give you a few great products that I'm considering for building my own course.
Let's check them out!
➔➔ Want to better understand your dog? Check this awesome list of Best dog psychology books.  
Content & Quick Navigation
What is Agility Training?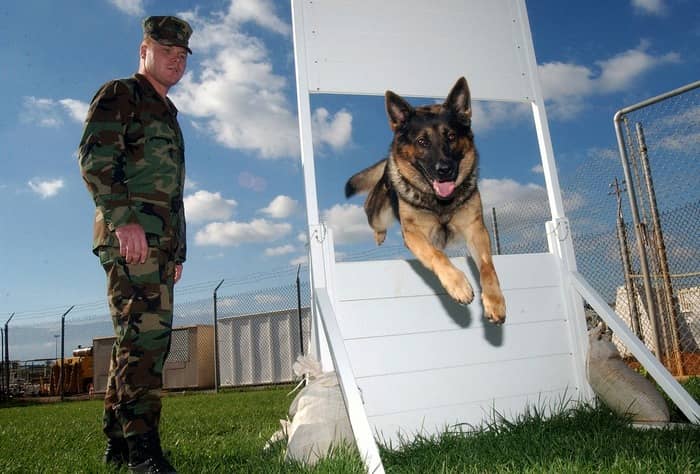 Have you ever watched a dog show and been impressed by how well the dogs run through obstacle courses? Well, that's because they've gone through rigorous agility training.
Some dogs breeds seem to be made for agility courses, but with enough patience nearly every dog can be taught.
Even if you never plan to enter your pup into competitions, agility training is a great way to bond with your dog and stimulate both his mind and his body.
Below, you'll find books that tackle all aspects of the training, from the very basics to how to build your own course.
Let's get started, shall we?
➔➔Interested in more agility and training tips? Get Weekly Exclusive TIPS. SUBSCRIBE & download FREE TRAINING EBOOK
Top 5 Best Dog Agility Books
This post contains affiliate links. If you make a purchase through these links, we earn a small commission at no extra charge to you.
Unless noted otherwise, all of these books are available both in print and Kindle versions.
One of the very best dog agility books, this one by Laurie Leach is perfect for those of us just starting out. The 256-page book includes:
detailed advice on correction-free training
step-by step agility training techniques
a how-to guide for making your own coursework
Leach continues your agility training journey with her follow-up book. It makes a great companion to the first one, or you can jump right to it if you have some basic training experience.
Topics include:
step-by-step instructions for intermediate skills
200+ full-color photographs and maps
how to use signals and body language to communicate commands to your dog
Agility Right from the Start claims to be the only training book you'll need, and I have to say that it's rather robust! It's written by leading agility teachers throughout Norway and Sweden.
With over 400 pages, the book covers pretty much every agility topic, including:
How to integrate handling skills into your basic training from the start
Step-by-step instructions for exercises from basic to advanced
Reward systems that help speed up learning
600+ instructive photos
I would definitely call this a "must-read" if you're ultimate goal is to compete in shows with your dog.
I'll be honest, I almost overlooked this one because it's so short and I don't love the cover (I admit it, I'm a cover snob).
It only goes over one aspect of coursework, but it's an important one: flatwork. Basically, that's what happens in between each obstacle.
Throughout the 79 pages (told you it was short), you'll learn how to effectively communicate with your dog and set them up for the next step in the course.
Written by two of the leading experts in agility training (Ali and Jo Canova), this is another one that covers a little bit of everything. Throughout the 250+ pages, you'll find:
positive training methods to get you and your dog started in agility training.
an easy step-by-step approach
footing diagrams and course illustrations with full-color ­photographs.
This one is available in both Kindle and paperback, but the paperback version is only through 3rd party sellers.
To be completely honest, I originally planned to give you a top ten best dog agility books list, but I've found that these five cover everything I need to know.
I'd rather give you five solid selections than five good ones and five more that I'm just using to pad a list. I haven't found any others that I can strongly recommend.
Now, let's talk about some tips for building your own course, as well as some products that I'm strongly considering.
Other reads ➔ best book for new puppy owners
Tips for building your own agility course
When it comes to building an agility course, you have a few options.
If you're handy with tools, it's entirely possible to build one from scratch using things like PVC pipes and lumber.
On the other hand, if you tend to curse a lot when assembling things, you can just buy the equipment and set it up in your backyard within minutes.
If, like me, you don't have a few hundred bucks to spend on the above option, you can mix, match, and improvise.
Or you can skip the whole backyard course entirely and just take your dog to an already established course.
Let's talk about those options in more detail.
➔➔ Interested in clicker training? Read one these dog clicker training books
#1 Building your own course from scratch
If you asked me which option I'd go with just a week ago, I'd have said this one. I fully intended to build a course from scratch. I even found a great how-to guide online.
However, I have to be honest with myself. I cry when I assemble a simple particle board bookshelf. How am I going to fare with making jumps, balance beams, and more?
If you have more confidence and patience than I do, this video shows you how to do it with just around $50 worth of materials, mostly using PVC pipes:
#2 Buying a complete course
If you go with the 2nd option, I really like this set because it comes with everything, including the poles and the tunnels.
I like it because you can set it up when you need it, then take it down and put it away in the handy carrying bag. It's ideal for those who can't install a permanent course in their yards.
#3 Mix and match
This is the option I'm going with. I'll use PVC pipes and the directions in the resources above to create the weave poles, then I'll buy some other equipment to go with it.
First on my list of things to buy is the tunnel. I simply cannot make that myself. I'm sure it can be done, but I don't have that kind of talent. I'm looking at this one as my top option.
It's regulation size, which doesn't matter so much to someone like me who is just doing agility training for fun, but it should matter to you if you're planning on competing.
I'm also considering this flirt pole (basically, it's a teaser pole) from Outward Hound
Although I'm thinking that I'd probably need to attach a hot dog to it for Freya! She's more food-motivated than anything!
#4 "Renting" time on a trainer's course
If you can't use your own backyard (or don't even have one), look into renting time on a local trainer's course.
We have a relatively new dog training school in town that lets you rent agility course time for a fairly reasonable cost.
Try calling local trainers and asking them if they offer this service. Even if they don't advertise it, they may be willing to do so if you ask.
If you can't find a local course that you can use, the other option is to buy the set that I mentioned above and see if you can get a friend to let you use their yard.
Between the best dog agility books and a great course, you'll have your pup running obstacles in no time.
Well, okay, it may not be THAT easy, but with a little patience, it'll be a great experience for both of you!
Do you have any other picks for the best dog agility books? Did you build a course? Buy one? Share your recommendations below!