We're are always looking for new ways to keep our dogs entertained and active. So it makes sense that automatic ball launchers for dogs have become so popular. After all, these nifty devices are a great way to get pups to exercise even when you can't be the one to give them a good workout. That's something any dog owner would love to have in their lives.
Below, I'll help make shopping for one easier by showing you the best available options, plus a detailed buying guide. Start with the table below for a quick side-by-side comparison of my favorites, then read on for all of the details about each one.
FYI, this post includes affiliate links. If you buy anything through these links, DogVills earns a small commission at no extra cost to you.
Table could not be displayed.
5 Best Automatic Ball Launchers for Dogs
Finding high-quality automatic ball launchers for dogs can be challenging on a site like Amazon. So, rather than just throwing a ton of options at you and hoping something sticks, I thought limiting my selection to five would be a far more helpful way to start this process. It'll allow you to see what separates the best options from ones not worth considering.
1. PALULU Automatic Dog Toy Ball Launcher
The PALULU Automatic Dog Toy Ball Launcher checks off numerous boxes without a hefty price tag. For instance, it offers a sturdy construction, is easy to use, and provides a few stylish color choices. These components create an impressive option that other automatic ball launchers often can't match.
FEATURES:
Made with durable materials

Two colors (blue and white)

Four distance settings (10ft, 20ft, 30ft, and random)

Six 2″ tennis balls

AC power adapter

Equipped with battery compartment (8 C batteries required)
PROS:
Stylish design and color schemes

Easy to use for small or medium dogs

Usable indoors or outdoors with dual power sources

Sturdy and reliable construction

Affordable price

They offer an option with a remote control for about $7 more
CONS:
You can load only one ball at once

Doesn't come with a remote unless you pay extra
FINAL VERDICT
Of course, the affordable price and sturdy construction are this option's main highlights. But I find myself being equally impressed with its versatility. After all, it has no trouble being a suitable option for small or medium dogs while being usable indoors and outdoors.
But it does provide a slight inconvenience with its reloading procedure. It only can load one ball at a time, which can be inconvenient if your dog's not trained to drop the ball back into the opening. Thankfully, this automatic ball launcher's process is easy for dogs to learn.
2. AFP Automatic Ball Launcher for Small Dogs
Our next option, AFP's Automatic Ball Launcher for Small Dogs, has no trouble keeping canines entertained indoors. It offers three convenient distance modes with a sensor launching a loaded ball after 10 seconds. So it's easy to see how owners can keep their dogs occupied with this practical device.
FEATURES:
Lightweight design made from plastic material

White color scheme

Three available distances (10ft, 20ft, and 30ft)

Dual power sources (AC adapter or six C batteries)

Three 2″ mini tennis balls included

Equipped with tennis ball sensor
PROS:
Portable and easy to carry

Effortlessly adapts to indoor locations with distances modes

Convenient sensor launches balls 10 seconds after loading

Provides long battery life

Simple to assemble and use
CONS:
FINAL VERDICT
Overall, this option makes a name for itself with its practicality. Everything about it, from its distance modes to its portable design, will make an owner's life easier. It even offers a simple assembly and using processes to show its convenience further.
I only wish this model was usable outdoors. But its construction wasn't designed for this purpose, so buyers need to keep it inside. If they do, it should be an excellent exercise toy to keep their Bulldogs for chihuahuas busy.
3. IDOGMATE Dog Ball Launcher for Large Dogs
Large dogs finally get a little love on our list with the IDOGMATE Dog Ball Launcher. After all, it's specifically designed for larger breeds using 2.5″ standard tennis balls. But, more importantly, the three included balls utilize non-abrasive material to promote dental health. So it's perfect for any bigger canine who loves ripping apart tennis balls.
FEATURES:
Well-crafted design with arced wheels

Three 2.5″ standard tennis balls included

Remote control included with 40-foot range

Runs with an AC adapter or rechargeable Li-ion battery

Four distance settings (10ft, 20ft, 30ft, and 40ft)
PROS:
Launches balls up to 40 ft

Ideal for almost all dogs (including large dogs)

Easy on a dog's teeth with non-abrasive, washable tennis balls

Supports 250 shots on a single battery cycle

Exceptionally crafted design with long-term durability
CONS:
Fairly pricey compared to others

While the machine is durable, the balls aren't
FINAL VERDICT
Almost any dog owner would benefit from having this automatic ball launcher. For instance, it's suitable for all breeds and ages while durable enough to handle regular usage. It even launches balls up to 40ft and offers exceptional battery life with a 250-shot lifespan. What more could you possibly want?
The answer is a lower price because it's the most expensive choice on our list. So buyers will need to decide whether its exceptional features are worth a little more cash. Also, while the machine itself is durable, several customers point out that the balls aren't. You'll either have to replace them often or buy a more durable set. Thankfully, there are sturdier options that are compatible with it.
4. BLELEYLL Automatic Ball Launcher for Small and Medium Dogs
BLELEYLL's Automatic Ball Launcher for Small and Medium Dogs isn't the most advanced option on this list. But it does stand out by using a unique propulsion launching system to ensure the distances remain consistent. Of course, including six chew-resistant mini tennis balls doesn't hurt its case.
FEATURES:
Uses an advanced propulsion launching system

Three distance modes (10ft, 20ft, and 30ft)

Six 2″ mini rubber tennis balls included

Two power sources (AC adapter or battery compartment located on the bottom)

Money-back guarantee
PROS:
Consistent launch distance for all three modes

Simple to clean chew-resistant tennis balls (washable)

A lower-priced option

Usable outdoors and indoors

Easy-to-use remote control for effortless operation
CONS:
Durability concerns

Occasionally out of stock (more often than the others)
FINAL VERDICT
This brand did an excellent job crafting a solid automatic ball launcher with some high-quality features. In fact, I didn't even mention its remote control and effortless operation. I can't even imagine newbies having difficulty using it.
But it does suffer from some durability concerns with its construction. So owners will have to be careful when using it, or there could be a few issues down the line. Luckily, it has an affordable price and a money-back guarantee to make it worthwhile.
5. Greenvine Automatic Dog Ball Launcher
Greenvine's Automatic Dog Ball Launcher is a perfect way to help a smaller dog eliminate any pent-up energy. It's hard to imagine how the four shooting distance modes wouldn't keep them on their toes and busy.
FEATURES:
Made from safe materials

Four shooting distance modes (10ft, 20ft, 30ft, and random)

Remote control included

Six 2″ mini tennis balls

Runs off batteries (not included) or power cord
PROS:
Perfect exercise toy for small dogs

Usable indoors or outdoors

Easy using process with push-button remote control

Durable components

Effortless to move with lightweight design
CONS:
No warranty

Only suitable for small breeds because the balls are tiny
FINAL VERDICT
Honestly, the four shooting distance modes and easy using process alone are enough to warrant this option serious consideration. But I would be doing you a disservice if I didn't also mention its indoor/outdoor usability and portable design. These components further enhance its position among the best automatic ball launchers for small dogs.
But I did find it a little weird that this automatic launcher didn't come with a warranty. It's a bit pricer than some options on our lists, which made me think it'd have one. Thankfully, I doubt anyone would need to utilize one due to its durable construction.
What to Consider When Buying Automatic Ball Launchers for Dogs
Finding the perfect automatic ball launcher requires more research than knowing the best options. You'll also need to consider several buying factors before making a decision. These details will help create a clearer picture of what choice best suits your needs.
(Disclaimer: if your dog loves to chew up toys or balls, I wouldn't recommend investing in any ball launchers as it'll only increase the likelihood of choking issues.)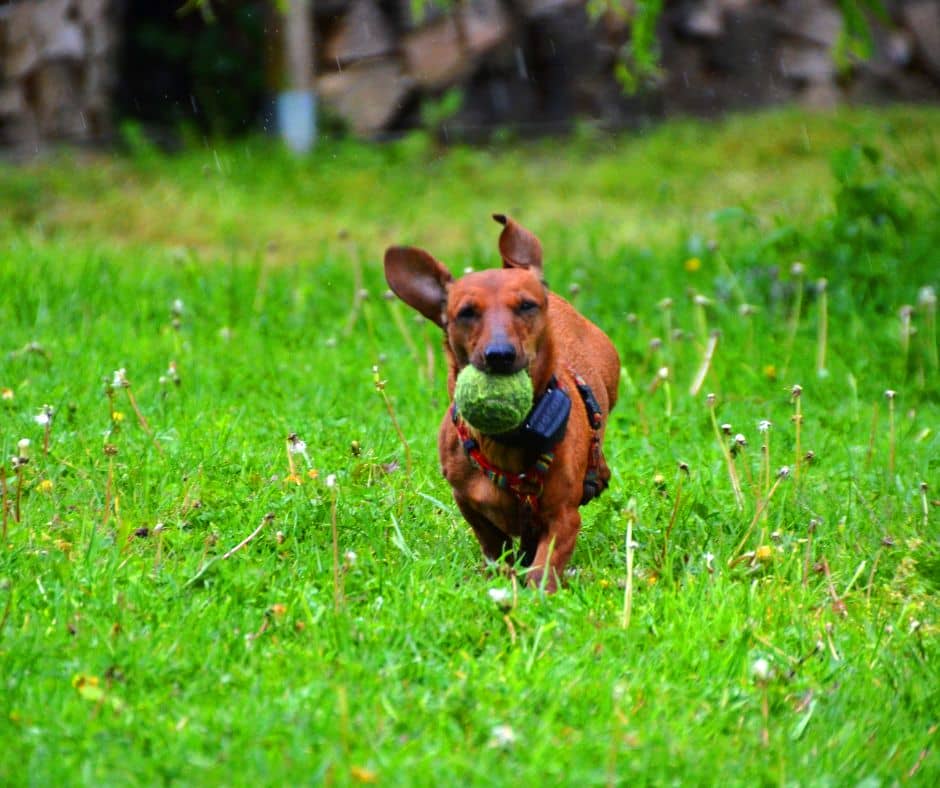 Throwing Distance
Each automatic ball launcher will have a maximum throwing distance. Most options will come with various preset distances to offer a little variety. It's crucial to ensure these ranges mesh with your dog's playing area.
After all, you don't want the device to launch balls over a fence or into a dangerous area. So I recommend measuring any intended playing area and finding a compatible launcher. It will help stop any issues when your pup first uses their new toy.
Location and Durability
Some automatic launchers will only be for indoor use, while others will allow outdoor usage. As a result, buyers must think about where their dog will play with the toy. Don't assume every launcher will be suitable for every occasion.
I'd also suggest looking at reviews to see how they hold up outdoors and indoors. Sadly, some automatic launchers won't be durable to handle regular use in any situation. These reviews will help you avoid those options and prevent any money from being wasted on them.
Ease of Use
Automatic ball launcher manufacturers can often get overzealous with settings and features. Due to this, it makes their products a bit too complicated to use effectively. Therefore, do your best to stick to options that offer easy operating processes.
It would help if you also considered that your dog would be reloading these devices by themselves. It's an extra incentive to ensure the launcher isn't too complicated. Otherwise, it'll end up defeating the entire point of getting one: allowing your dog to play fetch with themselves.
Types of Balls
One of the frustrating aspects about these launchers is they don't all use the same balls. So please, check what type of balls are compatible with the launcher before buying. If you don't, it could soon represent an enormous waste of your time and money.
I always find it easy to go with one that utilizes tennis balls. After all, it's easy to find replacements when my Pitbull inevitably pokes holes through them. She does this for about two weeks, so you can imagine it's become essential for me.
Your Dog's Size
Once you've chosen a ball type, it's vital to match them with your dog's size. You'll soon find out many automatic launchers utilize 1.5″ or 2″ mini tennis balls. These balls are convenient for small and medium dogs but represent choking hazards for large canines like my Pitbull.
So owners with larger dogs should buy launchers with 2.5″ standard tennis balls. These options are rare but do exist if you look hard enough. Trust me; the effort is worth it as you won't have to worry about choking issues.
Power Source
Automatic ball launchers for dogs require a power source to run effectively. Some options will run off batteries/hold a charge, and others need to be plugged into a socket. I tend to favor the launchers without cords due to my clumsiness about tripping over them.
However, corded options never need recharging or battery replacements. So there are clear arguments for either option being a practical choice. You could even choose a launcher that offers both power sources.
Final Recommendation
It's difficult to recommend anything other than IDOGMATE's Dog Ball Launcher. The product will have no trouble being a suitable option for almost any dog breed. But I'd probably go with Greenvine's Automatic Dog Ball Launcher if you have a small breed like a chihuahua.
Have you tried to use any of these automatic ball launchers for dogs? Share your experiences below!
Last update on 2023-06-06 / Affiliate links / Images from Amazon Product Advertising API