Get ready for all the top dog news of the week in one handy dandy spot! I've scoured the internet for the most heartwarming (or, in some cases, heartbreaking) news about our beloved canine companions so you don't have to! This week, the world's oldest dog passed on, Miami trains lifeguards to save dogs and more! Let's get to the news!
Related: Barking News: April 14th Edition
Barking News: The Top Dog News Stories of the Week
Maggie, the World's Oldest Dog, Crossed the Rainbow Bridge
World's 'oldest dog' Maggie dies aged 30 (133 in human years)https://t.co/enqX5pKZqi

— BBC News (World) (@BBCWorld) April 19, 2016
The world's oldest dog has crossed the Rainbow Bridge to the other side. Maggie, a 30-year-old Kelpie from Australia, passed peacefully in her sleep on Sunday night. Maggie belonged to Australian dairy farmer Brian McLaren and was apparently in great health right up until two days before her death. 30 years is a long life for a pooch, but after losing my almost 15-year-old Shepherd, I know that it's never enough time when you love your dog as much as McLaren must have loved Maggie. My heart breaks for Maggie's family. May she rest in peace.
Over 60 Dogs Rescued from Dog Fighting Ring
Last week, we rescued over 60 #dogs from a multi-state #dogfighting operation! https://t.co/AIyoHSwesw pic.twitter.com/FZHGpDDHVR

— ASPCA (@ASPCA) April 19, 2016
The ASPCA rescued more than 60 dogs from a dogfighting operation spanning multiple states. After a year-long investigation, the ASPCA worked with the FBI and police departments to break up the ring. All of the dogs are now in shelters getting treated until the courts determine custody.
Miami Lifeguards Now Trained to Save Dogs!
Dog parents in at Haulover Park in Miami-Dade County can breathe a little easier knowing that the lifeguards at the park are now trained to perform CPR on their canine companions. The reason: a dog drowned last year and no one knew how to perform canine CPR. According to WFLA, the lifeguards were trained by the local Red Cross on proper dog rescue procedures. I love that they are willing to go the extra mile and protect ALL their guests from drowning.
Trapped Dog Rescued After Earthquake in Ecuador
The recent 7.8 magnitude earthquake in Ecuador was absolutely devastating to hundreds of families, with more than 500 lives lost. One little guy, however, managed to get a happy ending after rescuers pulled him out of the debris. The little white dog (breed unknown) was pulled out of the rubble in what's left of the town of Manta.
Bridgewater Apartment Complex Goes to Extreme Measures to Find Out Who Isn't Cleaning Up After Their Dogs!
If you happen to live in the Bridgewater Apartment Complex in Massachusetts and think it's okay to leave your pup's poop laying around, think again! The complex has a boxed up waste sample all ready to be sent off to a lab and tested to find the culprit. Earlier in the month, they collected DNA samples from every dog in the complex. Once they find the responsible (or irresponsible!) owner, they'll fine them $200 for the first offense, $300 for the second and a whopping $500 for the third. Extreme measures? Maybe, but the residents are downright tired of stepping out into dog doo every morning. Can you blame them?
Bridewater, Massachusetts isn't the only place tired of people leaving messes laying about. The Mayor of Madrid, Spain, warns that if people don't clean up after their dogs, they could face stiff fines or even be ordered to work as street cleaners to clean up the mess!
Johnny Depp is Sort of Sorry?
Have you heard the latest celebrity dog news? Johnny Depp and his wife, Amber Heard, are taking heat for smuggling their two dogs into Australia, violating the quarantine laws. Wife Amber pled guilty and was let off on a "good behavior bond." As long as she behaves for one month, all will be forgiven. If she messes up, though, she'll have to pay a $1,000 fine. The couple issued an apology to Australia that is, well, anything but eloquent. Watch the video below and check out the full story on India Times.
Police Dog Gets His Own Body Armor
Police dogs work hard and face many dangers in the line of duty, just like their human counterparts. For one dog in Riverview, Michigan, the job just got a little safer. A nonprofit group provided funds to the Riverview Police Department to outfit Reno the K9 officer with his very own body armor. The 4-year-old German shepherd works with partner Eric Thome.
Baby Deer Joins Pooch for a Stroll

Most dogs (okay, MY dogs) chase deer when they see them, but one pooch in the North Bay area in California decided to let Bambi join him in his stroll! Samba was out for a walk with his dog parents when the baby deer approached and started walking along with the family. Samba's parents eventually sent the little deer back to his mama (who had run off at the sight of people). Full story here.
Golden Retriever to Become Delaware's Official State Dog?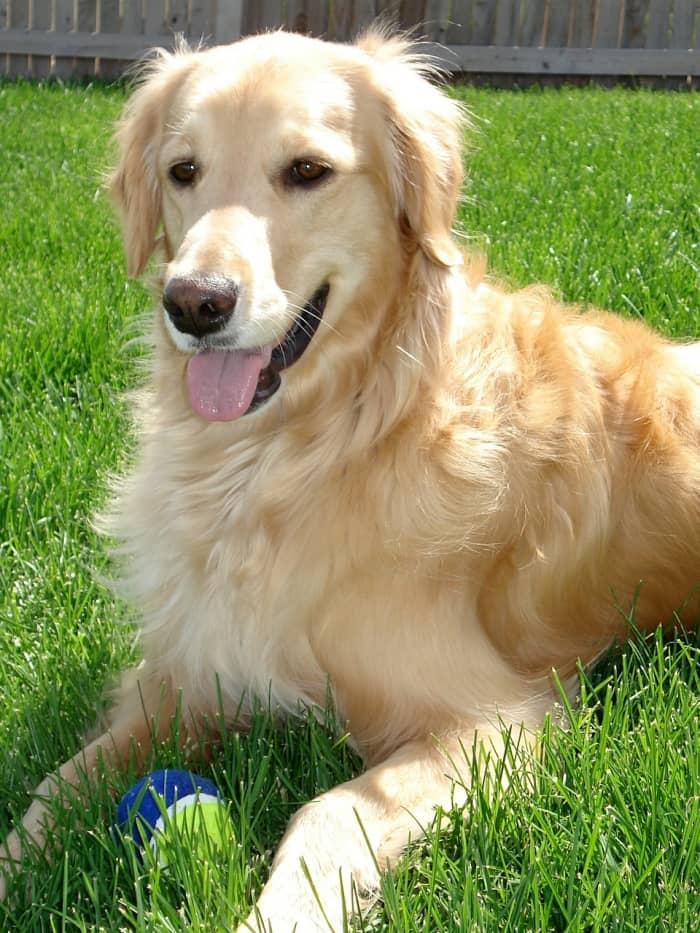 We know that most states have an official flower, bird, tree and even fish, but Delaware is about to get an official state dog, and it's the Golden! Lawmakers voted on a bill to make the Golden Retriever their official state dog, but the bill expires one year after it begins. After that time, other dog breeds will be considered.
That does it for this week's edition of Barking News! Join us next week to find out what's happening in the canine world!
If you know of any top dog news, drop us a line or leave a comment and let us know!