Ready for the latest in Barking News? Every week, I round up all the top dog news that you may have missed and deliver it in one handy edition. This week, we're talking about a dog who made an incredible journey, two adorable pups who pay it forward and more! I'll warn you, some of the news is a little sad at times. Unlike the nightly newscast, though, I believe in leading with the good news (the kicker, as it's called in the news industry). Let's check out this week's top dog news!
Barking News: Top Dog News of the Week
A True Incredible Journey: Homesick Dog Finds His Way Home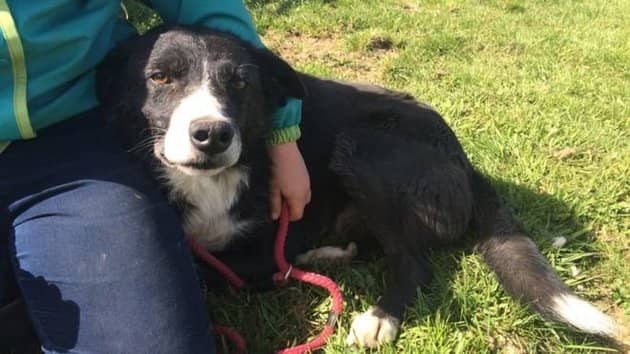 In the Welsh village of Penrhyncoch, farmer Alan James gave his herding dog, Pero, to another farmer 240 miles away. James has 15 dogs on his farm and the other farmer was looking for a good sheep dog. Pero seemed like a great fit. However, Pero didn't take well to the new farm, according to Metro News in the UK. He was shy and unsettled. Then one day, he just left!
James and the other farmer thought that because Pero was chipped, someone would contact them. Imagine James' surprise when Pero showed up back home. Pero was so happy to see James. He was well nourished and healthy, as though he had help along his journey.
Rescue Dogs Pay it Forward
Pikelet and Patty Cakes haven't forgotten what it's like to be scared and alone as orphans, so they pay it forward by helping other orphaned pups. The two rescue dogs help their humans foster other orphans on behalf of the Wollongong Animal Rescue Network Inc. in Australia. The latest foster, Potato, was a teeny 5-week-old pup snatched from his mama to be sold at a pet store. He and the rest of his siblings were wounded, covered in fleas and suffering from mange and worms. Thanks to Pikelet and Patty Cakes, though, he's recovering quite well now. Check out Bored Panda for the full story!
Foster Family Helping Dog Recover After Witnessing Family's Murder
In a shocking and devastating story found on BarkPost, a foster family in England is helping a dog named Bebe recover after he witnessed his family's murder. The tragic crime happened in Lincolnshire, England on April 15th. 8-month-old Bebe, was later found cowering in her crate. Police believe she saw the two unnamed 14-year-old assailants kill her family,  Liz Edwards and her teenage daughter Katie.
Bebe is recovering with her foster family. Even now, she's terrified of people wearing bright colors. The Three Counties Dog Rescue is handling the process of helping her find her new forever home.
This Crying Shelter Dog Is Breaking Our Hearts
If you spent any time on social media yesterday, chances are you saw the crying shelter dog that broke the hearts of everyone who saw him. Fortunately, the story of 5-year-old Juice has a happy ending. After his video went viral, the shelter received hundreds of calls and has more than enough good applications to adopt the sweet, mournful pooch. That's the power of social media, my friends. Now lets work together to get the rest of the millions of dogs waiting for homes adopted!
Heroic Dayko Passes Away After Saving 7
#Independent Dog dies from exhaustion after rescuing seven people in three and a half hours https://t.co/wx7wRrDq8u pic… @FollowNewsNow

— Adam (@follownewsnow) April 27, 2016
On a far more sad note, Dayko, the heroic dog who saved 7 people after the earthquake in Ecuador, has passed away. The four-year-old white Labrador spent the last 3.5 years of his life working as a search and rescue dog, and the last days of his life searching for survivors in the rubble left by the 7.8-magnitude quake before suffering a heart attack.
Researchers Say: Stop Hugging Your Dog!
According to a new study published in Psychology Today, your dog wants you to stop hugging him. Stanley Coren, a professor at the University of British Columbia who focuses on animal behavior, studied over 200 photos of people hugging dogs. Based on the dog's body language, he reached on conclusion: dogs hate hugs. While you think you're showing affection, your dog feels restrained. Of course, like all studies, this one probably needs a bit more research than the viewing of a random sampling of dogs being hugged to be fully validated, but I have to admit it does make some sense.
Scared Dog Found Abandoned During Storm
Imagine my shock and disgust when I discovered that a story from my own hometown was trending. The AWSOM animal shelter found an abandoned and terrified pit in Stroudsburg after a raging storm on April 26th. The pooch, dubbed Chloe because she has no tags, was DUMPED during the thunder storm. A.W.S.O.M. actually has some rather shocking and disturbing footage of "Chloe's" family ditching her at the shelter (which is not an "open" shelter and requires owners who wish to surrender their dogs to do so during business hours). Along with being completely terrified, the poor pup is malnourished and suffering from problems relating to over-breeding and skin problems.
Recalls & Safety News
If you live in Canada and purchased certain types of dog food from Costco in 2011 and 2012, you may be eligible for a payout from a class-action lawsuit. Diamond Pet Food and Costco are paying out varying amounts to pet parents who's dogs may have been exposed to salmonella during those years due to contaminated food.  Learn more here.
Purina is pulling some of their wet dog foods off the shelves after discovering that they do not have the required amount of nutrients needed by your dog. This included some of the Beneful Prepared Meal, Beneful Chopped Blends and Pro Plan Savory Meals product line. To find out which products are involved in the recall, visit Purina's list.
That's it for this week's edition of Barking News! Come back next week to keep up with all the latest dog news!
If you have any breaking or interesting dog news of your own to share, drop us a line or tell us about it in the comments!