Fido will be the talk of the town on Trick or Treat night with these 12 awesome Halloween costume ideas for male and female dogs!
Halloween is such a fun time of the year for everyone.
Kids dress up in their favorite costumes and parents hand out candy to the neighborhood kids.
But what about your dog?
What do they get to do for Halloween fun? Well, they dress up in cute doggy costumes, of course.
Need some ideas?
Here are some awesome Halloween costumes for both male and female dogs.
Insanely Cute Halloween Costume Ideas for Dogs
Affiliate links included below. We earn a commission if you make a purchase at no extra cost to you.
HALLOWEEN COSTUMES FOR MALE DOGS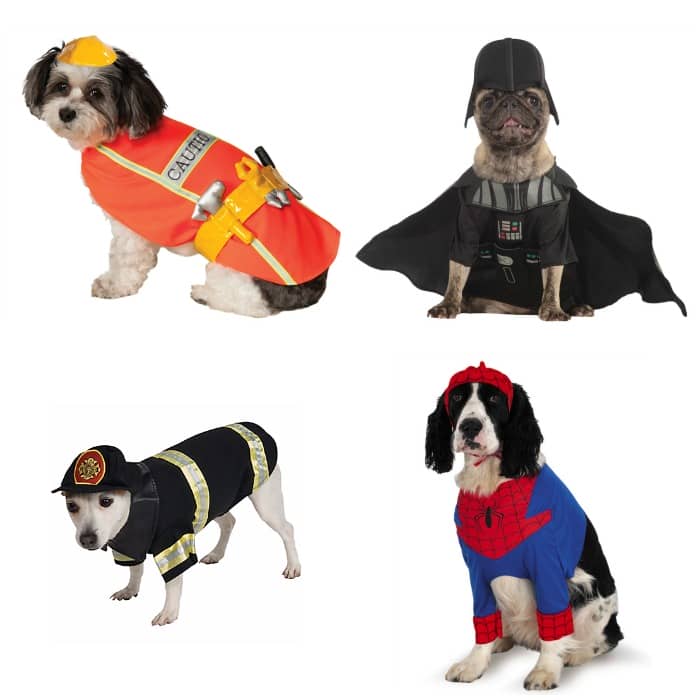 1.Construction worker
Got a hard-working dog?
Then a construction worker costume is perfect for them. Grab this adorable Construction Worker Halloween Dog Costume
, which comes with an orange vest, yellow hat, and faux tool belt.
2.Darth Vader
Is the force with your dog? If so, consider a Darth Vader costume. How cute is this Star Wars Darth Vader Dog Costume
, featuring a Darth Vader shirt, headpiece and detachable cape.
3.Fire Fighter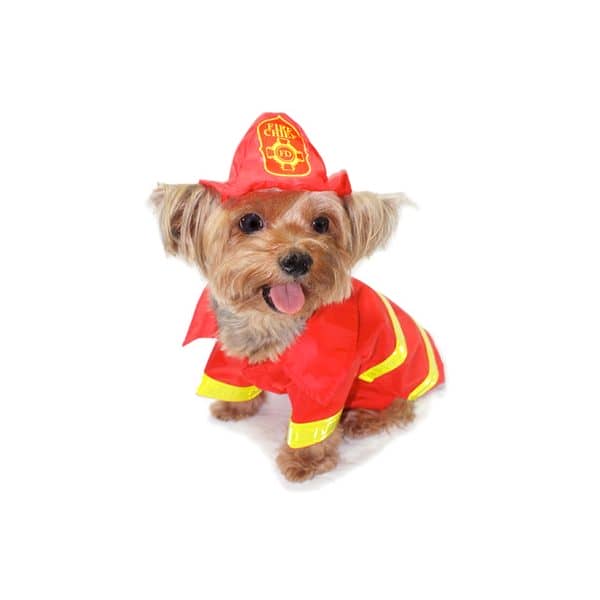 Fireman to the rescue! Your little hero will look adorable with this Fire Fighter Dog Costume, which comes with a black jacket with reflective tape and matching fire fighter hat.
4.Spiderman
Spiderman, also known as Peter Parker, has the power, speed, and strength of a spider.
Transform your dog into Spider-Dog with this fun Spiderman Pet Costume on Amazon, that includes a character shirt and matching headpiece.
HALLOWEEN COSTUMES FOR FEMALE DOGS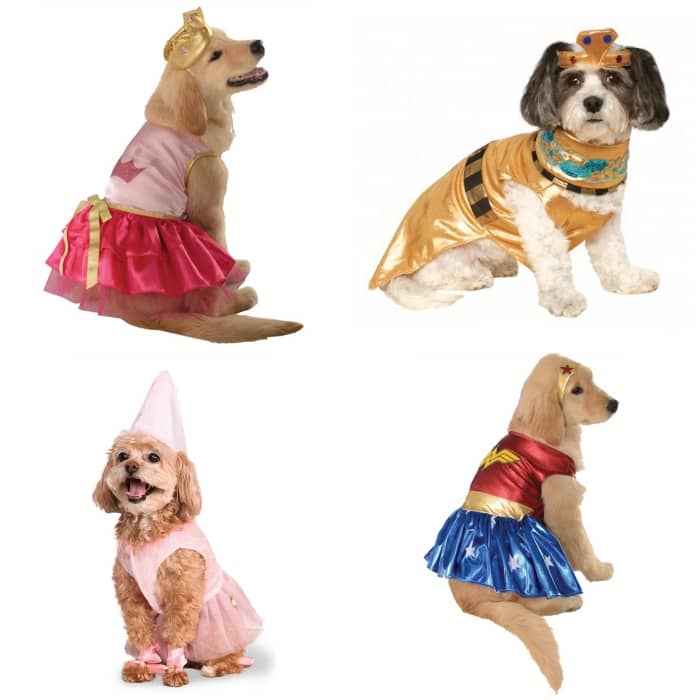 5.Cheerleader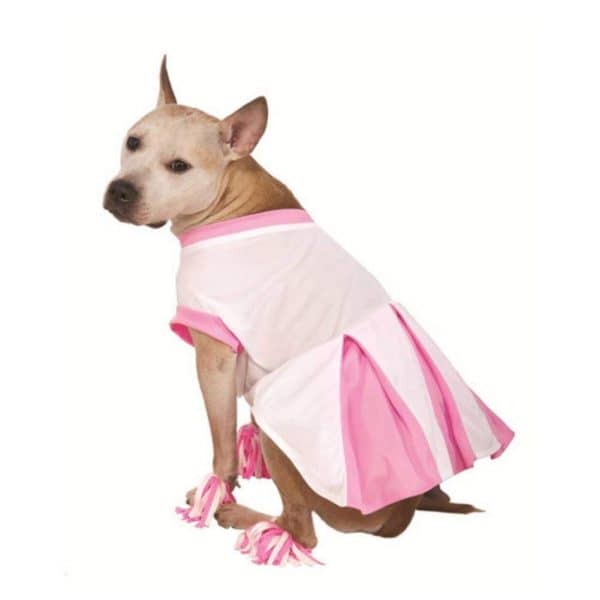 Does your dog love to sit with you on game day?
If so, a cheerleader costume would be perfect. How much do you love this Pink Cheerleader Dog Costume
? It comes with a pink and white dress with 2 pom-pom cuffs.
6.Cleopatra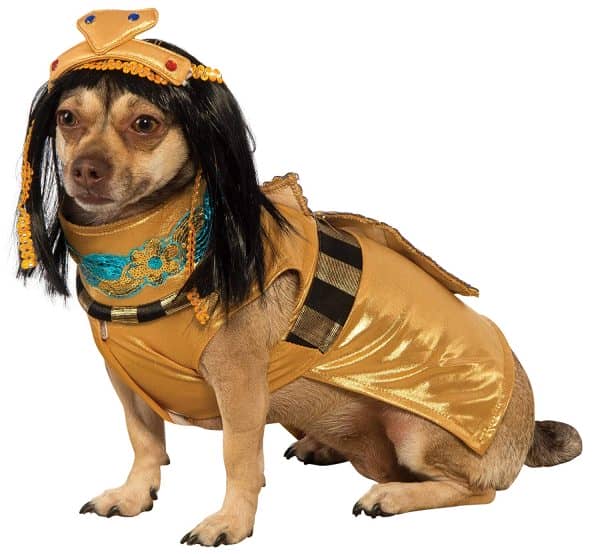 Cleopatra was the Queen of Egypt for over 20 years. Does your female dog think she's the Queen of the house?
Check out this Pet Cleopatra Costume
, which comes with an Egyptian-style bodysuit and matching headpiece.
7.Princess
Every female dog thinks she's a princess, so for Halloween, a princess costume is ideal.
Rubies makes a Princess Pet Costume
, that comes with a two-tone pink dress with jeweled headpiece.

8.Wonder Woman
Wonder Woman, also known as Diana Prince, has the powers of durability, flight, longevity, speed, and strength. Halloween Costumes features a Wonder Woman Pet Costume, which has a character dress with gold tiara.

UNISEX HALLOWEEN COSTUMES FOR DOGS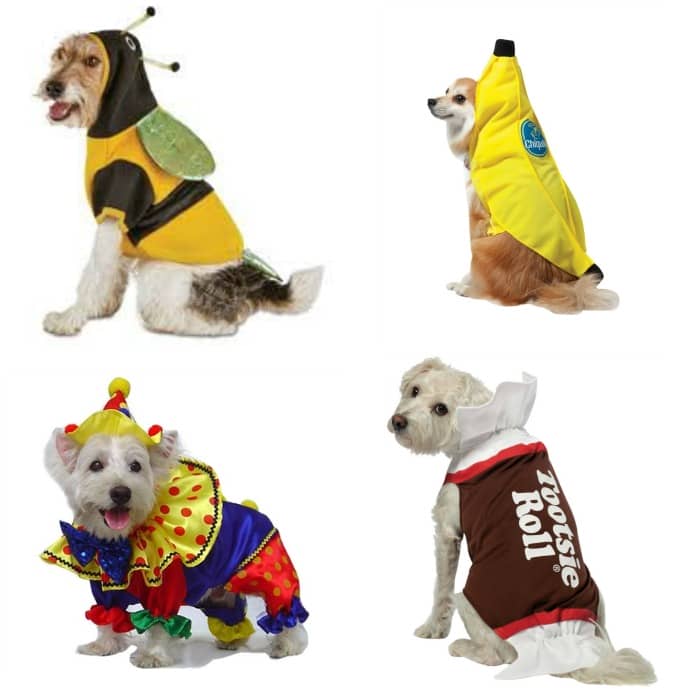 9.Bumblebee
Does your dog "buzz" around the house? Then, they would make an ideal bumblebee this Halloween. Grab this adorable Bootique Bumblebee Hoodie Dog Costume
, which comes with a yellow and black bodysuit with metallic wings.
Amazon also has another cute Zelda Bee Pet Costume, which features a black and yellow striped shirt, glitter wings and hood with antennas.


10.Chiquita Banana
Your dog will go bananas over a Chiquita banana costume. Halloween Costumes has an officially licensed Chiquita Banana Pet Costume, that comes with a yellow banana costume with blue Chiquita logo.

11.Shiny Clown
Is your dog the clown of the house? If so, they would make the perfect clown this Halloween. Amazon sells a funny Shiny Clown Dog Costume, featuring a colorful, satiny costume with matching hat.

12.Tootsie Roll
Of course your dog is already sweet, but why not make them a tad sweeter with a Tootsie Roll costume this Halloween? Grab this Tootsie Roll Pet Costume for your pup, which includes a one-piece Tootsie Roll costume.

With so many adorable Halloween costume ideas for dogs, it's hard to pick just one! I love the Cleopatra costume for girl dogs, it's such an original idea.
What do you think? Which of these Halloween costume ideas would you use for your dog? Do you have any other favorites? Share below!
Last update on 2022-10-10 / Affiliate links / Images from Amazon Product Advertising API