Are Rhodesian Ridgebacks hypoallergenic?
If you're prone to dog allergies and considering this breed, you should definitely know the answer to that before adopting one.
Let's get a bit 'in-depth' with this beautiful breed and see if he and your allergies will be able to become friends.
We will also be looking at a few character traits of the breed to help you make an informed decision regarding his temperament and suitability in your home.
Let's get started, shall we?

Are Rhodesian Ridgebacks hypoallergenic? Let's investigate!
I  suffer from irritating and often times debilitating allergies, so I can relate to how hard it is to find the perfect pup to suit you family without causing a sneezing fit, or red runny eyes every time your dog enters the room.
So, if you're doing research on hypoallergenic dogs and the Rhodesian Ridgeback keeps popping up on your screen, you might be wondering if he could be the answer to your craving for an allergen-free pooch.
As with most things in life, there are two divided camps, with the one side voting "Absolutely" and the other saying "Nay."
Let's do a little recap on the science behind allergies to give you a more clarified and definite answer.
What causes us to be allergic to dogs?
It basically boils down to our immune systems being a little over-reactive and releasing chemicals called histamines which usually eliminate harmless substances called allergens.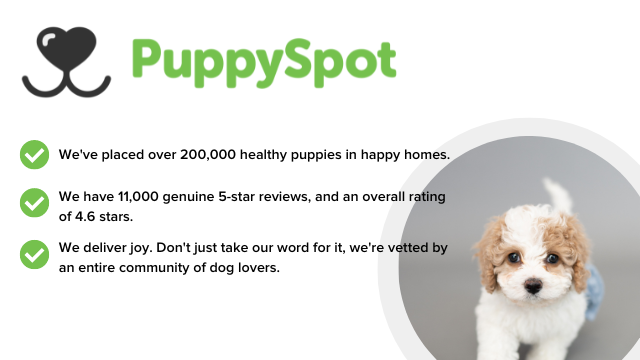 Histamines trigger the body to push out the allergens by pathways such as your nose, eyes, and mouths, and in turn, creates inflammation and those dreaded allergy-related symptoms.
In the case of dog allergies, the culprit is a typically harmless protein that gets secreted through their urine, saliva, and dander (dead skin cells).
Of the three, dander is the one you hear about most often, because those little dead skin flakes can end up just about anywhere and everywhere in your home, and there is nothing you can do about it.
Now, here's where it gets tricky. As Healthline explains, different breeds produce different dander, so it's entirely possible to be allergic to one dog and not another.
For the most part, though, what makes a hypoallergenic dog, well, hypoallergenic is the shedding factor. Dogs that don't shed tend to be more allergy-friendly than their "fur bomb" counterparts.
Technically, no dog is 100% hypoallergenic, but if you want one that comes super close, you'll want a guy that doesn't shed.
So, are Rhodesian Ridgebacks hypoallergenic or not?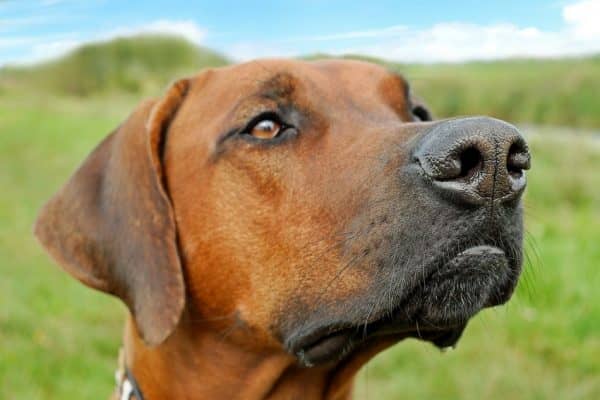 Long story short, no, they aren't. While they have short hair and don't shed quite as much as, say, a German Shepherd, they do still shed.
The AKC breed profile puts them right around midway between infrequent and frequent shedding.
Allergy sufferer. Consider these following points.
If you still have your heart set on a Rhodesian Ridgeback and your allergies aren't life-threatening, there are some things you can do to reduce your suffering.
Minimize the time your dog spends in your bedroom or rooms where you spend a significant amount of your time.
Take time to bathe your dog at least once a week, which will help remove dander from his coat.
If possible, invest in carpet-free flooring, or else shampoo your rugs regularly.
Invest in a high-efficiency particulate air purifier (HEPA) to reduce airborne allergens.
As mentioned above, the Rhodesian Ridgeback has a lovely short coat with minimal shedding, so if you follow these tips,  it is possible to coexist with this breed, albeit not as easily as with a hypoallergenic dog breed.
You may also want to talk to your doctor about a good allergy medicine. I know many people who live with non-hypoallergenic dogs and get by okay thanks to the right combination of medications.
Before you decide to go for it, though, read on to learn more about the Rhodesian Ridgeback and make sure it truly is the right dog for your family.
Answers to 5 common Rhodesian Ridgeback questions
We've answered the question about Rhodesian Ridgebacks hypoallergenic qualities but there are other, just as important factors that need to be considered. Let's take a look.
What type of temperament does the Rhodesian Ridgeback have?
The Rhodesian Ridgeback, often dubbed the Lion Dog,  has it's origins out of Southern Africa where it was bred as a hunting dog.
He is an exceptionally loyal and intelligent animal, although he'll act aloof if a stranger comes knocking.
Don't confuse this with aggression, though. Contrary to vile rumors, he will NOT attack a visitor at your door.
They do, however, require intensive training to tame their boisterous and stubborn nature, and are not recommended for first-time and inexperienced dog owners.
These animals are strong-willed, confident and extremely protective of their human families, making them the top choice for a guard dog.
While they have abundant energy and have oodles of enthusiasm, they also have a sensitive side, and no rough treatment should be imparted on these dogs, especially as puppies.
They can literally suffer a breakdown if their owner is too strict and nasty, and don't cope well with this type of handling.
As a quick summary, this dog is characterized as being:
Mischievous
Dignified
Loyal
Intelligent
Strong willed
Sensitive
Rhodesian Ridgeback shedding
This breed is an exceptionally clean dog with minimal shedding and little odor. It has a lovely golden brown, short, dense coat.
The Ridgebacks who are purposefully kept indoors will shed a little all year round, and their outdoor counterparts will shed seasonally.
A good brushing and weekly bath should keep his shedding to the absolute minimum – great news for us allergy prone humans.
Rhodesian Ridgeback size
My cousin had the privilege of owning one of these dogs, and as kids, we jokingly called him a horse and the smaller kids among us actually 'rode' on his back.
The males among the breed can reach a height of between 25 to 27 inches at the shoulder and tip the scales at 85 pounds.
There are claims that some can reach a weight of up to 160 pounds!!
Females are, on average, slightly smaller with a height of 24 to 26 inches and weigh around 70 pounds.
Rhodesian Ridgeback puppy
The genetic pool of this dog is exceptionally limited, according to the Rhodesian Ridgeback International Foundation.
This is the only non-profit organization which assists in all aspects of the survival of the pure-bred Rhodesian. According to their website, only 1 in 20 owners register the puppies, which further limits the continuation of their true blood-lines.
So, in short, acquiring a pure-bred and registered Rhodesian might take a little time and a lot of research, but it will be well worth the effort.
As these breeds were bred to be a protector and hunter, you won't have a puppy that lies around on your lap all day.
The pup needs almost constant stimulation to help work off all that excess energy, and you'll be well advised to introduce him to new people on a regular basis in the hopes of getting his guarding instinct under control.
He'll test his boundaries constantly in trying to determine who rules your roost – you or him – and will require firm but loving training.
In a multi-pet household, a Ridgeback will attempt to dominate other dogs of the same sex, and if you're a cat owner, it's a toss-up if your pup will love him or chase him at every given opportunity.
Prepare for your puppy by investing in a good dog bed for larger dogs, a healthy supply of puppy food and a basket full of sturdy chew toys!
Rhodesian Ridgeback lion
If you say the words "Rhodesian Ridgeback" around certain communities, they'll answer you with: "Ah, the African Lion Hound!"
Not wanting to look clueless, you'll nod in agreement, but you'll wonder how this sleek animal gained this proud name.
It originates from the fact that African game hunters realized that this pooch was excellent in his abilities to distract game like lions, leopards, and cheetahs, allowing the hunter to take aim with the perfect shot.
He was also able to protect vast stretches of converted farmland – defending the cattle herds and farm workers from intruders, both human and wild.
In September of 1924 the South African Kennel Union starting taking in registrations for the "Lion Dog," and in February of  1926 the Union officially changed the breed's name to the "Rhodesian Ridgeback."
The dog was also placed in the union's gundog group where he remained under that classification for over 20 years.
Last word on this regal dog

The Ridgeback is, overall, a splendid companion and a proud soldier who will protect home and hearth with his dying breath.
However, if you're prone to severe dog allergies, he's not the best choice for you.
If you really want a large breed hypoallergenic dog, consider other possible breeds such as the Afghan Hound or the Bouvier des Flanders.
However, if you still feel like this is the only dog breed for you, be prepared to put in the work to ensure that he remains as dander-free as possible.
You'll also need to invest a lot of time in training and socializing your pup and in taking him for long and strenuous walks to help him get rid of all his energy.
While the puppy stage can be genuinely exhausting for his owner, he WILL settle down … eventually!
If you have any further questions regarding hypoallergenic dog breeds or the Rhodesian Ridgeback, please drop us a message in the comment section below.
What are your thoughts regarding the Rhodesian Ridgebacks hypoallergenic qualities (or lack thereof, as is the case)? Share below!