They are one of the most majestic small breeds, but are Pekingese hypoallergenic dogs?
If you have dog allergies, that's something you have to consider before adoption.
Fortunately, we've got the answers you're looking for.
Keep on reading to find out how suitable Pekingese dogs are for people with allergies.
Are Pekingese Hypoallergenic Dogs?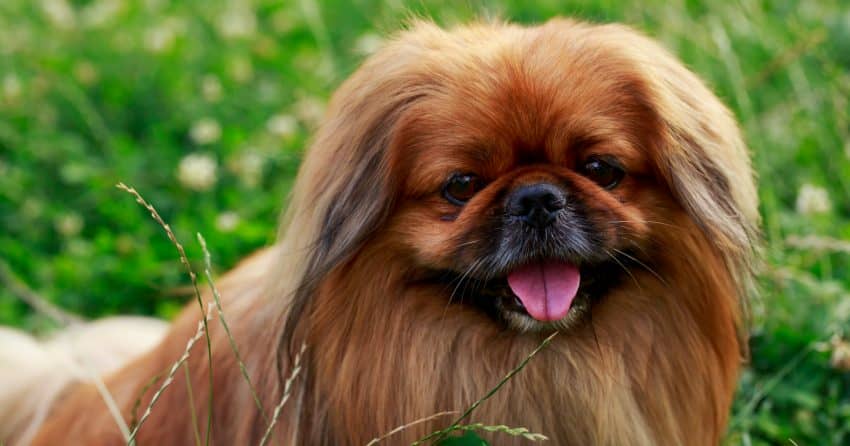 Having pet allergies is the worst when you have dogs, and you can't imagine your life without them.
Naturally, hypoallergenic dogs might seem like the best possible solution.
After all, you want to spend some quality time with your dog without having a sneezing fit or runny eyes.
But is the Pekingese one of those hypoallergenic dogs, and is it the right one for you? Let's find out the answers together.
Pekingese History and Temperament
Named after the capital Peking, the Pekingese has been one of China's closely guarded secrets for centuries.
They used to be companions of imperators, princes, and royalties, and all commoners had to bow to them.
The Pekingese was unknown to Western civilization until the early 1860s.
During the Opium War, soldiers discovered a little or puppies and took them as a war prize.
In the next years, people smuggled more and more Pekingese dogs out of China.
It's no wonder that the Pekingese got so popular with their gorgeous fluffy coats and lion-like mane.
Moreover, Pekingese dogs are bold, tough, and confident.
They're very affectionate towards family members and are ready to defend you to the death.
Despite their tiny size, Pekingese aren't afraid to bark at strangers and alert you of potential threats.
They make excellent watchdogs and adapt well to apartments, mansions, and palaces as long as there's someone to spoil them.
However, Pekingese aren't one of those dogs that tolerate being poked or grabbed.
They're far too dignified and regal to allow such liberties.
That's why they're not the best dogs for small children, and some consider them aggressive small dogs.
What Makes a Dog Hypoallergenic?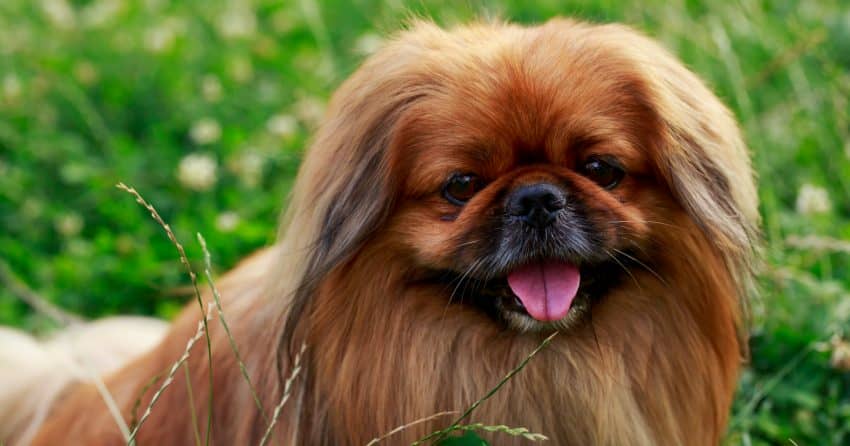 To find out if the Pekingese is a hypoallergenic dog, we have to know what makes one breed hypoallergenic and another – not.
Most people think that it's all about the fur, but they're far from the truth.
People with allergies often have an oversensitive immune system, which detects harmless substances as threats.
Since the immune system think that you're under attack from a virus/bacteria, it tries to flush out the allergen.
When it comes to dog allergies, you're allergic to proteins in your dog's saliva, urine, and danger.
From these three, dander is what causes the most problems since. Let's see why.
Dog dander is light, microscopic, and airborne. It can accumulate on furniture, clothes, carpets, and walls.
Moreover, you can breathe it through your nose, and it can reach the lungs.
For most people, that wouldn't be a problem.
But for people with allergies, dander might inflame the airways and make breathing and chronic pulmonary conditions worse.
The bad news is that all dogs, even those without hair, shed hair, and dander.
So, speaking from a medical point of view, there is no such thing as hypoallergenic dogs.
Then why do people talk about hypoallergenic dogs?
Well, some dog breeds shed less fur than others because of their coat type. As such, less dander gets into the air and around the house.
Such dogs get labeled "hypoallergenic" because they tend to bother allergy sufferers less than other breeds.
But you might still be allergic to these "hypoallergenic dogs."
Interestingly, even dogs from the same breed don't shed an equal amount of dander.
That's why you might be okay around some dogs and have an allergic reaction towards others.
How Hypoallergenic Are Pekingese?
We come to the question of the day. Are Pekingese hypoallergenic?
Sadly, these majestic dogs aren't considered hypoallergenic dogs.
But a lot of people think so because Pekingese look similar to Shih Tzu, one hypoallergenic breed.
It's not hard to figure out why Pekingese might not be the wise choice for people with allergies.
Just look at that luxurious and fluffy coat and all that impressive mane! The Pekingese isn't called the lion dog of China without reason.
Pekingese dogs have a thick, double coat, consisting of a soft, short, and dense undercoat and a long overcoat that flows.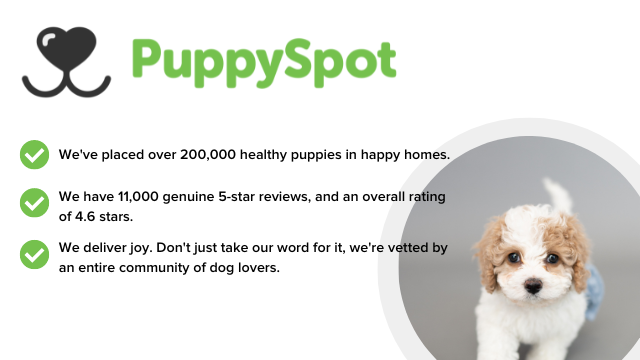 Such an appearance isn't easy to maintain and requires a lot of grooming, brushing, and bathing. That could be an issue when you're allergic to dogs.
But more importantly, Pekingese shed their coat heavily and will leave dog hair all over your clothes, furniture, and carpets.
Along with the dog hair comes the dander that triggers your allergies.
Some owners prefer to trim their Pekingese hair short, and that could reduce the amount of fur and dander.
But the coat is the pride and glory of the Pekingese breed and probably one of the reasons why you've fallen in love with them.
It would be a shame to have to cut it.
Besides dander, there's one other aspect that makes Pekingese a bad choice for people with allergies.
That would be their stubborn and independent nature, which makes them one of the worst dogs to housebreak.
As you already know, the Pekingese used to be companions of the Chinese emperors, and they retain their royal manners.
Ask any Pekingese owner, and they will tell you that these little dogs have a lot of personality in their tiny bodies and that they think themselves in charge of the house.
As such, housebreaking a Pekingese can be quite the challenge.
It can take you months until you train your Pekingese to do their business outside.
That could be a problem if you're allergic to dog urine and have to clean it every day from your floors.
Which Small Dogs Are Hypoallergenic?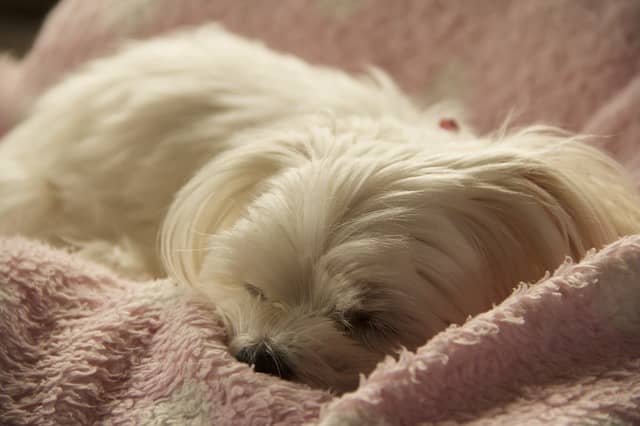 Since the Pekingese isn't hypoallergenic, you might be wondering if other small dog breeds are.
Then, I've got some good news for you. Here are some small, hypoallergenic dogs:
All of these breeds have coats that shed minimally and tend to leave less fur around the house than other dogs.
However, someone has to brush and bathe them regularly to keep their coats clean and free of tangles.
Pekingese dogs are magnificent, majestic, and fierce. They make excellent companions and watchdogs, despite their tiny size.
However, they might not be the best choice if you're looking for a hypoallergenic dog since they shed heavily at least twice a year.
Still, small dogs tend to shed less fur and dander than large ones, so you might spend some time around Pekingese and see how it goes.
What do you think about Pekingese and hypoallergenic dogs? Have you ever had a hypoallergenic dog? Tell us in the comments.