Are elevated dog bowls good or bad? That's one of the most widely (and heatedly) debated feeders among pet owners. Some swear by them, saying that they've done wonders to improve their dogs' lives. Others vehemently warn against them, claiming that they can actually ruin a dog's life. So, who's right and who's wrong? Let's find out by looking at both the pros and cons of these feeders.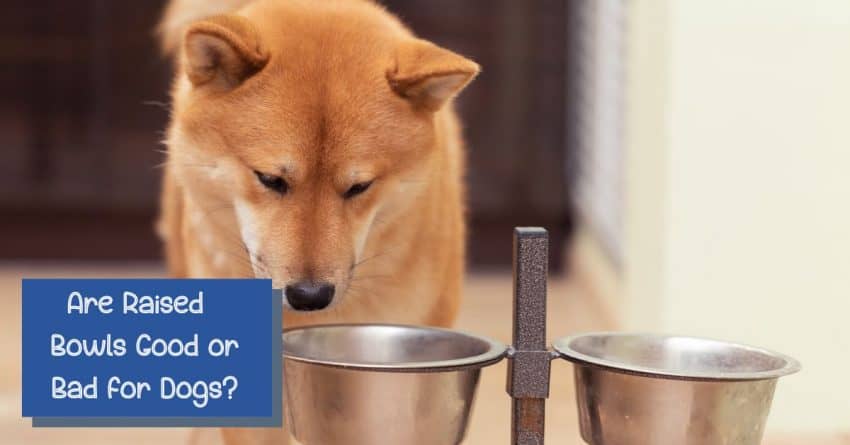 Content & Quick Navigation
Are Elevated Dog Bowls Good or Bad?
I'm assuming that if you're at the point where you're asking if elevated dog bowls are good or bad, you probably already know what they are. If not, though, an elevated dog bowl is exactly what it sounds like: a bowl for dogs that sits off the ground.
Elevated bowls are both good and bad, as we discussed above. On the one hand, these bowls are an excellent way to dress up your dog's feeding space. The bowls we use for dogs seem to be better for their posture, and they help them stay tidy when they eat.
They were originally advertised to help our dog with digestion. However, recent studies have shown that elevated dog bowls may increase the risk of bloat and torsion for large or giant breed dogs. This problem is called Gastric Dilatation and Volvulus (GDV).
While many veterinarians recommend that dogs DO NOT eat from elevated food bowls, some will suggest this for dogs with certain health issues like arthritis or a specific injury. Confused yet? Honestly, deciding if they're good or bad for YOUR dog all comes down to whether the pros outweigh the cons.
FYI, this post includes affiliate links. If you make a purchase through them, DogVills earns a small commission at no extra cost to you.
Pros & Benefits of Elevated Dog Bowls
It's important to remember that not all dogs will see the same benefits from using a raised feeder. For some, it may make a huge difference. For others, not so much. However, these are the most common reasons that vets recommend them.
Healthier Posture
Using a raised feeder can help improve your dog's posture. Think about it: when they're constantly eating and drinking from feeders on the ground, they're putting a lot of strain on their necks and backs. Reducing the distance between your pet's mouth and their bowl can help ease some of that strain.
Comfort while Eating
Older dogs with arthritis and injuries may struggle to bend over to eat and drink from bowls on the floor. Also, laying down in a more relaxed position while dogs eat can cause digestion problems. That means that the bowl is not high enough. Long story short, elevated dog bowls help your pups eat in a far more comfortable position.
Dog's Medical Condition may Require a Raised Bowl
Dogs with megaesophagus greatly benefit from elevated bowls because these feeders help food move down your dog's esophagus more easily. In fact, this is one of the conditions where raised feeders are almost always recommended by vets.
Improves Ease of Swallowing
Raised bowls make it easier for dogs to swallow than bowls that just sit on the floor. This one makes perfect sense if you think about it. When your dog takes a bite of food, what does he do next? He raises his head to let gravity do its thing and move the food down to his tummy, right? The same applies to water. If you shorten the distance between the food/water and your dog's natural swallowing position, then obviously swallowing becomes easier.
Makes life easier for you
Elevated dog bowls can also make your life easier. First, if YOU have arthritis, they'll reduce some of the strain on your own joints. Second, they help keep your dog's feeding area a bit neater overall. Some dogs will push their food bowls across the floor with their nose or may bump into them when playing in the house. Raised bowls typically have heavier bases, so they're not as likely to fly all around the room.
Cons & Drawbacks of Raised Feeders for Dogs
Now let's take a look at some of the downsides of these feeders. They're really HUGE cons, so consider each one carefully.
They May Cause Bloat in Some Breeds
This bowl isn't ideal AT ALL for dog breeds prone to bloat. It's a bit ironic because they were once the "gold standard" of vet recommendations for preventing bloat. However, more recent studies found that they actually increase the risk.
Problem Finding the Right Bowl
Elevated dog bowls come in all sorts of heights, but finding the perfect fit for YOUR dog involves a lot of trial and error. They do make adjustable ones, like the one pictured above, but even those only adjust so much, and it may not be enough. If your vet doesn't recommend one for a specific reason, it may be more trouble than it's worth, honestly.
They're more expensive
Regular old dog bowls are pretty cheap compared to raised feeders. I paid about $7 for mine, and it's lasted me years so far. Elevated feeders, on the other hand, will run you AT LEAST $20. While that may not sound terribly pricey, keep in mind that the cheaper ones aren't as sturdy.
If you do want to try one out, I'd go with one that also has space to keep your dog's food attached to it, like this one. You'll find a few cheaper options on our list of the best dog feeding stations with storage.
Conclusion
When you're deciding whether or not to use an elevated dog food bowl for your pooch, be sure to consider the pros and cons specific to your situation. Experts don't always agree about this topic, so it's really best to just ask your vet if your dog could benefit from one.
What are your thoughts? Are elevated dog bowls good or bad, in your opinion? Share below!
Last update on 2023-09-23 / Affiliate links / Images from Amazon Product Advertising API