The American Staffordshire Terrier vs. the Pit Bull.
When a person mentions the name "Pit Bull" you may conjure up a less-than-flattering image of a vicious dog ready to rip apart its next "victim."
But did you know there are several different dogs that all fall under the umbrella of "Bully breeds?"
Unfortunately, because few people know (or take the time to distinguish), this group of canines is getting a bad rap.
Even the infamous Pitbull is not the dangerous dog many folks would have us believe.
In fact, according to the American Temperament Test Society, Inc. (ATTS), a professional organization that independently tests the temperaments of over 25,000 dogs across 200 breeds, their research has proven that this classification of dogs all rank in the mid-80th to low-90th percentile regarding friendliness.
These dogs include the American Pitbull Terrier, the American Staffordshire Terrier and Staffordshire Bull Terrier, putting their dispositions on par with dogs such as the Australian Shepherd and Beagle.
So what's the difference between an American Staffordshire Terrier and a PitBull? Let's explore these two breeds in detail to set the distinction once-and-for-all.
The American Staffordshire Terrier vs. The Pit Bull
Although the American Staffordshire Terrier is closely related to the American Pitbull Terrier, the two have gone their separate ways over the years. First off, the AmStaff is a registered breed under the American Kennel Club; the Pitbull is not.
Second, the Staffordshire tends to be slightly smaller than the PitBull weighing in at approximately 50 to 60 pounds and standing up to 19 inches at the shoulder.
Did you know the AmStaff descended from a cross between a Bulldog and a Terrier? The goal was to create a canine that possessed the speed and agility of the Terrier with the strength and tenacity of the Bulldog.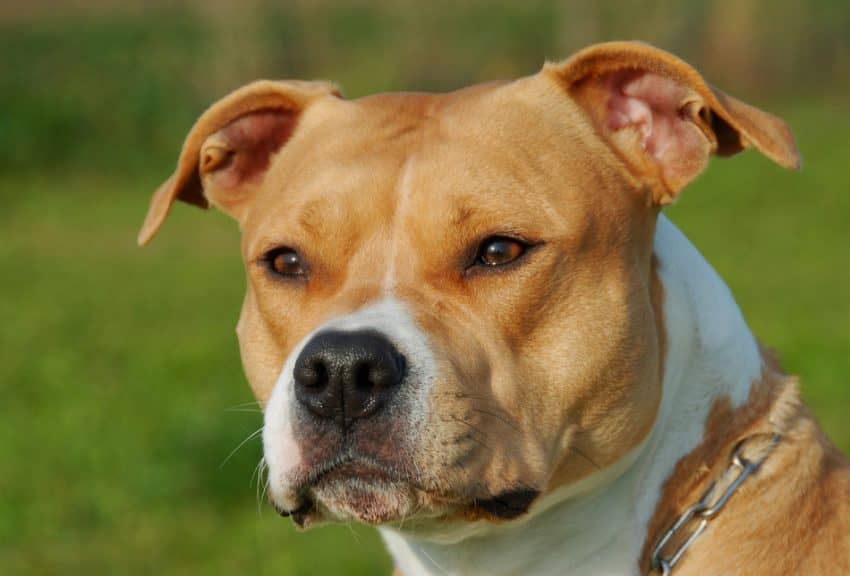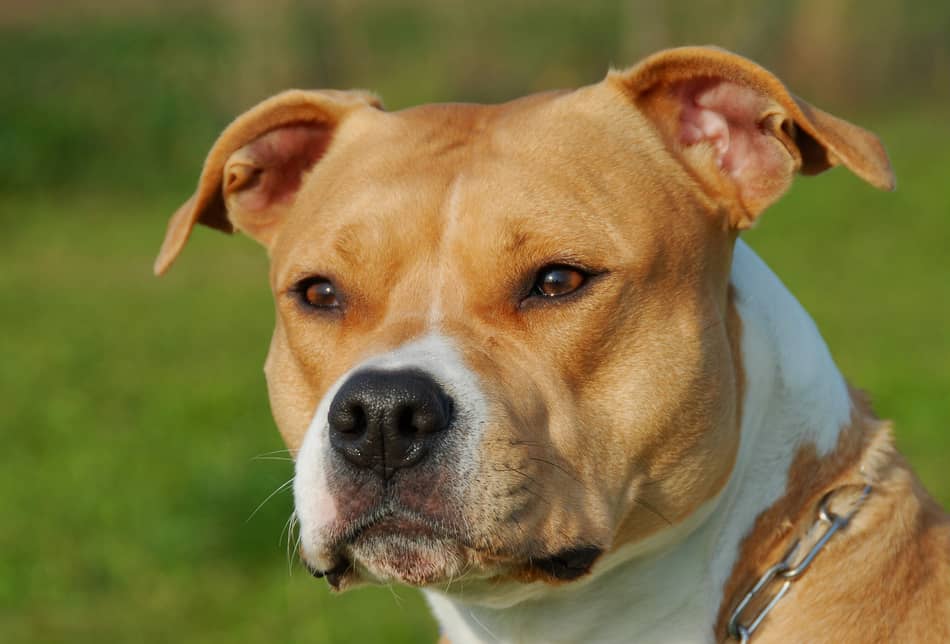 History of the American Staffordshire Terrier vs. The Pit Bull
The whole issue of the Bully breeds and dog fights is not without some truth. Back in the 19th and early 20th centuries dog fighting was a legal sport, mostly watched (and wagered on) by the wealthy and influential crowd.
The breed, however, was initially developed not to fight other dogs, but to help butchers manage bulls and for hunters to hold down wild boar and other large game. Unscrupulous people saw the qualities the AmStaff possessed in this arena, and soon the bloody sport of bull and bear baiting took place.
Around 1835 when these ghastly sports were outlawed, people still had the blood-lust bug and began to "pit" these dogs against one-another. Today, even though the "sport" of dog fighting is banned, it still takes place in back allies or remote regions.
Temperament of the American Staffordshire Terrier
Even though the American Staffordshire Terrier was used for an ugly purpose, its personality is not that of a killer. In fact, properly bred and raised this dog has a docile, intelligent, and loving nature. It makes an excellent family dog and guardian, having a keen knack for determining which people mean well and those who do not.
In the right hands, these dogs are very people-oriented, love children and other pets, are bright, kind, and highly trainable.
However, know going into this breed that you will have your work cut out for you and that the AmStaff is not for everyone. This breed is very athletic and agile, meaning you will need to provide him with daily exercise to maintain his beautiful muscle tone.
The AmStaff thrives on human companionship, so tethering him out back for long periods-of-time will not be in your dog's best interest. This breed also does not do well in the cold weather, so a house dog he is.
The American Staffordshire Terrier can also be quite stubborn at times and therefore will need a confident pet parent that can set the rules and stick to them. Breeders recommend early socialization of the AmStaff along with regular obedience training. This is particularly important because of the public/media prejudice this dog insights.
Unfortunately, because of a "few bad seeds" the American Staffordshire Terrier has been given a less-than-stellar reputation – any dog can be made to be vicious with enough abuse and mistreatment – and with the media behind these isolated incidences, the AmStaff is taking the fall for all Bully breeds.
American Staffordshire Terrier lifespan
A well taken care of AmStaff, with a qualitie diet and regular veterinary care can expect to live from 10 to 15 years-old.
Is the American Staffordshire Terrier Right For You?
Before you adopt an AmStaff ask yourself these questions
Do I want a dog that is scrutinized under public opinion?
Can I handle the Amstaff temperament and requirements?
Am I prepared to give it the daily exercise, socialization, and training it requires?
Can I find a reputable breeder or rescue organization to adopt from?
Am I a confident, take-charge kind of pet parent?
If you have answered "yes" to these questions, you may be ready for an AmStaff. Despite the bad reports circling around this breed, the American Staffordshire Terrier does make a good family dog. And handled properly they are no more dangerous than any other canine companion.
The American Pit Bull Terrier – What's All the Fuss About?
Yes, we can agree that the Pit Bull does have some similarities to the AmStaff, but this breed is slightly larger weighing in at around 85 pounds. However, unlike its media persona, the Pitty is not lurking about a sleepy neighborhood looking to destroy anything that moves.
If you want to pet parent a American Pit Bull Terrier, you must be ready to deal with those misinformed people who will impune an entire breed due to a few isolated incidents; these dogs were most likely victims of mistreatment, abuse, neglect, improper socialization and from a poor breeder.
Unfortunately, because of the fear-mongering of the news and social media, some regions around the world have banned Pit Bulls (and other Bully breeds) so be sure you know your city's by-laws before you bring one home.
History of the PitBull
The Pit Bull shares a similar history with the American Staffordshire Terrier in that it was used to bait bulls and bears. Once this bloody sport became outlawed, the Pitty was then used for dog fighting rings – and thus the trait for dog-on-dog aggression began to be bred into the line.
However, the Pit Bull also had another trait "programmed" into its genetic makeup – an unwillingness to attack humans. This was so the handlers could break up the dog fight without getting injured themselves. Soon the Pitty developed a rep for being a strong, protective dog, but gentle with its human companions.
The Pit Bull left England to America and began a new life as a farm dog which included hunting wild game, guarding the property against animal intruders and being an overall companion to the family. Although there have been stories of the Pit Bull used as a "Nanny" dog, this has been difficult to prove either way; however, there are many vintage photographs of the Pit Bull with babies and toddlers, so you be the judge.
Today, the American Pit Bull Terrier has not been bred for AKC conformation and therefore is not shown in this forum.
Temperament of the PitBull – Still Not What You May Think
The Pit Bull loves people and views themselves as a lap dog. This breed is confident and very aware of its surroundings, making it an excellent "guardian." However, despite what some may think, the Pitty loves to alert (not attack) and does so to greet "their" guests eagerly.
While their love for humans makes them a failure at being an aggressive watchdog, they do possess unmatched courage that will kick in to defend their human family with their very lives if necessary.
As we mentioned earlier, the Pit Bull does need early socialization to be a well-rounded pooch. This means giving it exposure to many different types of people, sights, sounds, and experiences while it is still a puppy.
The American Pit Bull Terrier should not be left alone for long periods-of-time as they form tight bonds and attachments to their family members. They should also not be left outside in cold weather as they cannot tolerate harsh weather. You can also expect to spend about an hour a day walking, playing with or otherwise exercising this breed.
Lastly, while they do love people, the American Pit Bull Terrier is deceptively strong for its size and can be stubborn if left to its own devices. Experts recommend beginning obedience training early and continuing it on throughout the dog's life. Training is the foundation for a healthy relationship with your American Pit Bull Terrier.
Is the Pit Bull Terrier Right For You?
Before you adopt a Pit Bull Terrier, ask yourself the following questions;
Am I prepared to defend my Pit Bull against public opinion?
Can I provide the confidence and consistent training this breed needs?
Are there breed bans in my city?
Am I prepared to find a reputable breeder to ensure my Pitty has a good genetic background?
Can I provide the Pitty with the exercise and day-to-day care it will entail?
The American Staffordshire Terrier vs.the Pit Bull Terrier, although there are some differences in the overall genetic makeup of the two breeds, unfortunately, public opinion still lumps all these dogs under one wrongful heading.
Will the bad reputation of the "Bully" breeds ever cease to exist? This may be a bitter battle, but with advocates for both the American Staffordshire Terrier and the Pit Bull Terrier spreading the positive qualities of these misunderstood canines, we may one day see the prejudice end.
Do you have any other questions about the American Staffordshire Terrier vs.the Pit Bull Terrier? Share below, or tell us your experiences with these wonderful breeds!