Are you looking for a good hypoallergenic dog treat recipe for your pooch?
Our Almond Oatmeal treats are super easy to make and sure to be a big hit with Fido. First, though, let's talk a bit about WHY it's a hypoallergenic treat, shall we?
I bet some of you saw the word "almond" and thought "um, hey there, DogVills, that's a tree nut! That's a common allergen!"
Related: Hypoallergenic Dog Food: Because Dogs Have Allergies Too!
Well, yes, you'd be right!
If we were talking about people! Dogs, on the other hand, are typically allergic to a whole different slew of ingredients.
Like people, their allergies vary from pooch to pooch. Some are allergic to beef or lamb while others can't stomach chicken or fish.
Some can't cope with dairy while others have to lay off the soy. Corn, yeast and wheat are also common allergies in dogs.
This particular hypoallergenic dog treat recipe is geared towards pooches who can't deal with more common wheats and meats (don't you just love it when we get poetic?).
The almond butter is a great ingredient because it's packed with slightly more calcium and manganese than peanut butter. If you're on a tight budget, though, you can use peanut butter and get essentially the same results with a slightly different taste.
Honestly, I don't think Spot will mind! On a side note, does anyone really name their dog "Spot" anymore?
[embedpost postid="11446″]
Almond Oatmeal Hypoallergenic Dog Treats
Ingredients
1 Cup Rice Flour
½ Cup Oatmeal
½ Cup Almond Butter
2 Eggs
2 Tbsp. Water
Instructions
Preheat oven to 350˚.
In a bowl combine all ingredients except the water and mix until thoroughly combined. Add water a teaspoon at a time until a dough comes together.
Roll the dough out to ¼ inch thickness on a floured surface and cut into desired shapes.
Place on a lightly greased cookie sheet.
Bake at 350˚ until slightly browned on the bottoms, about 12 minutes.
Remove and let cool. Store in an airtight container.
That's it! Easy, right? Making hypoallergenic dog treats for your furry friend isn't any harder than whipping up a batch of grandma's cookies for your own family. In fact, it's a bit easier because if you goof up the ration of one of the ingredients, Spot really isn't going to complain. Dogs are far less finicky than kids…or cats for that matter! They always appreciate our baking efforts. That's why they're man's (and woman's) best friend!
Looking for more delicious hypoallergenic dog treat recipes? Try our Banana Oatmeal Hypoallergenic Dog Treat Recipe!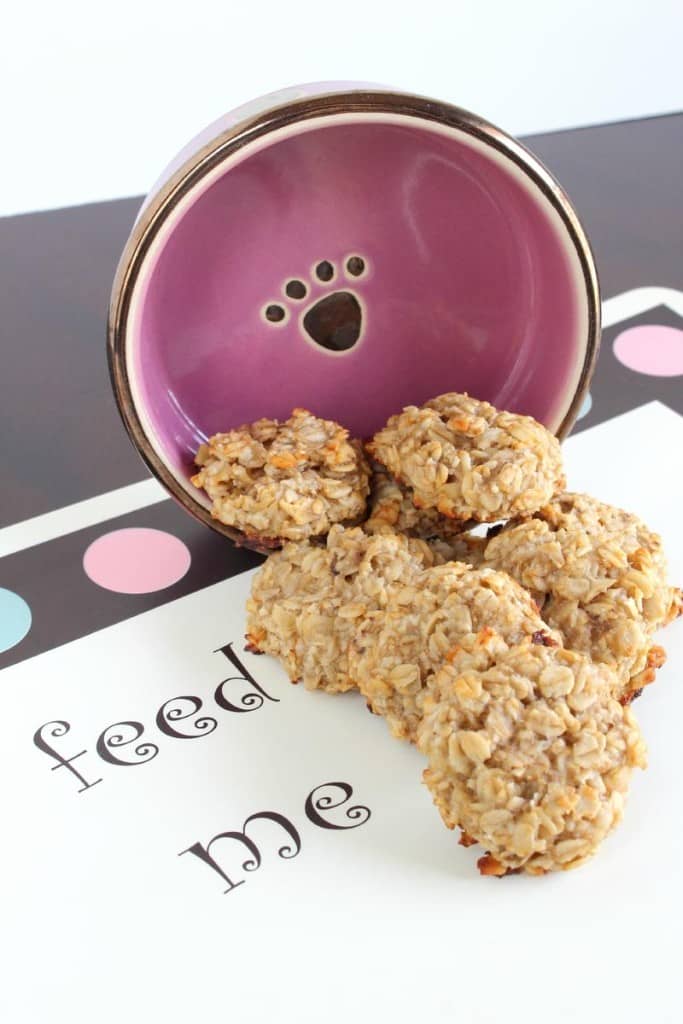 Do you have a favorite hypoallergenic dog treat recipe? Tell us about it in the comments!
Watch this video for a detailed tutorial
Spot's Favorite Almond Oatmeal Hypoallergenic Dog Treat Recipe
Spot's Favorite Almond Oatmeal Hypoallergenic Dog Treat Recipe
Ingredients
1 Cup Rice Flour
½ Cup Oatmeal
½ Cup Almond Butter
2 Eggs
2 Tbsp. Water
Instructions
In a bowl combine all ingredients except the water and mix until thoroughly combined.
Add water a teaspoon at a time until a dough comes together.
Roll the dough out to ¼ inch thickness on a floured surface and cut into desired shapes.
Place on a lightly greased cookie sheet
Bake at 350˚ until slightly browned on the bottoms, about 12 minutes