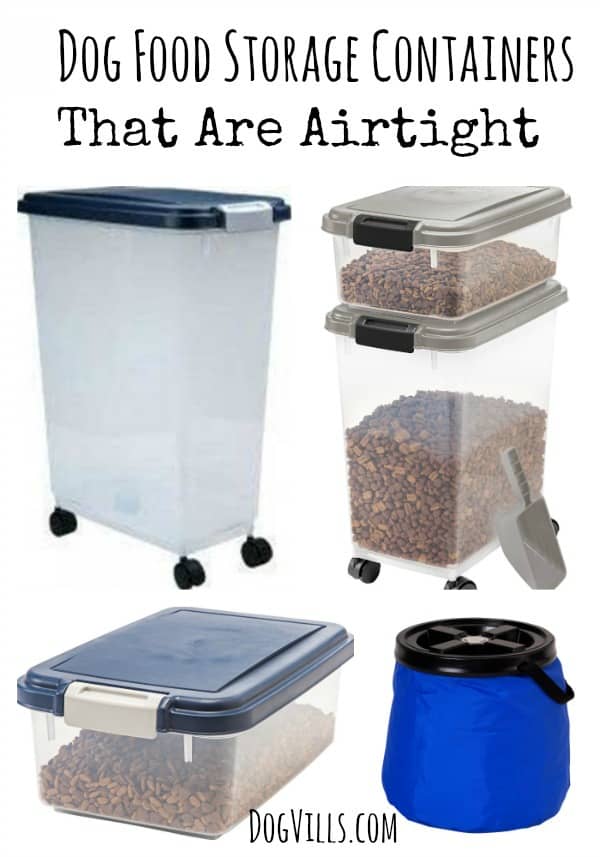 When you have pets, you know that keeping their food stored securely is important.  These 6 Dog Food Storage Containers That Are Airtight are perfect for keeping everything from kibble to treats safe.  Not only will you be able to keep their food fresh, these storage containers will keep their food free from bugs or critters.  Mostly, you'll love how easy these store in your home.
6 DOG FOOD STORAGE CONTAINERS THAT ARE AIRTIGHT
This post contains affiliate links. Thank you for the support
IRIS USA Airtight Dog Food Storage Container Combo Kit:  This kit includes not only the standard 10 pound container, but the smaller treat storage container that attaches easily to the top. This kit is on rollers making it easy to move around in your garage, pantry or kitchen.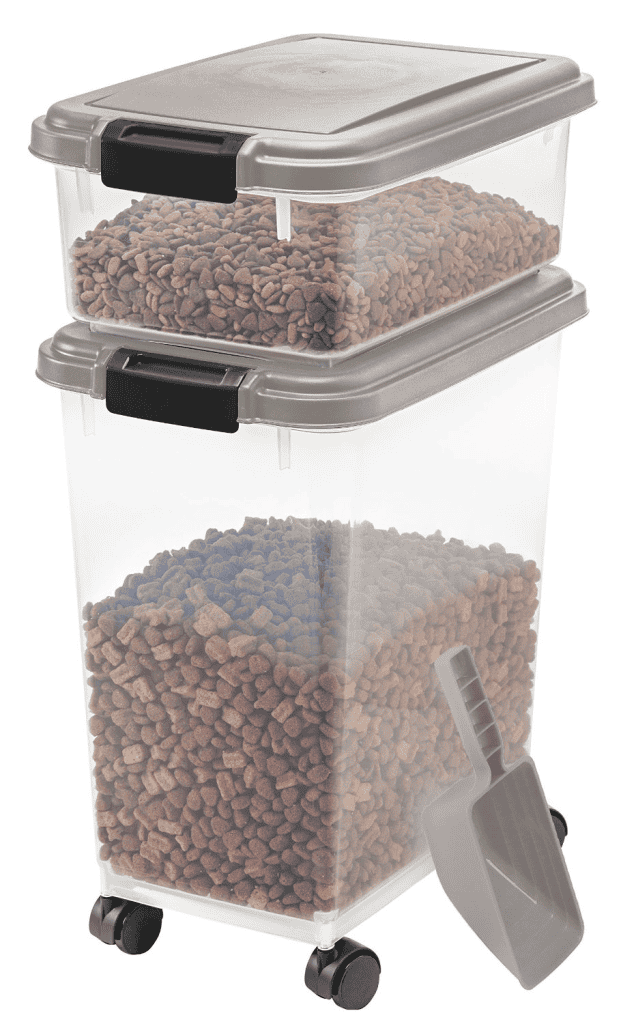 IRIS USA Airtight Dog Food Storage Container:  This is the lower half of the combo kit listed above.  Perfect for storing large bags of kibble. The castors on the bottom make this a perfect container to roll around as needed.  Available with a navy, clear or cream lid you can even personalize it to your home.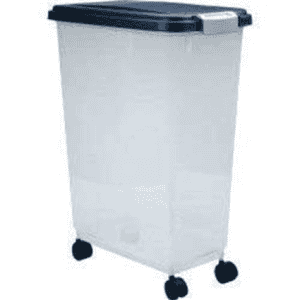 Tightvac Pawvac 2.5 Pound Airtight Vacuum Sealed Pet Food Storage Container:  This is a great way to keep your dogs treats safely stored when they aren't eaten often.  These adorable airtight containers are easy to vacuum seal, all while having cute decorations.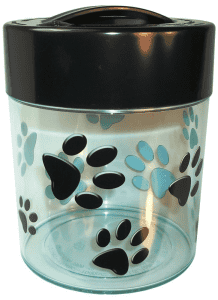 Gamma Vittles Softstore Airtight Dog Food Storage Container:  This container is perfect for travel.  As your dog eats the food, the container will be easy to make smaller and fit into your car or RV easily.  Its a favorite of those who travel with their pets on a regular basis.
IRIS USA Airtight Dog Food Treat Storage Container:  While this can be used for any dog food or treat,it is the smaller container typically used for small dogs or treats for your dogs.  This fits perfectly on the other IRIS USA dog food containers, but also works as a stand alone container.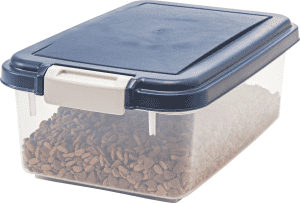 Pawvacs Set of 3 Airtight Dog Food Storage Containers:  This is a great set perfect for storing various dog food treats or even different food varities that our pets may require.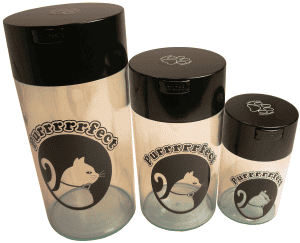 These great dog food containers that are airtight are perfect for any home.  Not only do you have options that are easy to move room to room, you have various styles and sizes to match not only your home, but your pets needs and personality.  Whether you are storing treats that are only eaten on occasion, or storing large quantities of kibble for multiple dogs, these are great choices.
Which of these airtight dog food storage containers do you like best? Tell us in the comments!