If, like me, you love you're both a feline and a canine person, you definitely need to check out these adorable cat and dog twin shirts
What do we mean by twin shirts?
That's a good question, because I bet you're thinking twins as in two babies.
However, in this case, we're talking about two shirts that work in perfect harmony together!
Whether you alternate between your cat and your dog shirt, or grab a "mom and dad" pair for just one species, you'll definitely turn heads with these fabulous gift ideas for pet lovers!
Let's check them out!
Cats & Dogs Twin Shirts You'll Love
This post contains affiliate links. If you make a purchase through these links, we earn a small commission at no extra charge to you.
1. Best Dog Mom & Best Dog Dad Christmas Hoodies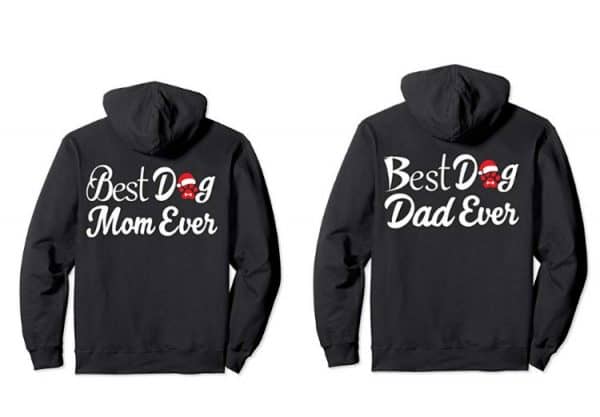 Since we're quickly moving into the cold months (seriously, where did summer go???), let's start with some awesome dog & cat hoodies for humans that are perfect for the holiday season!
Tell the world that you're the best dog parents ever with this twin shirt set!
2. Rescue Dog Mom & Dad T-Shirts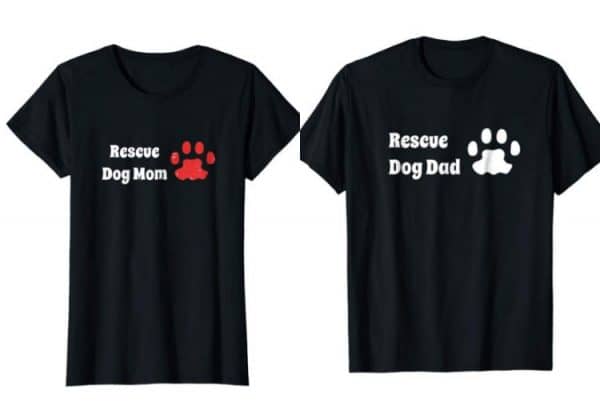 Rescuing a dog is one of the most wonderful things that you can do!
Tell the world how proud you are by grabbing these shirts and wearing them out together! It's a great way to get people thinking about animal rescue!
3. I'm Just Here to Pet the Cat & Dog Twin Shirts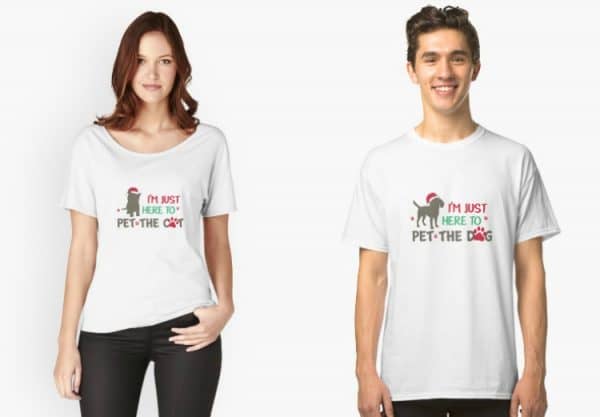 I'm not going to lie, most of the time I go to people's houses because I just want to pet their cats and dogs!
Hey, I'm not exactly a social butterfly, and pets are a great ice-breaker, don't you agree? Tell it like it is with these blatantly honest twin shirts that let your host know exactly why you're there!
I'm Just Here to Pet the Dog on:
I'm Just Here to Pet the Cat on:
4. Funny Cat Mom & Dad T-Shirts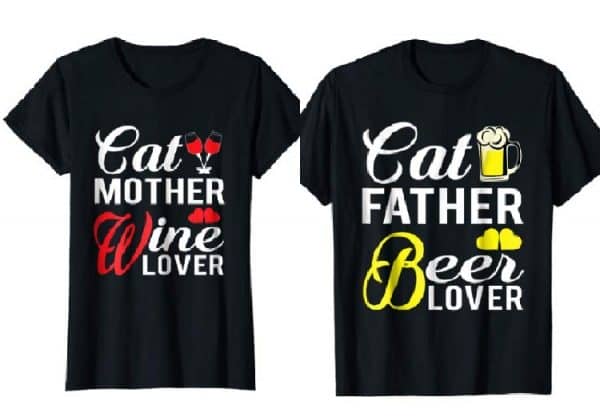 These funny cat mom and dad shirts are perfect for those with a sense of humor! The mom shirt says "Cat Mother Wine Lover," and the dad shirt says "Cat Father Beer Lover."
Get Cat Mother Wine Lover on:
Grab Cat Father Beer Lover on:
5. Colorful Cat & Dog Sis Shirts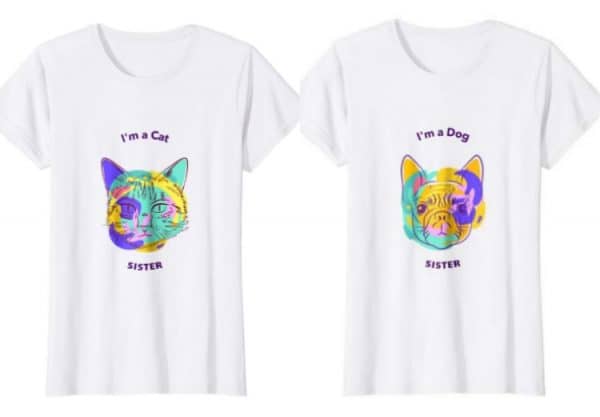 If you have a daughter that's proud to call your furry friend "sister" or "brother," then you definitely want these colorful shirts!
Get the Cat Sis Shirt on:
Get the Dog Sis Shirt on:
6. Thankful Dog Mom & Dad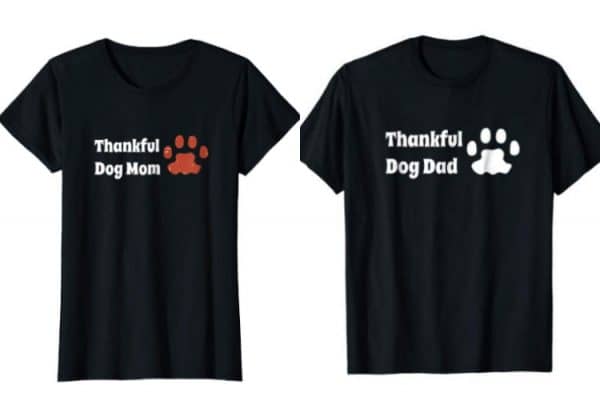 This one is perfect for Thanksgiving, but true enough to wear year round! I'm SO thankful for my dogs, they really do help make every day brighter!
7. World's Okayest Dog Siblings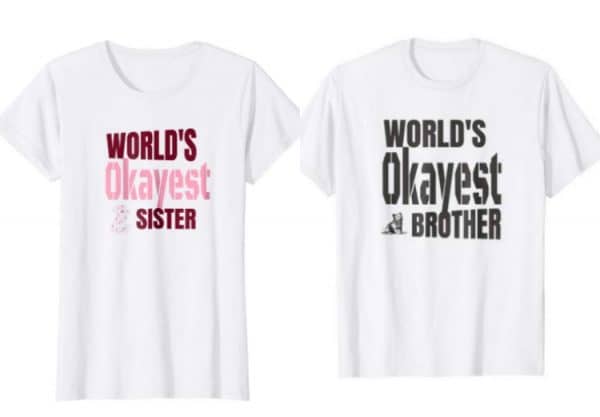 Got older kids with a great sense of humor? Get them these "world's okayest" shirts! Hey, we can't all be the best at everything, right?
8. My Brother & Sister Have Paws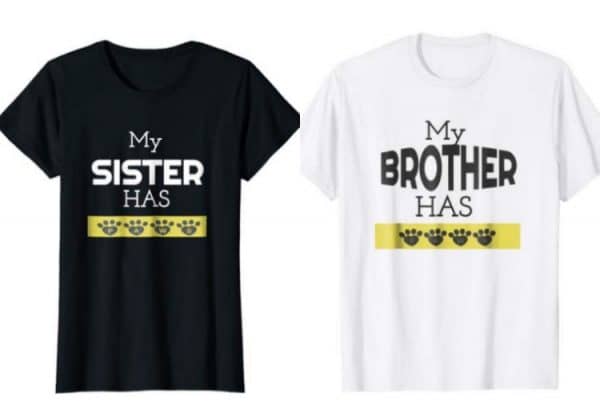 These shirts are perfect for all of your children, whether you have cats, dogs, or both! Grab one of each if you have a boy and girl dog.
9. Cat Mom & Cat Dad Christmas T-Shirts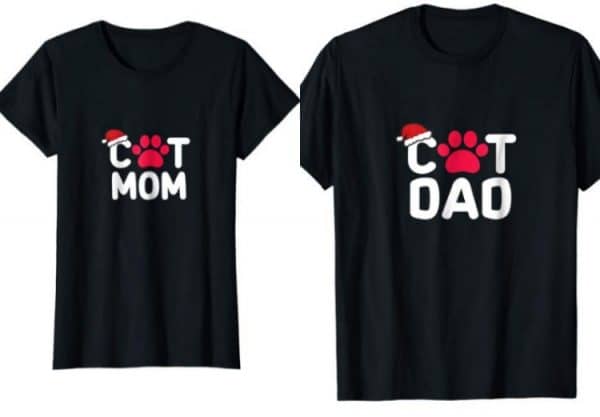 Show off your cat love during the holiday season with this cute twin shirt set! Grab one for each of you and wear them proudly as you do your holiday shopping!
Get the Cat Mom Shirt on:
Get the Cat Dad Shirt on:
10. Cats & Dogs Rule!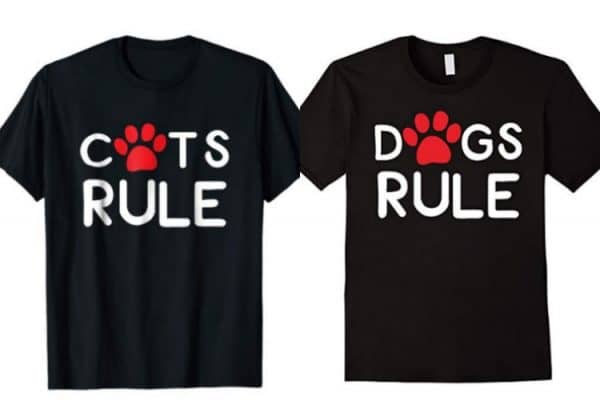 If there is one thing we can all agree on, it's that cats and dogs rule. If you grab both of these shirts, you don't have to choose between the two! I know I love my kitties and my puppies equally!
Get the Cats Rule Shirt on:
Get the Dogs Rule Shirt on:
All of these adorable twin shirt sets make great gift ideas for your favorite pet lovers, or as a special treat for you and your own family! I hope you enjoy them as much as I do!
What are your favorite twin shirt designs? Tell me below!