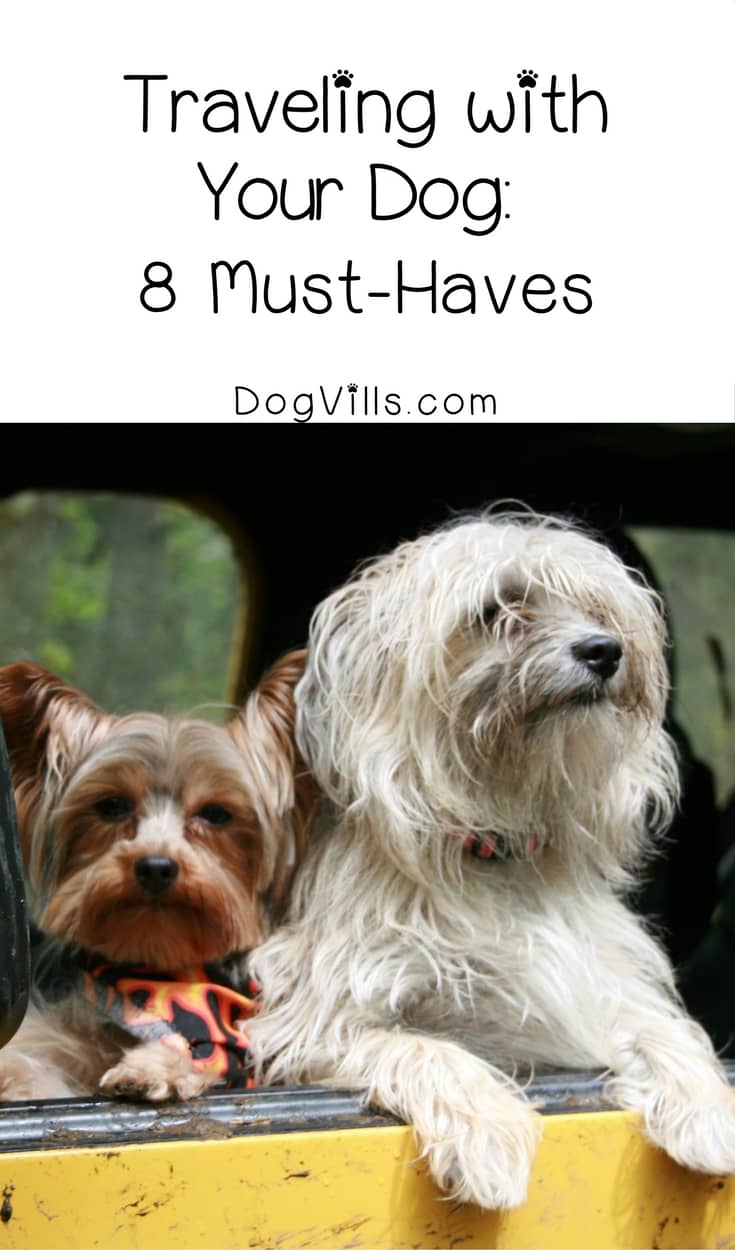 More and more of us are starting to do more traveling with our dogs, rather than leaving them in a kennel, with reluctant family members, or with a dog sitter. And why not?  After all, dogs are definitely part of the family, so it makes sense that we would want to take them on a family vacation! It's even easier than ever, thanks to so many pet-friendly hotels. If you're planning to bring Fido along on your trip, there are a few things you'll need to pack for him! Here's a checklist of things you'll need when traveling with your dog.
Traveling With Your Dog: 8 Essentials to Pack
Affiliate links included below. Thanks for your support!
Collar With Tags, Leash And Poop Bags
As much as we need to stretch our legs while we travel, so do our doggies!  New smells can mean new excitement for your dog, so make sure your dog's leash
is securely fastened before you let them out of the car, or whatever you're traveling in. Ensure that your dog's collar has its tags, properly identifying your phone number in case anything happens.  And obviously, always make sure you have poop bags with you!
Vaccination Booklet
Just as you would with kids, make sure you have your dog's up to date vaccination information with you!  Different countries have different regulations about what shots your dog might require, so inform yourself before you travel.  If your dog needs any medication while you're away, make sure to pack it.  Also, if anything should happen to your pup while traveling and Fido needs to see a vet, you'll have all the information you need with you.
Nap Time Necessities
If your dog sleeps in a crate
or cage, remember to bring it with you.  My pup has a special blanket that he likes to snuggle with, so I always make sure to pack it when we head off on any kind of road trip.  Traveling can be disconcerting for dogs, so you want to have as many of their creature comforts that remind them of home with you as possible, to make it easier on them.
Food And Water
Packing your dog's food from home can keep your dog's tummy from getting upset.  Make sure to pack some treats too!
Fun Stuff
Pack whatever you can that your dog loves to play with at home.  Taking some time to play with your dog while you stop for gas can help alleviate boredom for both of you.  My dog's favorite ball doesn't take up any room at all in our luggage, but both he and I are always so glad that we brought it!
Stain Remover
Even if your pup has been toilet trained for years, accidents can happen – especially in a new environment.  Pack some cleaner
in a small travel bottle and some old rags just in case.  You don't want to be unprepared if Fido has an accident in the car or in the hotel room.
Towels And Blankets
Maybe you're planning on just taking it easy at the beach with Fido, or maybe you're going hiking together.  Whatever the case, make sure you've got a few old towels on hand because your dog is going to get dirty!  Make sure you have an old towel in the car too, for muddy and sandy paws.
Identification
Make sure your dog's tags are up to date, and that you have a record of all of the information with you at all times.  In case your dog gets lost, be sure to have all of this information as well as a photograph to help identify your dog if necessary.
Traveling with your dog doesn't need to be stressful – in fact, it can be so much fun for the entire family!  Make sure to go over my checklist for traveling with your dog before leaving.
What are some other things that you pack when traveling with your dog?