Looking for new dog treat ideas to add to your stash of goodies? We recently came across a great question from one of our fellow dog lovers. She said she just got an 11-week-old puppy and needed some good treat ideas, but preferred ones with "decent ingredients." She went on to say that while they didn't have to be grain-free, she wanted to stay away from some of the more junk-food type dog treats often found in your grocery store aisle.
The selection of dog treats available today is staggering.  You can get them at the vet's, at pet stores, at grocery stores, farmers' markets – even the dollar store – and many of them look awfully similar. Despite the looks, however, not all dog treats are created equal.  From unhealthy ingredients to too-lenient or non-existent quality control regulations in some countries, some snacks can be downright dangerous.  While it's important to be aware of what you are feeding your furbaby, there are still plenty of options for you to try.
7 Dog Treat Ideas to Keep In Your Stash
Affiliate links included below. Thanks for your support!
1- Local Dog Treat Manufacturers
My first recommendation for finding wholesome dog treat ideas is to visit your local farmers' market and independently owned pet stores to find local dog treat manufacturers.  In most cases, local suppliers will bake treats using natural ingredients and simple recipes.  You can usually find special treats for special occasions (birthday cookies are fun) through local businesses, and you have the added bonus of being able to develop a personal relationship while supporting the local economy.  Don't discount big box pet stores either, as many will sell from local suppliers – often in an area of the store near the cash register.
2- Single-ingredient treats
Aside from locally made products, I personally like single-ingredient treats – the simpler, the better.  For small treats (great for training) I like freeze-dried meat products – chicken, beef liver, or lamb – these are usually inexpensive and either already small or easily broken.  My own dogs have always gone nuts for these – especially beef liver – and I feel safe in giving it to them.  For a larger treat, things like sweet potato slices are great as well, and these can be either purchased or made very easily at home. They are a healthy and safe treat for your pup, and their chewy texture can keep them busy for a while.
3- Raw Toppers
Another great treat I have found are raw "toppers"
– a number of companies have come out with them – which are freeze-dried raw pieces meant to be added to your dog's kibble as a nutritional boost.  While they are not strictly inexpensive, they are definitely manageable as a quality training treat – as there are quite a few pieces in a bag.
4- Xylitol-Free Peanut Butter
Peanut butter is an excellent treat – just make sure you check the ingredient list and only ever feed your dog peanut butter that does not contain sugar alcohols such as xylitol, which are toxic to dogs.  Fortunately, xylitol is currently only found in a few specialty peanut butters. Click here for a complete list of products containing xylitol. If you look at the PBs, only four currently contain the deadly ingredient. One of the manufacturers actually removed it recently (but check their label anyway if you buy their brand, in case the store is carrying an older formula).
5- Homemade pupsicles
For a special treat or on a hot summer day, "pupsicles" are perfect.  These can be made from almost endless ingredients and combinations – from frozen peanut butter in a toy (I love the original Kong toys for this) or homemade banana "ice cream", to broths or more complicated dog-safe stews.  Ice cube trays work well for portion control, and you can transfer these out of the ice cube tray and into a freezer bag once they're fully frozen.
In addition, as pumpkin
is great for your dog's digestive health (in moderation) pumpkin cubes are another frozen option.  With pumpkin, I find this the most cost-effective method for storage – I usually buy it when my pup isn't feeling well, but she never goes through a full can before it goes bad.
6- Plain ice cubes
Oddly enough, I would also recommend trying ice cubes as a treat – plain, simple, frozen water.  For some strange reason, dogs seem to respond to an ice cube much the same way they would a tasty cookie – and you get to indulge them without worrying about adding any extra padding to their middle (not that you would love them any less, but their health will thank you for it in the long run).
If you're worried about the rumors going around that say giving your dog ice or ice water can cause fatal bloating, don't be. They're just that: rumors. Bloating is caused by gobbling up too much water or food along with too much air. An ice-cube or two a day is highly (highly, highly) unlikely to cause a problem.
7- Homemade cookies
Finally, if you're specifically wanting cookies, there are a ton of healthy and simple recipes to try making yourself.  We have dozens of them right here, from homemade baked carrot treats to no-bake peanut butter pumpkin bites.  Just search "homemade treats" in our search bar.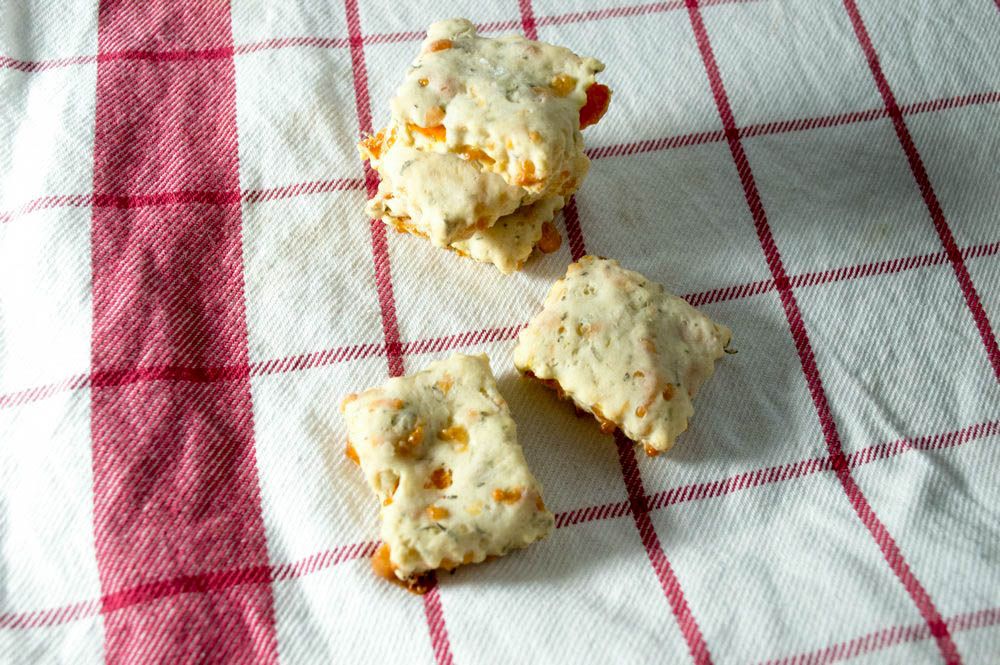 You can have fun with shapes and flavours, you will know exactly what has gone into it, and you'll have the added joy of doing something good for someone you love (plus, these make great gifts for all of your pet-parent friends – just make sure there are no allergies in the household before you gift these homemade goodies).
Just remember – especially if you're training, you will want to vary the treats that you give your dog so that they don't get bored.  Just like the same food over and over again can stop appealing to you, it will eventually stop working to motivate your dog.  Experiment, look for what your pup likes the most, and then save those for when you really need to reward or motivate, and use some of the secondary ones for lower-priority situations.
Treats are a wonderful teaching tool and bonding element for you and your pet – it's worth finding the right ones that work and that promote good health in your dog for years to come.
Do you have any favorite high-quality dog treat ideas that we should add to our stash? Share below!