If you're looking for a dog for the first time, chances are you're not sure which breed is right for you. Should it be big or small? Energetic or a couch potato? The answer to that is a question. What are you looking for? Read on to see which of these best dog breeds for first time owners might be right for you.
The Best Dog Breeds for a First Timer
All of these breeds made my list of the best dog breeds for first time owners because they have great personalities, are easy/relatively easy to train, and they are wonderful for singles as well as those with families.
The Staffordshire Bull Terrier
I gave you an overview of the Staffordshire in my article, Small Dogs – An Apartment Dweller's Best Friend.  Well, they're so great, they get another shout out. The Staffordshire Bull Terrier is the classic family dog. It may look like a vicious killer, but that couldn't be further from the truth.
The Staffordshire is an exceedingly loving, loyal, and even tender dog. It is completely devoted to its family, especially the kids. There's a reason it's been called the nanny dog. This breed is moderately stubborn and can be protective of its family, so it will require socialization and patience when training. However, its training needs are not the sort that require previous experience with dogs.
The Labrador Retriever
This is quite possibly one of the best dog breeds around. They are loving, loyal, exuberant, and just generally great dogs. While they require outdoor activity, they are perfectly happy to lounge with the family – after they outgrow the puppy years, of course. This breed is intelligent and eager to please, which makes it exceptionally easy to train, and its highly social nature means you won't have to worry about it being aggressive towards strangers or other dogs.
The Bichon Frise
The Bichon is another of the best dog breeds for anyone getting their first pooch. The Bichon is an intelligent dog with a temperament that lends them to both single owners and families alike. They are loving to the point of doting at times, and they are quite easy to train. All they need is a short walk and regular grooming to keep their hair in check. I recommend a perpetual puppy cut if you're not into showing your dogs.
The Golden Retriever
The "Golden", as it's commonly referred to boasts a loving, loyal temperament, and an energy level that makes it perfect for an active family. This dog loves to be outside. It's perfectly happy to run with the kids in a fenced yard, go on hikes, or swim in the pool. When it comes inside, the Golden loves to relax on the couch with its people. The Golden requires only regular bathing and brushing, and it is extremely easy to train, making it a great dog for the first time owner.
The Pug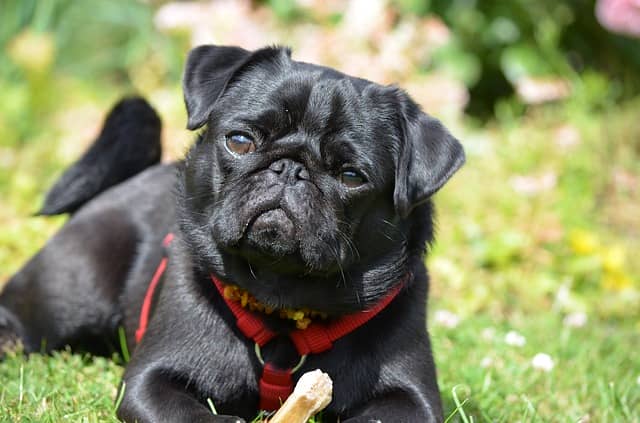 If you love to laugh, then the Pug is for you. These guys are the class clowns of the dog world. They are full of love and life, and they are always eager to try something new. Although, they have a moderate amount of energy, these are not outdoor dogs. Because of their squished in faces, hot days and long walks or hikes are not only ill advised, they are dangerous. Pugs just need a short walk. The rest of their energy will be spent doing all kinds of goofy, Instagram worthy things while they are indoors enjoying their people. One of the best dog breeds for new owners, the Pugs eagerness to please and playful personality make it a perfect choice for any first timer.
Your Best Friend is out There
These are my top 5 picks for the best dog breeds for first time owners. All these breeds make wonderful family animals, and they are easy to train and keep well groomed.
Remember, as I always say, make adoption your first option. There are many pure bred dogs available for adoption in shelters as well as online rescues. They make exceptional pets, and if you find one that's already grown, you get to skip the potty training process altogether! Bonus!
Do you have any of these best dog breeds for first time owners? Which is your favorite?