If you're looking for 4 letter dog names (and precisely 4 letters only), we've got you covered!
We've talked about two and three letter dog names with single syllables, but sometimes you want a little more oomph.
The male and female ideas below will help you come up with something that's still short and sweet, but not quite so monosyllabic.
Take a look at our favorites below!
4 Letter Dog Names
Choosing a name is always hard, and when it comes to our fur babies it has to be perfect.
We want something short so that puppies learn to recognize their names, but also meaningful to us.
These 4 letter dog names will really give you the inspiration you needed to choose the perfect name for your pup.
We'll start with the basic list for each gender, then read on for the meanings behind our top 30 favorites.
4 Letter Dog Names for Males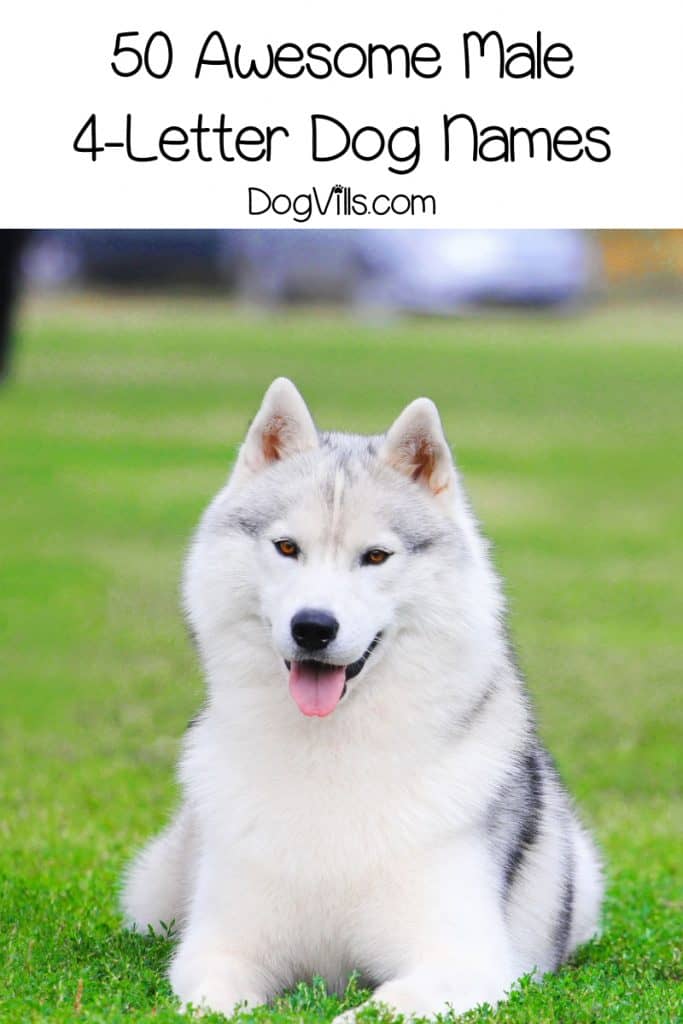 Abel
Adam
Ajax
Aldo
Alex
Amos
Andy
Axel
Bart
Bear
Beau
Bits
Blue
Bobo
Boss
Buck
Chad
Chaz
Chip
Cody
Cole
Cubs
Cujo
Dash
Dave
Dino
Dure
Echo
Eddy
Elmo
Fido
Hans
Hugh
Hugo
Jake
Jazz
King
Levi
Loki
Luke
Mack
Milo
Ming
Mojo
Nemo
Nero
Niko
Pooh
Sage
Spot
Different names, with different meanings, perfect for all your pups.
'Nero' for example, is the Finish word for 'genius' and would be the appropriate name for any Terrier!
Then, of course, 'Bear' doesn't need an explanation, but wouldn't it be the best choice for a very loving Saint Bernard?
4 Letter Dog Names for Females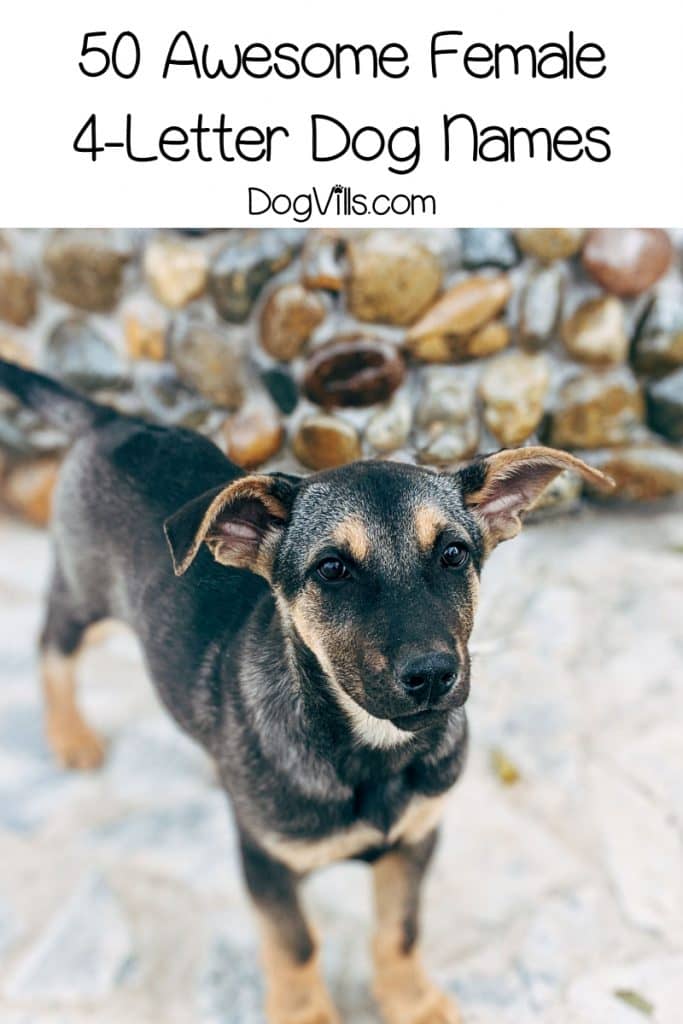 Abby
Ally
Amie
Babe
Baby
Bebe
Brie
Brit
Cali
Chic
Cleo
Coco
Diva
Dots
Erin
Fifi
Foxi
Gigi
Girl
Hope
Indy
Iris
Itsy
Izzy
Jade
Jess
Jojo
Judy
Kali
Katz
Kira
Lady
Lexi
Lili
Lola
Lucy
Lulu
Luna
Macy
Mary
Maya
Miko
Mini
Mona
Nala
Nana
Rosy
Ruby
Star
Tara
Remember 'Nana', the Newfoundland protector from Peter Pan? Tell me that's not one of the best names.
Describes best her protective and caring personality.
And think about "Diva", which doesn't need an explanation, but I think it would be the best name for a Yorkshire Terrier.
Top 30 4 Letter Dog Names with Meanings
Abby – Hebrew name for 'father's joy' and it would be the best choice for any bachelor.
Adam – Biblical name, the first man on Earth, it means 'unique'.
Alex – Short form of 'Alexander' or 'the defender of men'.
Andy – Coming from the Greek name 'Andreas' means 'brave'.
Babe – Not only associated with the loving nickname, but it comes from Greek and it means 'foreign'.
Bear – Besides the very imposing animal, 'Bear' also means 'strong'.
Beau – The French word for 'beautiful' and a very understandable choice.
Brie – Derived from the Celtic 'Brighid' it means 'the exalted one'.
Chic – This is one of the very elegant dog names, for any fancy pup out there.
Cleo – Short for 'Cleopatra' and it's translated to 'pride' or 'glory'.
Cubs – An incredibly cute name for any dog who's like a 'playful lion'.
Dash – As expected, Dash stands for 'energetic', probably made for a Beagle constantly running around his tail.
Dino – When I say 'Dino' I think of a Golden Retriever with a cute dinosaur costume on, but in Italian, it means 'little sword'.
Dots – The English name for "gift of God' but a Dalmatian could totally rock this name.
Elmo – May be associated with Sesame Street, but in German, it means 'protection'.
Hope – The name Hope comes from the Old English word 'hopian' and as expected, it means 'full of hope'.
Hugo – For all the content pups, the name 'Hugo' means 'spirit'.
Iris – Whether we're talking about the flower or the Greek for 'rainbow' we can agree that it brings happiness in our lives.
Jade – Pretty straight forward, we're talking about something precious.
Jazz – Its roots aren't very well known, but we do know it's a very unique name, growing more popular.
Judy – The Hebrew word for 'praised'.
Kali – With Sanskrit origins, it means 'the black one'.
King – No explanation needed, a king is a king everywhere.
Kira – It comes from the Greek word 'kyrios', meaning 'ruler'.
Levi – Meaning 'joined' it's the perfect name if you're planning on taking him everywhere you go.
Loki – We all know Loki, The Avengers' God. Well, it's a real god in Norse Mythology, associated with magic.
Luna – It means 'Moon' in Italian and Romanian.
Nana – Is 'the one who looks after the children' and very popular with Peter Pan fans.
Nero – It means 'genius' and it's a Finish name.
Star – No explanation needed here, it's for the little stars in our lives.
The process of choosing a name is hard and there is a very fun way of choosing a name your dog will actually answer to.
Just make a list with these 4 letter dog names and say them out loud. Your dog will recognize the perfect one.
What are your favorite 4 letter dog names? Share below!