Between costumes, candy, and decorating, Halloween is a dream for most kids.
However, it can be a nightmare for responsible dog owners.
Most people don't realize it, but Halloween poses a real threat of injury to dogs.
Dogs love to chase, run, and eat. All of those things can spell disaster when it comes to Halloween.


5 Halloween Safety Tips to Avoid Injury or Sickness
Affiliate links included below. If you make a purchase through these links, we earn a small commission at no extra charge to you. 
These Halloween safety tips for dogs will help you enjoy the holiday without fear of your dog getting injured or sick.
1. No Helping with Crafts
If you make crafts of any sort for Halloween, your dog is most likely going to want to investigate what you're doing. This is cute, but it can also be dangerous.
If your dog comes poking around, be sure to watch it like a hawk.
You don't want it ingesting any of your paper, glitter, or various other small art supplies. Better yet, keep your dog out of the crafting area completely, especially if it's a puppy.
Ingesting foreign objects can cause blockages, which can be deadly and costly to rectify.


2. Pet Gates for Trick or Treating Time
When trick or treating time rolls around, one of the best Halloween safety tips you can put into practice is putting up a pet gate for your dog.
It doesn't take much to get a dog to chase after something, and if it spots something outside while you have the door open for trick or treaters, you could be looking at a runaway dog on your hands.
Related: Retractable Dog Gates – Safety and Convenience
While this might make a funny entry into America's Funniest Home Videos, it's actually no laughing matter.
A runaway dog is open to being hit by a car, getting into fights, and any other number of unfortunate situations, especially at dusk when most kids are out and about for candy.
3. Keep the Candy Away
In addition to being injured on Halloween, dogs can potentially get very sick as well. With all the candy floating around, it's not a far leap to have your dog down something very bad for it.
Always keep your candy out of reach of your dog. Candy can be lethal to your pooch if it ingests enough of it. The most toxic candy ingredients for your dog are:
Dark chocolate
Xylitol, found in sugar-free gums and candies
Raisins
If your dog ingests any of these, you're looking at a trip to the vet. At the very least they'll have to induce vomiting. At worst, your dog could die if it ate enough of any of these.
Make your dog his own Cute Spider Halloween dog treats instead!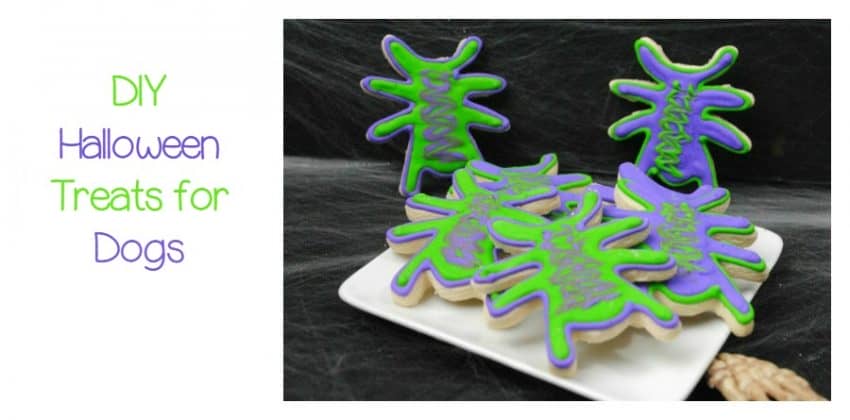 4. Keep the Trash Safe
Dogs are notorious dumpster divers, so one of my biggest Halloween safety tips for your pooch is to keep the garbage out of its reach. A dog will eat anything that even smells like food. If it gets into a garbage can full of candy wrappers, you're looking at major issues.
Just as with crafting supplies, if your dog eats candy wrappers, you're looking at a dangerous and expensive situation. The best case scenario is induced vomiting or letting the wrappers pass if an X-ray shows it's relatively safe to do so.
The worst case scenario is surgery to remove the wrappers and even death if you don't catch the problem in time. And to say the least… that is a very expensive operation.
In fact, you should look into dog proofing your trash whether it is Halloween or a typical day.
Related: Great Funny Halloween Costumes For Large Dogs
5. Know How to Get Help
If you are concerned your dog may have eaten something it shouldn't have, there is Animal Poison Control, which employs Veterinary Toxicologists.
If you ever find yourself in a situation where your dog ingested something, they are actually the best people to call! In fact, emergency vet clinics actually recommend it.
The Animal Poison Control Hotline will actually guide your treating veterinarian on the best possible treatment plan given your dogs medical records. Keep this number on your fridge in case of emergencies: (888) 426-4435.
They even have a mobile app!  A wealth of information on pet poison control is in this app. But keep in mind, it costs $80. However, that might be a big discount from your vet bill…Because it might save your pup's life!
Halloween is a quite dangerous holiday for dogs, so you have to stay on top of things. Dogs will get into any sort of trouble that interests them, so follow these Halloween safety tips for dogs, and above all, stay vigilant.
Do you have any other Halloween safety tips for dogs? Ever been in a close call situation? Tell us in the comments!