There are lots of great books to read written around the amazing stories of extraordinary dogs. These stories have the power to brighten your day and cheer you up when you're feeling blue. There's nothing quite like curling up on the couch under your favorite blanket & snuggling your best canine pal while reading tales of amazing pooches.  Check out the following four titles, all of which are sure to put a smile on your face.
Books with Stories of Extraordinary Dogs
Affiliate links included below. Thanks for your support!
James Herriot's Dog Stories: Warm and Wonderful Stories About the Animals Herriot Loves Best
Before his 1995 death, James Herriot wrote many wonderful books about animals. His warm writing style makes many readers feel like they're reading a letter from a family member.
Herriot, who was a veterinarian by trade, shares 50 stories about some of his favorite canine friends and the humans who cared for them. Each story is as uplifting as it is heartwarming, with thoughts of what it's like living in the English countryside mixed in. Get this one on Amazon
.
Chicken Soup for the Soul: My Very Good, Very Bad Dog: 101 Heartwarming Stories about Our Happy, Heroic & Hilarious Pets
Dogs aren't just d-o-g-s, they're little people with fur. This Chicken Soup book showcases 101 dogs around the country who are smart, courageous, goofy, intuitive, hard-working and more.
You'll, no doubt, appreciate the photos at the beginning of each chapter. Each of these dogs was either adopted from a shelter or rescued right off the street. Royalties from this book go to the Humane Society. So, why not do your part and pick up a copy today
?
Pepper: The Amazing Therapy Dog
Pepper spends his days as a therapy dog. But, it wasn't always that way. Read about Pepper's journey from adoption to helping children with special needs. Beautifully illustrated by Cheryl Trombley, Pepper: The Amazing Therapy Dog
teaches kids that everyone has their own special gift, regardless of life's circumstances. Written by Susan Mason.
Devoted: 38 Extraordinary Tales of Love, Loyalty, and Life With Dogs
Devoted
, by Rebecca Ascher-Walsh, is a book you'll definitely pick up to read over and over again. In addition to 38 heartwarming stories, the book includes beautiful pictures and information about each breed you encounter.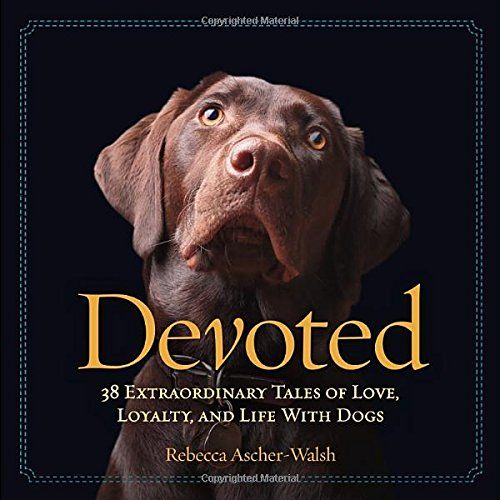 You'll learn about dog rescues, canine protectors, loyal companions, dogs to overcome disabilities and much more. Reading this book, it's easy to remember how much dogs can restore your faith in humanity, in almost no time at all.
There will always be new and heart-warming stories of extraordinary dogs because dogs are truly extraordinary. Books like these are great for reading when you want to forget about a hectic day. After just one or two stories, chances are your stress will melt away.
Do you have any favorite books with stories of extraordinary dogs? Share in the comments!