Looking for a furry family friend that isn't a constant flurry of activity?
We've rounded up the top 10 most calm dog breeds that will totally fit into your "Netflix and Chill" lifestyle!
Hey, we get it: not everyone is an exercise enthusiast or adventure seeker!
While active dogs are perfect for on-the-move families, if your idea of a good time is spending a Friday night in catching up on your reading or watching TV, you'll probably do better with a laid-back breed.
These calm dogs are also perfect for those with physical limitations that prevent them from keeping up with a constantly wired pooch.
Check out our picks for the top 10 calmest breeds, along with some highlights from each!
Related: best dog for single working female
Top 10 Most Calm Dog Breeds
While these breeds are considered among the calmest of all, with proper training, ANY dog can become a mellow dog. On the other hand, without proper training, even the calmest breed can become a total handful!
So, don't count out a breed that you're in love with just because he's not on this list, and don't assume that a dog on this list will be super chill without any sort of basic obedience training. Got it? Good! Let's dive into our list!
1- Basset Hound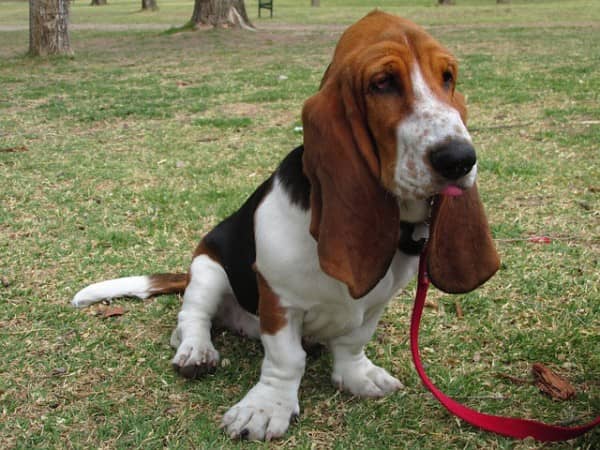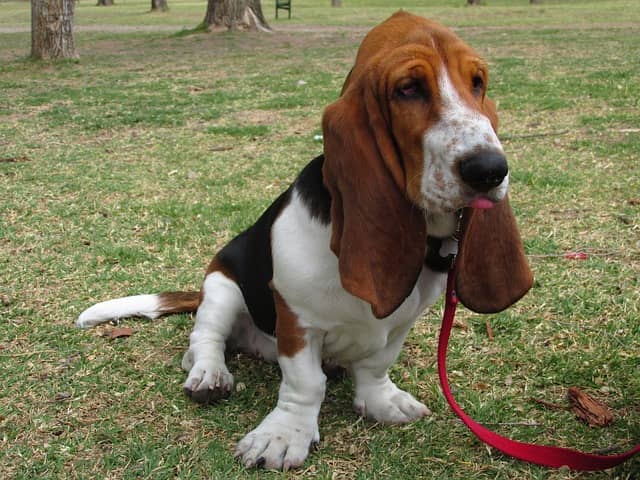 The Basset Hound is pretty much the epitome of a Netflix and chill dog. While they are hard workers when they're following a trail (they are hound dogs, after all), during their "off" hours they love hanging out on the sofa with their humans.
Keep in mind that these dogs can be a bit stubborn, though. As with most hunting breeds, they're incredibly independent, which can make them a bit tricky to train. Still, overall they're fairly low-maintenance dogs with a very zen personality.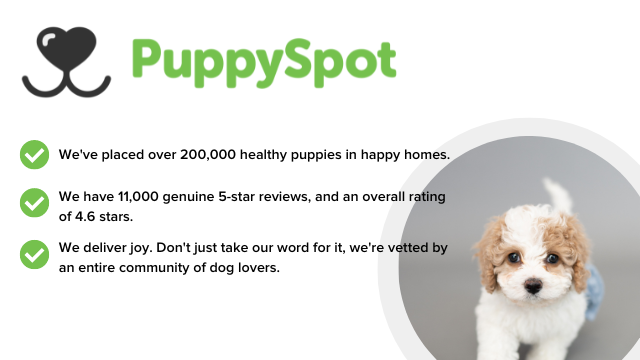 Easygoing
Good-natured
Affectionate
Adaptable
Most prominent features are long ears, sad eyes
Great with kids and other pets
Mild daily exercise needs
Minimal grooming needs
Some drooling
Hound breed group
Lifespan of 12-15 years
2- Bernese Mountain Dog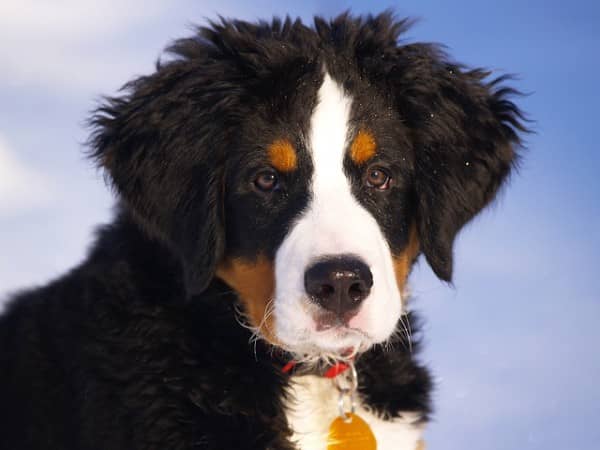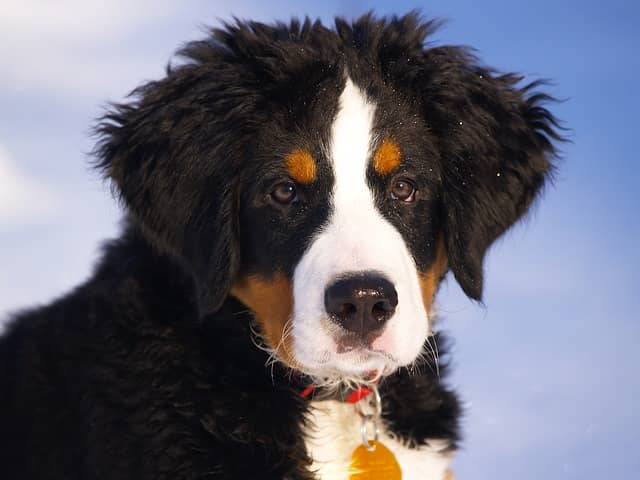 A quick glance at the Bernese Mountain Dog's breed characteristics makes it hard to believe that these beautiful pups rank among the calmest dog breeds. They're built for work and have high energy levels to prove it.
However, as the AKC explains, "Berners are generally placid but are always up for a romp with the owner, whom they live to please." Despite their XL size, they're also incredibly gentle with children.
Beloved companion
Great watchdog
Territorial
Patient
Alert
Self-confident
Good with kids and other pets
Grooming needs include brushing once or twice a week
Working breed group
Lifespan of 7-10 years
3- Bulldog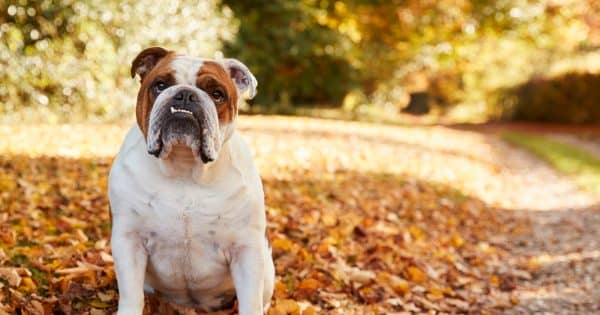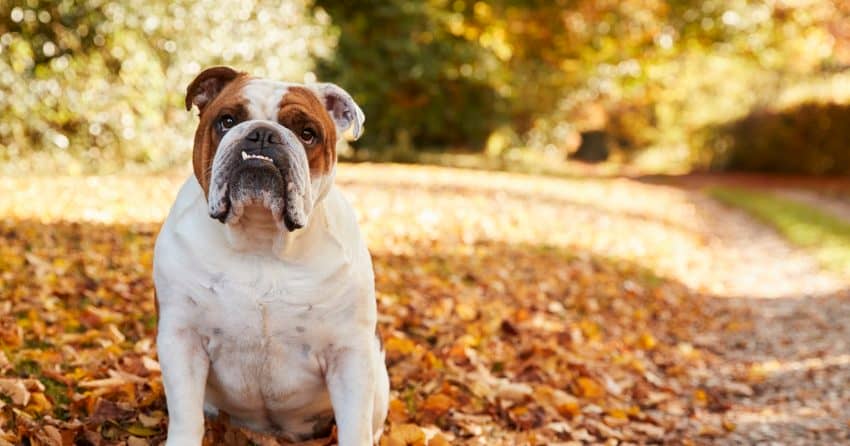 The beloved English Bulldog falls right in the middle of the energy spectrum. In other words, he's neither a total couch potato nor a non-stop ball of energy. While they're always up for a game of fetch, these guys are just as content acting like 50 lb lapdogs.
One of the most mellow dog breeds
Docile
Happy
Quiet
Great watchdog
Majority good with kids and other pets, but not all
Hates hot weather
Hates long walks
Minimal grooming needs
Non-sporting breed group
Lifespan of 8-10 years
Mascot of the United States Marine Corps
Related: Are Any of the Bulldog Breeds Hypoallergenic?
4- Great Dane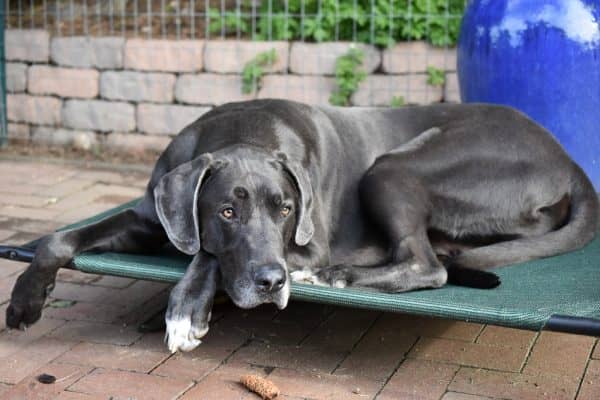 The lovable giant is by far one of the mellowest large dog breeds you'll ever meet. That said, they're not complete couch potatoes. Like all dogs, Danes need plenty of exercise and playtime. But when you're ready for some cuddles on the couch, they're totally game. Just make sure you have a big enough sofa for both of you!
Dependable
Friendly
Well-mannered
Loving
Apartment-friendly
Great with kids and other pets
Minimal grooming needs
Drools a lot
Working breed group
Lifespan of 7-10 years
Learn more about the Great Dane. 
5- Greyhound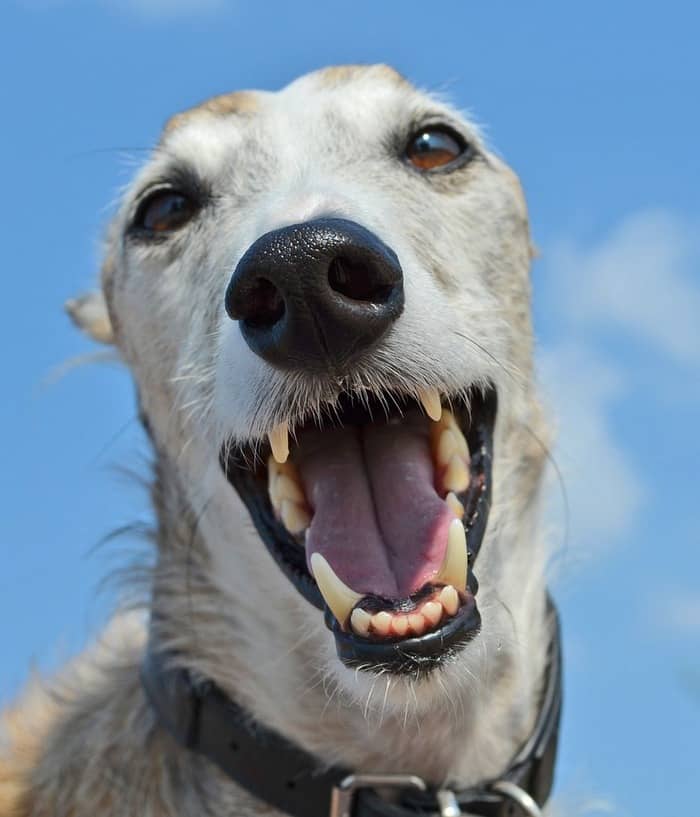 Who would have thought that one of the fastest dog breeds is also one of the calmest? It's true, though! These hounds (and honestly, all sighthounds in my experience) can run like the wind one moment, then plop down for a good long nap on the sofa the next.
They make perfect companions on a jog, but be sure to keep them on a leash. Sighthounds have incredibly strong prey drives and can take off at the drop of a hat the moment they see a rabbit!
Often called the "World's Fastest Couch Potato"
Outside, they love to run and chase things
Inside, they are quiet and well-mannered
Timid
Sensitive
Gentle
Affectionate
Easy grooming needs
Hound breed group
Lifespan of 10-13 years
Did you know these surprising facts about the Greyhounds?
6- Irish Wolfhound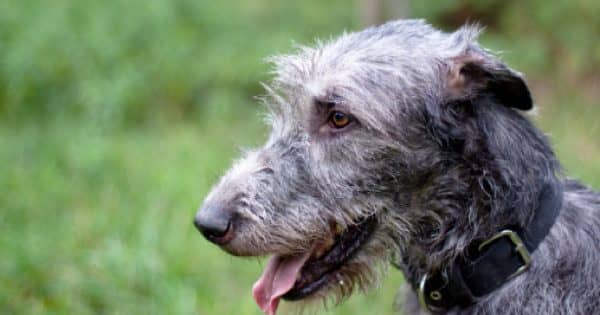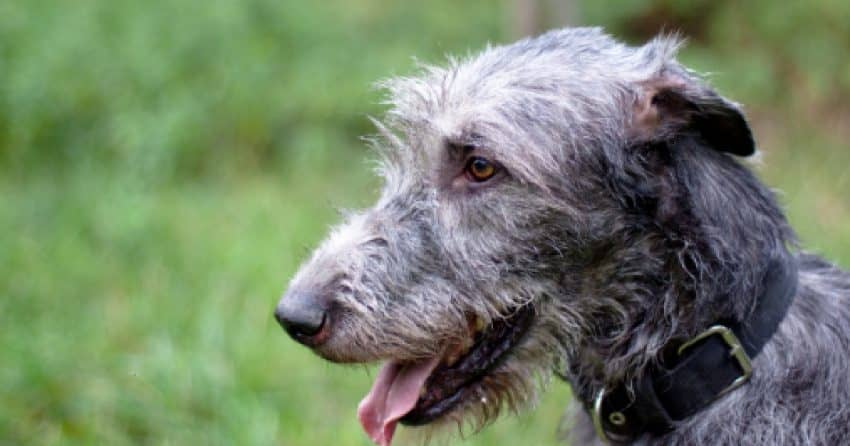 Another gentle giant, the Irish Wolfhound basically a 120 lb lap dog (or at least he likes to believe he is). Not only are they incredibly calm overall, but they're also one of the least-yappy dogs that don't bark often at all.
Quiet
Well-mannered
Gentle
Alert
Courageous
Dignified
Great with kids and other pets
Grooming needs include brushing once or twice a week
Hound breed group
Lifespan of 6-8 years
7- Neapolitan Mastiff
Yep, another large breed. Noticing a trend here? Like the other XXL guys on this list, the Neo Mastiff is barely one step above a total couch potato. These dogs love to chill out with their people and binge-watch the latest Netflix hit. They're MASSIVE droolers, though, so be prepared to follow them around with a towel!
Quiet
Great watchdog
Protective
Territorial
Hates the hot weather
Great with kids and other pets
Love lots of space to stretch
Low-level exercise needs
Drools a lot
Working breed group
Lifespan of 8-10 years
8- Newfoundland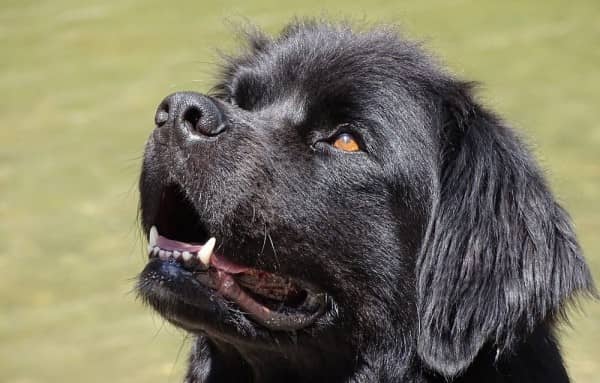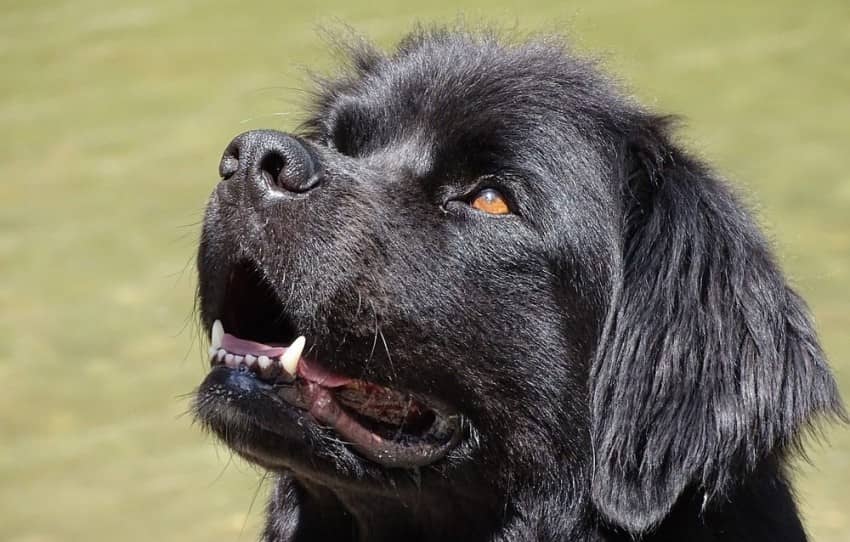 Newfies (yes, another BIG dog) aren't just among the calmest dog breeds, they're one of the best all-around for families. They're super lovey-dovey, absolutely adore children, and even get along well with other dogs. Given their luxurious locks, they're also surprisingly low-maintenance dogs in terms of grooming. However, like the Mastiff, they are big droolers.
Known as "gentle giants"
Patient
Sweet
Easygoing
Loving
Hates hot weather
Daily exercise needs
Grooming needs include brushing twice a week
Drools a lot
Working breed group
Lifespan of 8-10 years
Get to know the Newfie:  All Kinds of Info about Newfoundlands
9- Scottish Deerhound
At first glance, it's easy to mistake the Scottish Deerhound for the Irish Wolfhound. Both are considered giant breeds, although the Scottish Deerhound comes in at an average of about 10 lbs lighter than their Irish pals.
Fun fact, these pups are the Royal Dog of Scotland. They're also an ancient breed, dating back so far that no one quite knows just how old they are. According to the AKC, they were in Scotland even before the Scots!
Outdoors, they love to run around
Indoors, they are easygoing and mellow
Independent
Sensitive
Gentle
Laid back
Noble
Affectionate
Great with kids and other pets
Good amount of daily exercise needs
Grooming needs include brushing once or twice a week
Hound breed group
Lifespan of 8-10 years
10- St. Bernard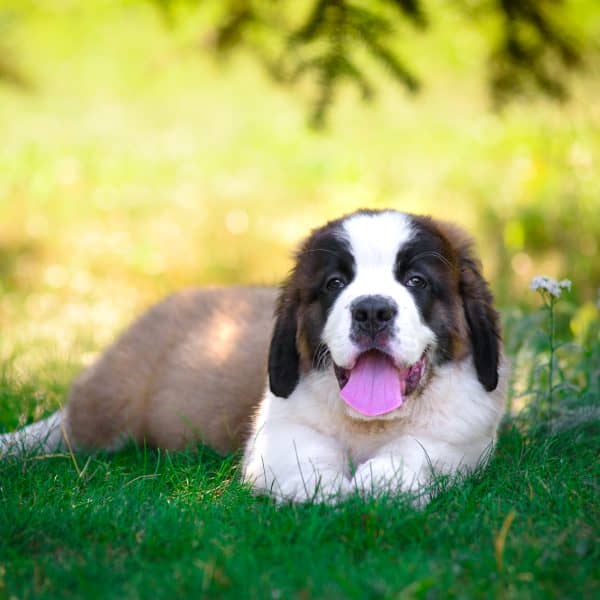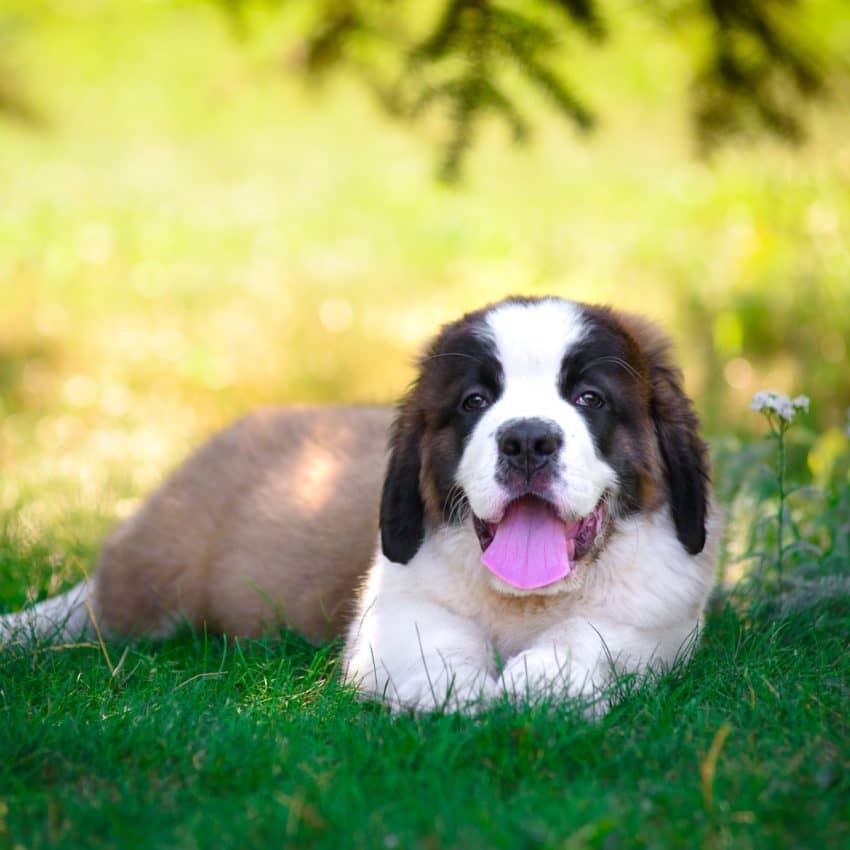 The St. Bernard is a hard worker when he's out on a mission to rescue a lost hiker. But once he's back home, he's all about the quiet life.
Another "gentle giant," Bernards are very affectionate with their families and they adore children. They even get along well with strangers. At the same time, though, they're incredibly vigilant, making them wonderful watchdogs.
Easygoing
Low-energy
Gentle
Patient
Affectionate
Great with kids and other pets
Deafening bark- not good for those who live in an apartment
Grooming needs include brushing once or twice a week
Drools a lot
Working breed group
Lifespan of 7-10 years
Frequently asked questions about calm dogs
Before we close out for the day, let's just go over a few FAQs about calm dogs, shall we?
Are there any calm small dogs?
Yes, of course. The Pug, French bulldog, and the Cavalier King Charles Spaniel are considered fairly calm dogs. Bichon Frises are also pretty mellow.
What is the most gentle dog?
It's hard to choose one breed as the MOST gentle, but if forced to do so I'd have to go with the labrador retriever or the golden retriever. However, keep in mind that gentle doesn't equal calm. Neither of these breeds would qualify as "mellow" dogs.
What dog breed is best for emotional support?
Golden Retrievers win again! With their sweet disposition and goofy antics, there's just no dog quite like a Golden when you need a little extra emotional support on a bad day.
Which dog makes the least noise?
Technically, the Basenji is the quietest dog breed since they don't bark. But they do yodel, so they're not entirely silent.
What is the calmest family dog?
Most of the gentle giants above make wonderful family dogs. Of the bunch, though, I'd have to go with the Bernese Mountain Dog or the Newfie.
What is the easiest dog to handle?
All dogs are easy to handle with the right training. However, most dog lovers agree that Border Collies are the easiest of all to handle thanks to their incredibly high trainability. That said, I wouldn't call them calm or particularly low-maintenance dogs.
Are there any dog breeds that are large, calm and shed/drool minimally?
This is a tough one! Overall, the Irish Wolfhound would tick off most of your boxes. They're ginormous, calm, and don't drool like crazy. However, they do shed a bit and require semi-regular brushing. Not as much as, say, the St. Bernard, but they're not totally non-shedding dogs.
As you read through the list, you might notice that some of the largest dog breeds are almost among the calmest! I bet a few of these may have even surprised you.
The Greyhound, for example, seems like it would be an incredibly active breed, but they're actually a lot happier just chilling out on the sofa with their people. Whichever dog you choose, please remember to adopt before you shop.
If you have your heart set on a specific breed, just search for that breed + rescue (for example "Greyhound rescue"). You can narrow it down even more by adding your state or zip code to your search (Irish Wolfhound Rescue PA, for example).
One last note: if you're adopting a puppy keep in mind that even a dog that grows into the mellowest pooch on the planet will be far more energetic during puppyhood. If you want a calm dog right off the bat, adopt an older pup.
Do you have any of these top 10 calm dog breeds? Share your experiences and thoughts below!