Looking for cute dog hoodies & "ugly" dog lovers Christmas sweaters?
You have to check out these top 10 ideas !
I love them because while many definitely have that "ugly Christmas sweater" vibe, they're actually made of sweatshirt material.
Basically, they're super soft and cozy!
Let's check them out!
Are you a cat parent too? Check these adorable cat lover sweatshirts.
Dog Lovers Christmas Sweaters and Hoodies
This post contains affiliate links. If you make a purchase through these links, we earn a small commission at no extra charge to you.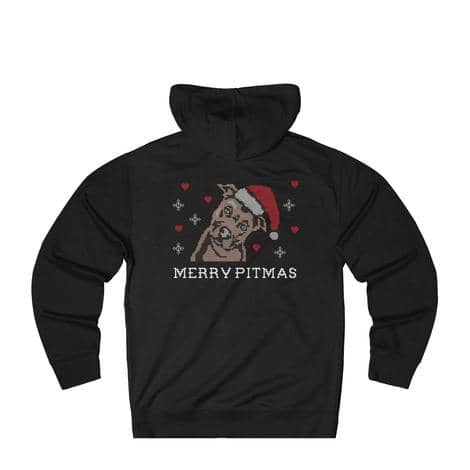 Want to wish the world a Merry Pitmas? You need this funny Christmas hoodie for dog lovers!
As a pit bull mom
myself, it's definitely in my top ten favorite holiday hoodies of all time!
All of our hoodies are unisex and have a handy size guide to help you order the perfect size.

D
on't forget to check these adorable I Love My Dog Sweatshirts
This one is for our pug parents! Is there anything cuter than a smooshy pug face?
Why yes, there is! It's a smooshy pug face with a Christmas hat and scarf!
If, like me, you prefer baggy sweatshirts, try ordering a size up. I like my sleeves to come down over my hands.

One of my favorite dog lovers Christmas sweaters is also the perfect gift for a cat lover!
This one ranks on my top ten list because I feel like it helps promote peace and unity: two things that the holidays are all about.

Here's a fun fact about me: I've always wanted a Beagle! I have a crazy obsession with them.
It's funny, though, because I've had a total of 5 dogs in the last 15 years, and none of them has been a beagle.
I haven't been able to find one in our local shelters. I will settle for this adorable hoodie with a beagle wearing reindeer ears instead!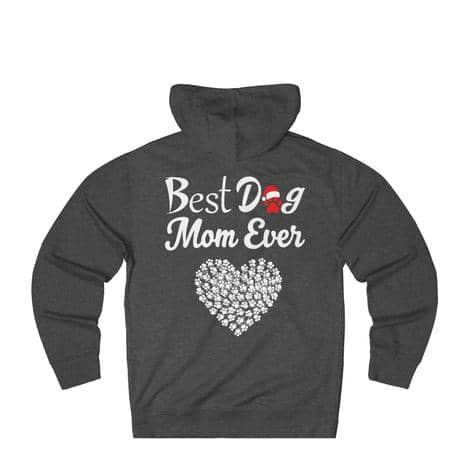 How perfect is this as a gift idea for your favorite dog mom?

Another one of my all-time favorites, this one tells the whole world just how much I love dogs!
FYI, all of these hoodies are made from a cotton/poly blend and they are super soft!

You really can't get more festive than this Christmas tree made of paw prints!
It truly is perfect for every dog lover in your life, from kids to grandparents!
Another thing I LOVE about our hoodies: they have a tear-away tag. My son won't wear anything that has tags poking at him.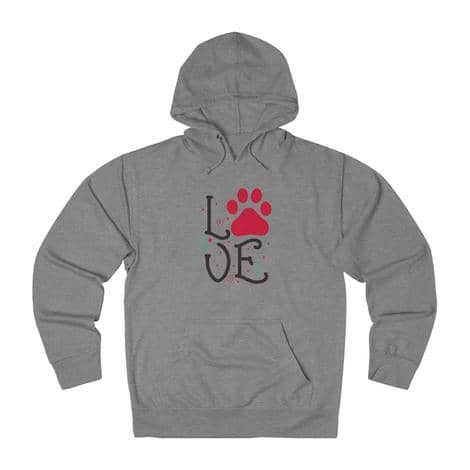 Another one of my top three favorites, this one isn't just festive, it also tells the world that dogs are love!
The lightweight fabric makes it ideal for warming up on chilly evenings or layering under a coat for those really cold nights!

I love (pun intended) this pet lovers Christmas sweatshirt because it works for either cat or dog parents.
As a pet parent who has both, that's definitely a plus!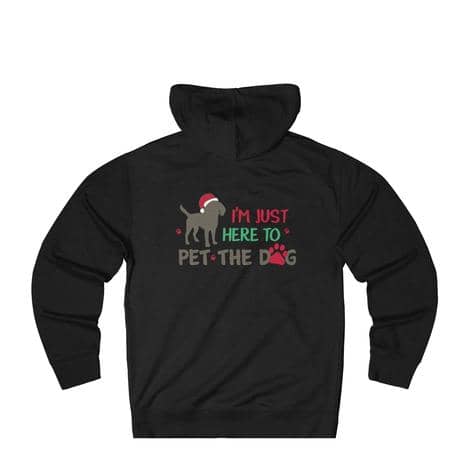 Introverts unite…and pet the dog! Seriously, this is me at every single party!
If there's a dog, that's where you'll find me!

If you told me that I had to pick just one of these dog lovers Christmas sweaters to be my favorite…well, I'd have a super hard time!
If pressed, I'd say either the one that says "Dogs Rule" or the one with the cat and dog together, but honestly, I love them all!
How about you? Which of these dog lovers Christmas sweaters and hoodies do you like best? Share below!